This is my second (2nd) post on SCCM education series of posts. Recently I received a couple of queries about the Promote Pre-Production Client on my SCCM 1902 upgrade post. This post is the reply to those queries and doubts about the promotion of pre-production SCCM client. You will learn how about SCCM Client Upgrade in this post.
First of all, I would recommend you to use the option to test client upgrades in a pre-production collection. This is the best option to select during every SCCM CB updates or upgrades.
SCCM Education Series Posts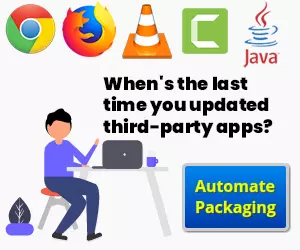 Why Use Test Client Upgrade in Pre-Production Collection?
In SCCM CB version, you have an option to test the new client version with test devices. You can test the new SCCM client on few devices using pre-production collection option (SCCM Client Upgrade for pilot devices). When you do this, only devices that are part of the test collection are upgraded. This helps you to test the client issues before upgrading the rest of the SCCM client device in your environment.
Video Tutorial – Promote Pre-Production Client to Production (SCCM Client Upgrade)
Is Promote Pre-Production Client Upgrade to Production Applicable?
You need to perform pre-production client upgrade to production when you selected the following option two (#2 – as you can in the below list) during the SCCM updates wizard – client update options page. When you select option one (#1), you don't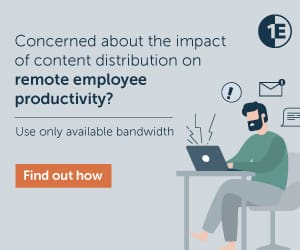 SCCM Client Update Settings gives you two (2) options:-
Upgrade without Validating:- Upgrade your clients immediately to the latest version (which I don't recommend). First option of SCCM Client Upgrade.
Validate in Pre-Production Collection :- Select to validated this client in pre-prod collection option from the wizard (SCCM update wizard – client update options page). This will help you test the client upgrade on selected devices before you can upgrade all your SCCM clients to the latest version. (This is the

Recommended option

).
Once you select the second (2nd) option, you can install and validate the SCCM client upgrade on members of the pre-production device collection. This won't impact your production client package.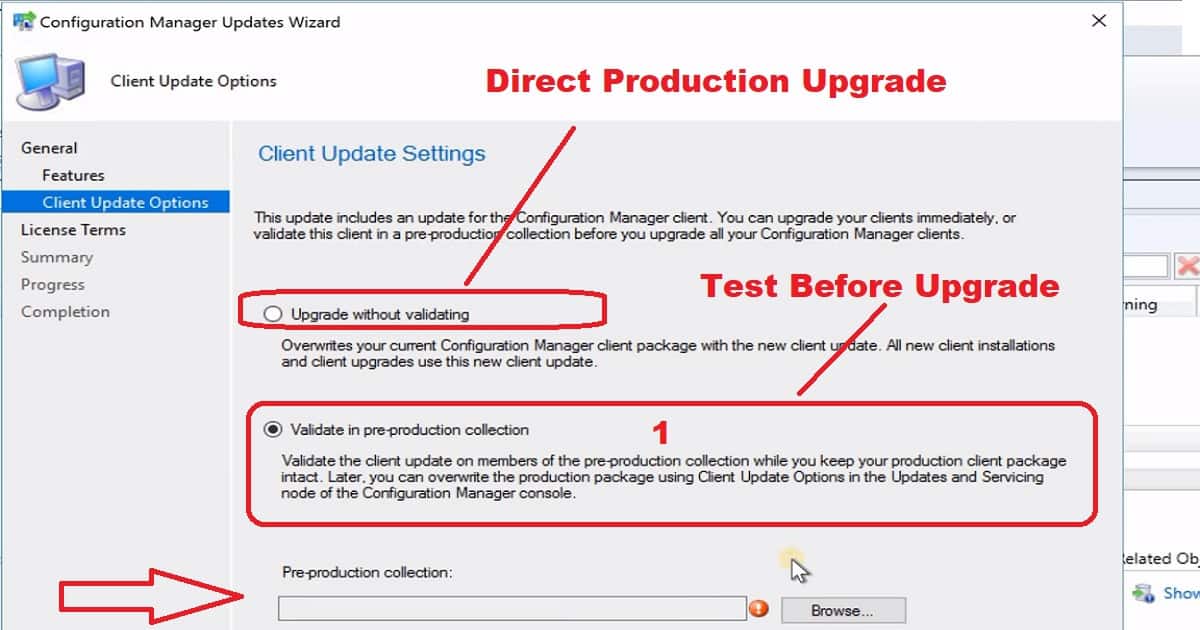 You have an option to overwrite the production package using client update options in the updates and servicing node of the SCCM console. You can perform this action when you complete the testing of pre production client upgrade. This action is known as Promote Pre-Production Client Upgrade.
How to Promote Pre-Production Client Upgrade?
You can promote Pre-Production client from SCCM console Updates and Servicing node. For example, You want upgrade the SCCM pre-production client of 1802.
Navigate via following console path "\Administration\Overview\Updates and Servicing"
Right click on Configuration Manager 1802 Update package in the results pane
Select the option to promote Pre-Production client (this is explained in the video tutorial)
From Promote Pre-Production Client Windows, Click on Promote button to make Pre-production client version available to production
Click on YES button to confirm that you are sure and want to make pre-production client version available to production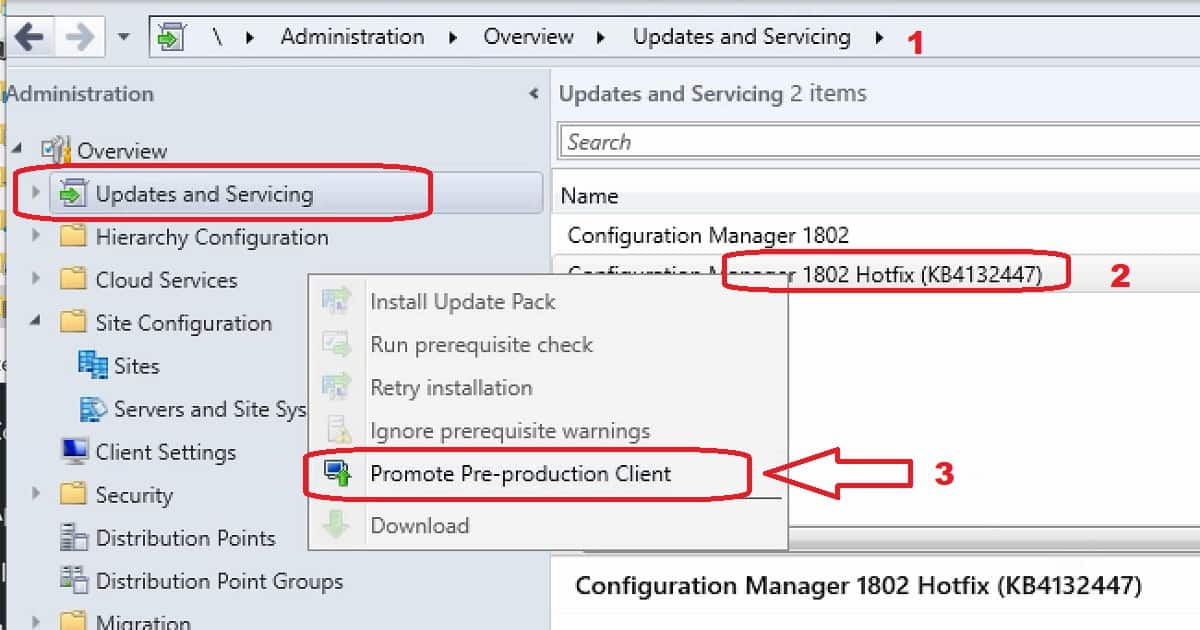 How to Verify promote Pre-Production client?
You can verify the promote Pre-Production client upgrade (SCCM Client upgrade for test devices) results from two (2) places. You can either verify this from monitoring node or from Site Configuration node. Also, this can be verified from SCCM client Package properties.
In the following section, I will explain how to verify the promote pre-production client action worked as expected.
Navigate through SCCM console patch via \Administration\Overview\Site Configuration
Click on Sites node & Select the Primary or CAS server
Click on Hierarchy Settings from the ribbon menu
Click on Client Upgrade tab
Check Production Client Version and last modified date. Production client version should be equal to Pre-Production client version
You can promote the pre-production client from Monitoring > Client Status > Pre-Production Client Deployment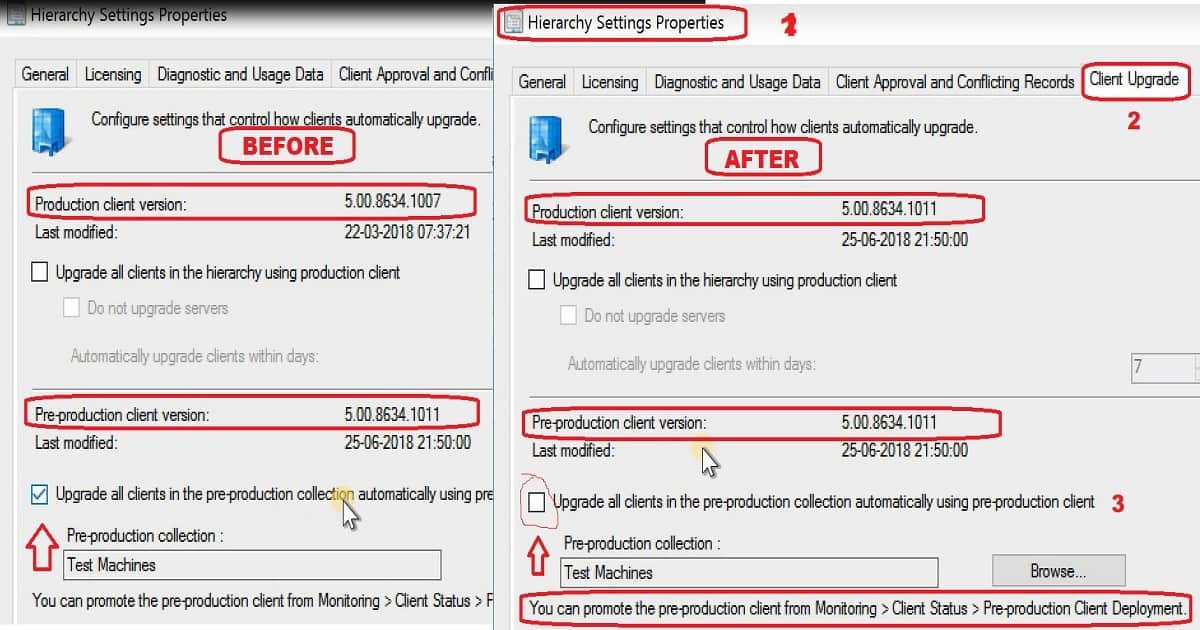 How to Upgrade SCCM client? SCCM Client Upgrade
I have a post about client upgrade process options. I would recommend reading that post to know more about SCCM client upgrade options.
Group policy installation

Logon script installation

Manual installation

Upgrade installation

OSD or IPU
Resources:-
How to test client upgrades in a pre-production collection – https://docs.microsoft.com/en-us/sccm/core/clients/manage/upgrade/test-client-upgrades