Microsoft released the latest technical preview version 2001 of Configuration Manager. Most of the features in released in this version shall be part of production version MEMCM 2001.
NOTE! – If you have not installed ConfigMgr preview version in the lab then, I would recommend installing Baseline version Configuration Manager version 1911.
MECM 2001 Version Numbers: (More Details about SCCM version details)

Site Version – 5.00.8938.1000
Client Version – 5.00.8938.1000
Console – 5.2002.1026.1000
Introduction
Microsoft is getting ready for the next version of Microsoft Endpoint Manager Configuration Manager (MECM – A.K.A MEMCM) release. It seems most of the following features of the next two technical preview version will be part of 2002 product version of MEMCM.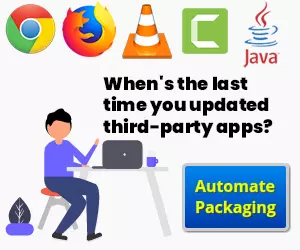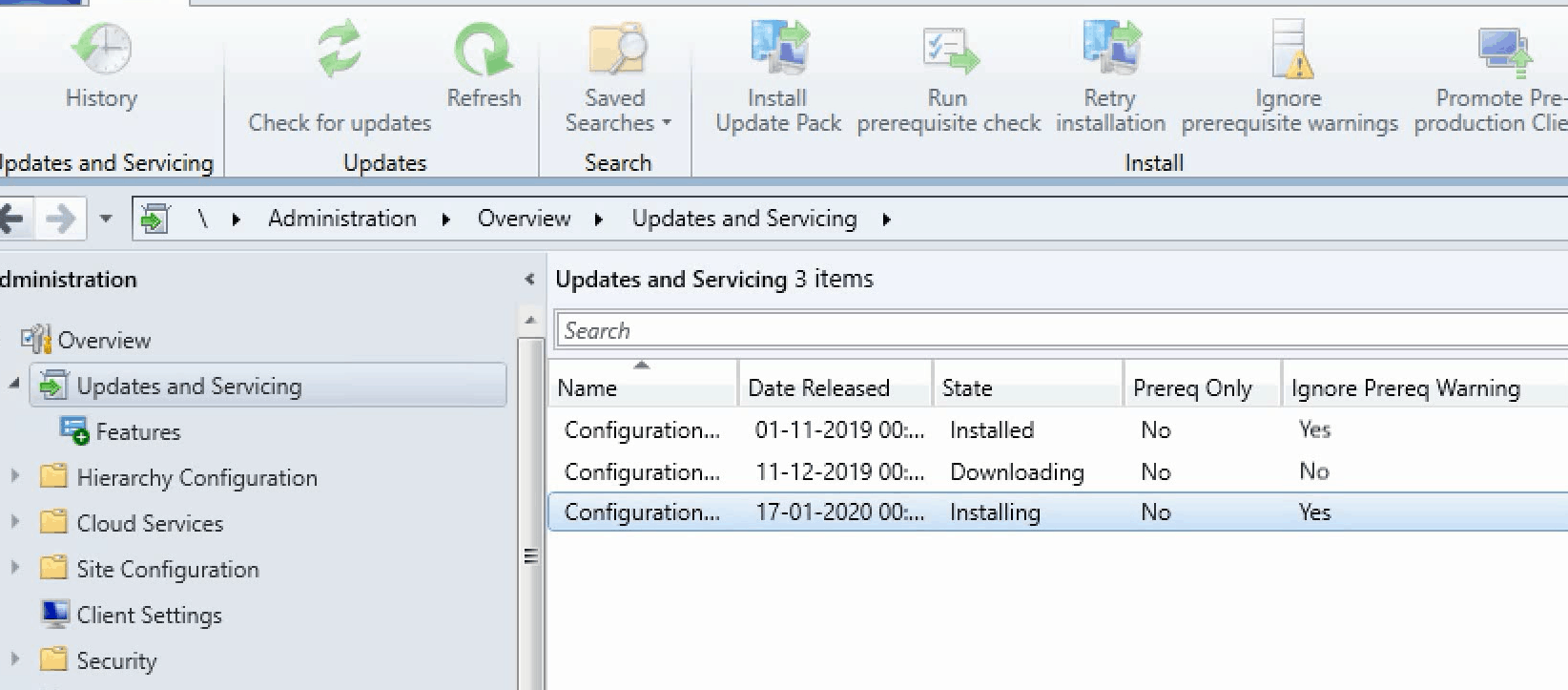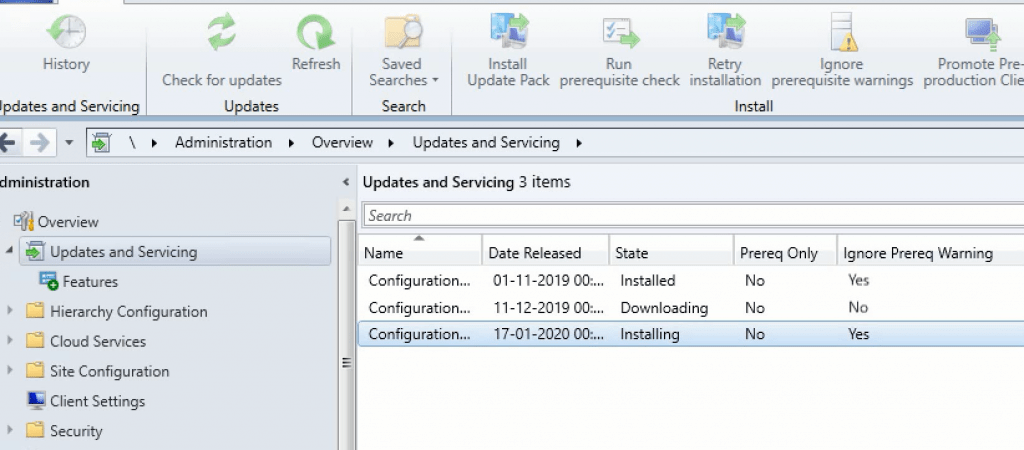 More details of MECM 2001 technical preview version here.
Task Sequence Check Readiness
Task Sequence Check Readiness with Windows 10 upgrade. Configuration Manager 2001 Task Sequence has out of box checks to confirm the existing device configuration before Windows 10 upgrade.
Architecture of current OS: 32 Vs 64
Minimum OS version: for example, 10.0.16299
Maximum OS version: for example, 10.0.18356
Minimum client version: for example, 5.00.08913.1005
Language of current OS: select the language name, the step compares the associated language code. This check compares the language that you select to the OSLanguage property of the Win32_OperatingSystem class on the client.
AC power plugged in
Network adapter connected

Network adapter is not wireless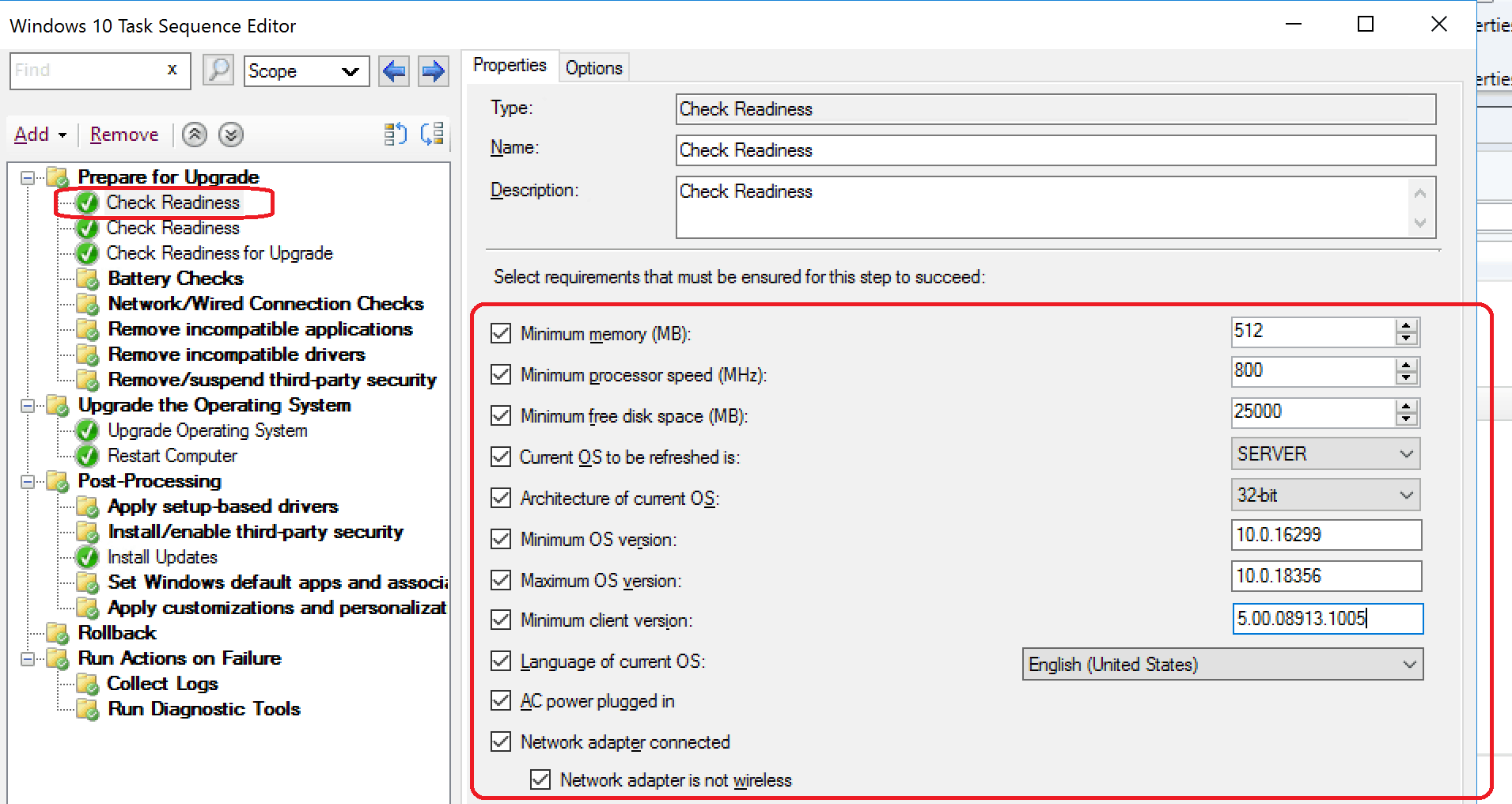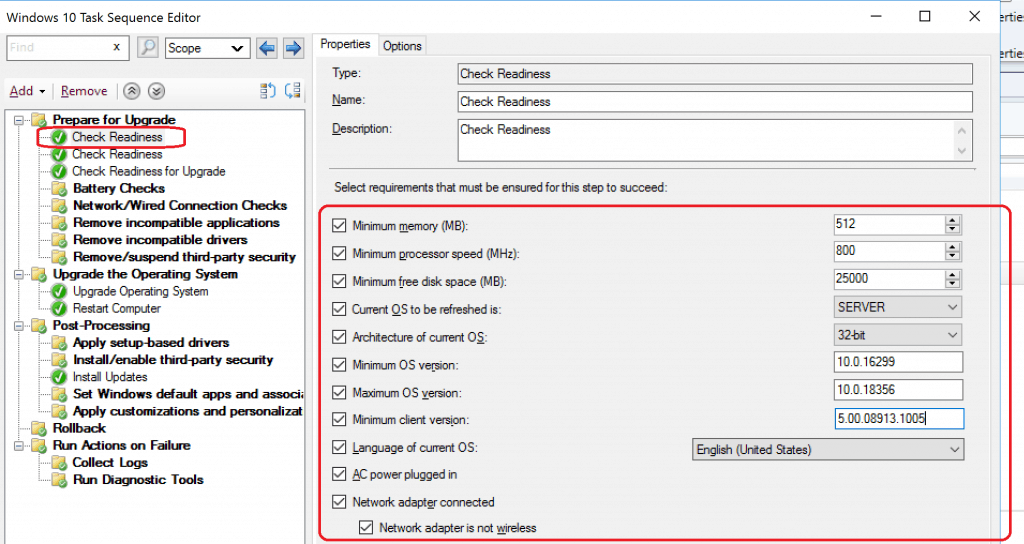 Task Sequence Progress Bar
2001 version of Microsoft Endpoint Manager Configuration Manager (MECM) progress bar improvements on task sequence status bar.
Improvements to Orchestration Groups
Orchestration groups are evolution of server groups and in 2001 version of configuration manager comes with following improvements. My previous post about the "SCCM Orchestration Group Setup Step by Step Guide for Server Patching."
We can now specify custom timeout values for The Orchestration Group and Orchestration Group members.
When selecting group members, you now have a drop-down list to select the site code.
When selecting resources for the group, only valid clients are shown.
You can set value for Number of machines, Script timeout in the PreScript and PostScript page.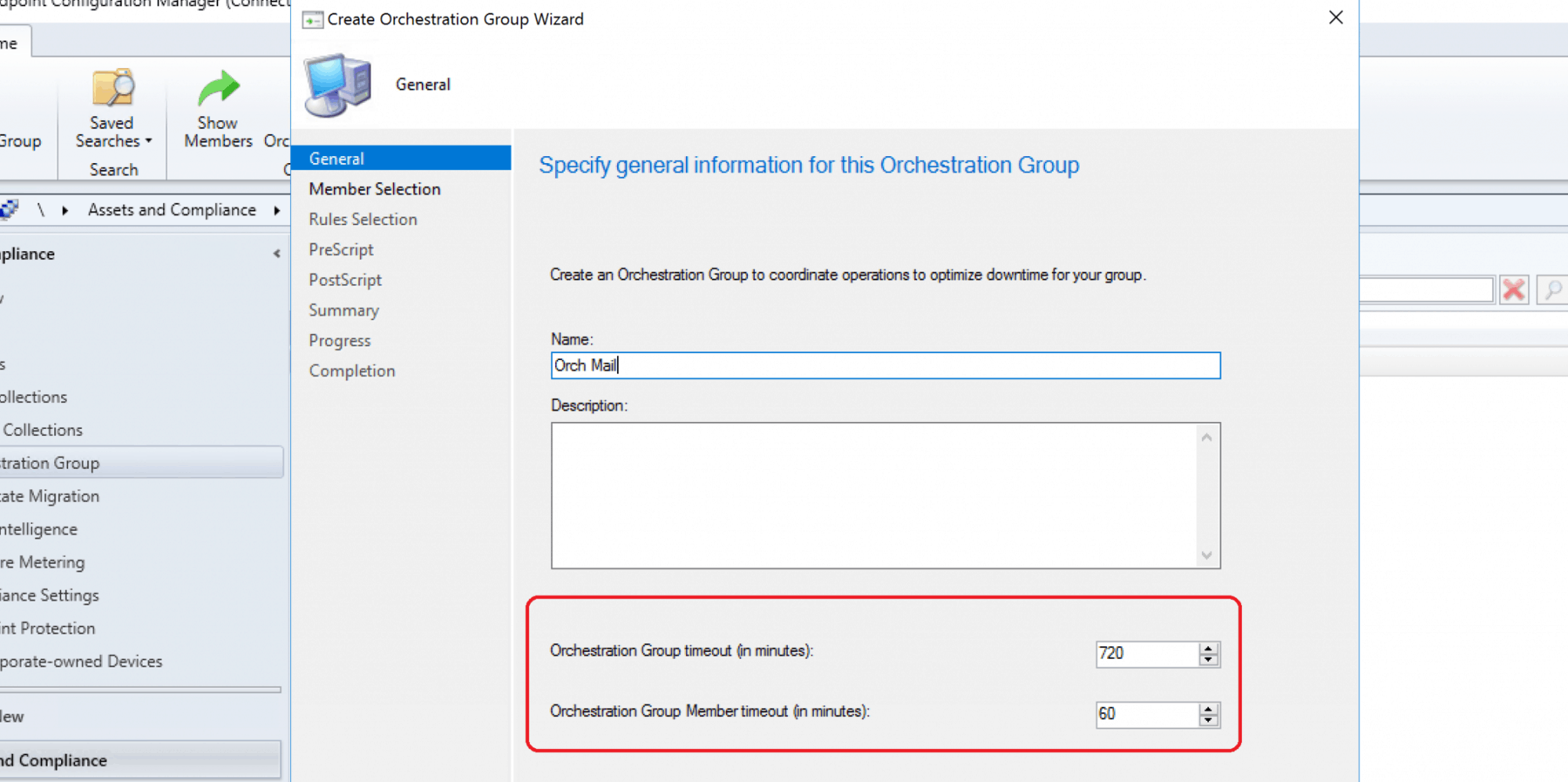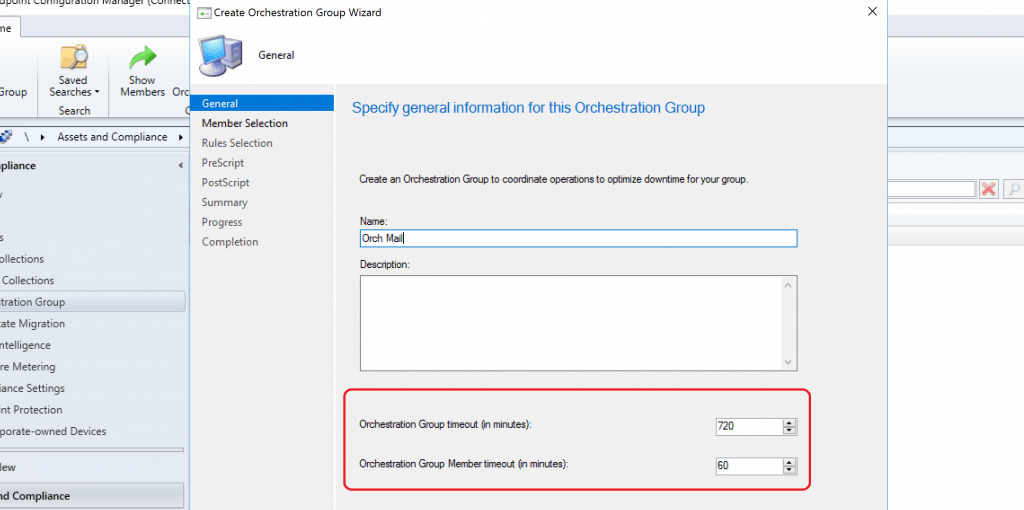 Improvements to administration service
Automatically use Configuration Manager-generated certificates for the administration service REST API, unless there's already a certificate bound to port 443.
Improvements to check readiness task sequence step
An administrator is now able to specify additional readiness verification in the check readiness task sequence step: New checks added include the architecture of the current OS, minimum and maximum OS versions, the minimum client version, the language of the current OS, whether AC power is plugged in and the network adapter state.
Microsoft Edge Management dashboard
The Microsoft Edge Management dashboard provides insights on the usage of Microsoft Edge and other browsers. In this dashboard, you can see how many of your devices have Microsoft Edge installed, how many devices have different versions of Microsoft Edge installed, and you have a view of the installed browsers across devices.
OneTrace Log groups
OneTrace now support customizable log groups. Log groups allow you to open all log files associated together with a single feature. You can customize these groupings using a template.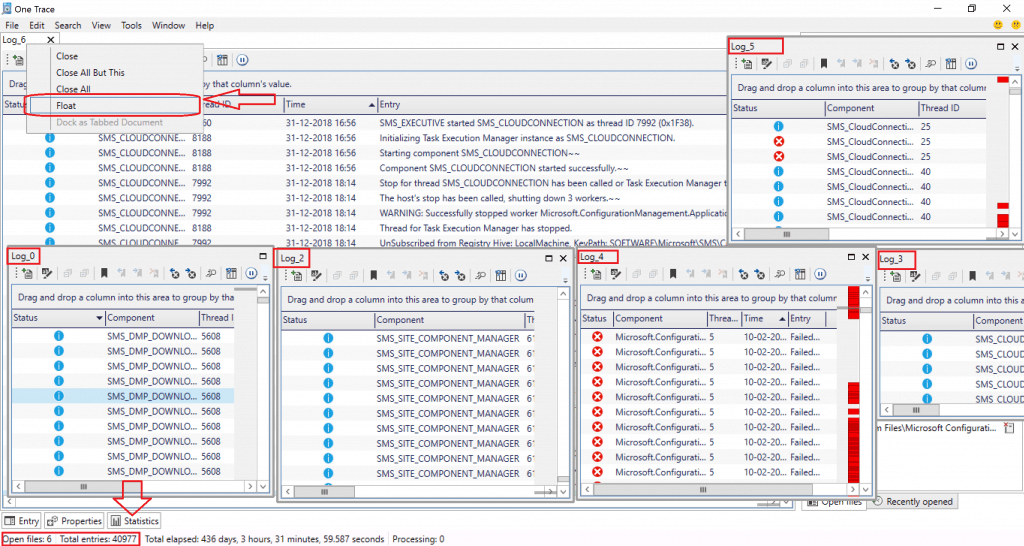 Power BI Report Server Integration
Configuration Manager now supports integration of Power BI Report Server with Configuration Manager reporting. You can now save Power BI Desktop report files and easily deploy them to the Power BI Report Server like SSRS RDL files. You can also launch the reports in the browser directly from the Configuration Manager console.
Wake up a device from the central administration site
You can now use the client notification action to wake up a device from the central administration site.
Resources