Reporting SCCM Task sequence Pre-cache Content – Part 2. In post 1, we discussed SCCM Task sequence Pre-cache content Feature. The major challenge with this feature is reporting. In Enterprise, SCCM admins should know which computers have contents Pre-cached. Currently, there is no SCCM native feature to find the pre-cache status. We will go through the custom inventory configurations required to get Pre-Cached content details from SCCM clients.
This is a series of posts as listed below:
How to Configure SCCM Task sequence Pre-Cache Content – Part 1
Reporting of SCCM Task sequence Pre-Cache Content – Part 2
The following 2 high levels steps required to achieve pre-cache status reporting. We will cover each one in detail.
Import Custom MOF (download MOF from here) to collection Client Cache information
Customize SQL queries to get reporting as per the need (Download RDL file here)
How to import Custom MOF to get Client Cache information
Launch* SCCM console, click Administration (*Thank you Joel for the comment)
In the Administration workspace, click Client Settings
select Default Client Settings
On the Home tab, click Properties
Select hardware inventory and click on Set Classes
Click on Import
Open the MOF file. You can download it from the TechNet gallery.
Click on Import. This MOF will add "CacheInfoEx" inventory class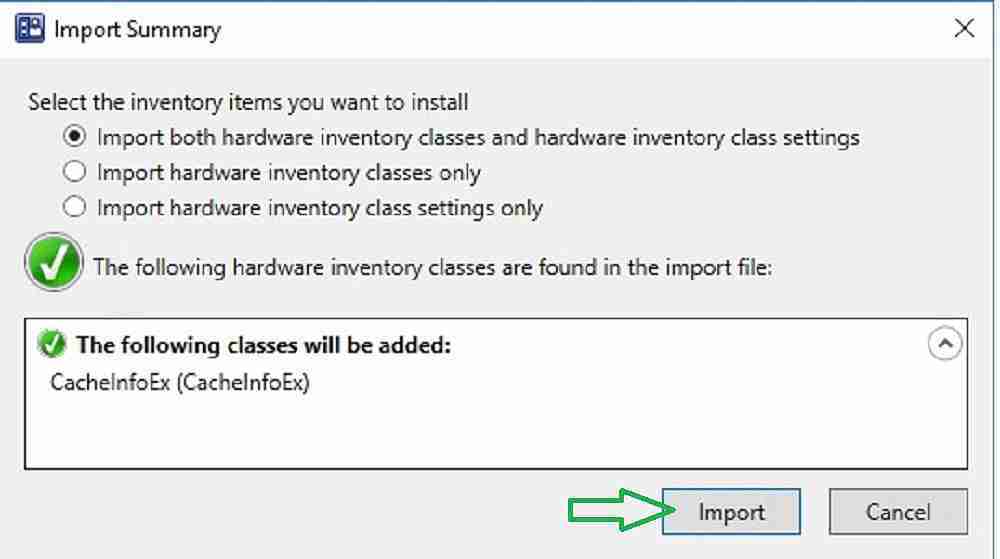 Select CacheInfoEx inventory class as shown below and click ok
Note: In production, you may unselect CacheInfoEx class in default client agent setting. Instead I would suggest creating a new custom agent setting and select CacheInfoEx class.
On next hardware inventory cycle, SCCM client collects cache information. You can verify this from inventoryagent.log
Collection: Namespace = \\.\root\cimv2; Query = SELECT __CLASS, __PATH, __RELPATH, BootDevice, BuildNumber, Caption, CountryCode, CSDVersion, Description, InstallDate, LastBootUpTime, Locale, Manufacturer, Name, Organization, OSLanguage, ProductType, RegisteredUser, SystemDirectory, TotalSwapSpaceSize, TotalVirtualMemorySize, TotalVisibleMemorySize, Version, WindowsDirectory FROM Win32_OperatingSystem; Timeout = 600 secs.

Inventory is processed by SCCM server and committed to database. You can verify dataldr.log to confirm.
Begin transaction:Machine= CM1(GUID:ADA4429B-7817-41345-BECE-CFE15556DA22)
Commit transaction:Machine= CMl(GUID:ADA44298-7817-41345-BECI3-C FE16556DA22)
Done Machine=CM1(GUID:ADA44298-7817-4845-BEC8-CFE16556DA22) code=0 Done blocking until completion.
No more machine MIFs to be processed, terminating thread
Shutting down Machine Writer
Worker thread 5204 halting execution
Finished processing 1 MIFs
Result for SCCM Administrator
New SQL view "v_GS_CACHEINFOEX" gets created with below attributes. These values help to customize SQL query as per our requirement to check the pre-caching details.

Below SQL query gives the cached content status for all clients in a specific collection. Modify the collection ID.
SELECT   aa.Netbios_Name0,bb.ContentId0,bb.ContentSize0,bb.Location0 from v_R_System aa left join v_GS_CACHEINFOEX bb on aa.ResourceID=bb.ResourceID join
v_FullCollectionMembership cc on bb.ResourceID in (Select cc.ResourceID from v_FullCollectionMembership where cc.CollectionID ='CHQ00017')

We can further customize the SQL query to get the pre-cache information specific to Task sequence and collection. RDL file for the below report is available to download from TechNet gallery. You can import the RDL to get a report as shown below. Also, the total content size will help you to know whether all contents referred to in the Task sequence cached.