In this post, you will learn how to delete windows autopilot device from Intune. Let's review the steps to clean up your Intune Windows autopilot devices more quickly.
You may need to perform the cleanup in several scenarios when you need to use devices for testing or assign to the users depending on the situation whether you are deleting the device from Azure Active Directory (Azure AD) or need to keep it for other purposes.
Windows Autopilot is a collection of technologies used to set up and pre-configure new devices, getting them ready for productive use. Windows Autopilot can be used to deploy Windows PCs or HoloLens 2 devices.
With the help of Intune and AutoPilot, you can pre-configure, reset, re-purpose, and recover your devices. You can do the customization, and deploy the setting without re-imaging, which saves you a lot of time. There is no days limit and the re-registration is needed to complete a successful deployment if the device is registered and not enrolled.

If you are looking for a simple way to export and import your Windows Autopilot devices, there are multiple methods available, and Intune has a built-in option. Learn how to export the windows autopilot devices in Intune.
Points to Consider
Removing a device from your tenant requires you to delete the Intune device, the Azure Active Directory device, and the Windows Autopilot device records. This can all be done from Intune portal.
If the devices are enrolled in Intune, you must first delete them from the Intune All devices blade.
Delete the devices in Azure Active Directory devices at Devices > Azure AD devices.
Delete Windows Device from Intune
When you register a device with Windows Autopilot, an Azure AD device object will be created corresponding to that Azure AD device.
Starting in Intune Service Release 2307, Windows Autopilot is making it easier to manage devices by adding one step removal of a device in Autopilot devices in Intune. One step removal of a device means that you can now remove the Autopilot registration of a device without needing to delete the record in Intune.

If your device is enrolled in Intune, you must first follow the step to delete from All devices node. If you haven't enrolled yet, You can delete the device from the Windows Autopilot section.
Sign in to the Microsoft Intune admin center https://endpoint.microsoft.com/.
Navigate to Devices > Windows. Under Windows devices, Search for the device from the list you want to delete.
Click on the device to get inside the overview tab.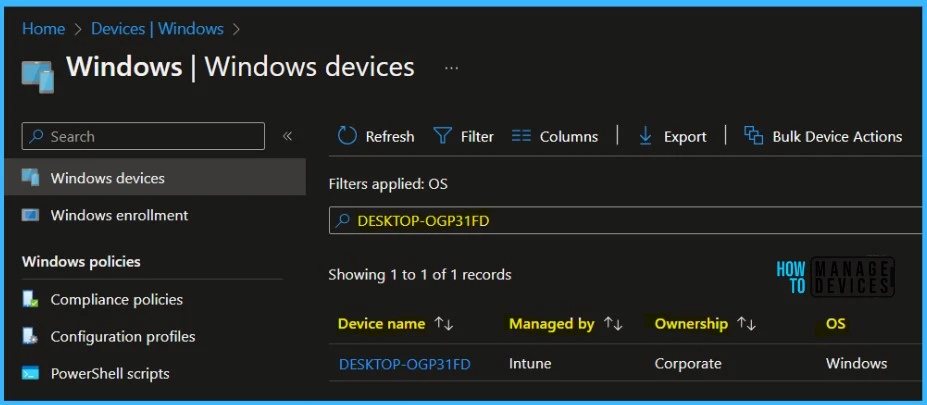 Once you click on Delete, you will see the message appears as shown below. You can read the impact of deleting the device and Click on Yes to proceed.
If you delete this device, you will no longer be able to view or manage the device from the Intune portal. The device will no longer be allowed to access your company's corporate resources. Company data may be wiped from the device if the device tried to check-in after it is deleted.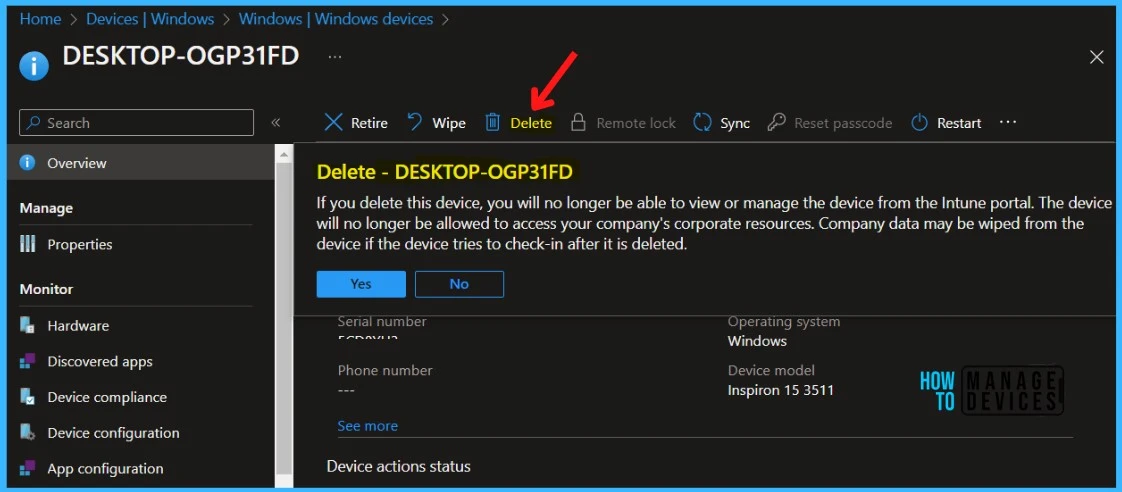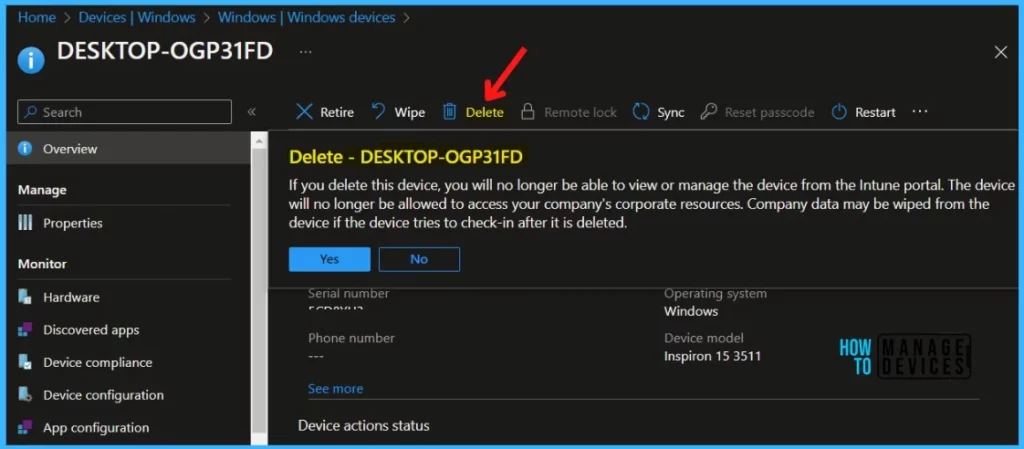 Once you clicked on delete, you will receive a message Delete initiated. It will take a few minutes to complete the process, you can back and hit refresh. You will find, the device is no longer available on Windows devices.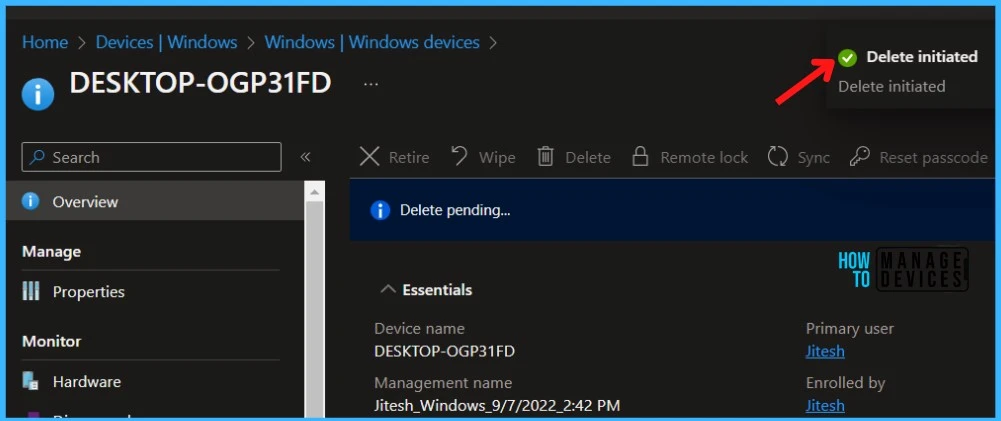 Delete Windows Autopilot Device From Intune
The next step is to perform the deletion of Windows Autopilot devices. You can use the following steps to delete Windows Autopilot Device from Intune.
Sign in to the Microsoft Intune admin center https://endpoint.microsoft.com/.
To delete the Windows Autopilot devices, Navigate to Devices > Windows > Windows enrollment. Click on Devices to see managed windows autopilot devices.
Note – You can delete Windows Autopilot devices that aren't enrolled in Intune directly from here.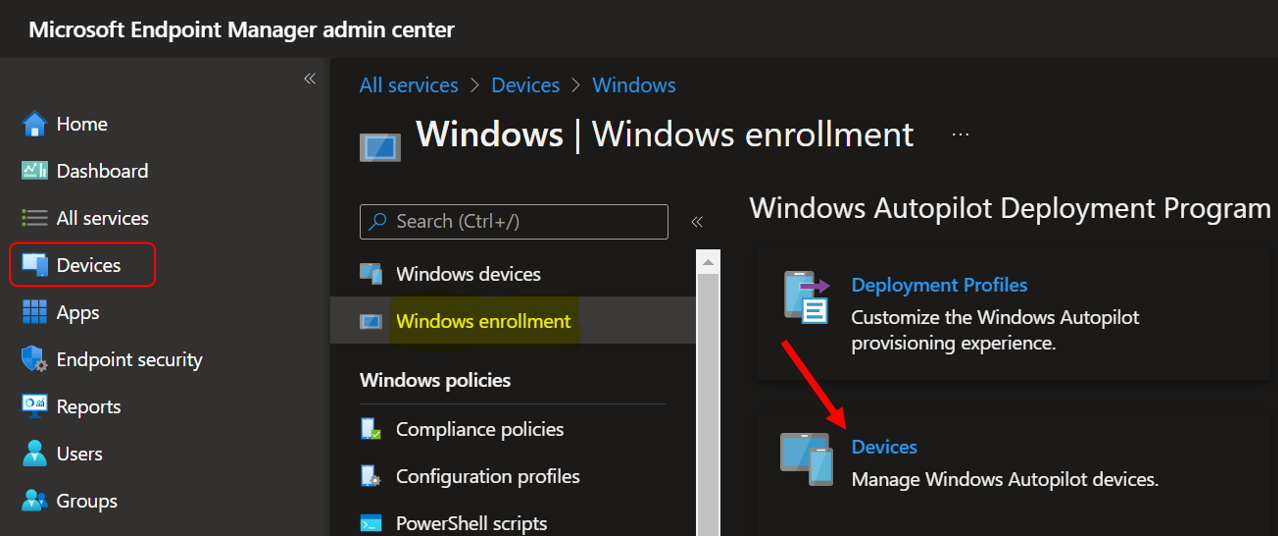 In Windows Autopilot Deployment Program, Choose the devices you want to delete, then choose Delete.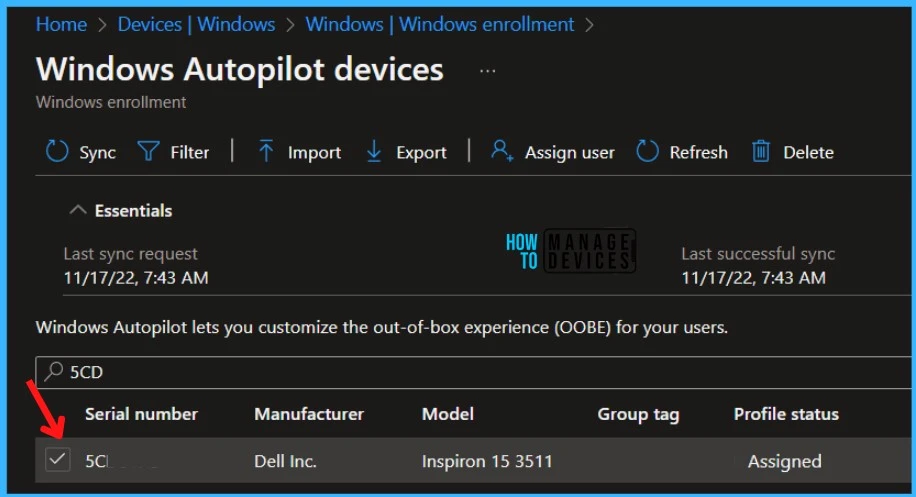 Once you click on Delete. A prompt message will appear Are you sure you want to delete the selected device? Click on Yes to continue the deletion process.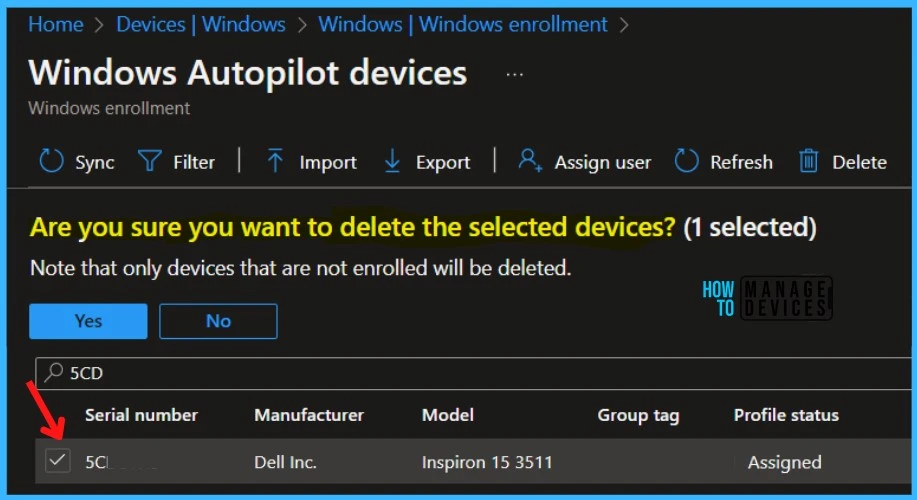 Windows Autopilot device deletion can take a few minutes to complete. You can wait to get the successful deletion message.
Note – You might need to delete Windows Autopilot devices from Azure AD due to communication issues or missing devices.


Click on the Notifications icon to get the status. Once the successfully deleted the selected device, you will receive a message Device record successfully deleted. You see the selected device has been successfully deleted from Windows Autopilot devices.
Note – You may experience the notification message sometimes resulting in Deletion took longer than normal. Try refreshing the devices list in a little while. In this scenario, please refresh and wait for a moment. You will find the device has been deleted.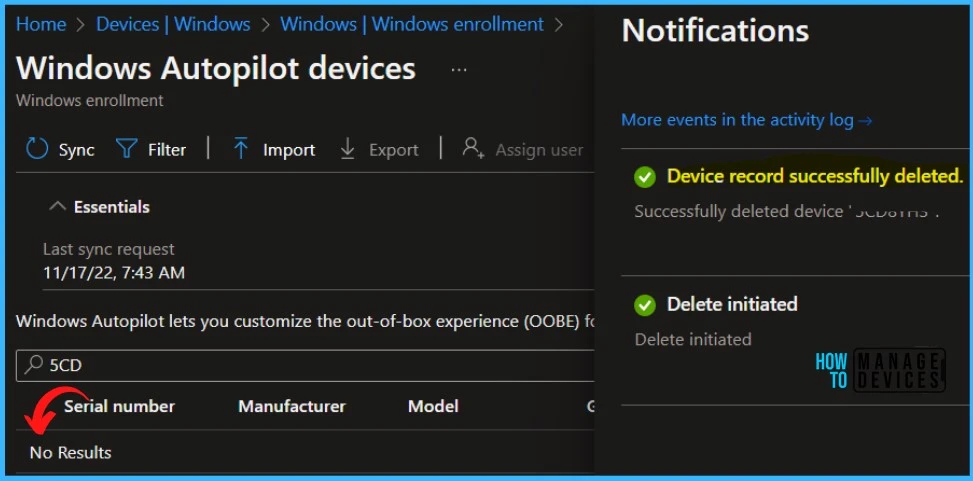 Author