You can download Azure Virtual Desktop eBooks from the below links. I have shared the download links of eight(8) full-length technical eBooks. There are some marketing and cost-saving related eBooks as well in the following list. All of these eBooks are owned by Microsoft.
I hope the following Azure Virtual Desktop eBooks would be helpful for IT admins to get more details about the AVD solution. There are several different scenarios covered in each eBook. Some of my favorite & interesting topics are given below.
Security Hardening Guide for AVD.
Application Management (MSIX) for AVD.
RDS to AVD migration Guide.
DR Handbook for AVD.
There are a bunch of other eBooks posts that the HTMD Community also shares in the previous posts. You can download Azure, Azure AD, and Intune eBooks using those posts.
Azure Virtual Desktop (AVD)
Azure virtual desktop is a solution provided by Microsoft to host VDIs in the Azure cloud. The customer is end to end responsible for the build and management of VDIs. Microsoft's responsibility is to manage AVD gateways and the rest of the server-side components related to gateway services.
AVD is a modern VDI solution build with native cloud architecture in mind. AVD offers integration with other on-prem VDI players like Citrix and VMware.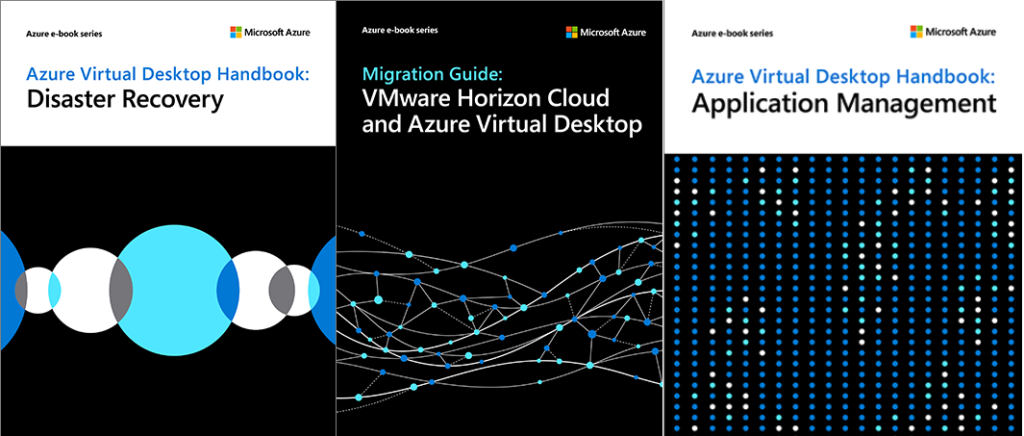 Technical Azure Virtual Desktop eBooks
Here is the list of free Technical Azure Virtual Desktop eBooks available to download. The focus is mainly on the technical aspects of the AVD. You can get technical deep-dive eBooks from the following table. Some example scenarios are related to BCP/DR of AVD, Migration to Citrix Cloud with WVD, and many others.
AVD Cost Money Savings eBooks
Well, the following eBooks are not directly related to the AVD technical side of things. However, I feel it's worth going through these eBooks before your next client meeting. In this section, you will be able to download the AVD eBooks on the topics like:
Economic impact.
Cost optimization.
Ways to save money.
Resources