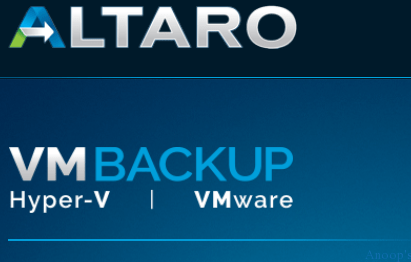 Most of IT Pros are running labs on our workstations or laptops. Have you ever tried a backup solution to backup Hyper-V and VMware virtual machines in the lab? Altaro released a latest version of their backup solution Altaro VM (Virtual Machine) Backup. Single backup solution supports both VMware and Hyper-v Virtual machines!!! Altaro VM Backup is an easy to use backup software solution to back up and restore both Hyper-V and VMware-based virtual machines from within the same application. Altaro VM Backup is totally FREE for 2 VMs forever. It's very easy to install and configure. It took only 15-17 minutes to install and configure. The greatest advantage what I feel is it doesn't require any specific skilled or trained resource to manage Altaro VM backup solution.
Download the Free Altaro VM backup solution from here !


With Altaro VM Backup, you can install and run your first virtual machine (VM) backup in less than 15 minutes. Get up and running quickly, without the need for complex configurations or software dependencies. You'll be backing up VMs in no time. Some of greatest features of Altaro VM Backup are listed down ! You can check more details about features and quick Demo here.
Back up live VMs
Support for Cluster Shared Volumes & VMware vCenter
Offsite Backup Replication
Compression and Encryption
Exchange Server Item-Level Restore
Instant File Level Restore
Granular Restore Options
Fast OnePass Restores
Intuitive user interface
Central management console – full control
Remote management
Queue backup/restore jobs