You can easily export the Intune device compliance policies from Intune portal, aka Endpoint Manager. Intune Compliance Policy is to help to protect company data; the organization needs to make sure that the devices used to access company apps and data comply with certain rules.
The default compliance policy rules include password/PIN, Patch Level, TPM, Encryption, Secure boot checks, etc. Compliance policy configuration is an important design decision while managing mobile devices, Windows 10 or Windows 11 physical or virtual devices with MEM Intune.
Intune compliance policies are the first step of the protection before providing access to corporate applications, along with Conditional Access policies.
You can start creating compliance policies from two places in the MEM admin center portal. The Devices Node and from Endpoint Security node.

You have better options with Intune for exporting and importing Intune policies and configurations from Graph API. You can also try to analyze Backup Your Intune Settings Using Script.
Export Intune Device Compliance Policies
Here's how you can export Intune Device Compliance policies from Intune portal. You have two options to navigate to the compliance policies node either you can navigate to the Devices node or Endpoint Security –
Sign in to Microsoft Endpoint Manager Admin Center https://endpoint.microsoft.com
Navigate to Devices > Compliance Policies.
Here you can see the lists of available compliance policies in the portal.


It's good to customize the device compliance policies based on your requirements, and there are columns property, and filters that you can use. The filters are helpful when you want to view specific data.

Let's use the Columns property to add or remove columns. Click on the Columns. Next, you find the following columns that you can include/exclude.
Platform
Policy Type
Last modified
Scope tags
With a flyout display, you can Check or Uncheck the columns you want to include. Select Apply to update.


Clicking on Filter allows you to refine your data based on Platform, Scope (Tags), and Last modified date range. Here you will find the following supported platform –
iOS/iPadOS
Andriod (AOSP)
Android device administrator
Andriod Enterprise
macOS
Windows Phone 8.1
Windows Phone 8.1 and later
Windows 10 and later
Windows 10x
Unsupported
Once you confirm with selection, Click Apply and export the filtered compliance policies.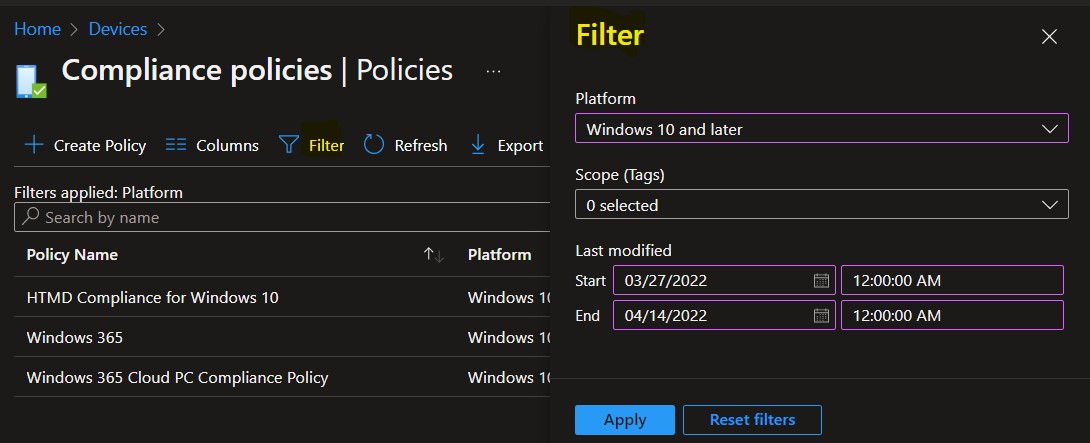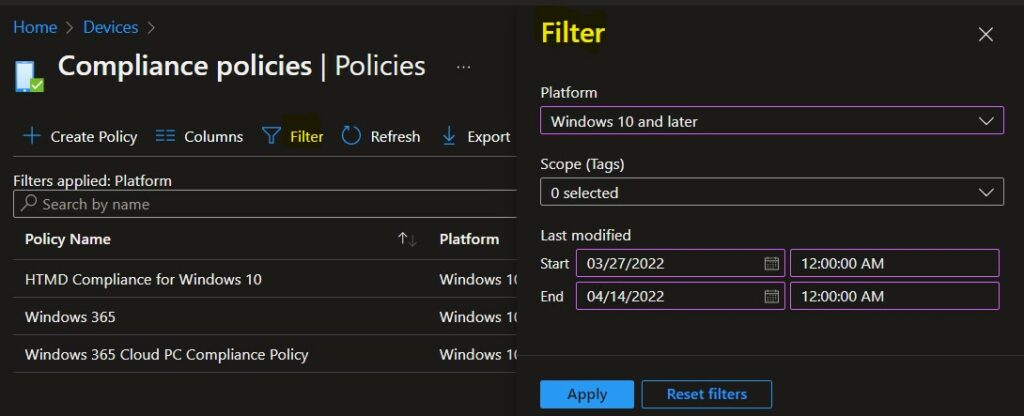 Export Compliance Policies
Select Export and on the export device compliance policies, click Download to export all data.
A notification will appear automatically in the top right-hand corner with the message Export is in progress. You can also see the status by selecting the notification icon.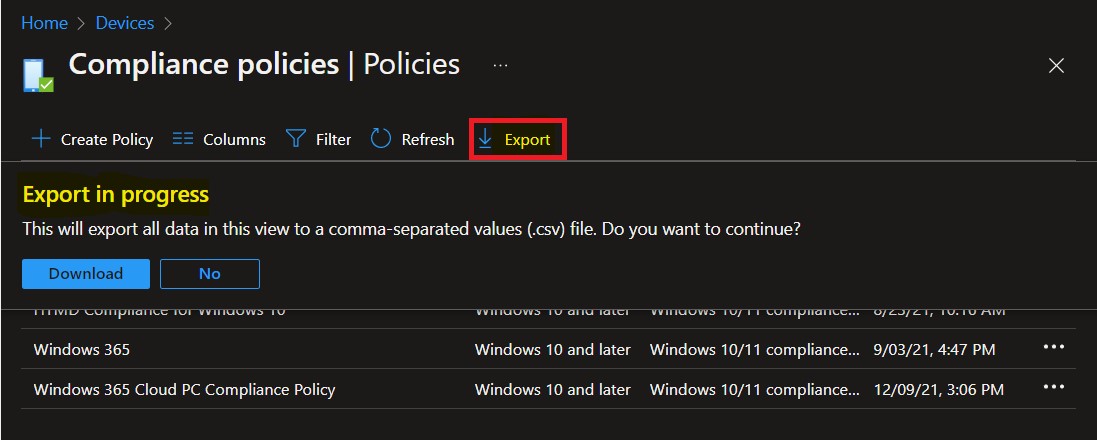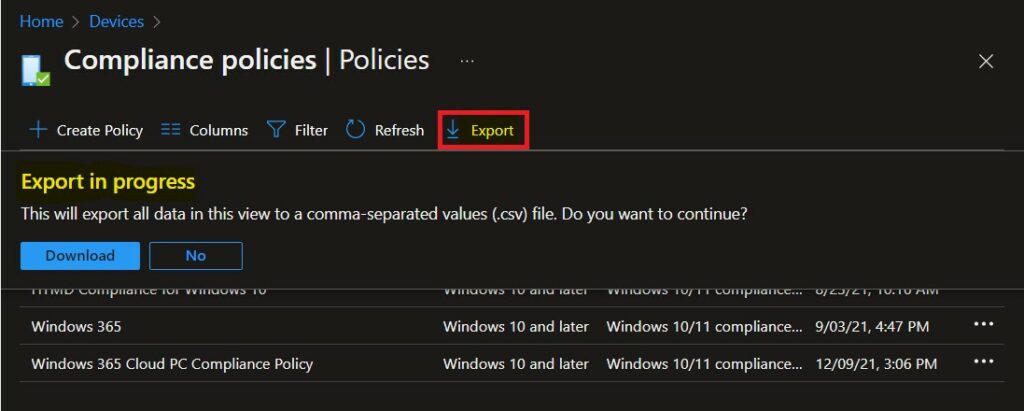 All exported data will be automatically downloaded in a .csv file to your browsers, and a notification message will appear Export completed.


Extract the downloaded CSV file, and Open it to exported data of device data details as shown below.


Author