Microsoft has shared a FIX Outlook app Hangs issue after June 2023 updates using Intune. The Microsoft Outlook Team is investigating a fix for this issue. This mostly happens with the Outlook app for PC, where users have large OST files.
Sometimes Outlook appears to be syncing the entire OST, or it usually starts up. We have not noticed this issue for the new installation of the Outlook app with new mailboxes etc, where users don't have large OST files. Microsoft has shared that this is only for Outlook App for PCs.
There is another known issue with the Outlook app after the June Office patches, the Text predictions option in the Outlook app unexpectedly becomes unavailable and is missing. Let's check out the Intune policy to control the calendar REST updates in the below section.
There is another known issue with Windows 10 June patch KB5027215. After the patch installation and restart, the users started getting Windows Hello Popup messages.

Error Message Outlook App Hangs Issue after June Patch
Outlook app Hangs delay is the main issue with this bug. As per Microsoft, sometimes users get the following error message after the June patch, and then Microsoft Outlook freezes and stops working.
"Cannot start Microsoft Outlook. Cannot open the Outlook window. The set of folders cannot be opened. The attempt to log on to Microsoft Exchange has failed."
As per Microsoft, Customers often report that if they cancel Outlook opening and try again, it will open up immediately. They may also note that if they have switched to Airplane mode, Outlook will sometimes refuse to start at all, giving this error: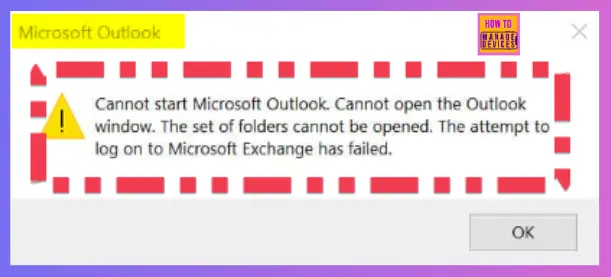 FIX Outlook App Hangs Issue after June Patch
There are different options to fix Outlook App Hangs Issue after June Patch. We will check different options in this post. We have to DISABLE and then Enable back the TURN ON Shared Calendar Improvements Microsoft 365 feature from Outlook app options for the manual method.

There are Windows CSP and Group Policy settings that determine if Outlook can use REST to update calendars. The same Windows CSP policy can be used using Intune Settings Catalog.
If you enable this policy, Outlook will use REST to update supported Office 365 and Outlook.com calendars.
If you disable this policy, Outlook won't use REST to update any calendars.
There is also an option to disable/enable the TURN ON Shared Calendar Improvements feature from Outlook using Office 365 ADMX Group Policy Settings. Look for REST updates for calendars settings from Group Policy Settings.
Manual Method to FIX Outlook App Hangs Issue
Let's check the manual method to disable and enable the calendar improvements option from Outlook App. You need to follow the steps explained below, or you can use a registry fix as explained below.
In Outlook, select File – Account Settings – Account Settings.
Select the Microsoft Exchange account.
Choose More Settings, followed by the Advanced tab.
Remove the checkbox next to Turn on shared calendar improvements.
Then immediately toggle it back ON.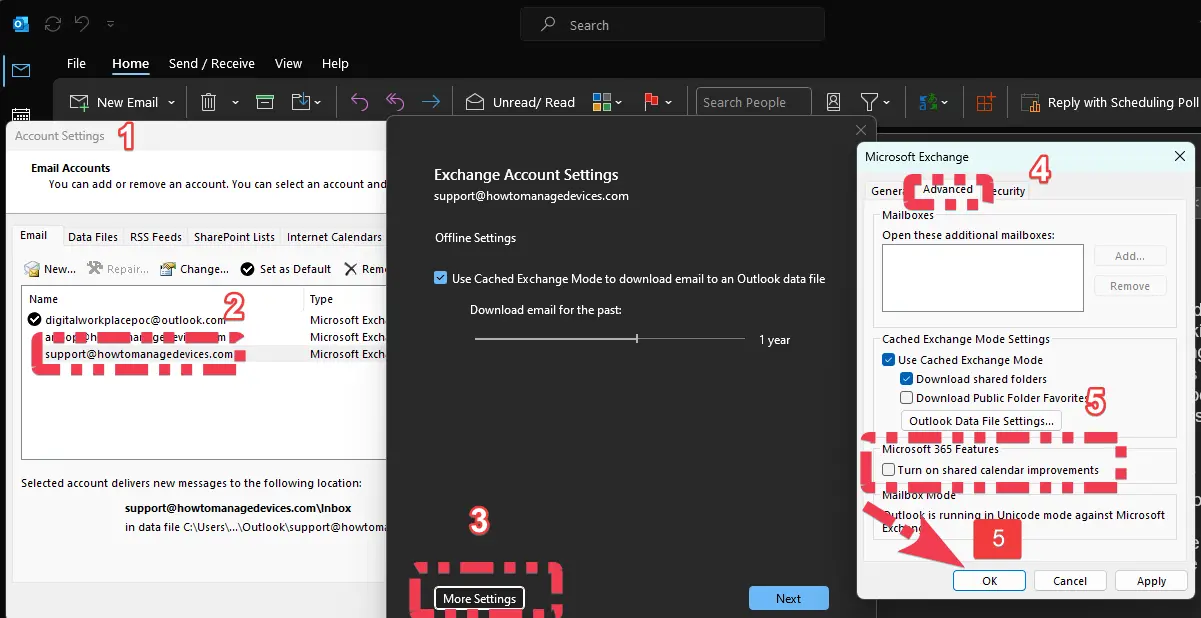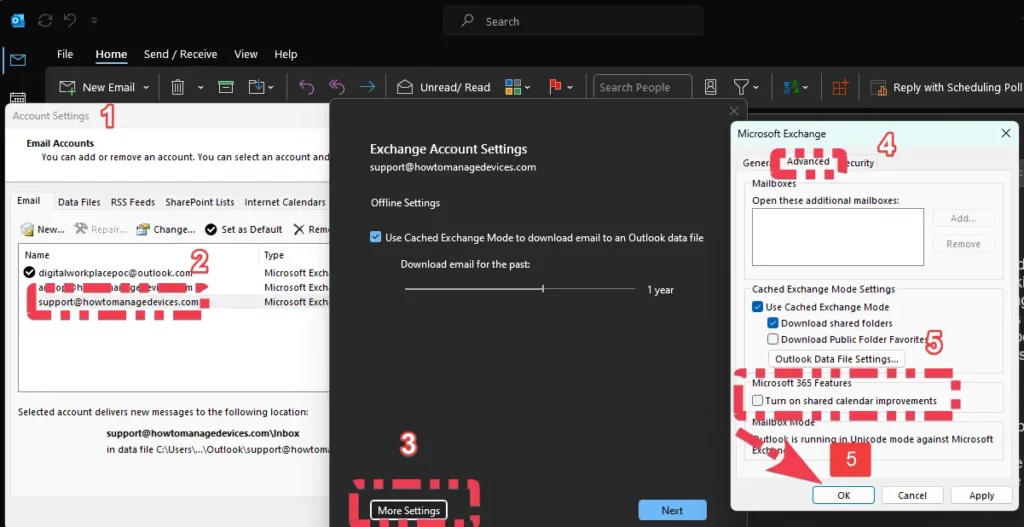 You can also use the following registry value to disable or enable the option called Turn on shared calendar improvements. This setting, when set to 1, will force REST on and avoid the issue:
Open Regedit.exe
Navigate to HKEY_CURRENT_USER\Software\Microsoft\Office\16.0\Outlook\Options\Calendar
DWORD: RestUpdatesForCalendar
Set Value as 1 to avoid this issue.

Intune Method to FIX Outlook App Hangs Issue after June Patch
You can use Intune to deploy this policy for all Windows devices so that you can easily fix this issue for all the users instead of manually fixing this via registry entry or Outlook App.
Intune Settings Catalog policies will help you here to enable the toggle similar to the Group Policy Settings explained in the support article linked at the bottom of this post.
Sign in to the Intune Admin Center portal https://intune.microsoft.com/.
Select Devices > Windows > Configuration profiles > Create a profile.
Select Windows 10 and later in Platform, and Select Profile Type as Settings catalog. Click on Create button.
In the Settings Picker windows, search by the keyword REST updates for calendars, you'll get one category, Outlook Options\Preferences\Calendar Options, and select this category.
Now it's time to select the REST updates for calendars option from Settings name. Close the Settings Picker page and Enable the toggle button for REST updates for calendars settings, as shown below.
NOTE! – The Microsoft documentation linked below asks to enable these settings for Group Policy to fix the issue. Hence we think we should also have the same settings for Intune policy settings.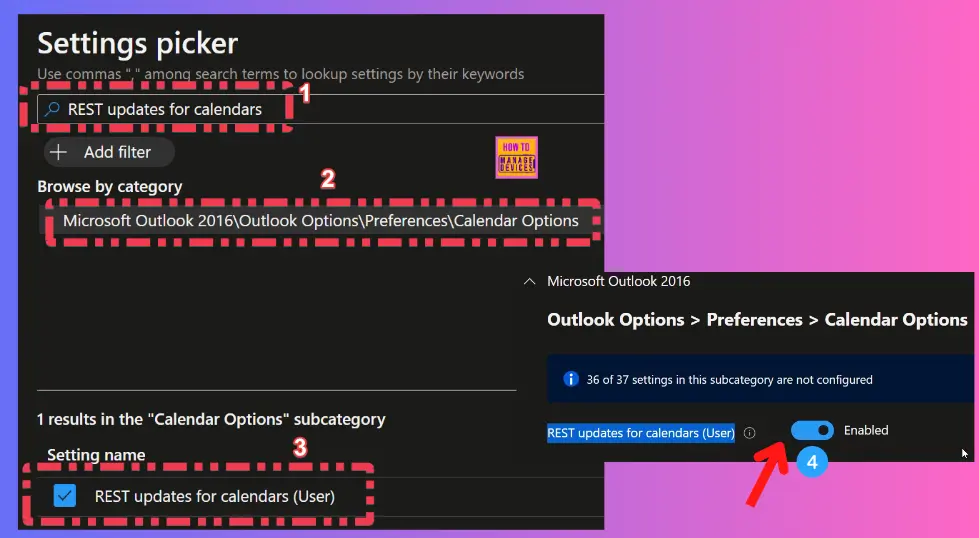 Microsoft Documentation – Outlook starts up slowly and hangs at the splash screen when REST to MAPI is unexpectedly toggled – Microsoft Support
Author
About Author – Vidya is a computer enthusiast. She is here to share quick tips and tricks with Windows 11 or Windows 10 users. She is also keen to find solutions to and write about day-to-day tech problems.