Let's see how to implement Group Policy Templates for Office 365 and All Office Versions. You can use office administrative templates to configure policy settings for Microsoft Office and manage settings for Microsoft office all versions.
To configure ADMX templates for Microsoft Office, you need Microsoft Office on the client computers. Once you have Microsoft Office products, you can configure the policies to control the settings.
Microsoft Office Administrative Templates files are divided into .admx files and language-specific .adml files. To configure Microsoft Office with group policy objects, install administrative templates that add rules and settings for Microsoft Office.
If you have Windows Server and Active Directory Domain Services (AD DS) deployed in your organization, you can configure settings for Office by using Group Policy. Copy the ADMX/ADML files to your AD DS environment and then use the Group Policy Management administrative tool to configure the Group Policy settings for Office.

The Microsoft Office templates can be applied using Local Group Policy Editor on an individual client computer or the group policy Central Store in your Active Directory domain.
Download Group Policy Administrative Templates for Office 365 and All Office Versions
If you want to configure Microsoft Office policy settings, The following steps guide you to download and install the Microsoft Office administrative template –
Note – The Microsoft Office 365 ProPlus product has been renamed to Microsoft 365 Apps for the enterprise.
This download includes the Group Policy Templates for Office (ADMX/ADML). These files are used by Group Policy to configure installations of Microsoft 365 products –

Microsoft 365 Apps for enterprise (Microsoft Office 365)
Microsoft Office LTSC 2021 (Volume licensed versions)
Microsoft Office 2019, 2016, 2013, and 2010.
Microsoft Office has separate administrative templates for available office products. This helps you to set the latest policies. Here is the list of group policy administrative templates for all Office versions.
Download Administrative Templates (.admx) for Microsoft Office
To Download Administrative Templates. Select your Office Version from the above list. Select the link. Let's download Group Policy Templates for Office 365 Apps for enterprise/Office LTSC 2021/Office 2019/Office 2016.
You'll be redirected to the Download Center details page for your device. Once you click the "Download" button, you will be prompted to select the files you need.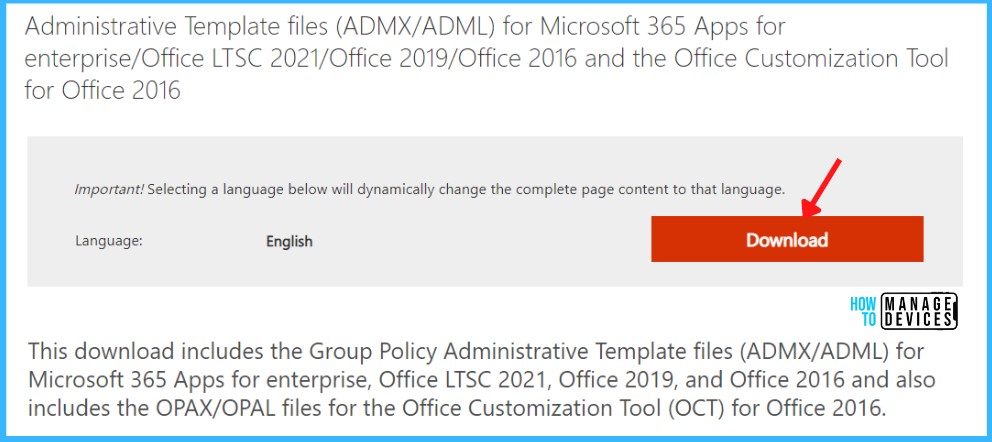 There are multiple files available for this download. Select the architecture from the list of 32-bit or 64-bit based on your requirement and click Next.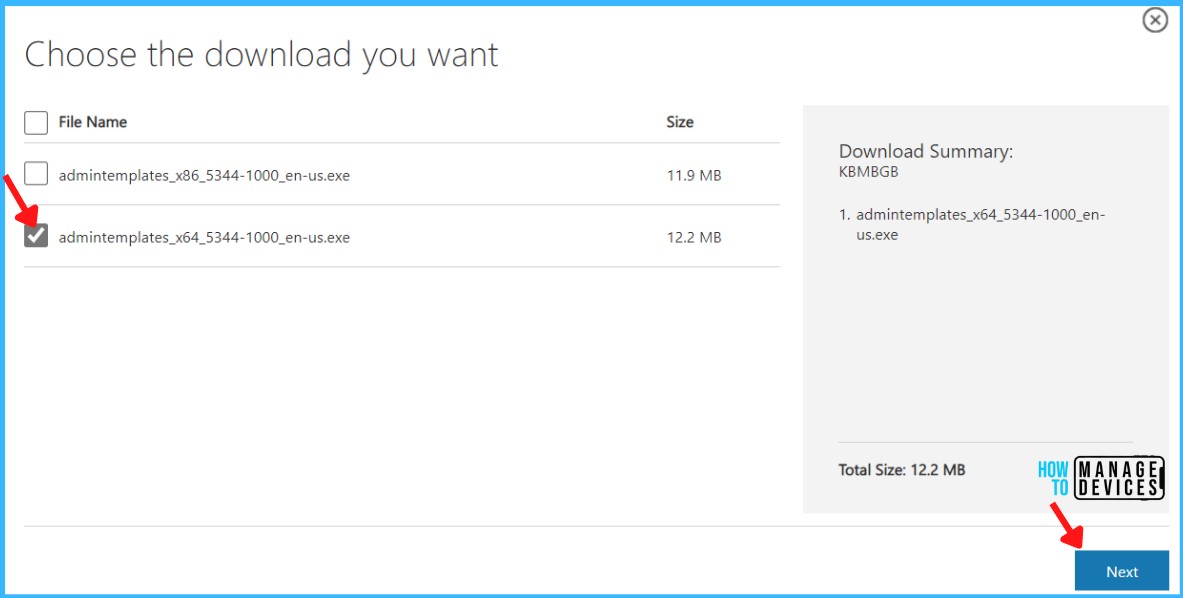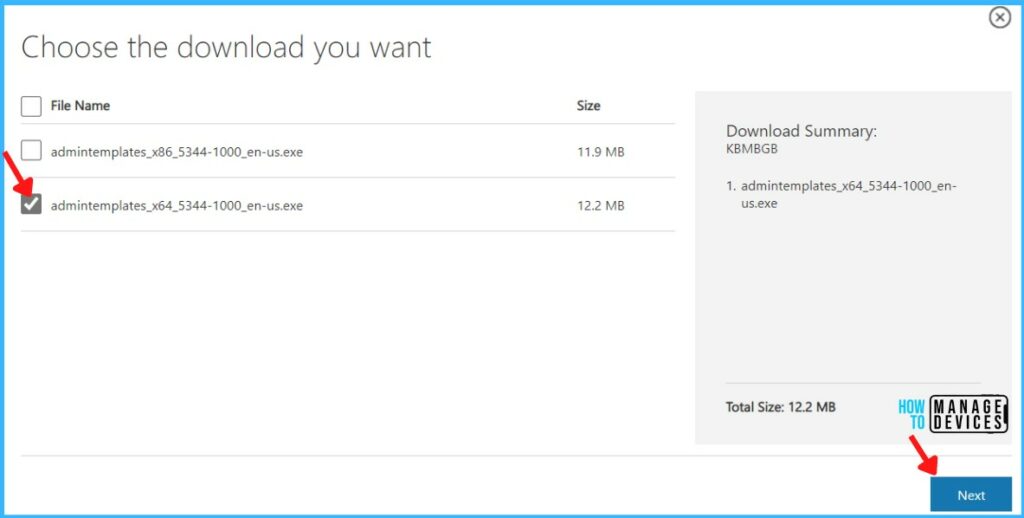 Based on the selection, The file will automatically start downloading admintemplates.exe. Once you have the downloaded executable, proceed to the next step for extraction.
Extract Microsoft Office Administrative Templates Files
The next step is to extract the contents of admintemplates_x64_5344-1000_en-us.exe to a folder. Double click or Right click on the executable file and select Run as administrator.


To extract the Microsoft Office ADMX/ADML and OPAX/OPAL files, check the box to Accept License Terms and click on Continue.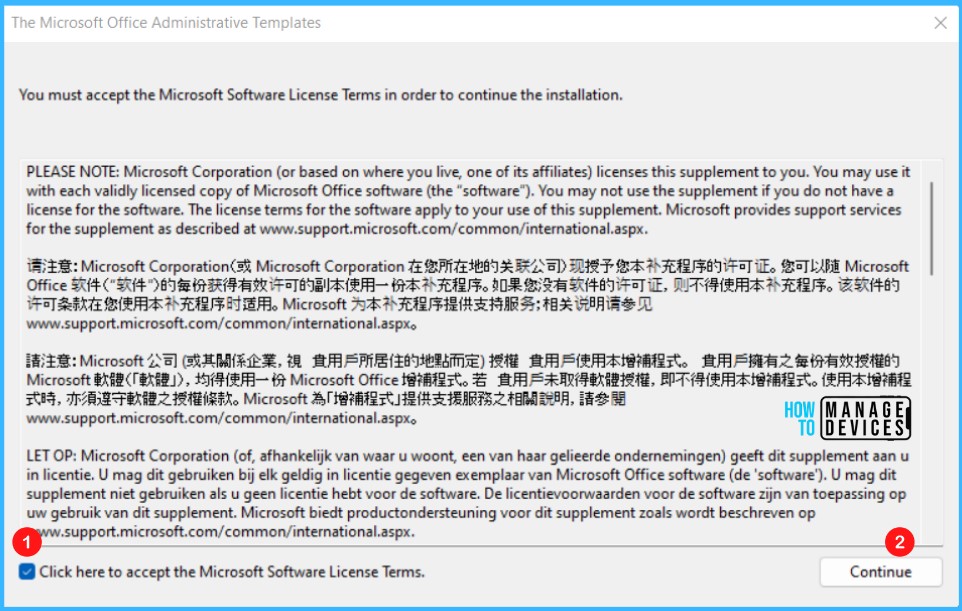 Select a folder to store the extracted files, Once you select the folder, click OK. The extraction process will take less than minutes, and you will be prompted with the message "Files extracted successfully."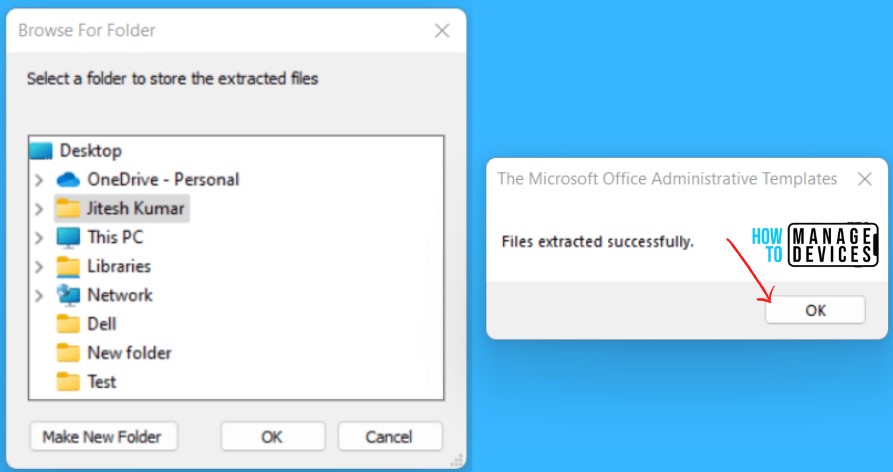 After you extract the templates, you will see the following files available:
Admin – The folder contains a set of OPAX/OPAL files to configure Office deployment options using the Office Customization Tool (OCT).
Admx– Contains a set of ADMX, and ADML files for the Group Policy Editor.
Office2016grouppolicyandoctsettings.xlsx – The excel file contains all Group Policies, and registry keys for Office apps.
You will also get information about the Office 2016 system Group Policy settings from Administrative Template files and Office Customization Tool OPAX files. The new policies in the Office 2016 Administrative Template files (ADMX/ADML) and Office Customization Tool

The extracted Microsoft Office administrative templates folder stores all .admx files and .adml files for all languages in the admx folder.
The package contains separate ADMX template files to manage the settings of the following Microsoft Office products:
access16.admx – Microsoft Access
excel16.admx – Microsoft Excel
lync16.admx – Skype for Business (Lync)
office16.admx – General Microsoft Office Settings
onent16.admx – Microsoft OneNote
outlk16.admx – Microsoft Outlook
ppt16.admx – Microsoft PowerPoint
proj16.admx – Microsoft Project
pub16.admx – Microsoft Publisher
teams16.admx – Microsoft Teams
visio16.admx – Microsoft Visio
word16.admx – Microsoft Word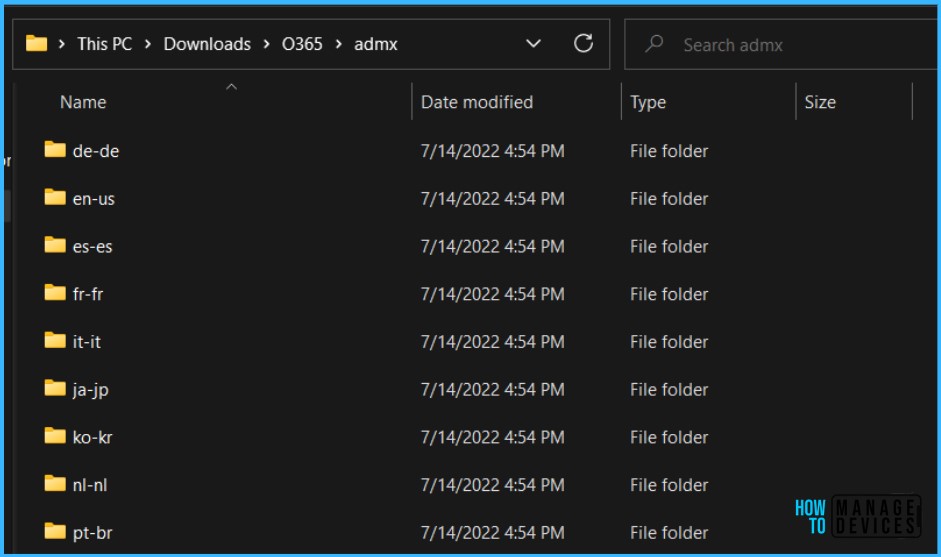 Add Microsoft Office Template to Local Group Policy
You can use Local Group Policy Editor on the target computer to configure policies on individual computers. This approach lets you apply policy settings that only affect the local device.
You must install Microsoft Office ADMX settings into Windows 10 or Windows 11 devices if you are using Local Policies.
You can copy Office products Admx or Adml template files you use or copy all the Admx, and Adml files.
After you extract the templates, open the \admx folder. Copy the required office product admx files, or you can copy all office admx to "%systemroot%\PolicyDefinitions".
Here you see the admx files has copied to the local client machine in the source location C:\Windows\PolicyDefinitions folder.


Once you have copied the ADMX file, you have to copy the ADML files. In the admx folder, open the appropriate language folder. For example, open the en-US folder if you're in the U.S.
Copy the Adml files from the \admx\en-US folder path to "%systemroot%\PolicyDefinitions\en-US".
Here you see the adml files has copied to the local client machine in the source location C:\Windows\PolicyDefinitions\en-US folder.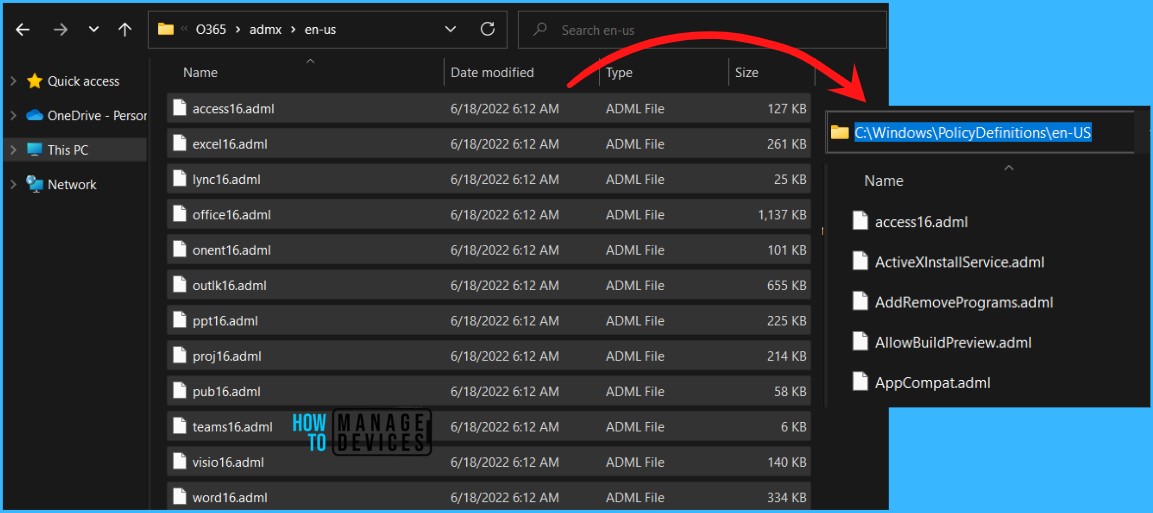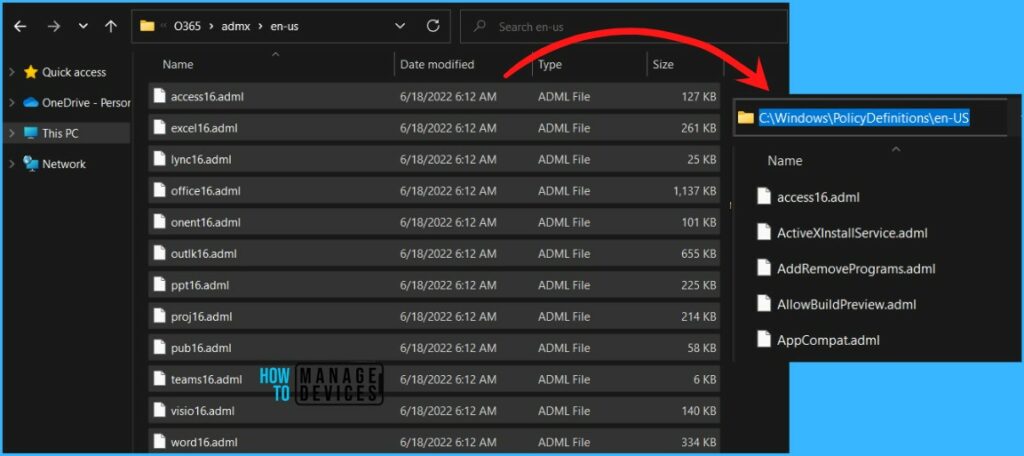 When you add the administrative template files to the appropriate location, Microsoft Office policy settings are immediately available in the Local Group Policy Editor.
To confirm the files loaded correctly, open Local Group Policy Editor directly (Windows key + R and enter gpedit.msc) or open MMC and load the Local Group Policy Editor snap-in.
Add Microsoft Office Administrative Template to Central Store | Active Directory Domain
To take advantage of the benefits of .admx files, you must create a Central Store in the sysvol folder on a Windows domain controller. The Central Store is a file location checked by the Group Policy tools by default.
The Group Policy tools use all .admx files in the Central Store. The files in the Central Store are replicated to all domain controllers.
NOTE! – Always take a backup of the PolicyDefensions folder before adding new or replacing ADMX and ADML files.


You can now copy the Microsoft Office ADMX and ADML files to the central policy store location on your domain controller. The following is the central store path for the HTMD lab environment – \\Admemcm\sysvol\memcm.com\Policies.
Here you need to copy the admx files has copied to the PolicyDefinitions folder on the domain controller from the source location.


Also, Copy the "Adml" files to the matching language folder in the PolicyDefinition folder to SYSVOL central policy store.


Create a Group Policy for Microsoft Office in Domain Controller
To complete this procedure, you must be a member of the Domain Administrators group, or otherwise be delegated permissions to create new GPOs.
Open Group Policy Management console. In the navigation pane, expand Forest:YourForestName, expand Domains, expand YourDomainName, and then click Group Policy Objects and then click New.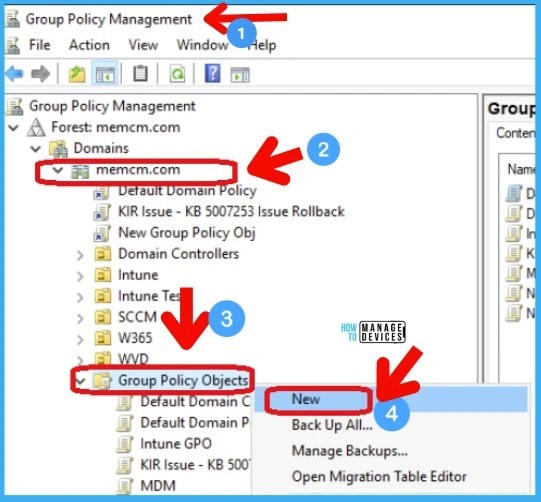 Specify the name for your new GPO that indicates the purpose of the GPO. For Example – MS Office or Office 365 and click OK.
Right-click on policy (MS Office) and click Edit. In the group policy management editor, Navigate to the following path and check Group Policy Settings to Block Internet Macros for Office Applications.
Computer Configuration > Policies > Administrative Templates
User Configuration > Policies > Administrative Templates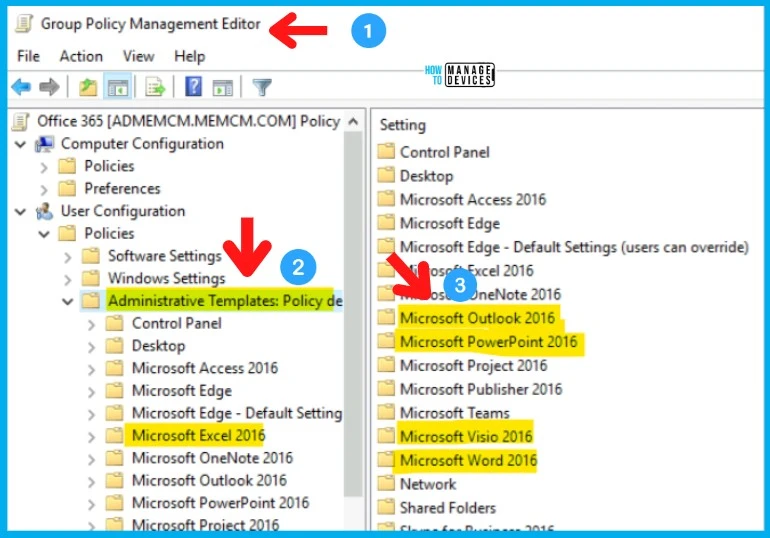 Once the ADMX template for Office is installed and configured, you will be able to see new ADMX folders for Office applications. The following table shows where each policy can be found to block macros from running in Office files from the internet:
Group Policy Management Console under User Configuration\Policies\Administrative Templates:
| Application | Policy location |
| --- | --- |
| Access | Microsoft Access 2016\Application Settings\Security\Trust Center |
| Excel | Microsoft Excel 2016\Excel Options\Security\Trust Center |
| PowerPoint | Microsoft PowerPoint 2016\PowerPoint Options\Security\Trust Center |
| Visio | Microsoft Visio 2016\Visio Options\Security\Trust Center |
| Word | Microsoft Word 2016\Word Options\Security\Trust Center |
ADMX Group Policy Templates for Office 365 All Office Versions 24

This policy setting allows you to block macros from running in Office files from the internet. You can learn how to Block Internet Macros for Office Applications using Intune Settings Catalog or Group Policy. In the same post, you can see how to create cloud group policies using Intune.

Troubleshooting Tips Group Policy Templates for Office 365
Let's quickly check some of the troubleshooting steps or errors you might see during this implementation process. I have received the following error while opening open gpedit.msc (or Group Policy Management Editor) after copying the ADMX and ADML files of the Office 365 ADMX template.
Resource '$(string.L_DiableOfficeAddinsAutoInstall)' referenced in attribute displayName could not be found.
It seems to be a known issue with the latest ADMX files from Microsoft. I have not spent much time deep diving into particular ADML files to understand the issue better. I just ignored the issue and click OK to continue configuring the Office 365 or 2019 group policies.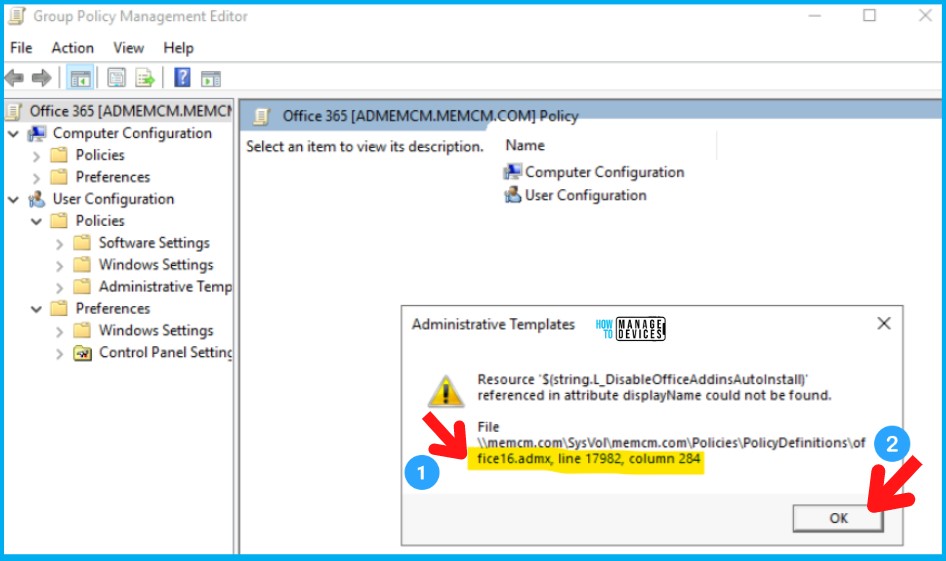 Author