Let's see how to get Alerts for Windows 365 Cloud PC Outages and status changes. You can configure email alerts for Windows 365, and the system notifies you when specific events occur in your Cloud PC environment, like connection, provisioning, or image upload failures.
You can use the alert rule in the Intune MEM Admin portal to create alert policies and then view the alerts generated when performing activities that match the conditions of an alert policy.
By default, these alerts appear in the Microsoft Endpoint manager admin center as pop-up notifications (you can also turn on email notifications). You can customize the built-in alert rules:
Set conditions and thresholds for triggering alerts.
Define the severity of alerts.
Turn each alert rule on or off.
Configure each alert to notify you in the console and/or by email.
You also can review the Cloud PC connectivity errors experienced by end users from the MEM admin center portal. The last 7 days of errors are shown against the Cloud PC device records. These errors are captured by telemetry, and the user might not experience any issues.

Get Alerts for Windows 365 Cloud PC Status
Microsoft 365 Service health status portal helps admins when service issues prevent tenant admins from accessing Service health in the Microsoft 365 admin center.
Here you will see how you can configure the Windows 365 Alerts system to notify you when specific events occur in your Cloud PC environment.
The first step is to sign in to the Microsoft Endpoint Manager admin center https://endpoint.microsoft.com/. Navigate to the Tenant administration > Alerts (preview).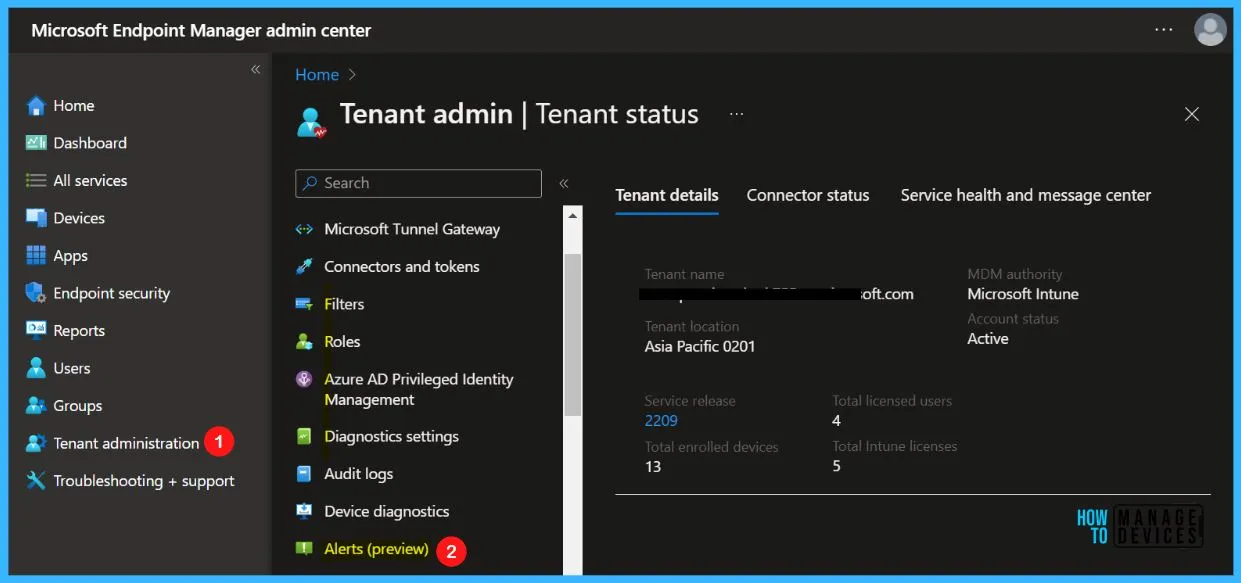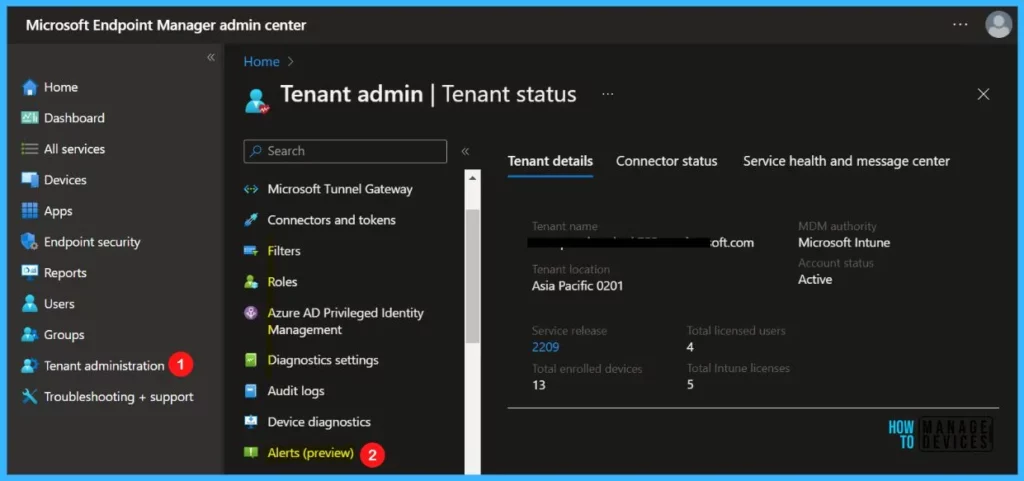 The Alerts tab shows the details for the Cloud PC status you will configure. Click on the Alert Rules tab, for managing and creating alert rules.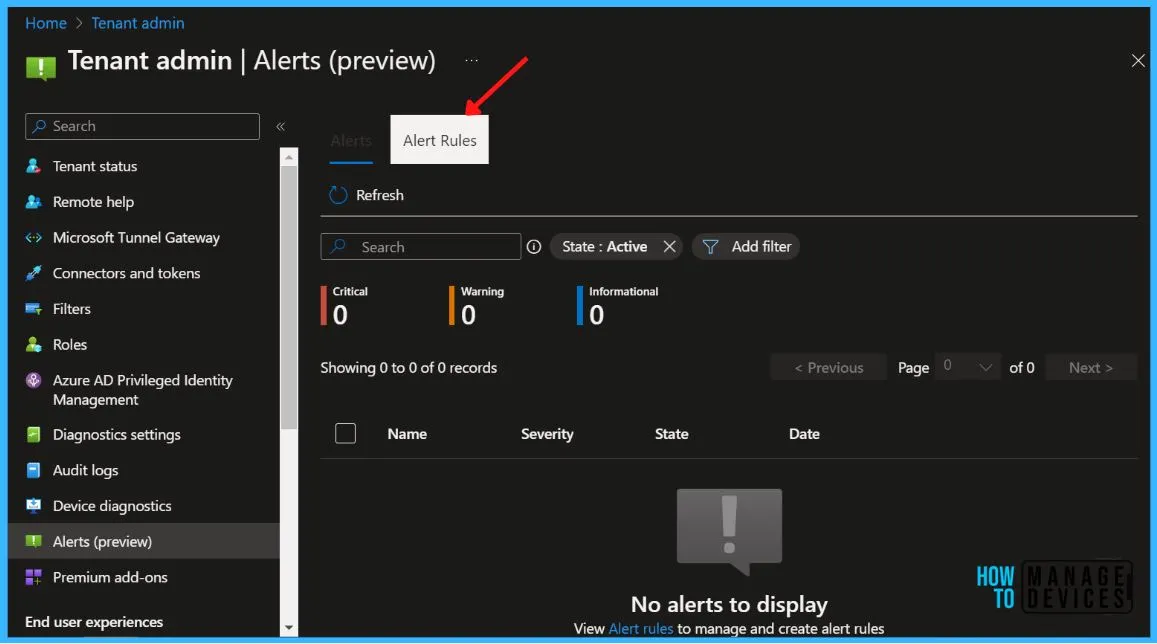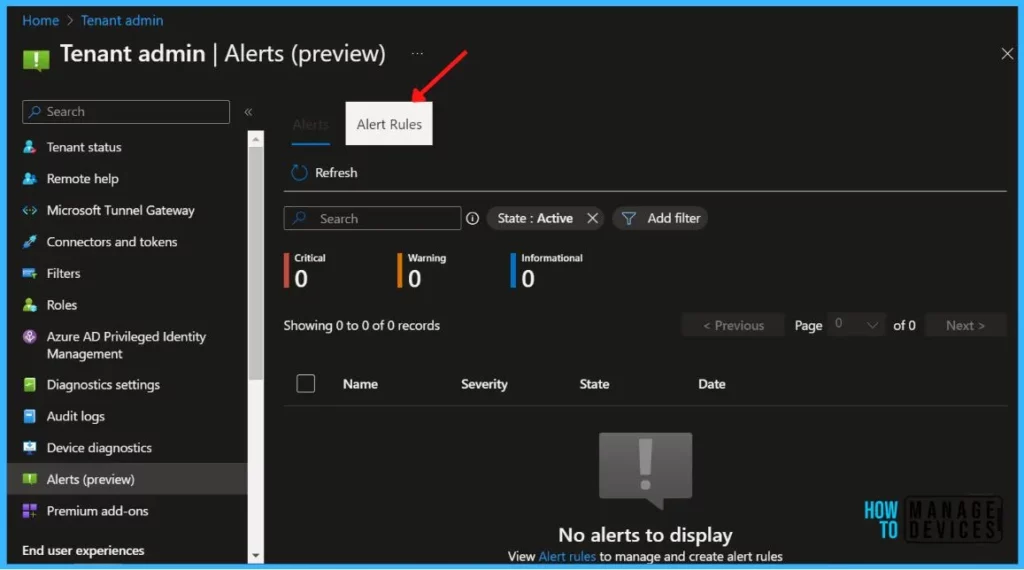 Select a rule from the list, By default, the alerts for the rule are automatically turned ON. You can select the rule to modify the state. Several default alert policies help you monitor activities such as.
Azure network connection failure – Azure network connection checks have failed and is potentially impacting existing Cloud PCs and blocking the provisioning of new Cloud PCs.
Upload failure for custom images – Custom image uploads have failed and can delay the provisioning of new Cloud PCs.
Provisioning failure impacting Cloud PCs – Provisioning has failed and is delaying end users from connecting to their Cloud PCs.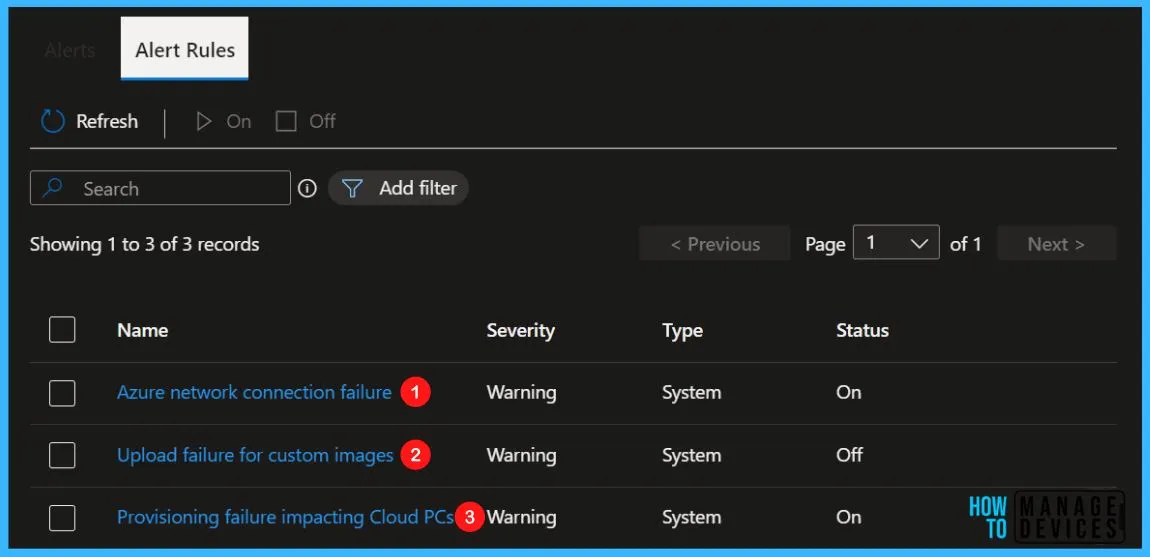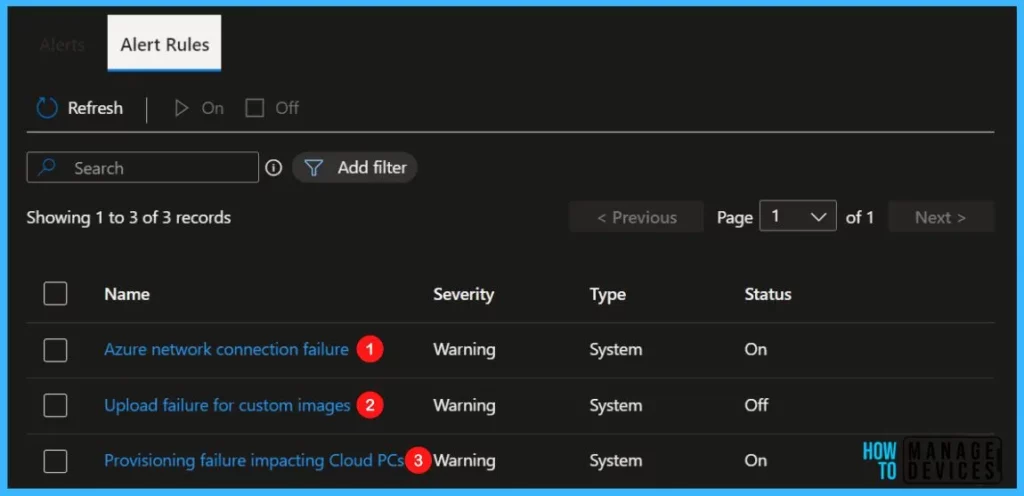 For Example, Selected Provisioning failure impacting Cloud PCs to get notified if the Windows 365 Cloud PC failed or delaying end users from connecting.
On the System rule page, make any changes that you want in the Conditions, Settings, and Notifications sections.
Here you need to set a threshold level for when an alert is triggered, what severity is Critical(Recommended), Warning, and Informational, and decide whether to receive email notifications when alerts are triggered.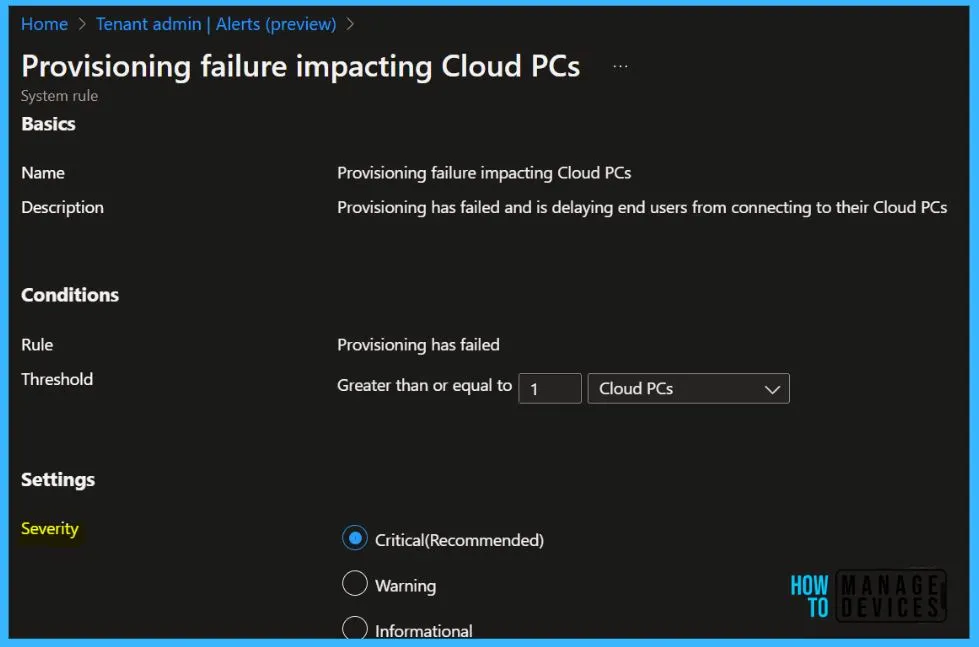 In the Status, Turn this on to enable the alert rule for the tenant. Portal pop-up, Turn this on for in-console notifications on the alert rule.
Email Add an email id to receive alert impact, summary, and next steps. Here you can configure the Email address, and language also, you can configure up to 2 email IDs. Select Apply to save the changes to the rule.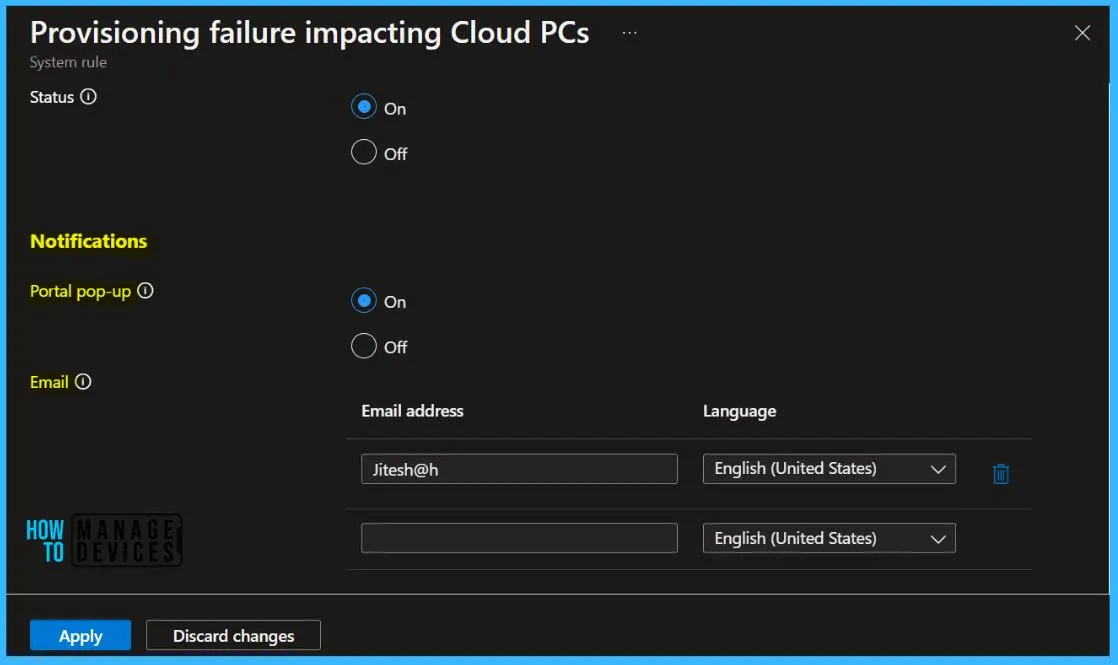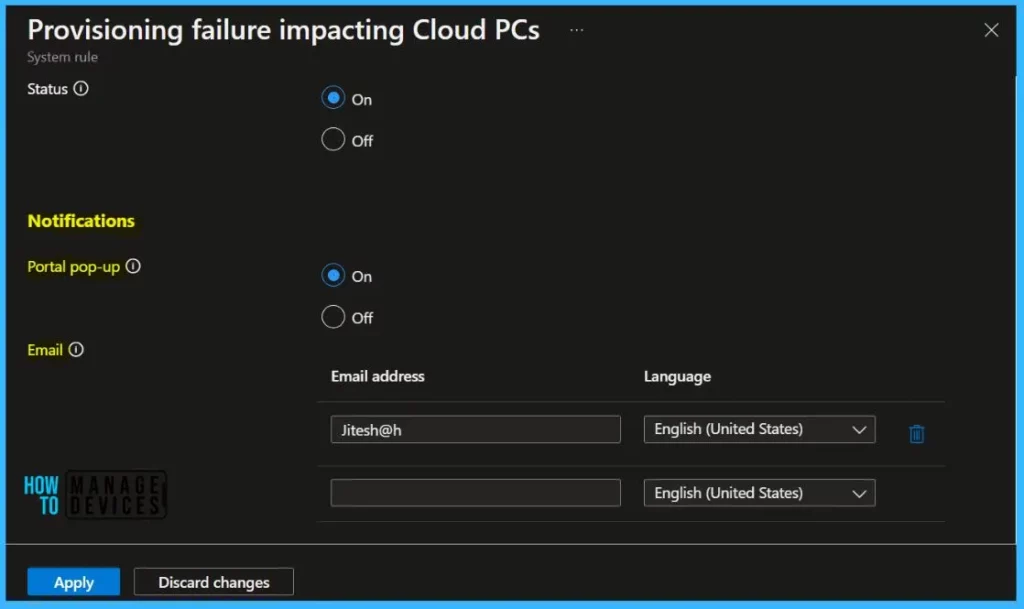 A notification will appear automatically in the top right-hand corner with the message Successfully updated alert rule Provisioning failure impacting Cloud PCs. You can also see the status by selecting the notification icon.
Turn Off Alerts for Windows 365 Cloud PC
If you don't want to receive the alerts for Windows 365 status, you can turn off the alert rules. You won't get notified.
Do you want to turn off the selected alert rules for the tenant? Events for this alert will no longer be captured. Notifications can be managed in each alert rule. Click on Confirm.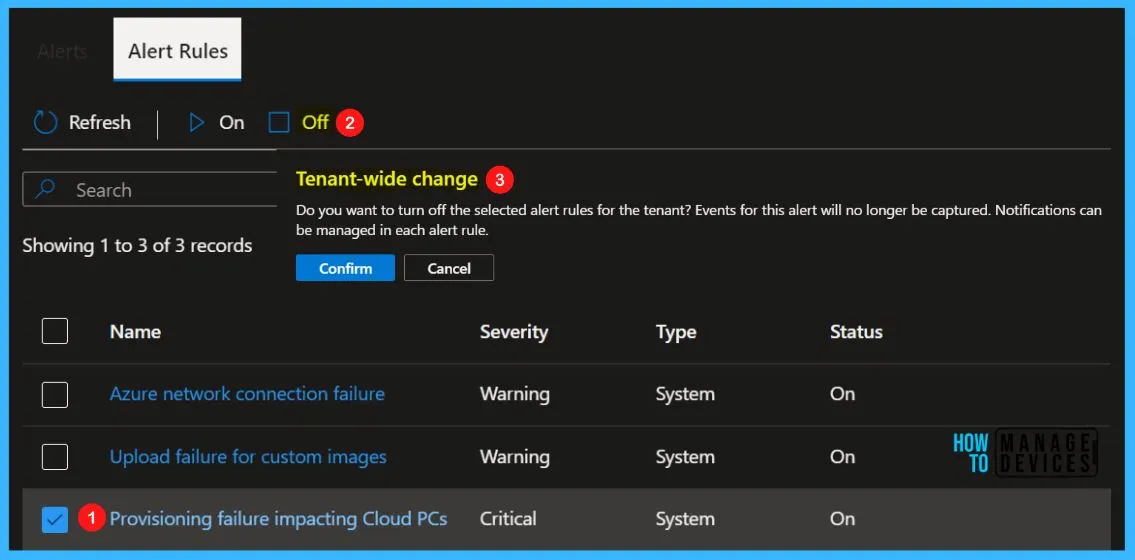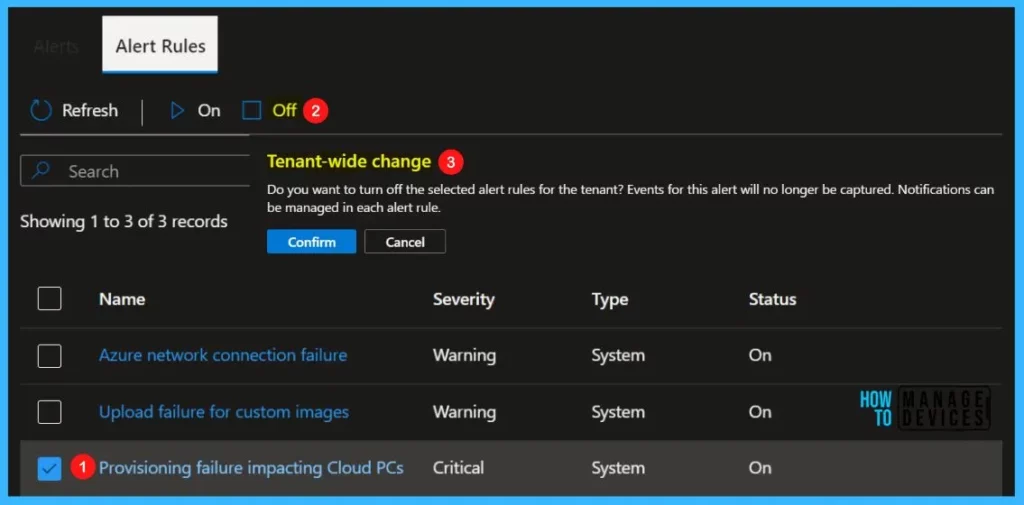 Once you configured the alert rules for Cloud PC, you will get notified through the Intune Portal Notifications, and Email alerts as well you can directly check the alerts inside MEM Admin Portal, Tenant administration > Alerts (preview).
There's also an Alerts page where you can view and filter alerts, set an alert status to help you manage alerts, and then dismiss alerts after you've addressed or resolved the underlying incident.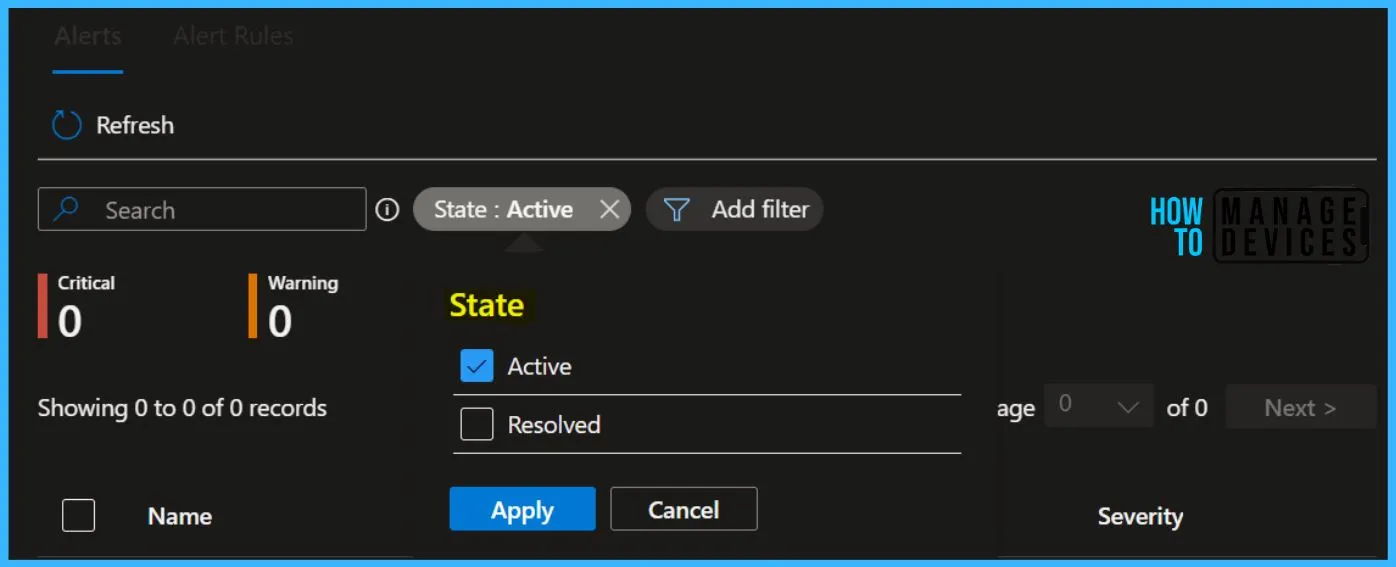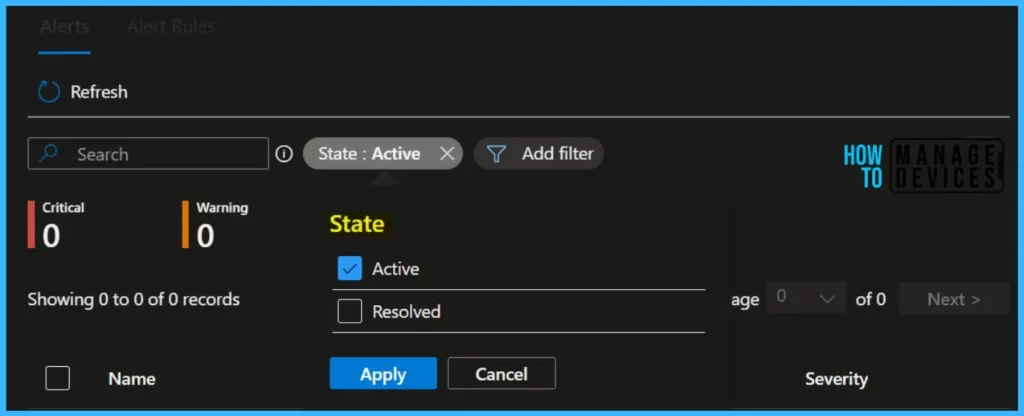 Author