It won't be much easy to test InTune client functionality on office machines which are connected to cooperate network. Mainly all the communications are through 80 and 443 (Http and Https) ports.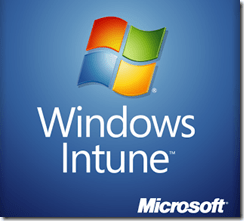 Microsoft's blog post suggests to configure or alter firewall and proxy settings to allow Intune server to communicate with the clients. In case, if you're doing a PoC for Intune, it won't much easy to get the cooperate firewall and proxy settings changed. The catch is that if your test workstation is behind a proxy server which won't allow system accounts rather than domain user accounts to access internet site then you won't be able to test Intune client.
Intune team done a wonderful job to cover all firewall and proxy requirements for Intune client management in one post. More details HERE !!
Required domains for documentation, online Help, and support
Required domains for Microsoft Update Services
Required domains for Windows Intune and related services
Required domains for Windows Update Services
Required proxy server configuration
Side Note :-

However, there are dead links still available if you try to google or bing on this topic.
One of them is http://onlinehelp.microsoft.com/en-us/windowsintune/hh127692.aspx
Ports and protocols
The following table summarizes the information from the "System services ports" section. This table is sorted by port number instead of by service name. Click here to see the table
| | | | |
| --- | --- | --- | --- |
| Port | Protocol | Application protocol | System service name |
| n/a | GRE | GRE (IP protocol 47) | Routing and Remote Access |
| n/a | ESP | IPsec ESP (IP protocol 50) | Routing and Remote Access |
| n/a | AH | IPsec AH (IP protocol 51) | Routing and Remote Access |
| 7 | TCP | Echo | Simple TCP/IP Services |
| 7 | UDP | Echo | Simple TCP/IP Services |
| 9 | TCP | Discard | Simple TCP/IP Services |
| 9 | UDP | Discard | Simple TCP/IP Services |
| 13 | TCP | Daytime | Simple TCP/IP Services |
| 13 | UDP | Daytime | Simple TCP/IP Services |
| 17 | TCP | Quotd | Simple TCP/IP Services |
| 17 | UDP | Quotd | Simple TCP/IP Services |
| 19 | TCP | Chargen | Simple TCP/IP Services |
| 19 | UDP | Chargen | Simple TCP/IP Services |
| 20 | TCP | FTP default data | FTP Publishing Service |
| 21 | TCP | FTP control | FTP Publishing Service |
| 21 | TCP | FTP control | Application Layer Gateway Service |
| 23 | TCP | Telnet | Telnet |
| 25 | TCP | SMTP | Simple Mail Transfer Protocol |
| 25 | TCP | SMTP | Exchange Server |
| 42 | TCP | WINS Replication | Windows Internet Name Service |
| 42 | UDP | WINS Replication | Windows Internet Name Service |
| 53 | TCP | DNS | DNS Server |
| 53 | UDP | DNS | DNS Server |
| 53 | TCP | DNS | Internet Connection Firewall/Internet Connection Sharing |
| 53 | UDP | DNS | Internet Connection Firewall/Internet Connection Sharing |
| 67 | UDP | DHCP Server | DHCP Server |
| 67 | UDP | DHCP Server | Internet Connection Firewall/Internet Connection Sharing |
| 69 | UDP | TFTP | Trivial FTP Daemon Service |
| 80 | TCP | HTTP | Windows Media Services |
| 80 | TCP | HTTP | WinRM 1.1 and earlier |
| 80 | TCP | HTTP | World Wide Web Publishing Service |
| 80 | TCP | HTTP | SharePoint Portal Server |
| 88 | TCP | Kerberos | Kerberos Key Distribution Center |
| 88 | UDP | Kerberos | Kerberos Key Distribution Center |
| 102 | TCP | X.400 | Microsoft Exchange MTA Stacks |
| 110 | TCP | POP3 | Microsoft POP3 Service |
| 110 | TCP | POP3 | Exchange Server |
| 119 | TCP | NNTP | Network News Transfer Protocol |
| 123 | UDP | NTP | Windows Time |
| 123 | UDP | SNTP | Windows Time |
| 135 | TCP | RPC | Message Queuing |
| 135 | TCP | RPC | Remote Procedure Call |
| 135 | TCP | RPC | Exchange Server |
| 135 | TCP | RPC | Certificate Services |
| 135 | TCP | RPC | Cluster Service |
| 135 | TCP | RPC | Distributed File System Namespaces |
| 135 | TCP | RPC | Distributed Link Tracking |
| 135 | TCP | RPC | Distributed Transaction Coordinator |
| 135 | TCP | RPC | Distributed File Replication Service |
| 135 | TCP | RPC | Fax Service |
| 135 | TCP | RPC | Microsoft Exchange Server |
| 135 | TCP | RPC | File Replication Service |
| 135 | TCP | RPC | Group Policy |
| 135 | TCP | RPC | Local Security Authority |
| 135 | TCP | RPC | Remote Storage Notification |
| 135 | TCP | RPC | Remote Storage |
| 135 | TCP | RPC | Systems Management Server 2.0 |
| 135 | TCP | RPC | Terminal Services Licensing |
| 135 | TCP | RPC | Terminal Services Session Directory |
| 137 | UDP | NetBIOS Name Resolution | Computer Browser |
| 137 | UDP | NetBIOS Name Resolution | Server |
| 137 | UDP | NetBIOS Name Resolution | Windows Internet Name Service |
| 137 | UDP | NetBIOS Name Resolution | Net Logon |
| 137 | UDP | NetBIOS Name Resolution | Systems Management Server 2.0 |
| 138 | UDP | NetBIOS Datagram Service | Computer Browser |
| 138 | UDP | NetBIOS Datagram Service | Messenger |
| 138 | UDP | NetBIOS Datagram Service | Server |
| 138 | UDP | NetBIOS Datagram Service | Net Logon |
| 138 | UDP | NetBIOS Datagram Service | Distributed File System |
| 138 | UDP | NetBIOS Datagram Service | Systems Management Server 2.0 |
| 138 | UDP | NetBIOS Datagram Service | License Logging Service |
| 139 | TCP | NetBIOS Session Service | Computer Browser |
| 139 | TCP | NetBIOS Session Service | Fax Service |
| 139 | TCP | NetBIOS Session Service | Performance Logs and Alerts |
| 139 | TCP | NetBIOS Session Service | Print Spooler |
| 139 | TCP | NetBIOS Session Service | Server |
| 139 | TCP | NetBIOS Session Service | Net Logon |
| 139 | TCP | NetBIOS Session Service | Remote Procedure Call Locator |
| 139 | TCP | NetBIOS Session Service | Distributed File System Namespaces |
| 139 | TCP | NetBIOS Session Service | Systems Management Server 2.0 |
| 139 | TCP | NetBIOS Session Service | License Logging Service |
| 143 | TCP | IMAP | Exchange Server |
| 161 | UDP | SNMP | SNMP Service |
| 162 | UDP | SNMP Traps Outgoing | SNMP Trap Service |
| 389 | TCP | LDAP Server | Local Security Authority |
| 389 | UDP | DC Locator | Local Security Authority |
| 389 | TCP | LDAP Server | Distributed File System Namespaces |
| 389 | UDP | DC Locator | Distributed File System Namespaces |
| 389 | UDP | DC Locator | Netlogon |
| 389 | UDP | DC Locator | Kerberos Key Distribution Center |
| 389 | TCP | LDAP Server | Distributed File System Replication |
| 389 | UDP | DC Locator | Distributed File System Replication |
| 443 | TCP | HTTPS | HTTP SSL |
| 443 | TCP | HTTPS | World Wide Web Publishing Service |
| 443 | TCP | HTTPS | SharePoint Portal Server |
| 443 | TCP | RPC over HTTPS | Exchange Server 2003 |
| 443 | TCP | HTTPS | WinRM 1.1 and earlier |
| 445 | TCP | SMB | Fax Service |
| 445 | TCP | SMB | Print Spooler |
| 445 | TCP | SMB | Server |
| 445 | TCP | SMB | Remote Procedure Call Locator |
| 445 | TCP | SMB | Distributed File System Namespaces |
| 445 | TCP | SMB | Distributed File System Replication |
| 445 | TCP | SMB | License Logging Service |
| 445 | TCP | SMB | Net Logon |
| 464 | UDP | Kerberos Password V5 | Kerberos Key Distribution Center |
| 464 | TCP | Kerberos Password V5 | Kerberos Key Distribution Center |
| 500 | UDP | IPsec ISAKMP | Local Security Authority |
| 515 | TCP | LPD | TCP/IP Print Server |
| 548 | TCP | File Server for Macintosh | File Server for Macintosh |
| 554 | TCP | RTSP | Windows Media Services |
| 563 | TCP | NNTP over SSL | Network News Transfer Protocol |
| 593 | TCP | RPC over HTTPS endpoint mapper | Remote Procedure Call |
| 593 | TCP | RPC over HTTPS | Exchange Server |
| 636 | TCP | LDAP SSL | Local Security Authority |
| 636 | UDP | LDAP SSL | Local Security Authority |
| 647 | TCP | DHCP Failover | DHCP Failover |
| 9389 | TCP | Active Directory Web Services (ADWS) | Active Directory Web Services (ADWS) |
| 9389 | TCP | Active Directory Web Services (ADWS) | Active Directory Management Gateway Service |
| 993 | TCP | IMAP over SSL | Exchange Server |
| 995 | TCP | POP3 over SSL | Exchange Server |
| 1067 | TCP | Installation Bootstrap Service | Installation Bootstrap protocol server |
| 1068 | TCP | Installation Bootstrap Service | Installation Bootstrap protocol client |
| 1270 | TCP | MOM-Encrypted | Microsoft Operations Manager 2000 |
| 1433 | TCP | SQL over TCP | Microsoft SQL Server |
| 1433 | TCP | SQL over TCP | MSSQL$UDDI |
| 1434 | UDP | SQL Probe | Microsoft SQL Server |
| 1434 | UDP | SQL Probe | MSSQL$UDDI |
| 1645 | UDP | Legacy RADIUS | Internet Authentication Service |
| 1646 | UDP | Legacy RADIUS | Internet Authentication Service |
| 1701 | UDP | L2TP | Routing and Remote Access |
| 1723 | TCP | PPTP | Routing and Remote Access |
| 1755 | TCP | MMS | Windows Media Services |
| 1755 | UDP | MMS | Windows Media Services |
| 1801 | TCP | MSMQ | Message Queuing |
| 1801 | UDP | MSMQ | Message Queuing |
| 1812 | UDP | RADIUS Authentication | Internet Authentication Service |
| 1813 | UDP | RADIUS Accounting | Internet Authentication Service |
| 1900 | UDP | SSDP | SSDP Discovery Service |
| 2101 | TCP | MSMQ-DCs | Message Queuing |
| 2103 | TCP | MSMQ-RPC | Message Queuing |
| 2105 | TCP | MSMQ-RPC | Message Queuing |
| 2107 | TCP | MSMQ-Mgmt | Message Queuing |
| 2393 | TCP | OLAP Services 7.0 | SQL Server: Downlevel OLAP Client Support |
| 2394 | TCP | OLAP Services 7.0 | SQL Server: Downlevel OLAP Client Support |
| 2460 | UDP | MS Theater | Windows Media Services |
| 2535 | UDP | MADCAP | DHCP Server |
| 2701 | TCP | SMS Remote Control (control) | SMS Remote Control Agent |
| 2701 | UDP | SMS Remote Control (control) | SMS Remote Control Agent |
| 2702 | TCP | SMS Remote Control (data) | SMS Remote Control Agent |
| 2702 | UDP | SMS Remote Control (data) | SMS Remote Control Agent |
| 2703 | TCP | SMS Remote Chat | SMS Remote Control Agent |
| 2703 | UPD | SMS Remote Chat | SMS Remote Control Agent |
| 2704 | TCP | SMS Remote File Transfer | SMS Remote Control Agent |
| 2704 | UDP | SMS Remote File Transfer | SMS Remote Control Agent |
| 2725 | TCP | SQL Analysis Services | SQL Server Analysis Services |
| 2869 | TCP | UPNP | UPnP Device Host |
| 2869 | TCP | SSDP event notification | SSDP Discovery Service |
| 3268 | TCP | Global Catalog | Local Security Authority |
| 3269 | TCP | Global Catalog | Local Security Authority |
| 3343 | UDP | Cluster Services | Cluster Service |
| 3389 | TCP | Terminal Services | NetMeeting Remote Desktop Sharing |
| 3389 | TCP | Terminal Services | Terminal Services |
| 3527 | UDP | MSMQ-Ping | Message Queuing |
| 4011 | UDP | BINL | Remote Installation |
| 4500 | UDP | NAT-T | Local Security Authority |
| 5000 | TCP | SSDP legacy event notification | SSDP Discovery Service |
| 5004 | UDP | RTP | Windows Media Services |
| 5005 | UDP | RTCP | Windows Media Services |
| 5722 | TCP | RPC | Distributed File System Replication |
| 6001 | TCP | Information Store | Exchange Server 2003 |
| 6002 | TCP | Directory Referral | Exchange Server 2003 |
| 6004 | TCP | DSProxy/NSPI | Exchange Server 2003 |
| 42424 | TCP | ASP.Net Session State | ASP.NET State Service |
| 51515 | TCP | MOM-Clear | Microsoft Operations Manager 2000 |
| 5985 | TCP | HTTP | WinRM 2.0 |
| 5986 | TCP | HTTPS | WinRM 2.0 |
| 1024-65535 | TCP | RPC | Randomly allocated high TCP ports |
| 135 | TCP | WMI | Hyper-V service |
| random port number between 49152 – 65535 | TCP | Randomly allocated high TCP ports | Hyper-V service |
| 80 | TCP | Kerberos Authentication (HTTP) | Hyper-V service |
| 443 | TCP | Certificate-based Authentication (HTTPS) | Hyper-V service |
| 6600 | TCP | Live Migration | Hyper-V Live Migration |
| 445 | TCP | SMB | Hyper-V Live Migration |
| 3343 | UDP | Cluster Service Traffic | Hyper-V Live Migration |