Happy to announce that HTMD Comunity is organizing an international conference HTMD Conference 2021, on 20th November 2021. We have shared the list of excellent speakers in the following section of the post.
Update 6th Dec 2021 – Full Recording of HTMD Conference – Full HTMD Conference 2021 Recordings made available! – Full Recording Of HTMD Conference 2021 HTMD Blog (anoopcnair.com)
Don't forget to register for the event https://howtomanagedevices.com/Registration/
Recordings HTMD Conference – https://www.anoopcnair.com/recordings-of-htmd-conference-2021/

We are excited to introduce you to the HTMD Conference 2021, a free event. How to Manage Device (a.k.a HTMD) Community Conference for 2021 is scheduled for 20 Nov 2021. This is a free event and fully online event organized by the HTMD Community.
We are very near to HTMD Conference 2021 (20th Nov Saturday) a Fully power-packed day of learning for you! Get Set Ready! A lot of Topics are covered in 3 Tracks.
Track 1 Live link https://howtomanagedevices.com/track-1-live/
Track 2 Live link https://howtomanagedevices.com/track-2-live/
Track 3 Live link https://howtomanagedevices.com/track-3-live/
Don't forget to take a look at the Schedule, Topics, and Speakers. https://howtomanagedevices.com/htmd-conference-2021-schedule/

Feel free to share it with your colleagues and friends working on any of the following technologies Virtual Desktop, SCCM, Intune, Azure AD, Azure infra, Microsoft technologies.
HTMD Conference is all about sharing knowledge on Modern Device Management, Virtual Desktop, Azure, Microsoft 365, and related topics.
Session Topics
The sessions from international expert speakers on the following topics help you make your Windows Modern Management, Windows365, AVD, and Azure Cloud journey easier.
MEM – Intune, Configuration Manager (SCCM), etc.
Microsoft 365
Windows 365 – Cloud PC
Azure Virtual Desktop (AVD)
Azure (IaaS, Automation, Azure AD, Security)
Schedule – Subject to change
Event Time Zone = 9 AM to 5 PM IST (UTC+5:30). GMT Time = 3:30 AM GMT.
HTMD Conference 2021 Schedule
Speakers and Sessions – https://howtomanagedevices.com/htmd-conference-2021-speakers/
HTMD Conference 2021 – Speaker Announcement #HTMDConf2021
List of Speakers for HTMD Conference 2021
You can check out the list of speakers in the following Twitter thread. The list of speakers of HTMD Conf is not complete yet.
Rod Trent
Ryan Mangan
Vignesh Ganesan
Damien Van Robaeys
Saurav Sarkar
Marcel Meurer
Jörgen Nilsson
Ronni Pedersen
Deepak Rai
Lalit Rawat
Raphael Koellner
Kannan CS
Nicklas Ahlberg
Kenneth van Surksum
Nestori Syynimaa
Previous Year's HTMD Community Events
We conducted the in-person HTMD events in the year 2019. You can see more details at Community Day in Bangalore IT Pro Events HTMD Community.
Download PPT Decks How to Manage Devices HTMD Day Conference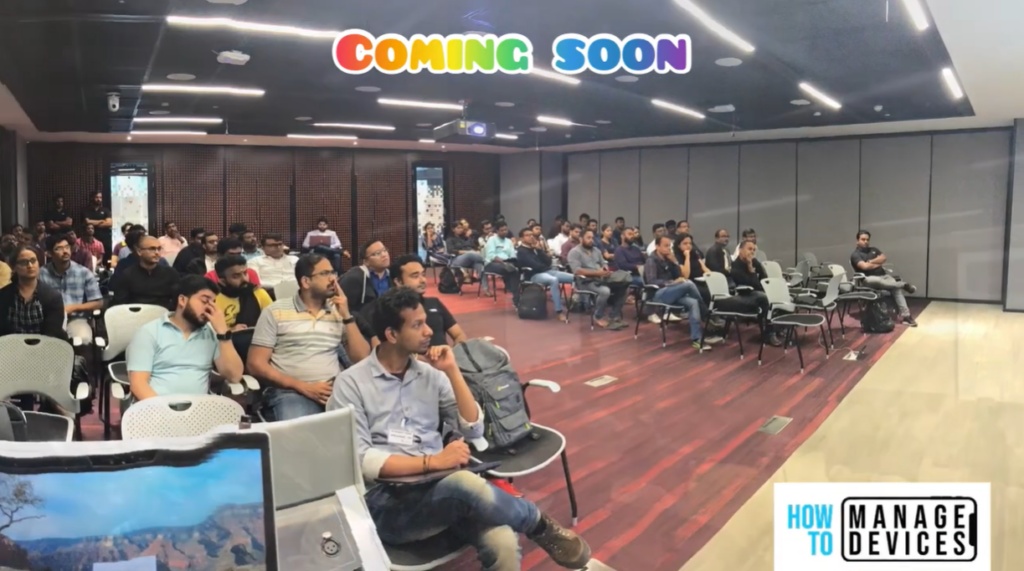 Author
Anoop is Microsoft MVP! He is a Solution Architect in enterprise client management with more than 20 years of experience (calculation done in 2021) in IT. He is Blogger, Speaker, and Local User Group HTMD Community leader. His main focus is on Device Management technologies like SCCM 2012, Current Branch, and Intune. He writes about ConfigMgr, Windows 11, Windows 10, Azure AD, Microsoft Intune, Windows 365, AVD, etc……………