Here you go with the Full Recording of HTMD Conference 2021! Glad to share the great news that all the Recordings are now available for HTMD Conference 2021. We made 23 videos out of 23 sessions and all are made available now.
We are able to complete this after many hours of tireless effort! ready after solving Teams Live Event downloading issues. It will be available on HTMD Community YouTube Channel. Thank you to all the great speakers and attendees of this conference. You all made it very successful!
Thank you all for joining us on Saturday, 20th Nov 2021! We think you enjoyed and learned a lot of things from all our awesome speakers today! We got the #HTMDCommunity team! #thankyou #team-work, There are three tracks and we made three YouTube Playlists.
Track 1 – 9 Videos
Track 2 – 6 Videos
Track 3 – 8 Videos
All the Recordings are ready now. We learned that it's a lot of work to publish the recording. Also, we are having problems with downloading the recordings from Teams. This is free to access and we are not asking you to register or share your email ID to access these recordings!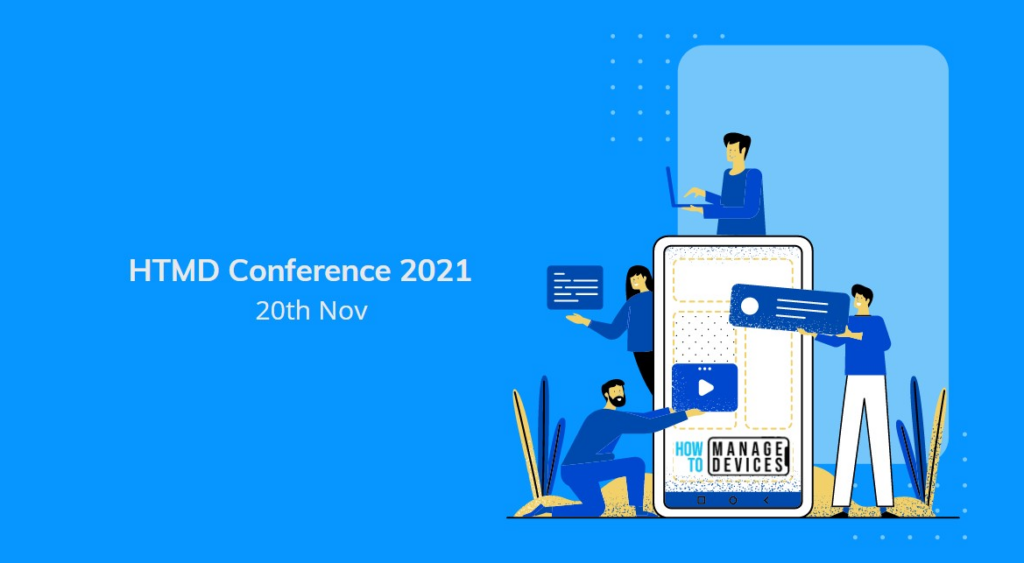 What is HTMD Conference?
We introduce you to the HTMD Conference 2021, a free event. How to Manage Devices (a.k.a HTMD) Community Conference for 2021 was an online event conducted on 20th Nov 2021. This is a full digital event organized by the HTMD Community.
HTMD Conference is all about sharing knowledge on device management, Virtual Desktop, Azure, Windows 365, Azure AD, and related topics. The sessions from industry experts, Microsoft MVP on the following topics help you make your Modern Management and Cloud journey easier.
Topics – MEM – Intune, Configuration Manager (SCCM), etc. Microsoft 365 Windows 365 – Cloud PC Azure Virtual Desktop (AVD) Azure (IaaS, Automation, Azure AD, Security)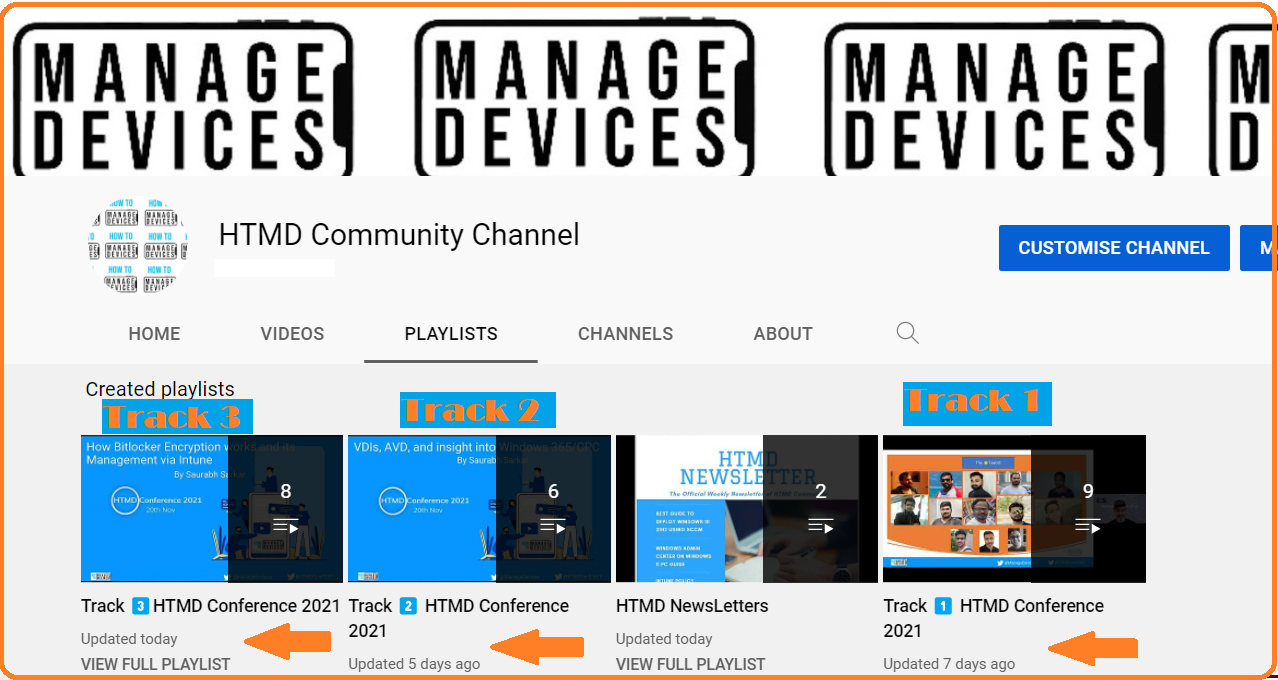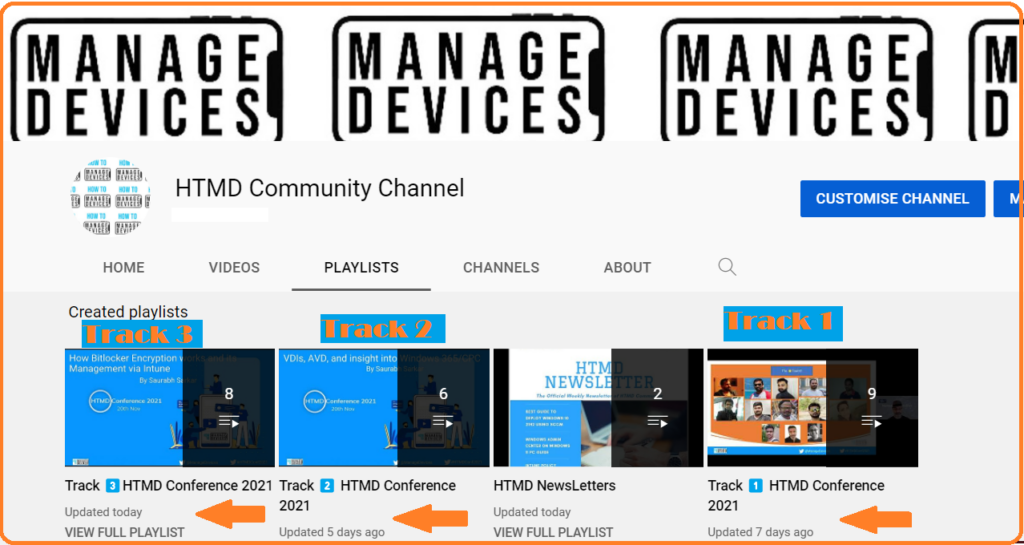 Future HTMD Conferences
You would like to join the future HTMD Conferences and in-person events? Please try to join the HTMD community, meetup group.

Join the HTMD community, meetup group – https://www.meetup.com/htmdin
How to Manage Device Community, meetup group. Welcome to the world of Device Management! This is a community built by Device Management Admins for Device Management Admins❤️

Thank you the HTMD Community Team
Here is the HTMD Start Team who executed the event flowless on 20 Nov 2021. Great Show!
Great work Guys!! Vimaldas Changarath, Rajul OS, Hareesh Jampani, Debabrata Pati, Kannan CS, Deepak Rai, Jitesh Kumar, Saurav Sarkar, Mohankumar Gollapudi, Sharad Singh, and Joymalya Basu Roy. And Harjit Dhaliwal as a special member of the team.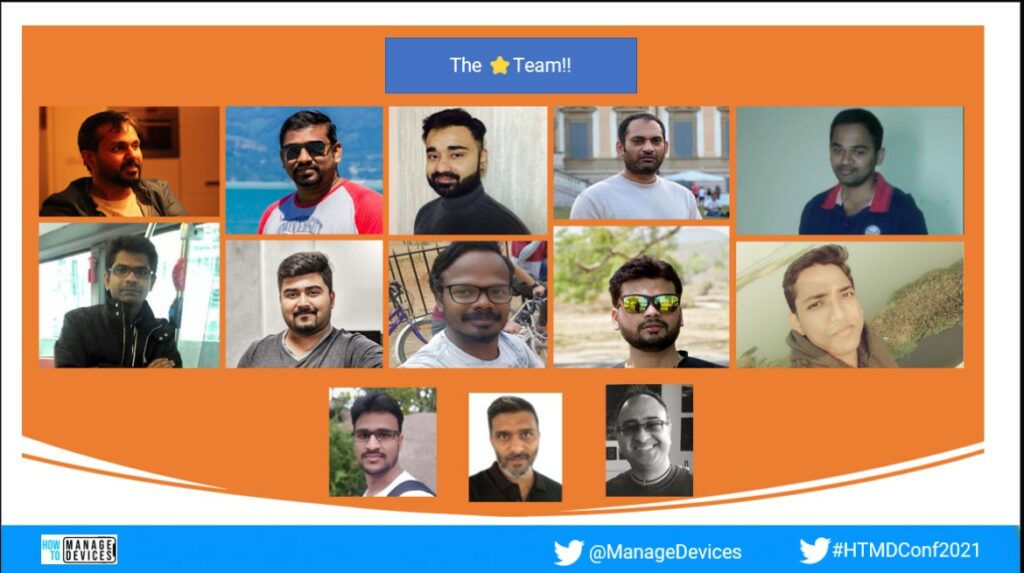 Track 1 Videos – Full Recording of HTMD Conference 2021
The following are the track 1 videos that will help to watch it from one page. Full Recordings of HTMD Conference 2021 are not available.
Opening session with Harji!
Windows 365 Business Vs. Enterprise
Cloud Management Gateway with Kannan CS
SCCM Automation using Azure Run Book by Deepak Rai
Designing and building your Microsoft Endpoint Manager/Intune environment for Operations by Kenneth van Surksum
Windows 11 – How to get there! – Jörgen Nilsson, Ronni Pedersen
Use PowerShell and Graph to manage your Intune resources – Damien Van Robaeys
Application options for a Modern World – Ben Whitmore
Troubleshooting a MEM managed Windows 10/11  – deep dive – Jörgen Nilsson, Ronni Pedersen
Track 2 Videos – Full Recording of HTMD Conference 2021
The How to Manage Devices (HTMD) Conference 2021 recording track 2 where more tracks are related to Azure Virtual Desktop (a.k.a) and Windows 365 Cloud PC.
Bitlocker and its Management via Intune – Saurabh sarkar
Technical Deep Dive of MSIX App attach – in Azure Virtual Desktop – Ryan Mangan
Encryption in and out of the cloud – Raphael Koellner
Work with Azure Virtual Desktop like a Pro – Marcel Meurer
Benchmarking Windows365 and Azure Virtual Desktop – Ryan Mangan
Be a communication compliance hero in 45 minutes – Raphael Koellner – HTMD Conference 2021
Track 3 – Full Recordings of HTMD Conference 2021
Here is the video recording of HTMD Conference Track 3! In this track, you would be able to see a lot of information about Intune, SCCM, Azure AD, Azure Server Deployment (DR), Azure AD device security, etc.
How Bitlocker Encryption works and its Management via Intune – Saurabh Sarkar – HTMD Community 2021
SCCM High Availability Design | ConfigMgr BCP – Rajul OS – HTMD Conference 2021.
Protect Identities and Access to Resources with AAD – Vignesh Ganesan – HTMD Conference 2021
Azure DR High Availability Strategy and Migration – Lalit Rawat – HTMD Conference 2021
Devices and Identities foundation of Azure AD security – Nestori Syynimaa – HTMD Conference 2021
Optimize user onboard offboard with Azure Identity Governance-Nicklas Ahlberg – HTMD Conference 2021
Enabling secure remote work using AVD – Bheemarayappa Hanabar, Mitul Rana – HTMD Conference 2021
Intune Reporting Vs Update Compliance and more – Vimaldas and Jitesh – HTMD Conference 2021
Quick List of Video
Now we have all the recordings made available after many hours of editing. Let's check the quick recap of the video recording available until now. We will be releasing more videos during the coming weeks.
HTMD Conference 2021 – Speaker Announcement #HTMDConf2021
Author
Anoop is Microsoft MVP! He is a Solution Architect in enterprise client management with more than 20 years of experience (calculation done in 2021) in IT. He is Blogger, Speaker, and Local User Group HTMD Community leader. His main focus is on Device Management technologies like SCCM 2012, Current Branch, and Intune. He writes about ConfigMgr, Windows 11, Windows 10, Azure AD, Microsoft Intune, Windows 365, AVD, etc……………