Let's have a quick look at Intune Vs ConfigMgr Adoption stats shared by Microsoft during the Ignite 2021 (March edition). There are no surprises here because we have seen similar adoption predictions in Ignite 2019.
The adoption percentage is based on Windows 10 devices. It does not include iOS, macOS, and Android devices managed by Intune. The following are some of the interesting data points presented by Steve Dispensa.
135 million Windows 10 devices under management (as of Jan 2021)

29 percent of those are now Cloud-enlightened.

Microsoft is forecasting that 50 percent of Windows 10 devices will be Cloud attachments by 2022.
Intune Vs ConfigMgr Adoption Percentage
2019 (Past) – Data from Ignite 2019
2020 (past) – Data from Ignite 2019
2021 (Current) – Data from Ignite 2021

Intune 👉 35% by July 2021
SCCM 👉 65%

2022 (Future) – Data from Ignite 2021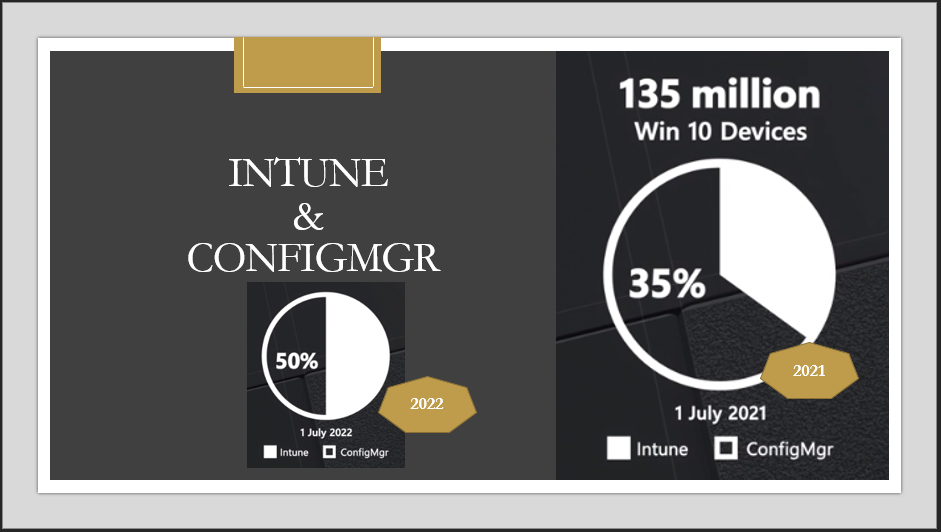 Coming Soon Features
Microsoft talks about Incredible growth in Windows 10 Cloud attachment in the following Ignite session. The following are the new features coming to Endpoint Manager.
The settings catalog is in preview and is a major improvement and tailoring policy for your devices.
Endpoint Analytics capabilities like application reliability, restart frequency, and performance.
New unified tunnel application.
Universal Print is now generally available.
Endpoint Manager (Intune) support is coming to multi-session WVD.
Coming Soon

A new security feature is called Enrollment notifications.

This feature will let users know when a new device has been enrolled in their account.

Quiet hours across Microsoft 365.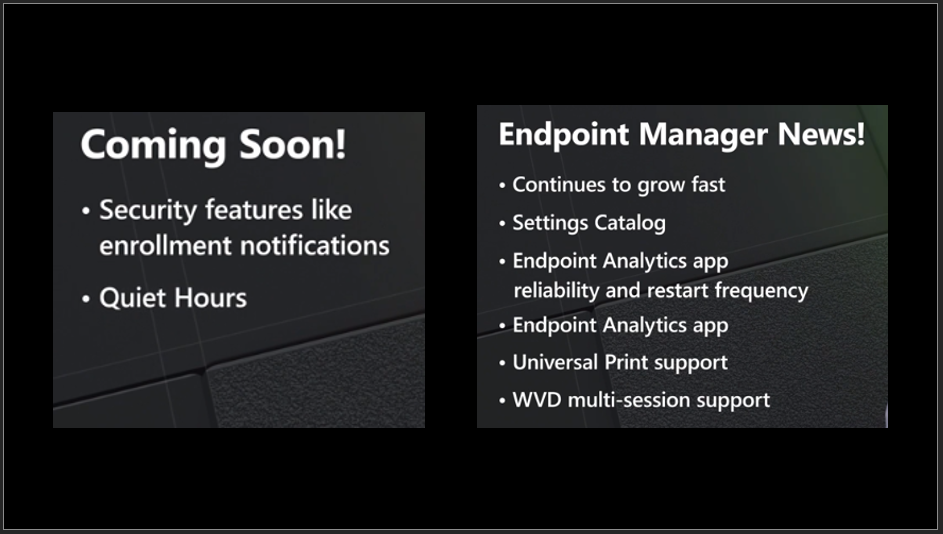 Demo
All the details in the post are taken from Ignite's session – "Thirty minutes of reasons to stay excited about Microsoft Endpoint Manager" by Ramya Chitrakar & Steve Dispensa.
Microsoft Ignite Session Link -> MyIgnite – Thirty minutes of reasons to stay excited about Microsoft Endpoint Manager
Following is the list of Demos included in the presentation: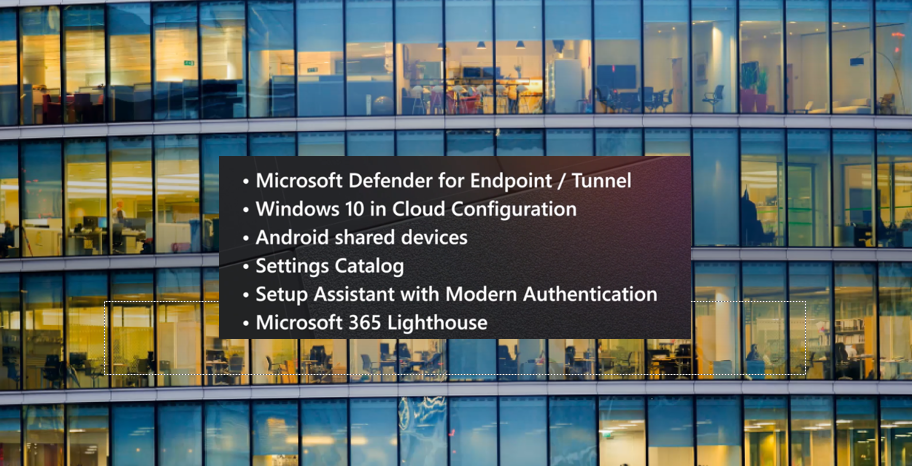 Resources
Author
Anoop is Microsoft MVP! He is a Solution Architect in enterprise client management with more than 20 years of experience (calculation done in 2021) in IT. He is a blogger, Speaker, and Local User Group HTMD Community leader. His main focus is on Device Management technologies like SCCM 2012, Current Branch, and Intune. E writes about ConfigMgr, Windows 11, Windows 10, Azure AD, Microsoft Intune, Windows 365, AVD, etc…