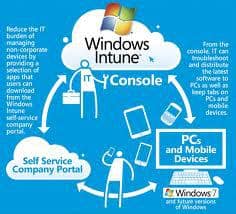 InTune FAQs !!
Windows Intune is nothing but a combination of Device, Application, Information Protection, Endpoint Protection (antivirus software) and Security/Configuration policy management solution facilitated by Microsoft in Cloud. Lighter Version of SCCM or ConfigMgr in cloud !
With the Microsoft Intune cloud service, IT staff can remotely perform a number of security and management tasks. These tasks include management of updates, endpoint protection to help safeguard PCs from malware threats, and inventory management so IT and end users can remain productive from virtually anywhere. The only other thing required is an Internet connection.
AD integration is possible through Windows Intune. Once AD is integrated, we can use AD security groups to deploy applications through InTune. AD integration is not very straight forward. There are loads of ingredients in that AD sync, Azure AD and then On Prem AD etc…
More latest Microsoft Intune posts here. 
What Is Microsoft InTune 
Microsoft Intune is an integrated, cloud-based client management solution that provides tools, reports, and upgrade licenses to the latest version of Windows, and Windows Intune helps keep your computers up-to-date and secure. It's basically Cloud (lighter) version of SCCM/ConfigMgr.
InTune Product PDF Guide Oct 2011
Intune Product PDF Guide June 2012
InTune Product PDF Guide Dec 2012
Start Using Windows Intune Now
How to deploy applications through Intune?
How to add a Device to a Device Group?
How to Upload a Software to Intune ?