Is SCCM Dying? This is one of the topics many are very curious. We have already shared our opinion on this topic on 5th April 2023 via YouTube Video. Businesses need to stay informed about the latest trends and advancements in the IT industry to make informed decisions about their device management strategies.
In this post, we will discuss a very potentially debatable topic that is nothing but SCCM Configuration Manager will die soon. What are Microsoft's plans for the end of life of SCCM? What would be the logic behind keeping SCCM running from Microsoft's perspective?
And what is the Catch in the numbers Microsoft published a few years back to show Intune manages devices, SCCM manages devices, etc.? Let's see that SCCM is dying and that Intune is your only way to manage your company devices shortly.
HTMD Community recommend going through 12 hours for a self-learning track to learn Intune end to end. More details on Intune Training Course 2023.

Comments from the Community on SCCM Dead Topic?
Indeed, the IT industry is constantly evolving; as a result, new technologies are emerging while others are becoming less prevalent. However, it is important to note that Microsoft Configuration Manager (aka SCCM) remains a popular and effective tool for managing company devices. It is unlikely to become obsolete anytime soon.
Let's check out some of the comments from the Community on the topic of the Death of SCCM. We thought it's important to highlight these opinions over here in this post. Refer to the LinkedIn post to get more details on comments.
Dujon Walsham – I don't think it will die. Reckon the surge of jobs/roles is going to bounce between sccm and intune with Intune being more hot right now. Either way its going to be better someone is great on both.
Cymon Skinner – It's not about technology, it's about usability. ConfigMgr does more than Intune, that will change in time.

Anoop C Nair – My Takes on this. 1. No One is going to say it out loud – SCCM is dead or dying or not. 2. No One is going to say – On-Prem Exchange servers are dead? 3. Then what is it? It's for your organization to decide when to KILL their servers/apps! 5. If you are an SCCM admin, you must MOVE ON! – Don't get stuck there!
Michael Niehaus – It's going to be a very slow death.
Hassnein (Haz) H. – SCCM has been threatening to go end of life for a while now however as the previous posts say, it has far more features that Intune still needs gain before it will eventually go. Also those companies that are still largely on prem for business or security reasons will keep SCCM as the solution of choice, but those are slowly decreasing. Also whilst onprem servers still exist in organisations, using SCCM to manage them is also a major reason it remains.
David James – "We love #configmgr, it's not going anywhere, there's more people coding on it than ever" – #msinunte CVP Steve @dispensa. I feel a need to amplify Steve's quote – as indubitably people always finishing a conf like this taking away that it is dying.
Is SCCM Dying?
Is SCCM dying? No, SCCM is not dead at all. Many organizations use it, and SCCM manages many clients. SCCM (System Center Configuration Manager) is still alive and relevant in today's enterprise environments.
Despite the emergence of newer tools and technologies, SCCM plays a critical role in managing and deploying software, updates, and operating systems across large-scale networks (for Server Operating Systems as well). Microsoft fully supports SCCM. Now it is part of a new product umbrella called Microsoft Intune. The official name is Microsoft Configuration Manager.
Recently product Team announced a change in the Release Cadence of SCCM earlier; we used to have 3 releases per year now, but we will only have 2 releases per year in March and September.
SCCM Version 2303 is the next release, and 2303 and 2403 are the baseline versions. All the March releases will be the baseline version. The supported Life span is 18 Months, and that is not changed.
Note! – Microsoft wants to concentrate on the quality of SCCM Releases, and they want to align with Windows Release Cadence. These are the 2 reasons they have provided to change the Release Cadence of SCCM. SCCM is purely a Windows management solution now; Windows device management solution was slowly SCCM removed support for Linus Macs devices, etc
| April 8, 2021 | Availability Date | Support End Date | Life Span | Baseline Version |
| --- | --- | --- | --- | --- |
| 2409 | September 2024 | March 2026 | 18 Months | |
| 2403 | March 2024 | September 2025 | 18 Months | YES |
| 2309 | September2023 | March 2025 | 18 Months | |
| 2303 | April 2023 | October 2024 | 18 Months | YES |
| 2211 | December 5, 2022 | December 5, 2022 | 18 Months | |
| 2207 | June 5, 2024 | August 12 2022 | 18 Months | |
| 2203 | August 12, 2022 | February 12, 2024 | 18 Months | |
| 2111 | October 6, 2023 | October 2024 | 18 Months | |
SCCM Configuration Manager is Going to Die Soon Is SCCM Dying? – Table 1
Number Differences between Intune and SCCM in Managing Devices
The decision to use SCCM or Intune will depend on each organization's specific needs and preferences. While some companies may adopt Intune as their primary device management solution, others may continue to use SCCM or a combination of both tools.
In 2019 only 5% of the Devices were managed by Intune, and SCCM managed 95% of the devices; in 2020, it changed to 19% to 81%; in 2021, it is 35% to 65%, and in 2022 it is 50% to 50%. Microsoft published these numbers a few years back, but they have not released any numbers stating that these are standalone Intune Managed Devices.
They confirmed that Co-managed/Cloud attached devices are considered Intune Managed Devices. Both SCCM and Intune manage co-managed devices.
Note! – Probably the standalone Intune Managed Devices are less than 50%. If so most of the devices are still managed by SCCM.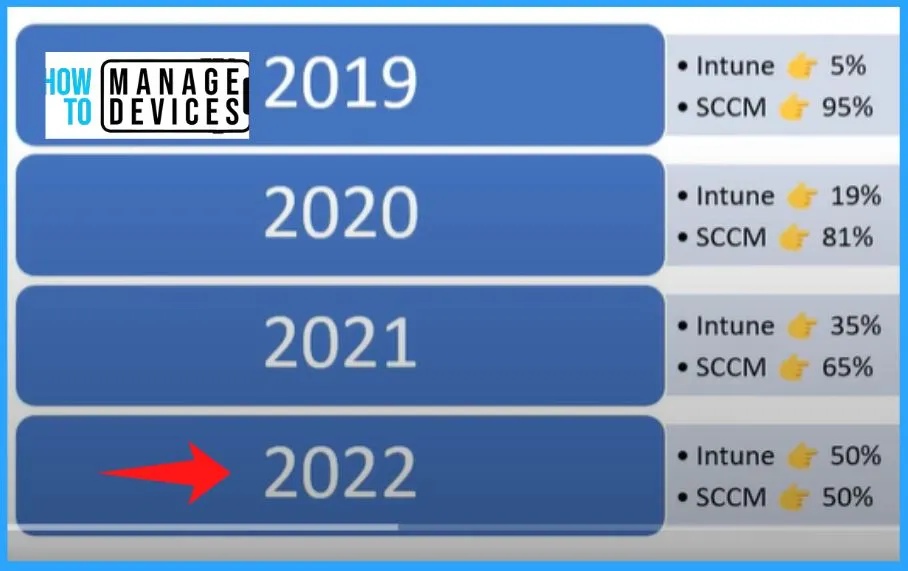 Is SCCM (Microsoft Configuration Manager) Slowly Dying?
SCCM will be there until most organizations currently using SCCM are migrated to standalone Intune. So that kind of Migration from SCCM to Standalone Intune is not a small project for big organizations. It is a multi-year project.
SCCM will have an End of Life, but even Microsoft doesn't know when that will be. It's all about the investment of resources and money. Microsoft is still able to make money with SCCM + Intune integration.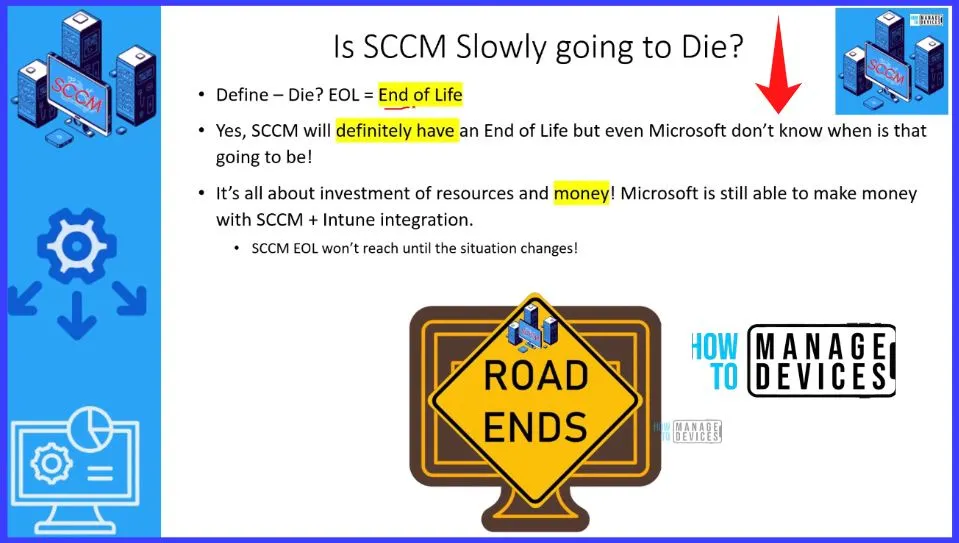 SCCM Vs. Intune – Jobs and Admins Perspective – Future of SCCM Jobs
Most of the Admins are already committed to learning Intune. Intune content is more popular than SCCM content. Intune is the career path for SCCM admins and many other system admins.
As per a survey HTMD Community conducted a year back, SCCM admins know they need to move to Intune. 62% of them said they needed to move to Intune and wanted to start learning Intune. If you want to learn about Intune, there are a lot of resources from the HTMD Community.
Learn Intune Read – Intune (anoopcnair.com) and 63 Episodes Of Free Intune Training Endpoint Manager For Device Management Admins
Learn SCCM Read – SCCM Latest posts and Free SCCM Training 37 Hours of Latest Technical Content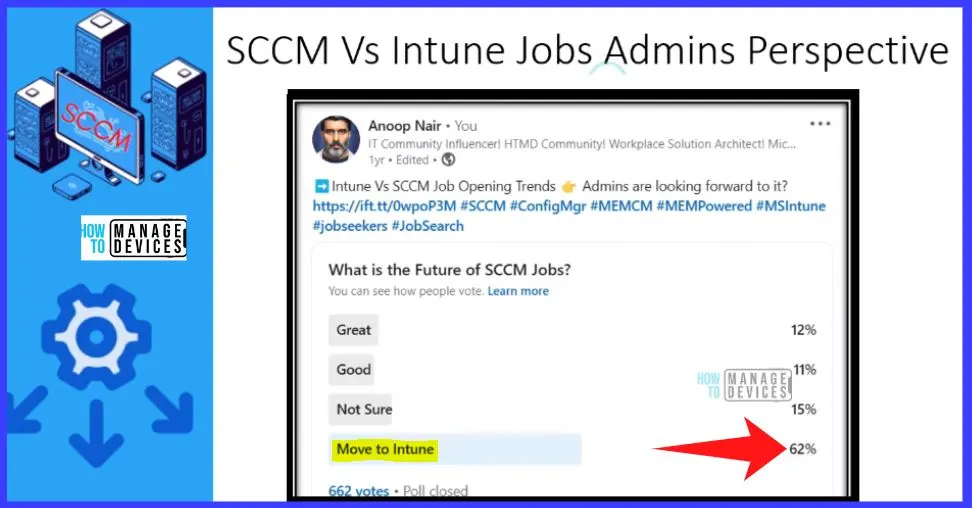 Microsoft Intune and SCCM Job Openings
Intune Job openings are going up. Most organizations are looking for SCCM + Intune skills. They need SCCM skills, Intune skills, or any other MDM skills. The screenshot below shows 2 industry examples of Intune SCCM job openings.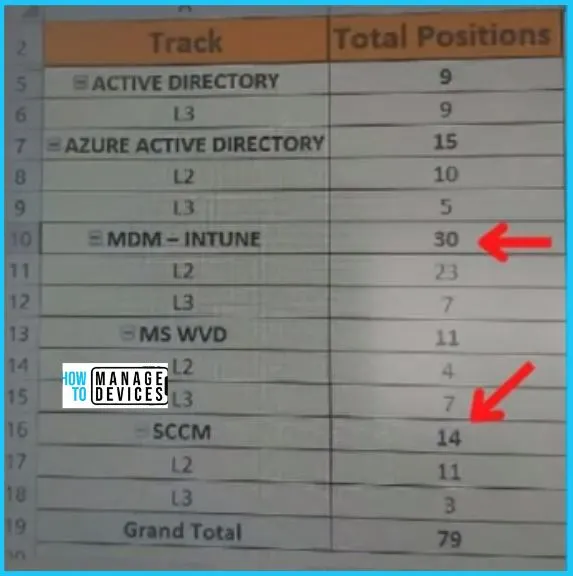 You can easily see from the screenshot below that the Microsoft job opportunities are on the Microsoft site. For Microsoft Intune jobs, there are 83 results, and for Configuration Manager, which is SCCM, there are only 23 results.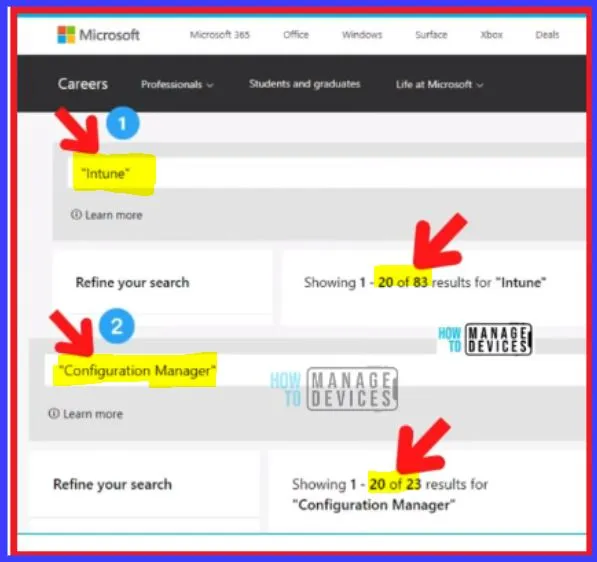 Career Path
Anoop gives some advice about the Career path, he becomes a people manager after 10 years, and nowadays, he is learning more about Techhnial experience. The role of Technical, project management, and Product management is that technical involvement is a must.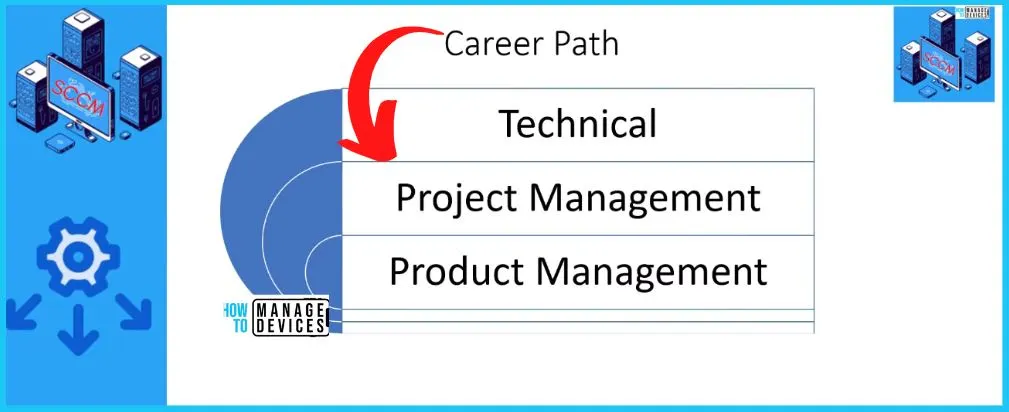 Author
About Author – Vidya is a computer enthusiast. She is here to share quick tips and tricks with Windows 11 or Windows 10 users. She loves writing on Windows 11 and related technologies. She is also keen to find solutions to and write about day-to-day tech problems.