Let's learn about the Issue with the October 2023 Security Update Installation. Microsoft has reported an issue with Windows 10 security updates released on Patch Tuesday. Some users may experience problems where the updates fail to install and show a 0x8007000d error.
This error occurs even if the installation process initially appears to be progressing. If you have a computer using Windows 10 versions 21H2 or 22H2, there's a known issue with the KB5031356 security update. This means that when you try to install this update, it might not go through correctly.
It might start but then fail to finish. It is a known issue, and Microsoft is likely working on a solution. So, if you encounter this problem, don't worry; it's a general thing, and a fix should come soon. Stay tuned for any updates from Microsoft as they work on resolving this issue.
Our latest article shows the October 2023 Patch Tuesday update for Windows 10 KB5031356. This release highlights 3 zero-day vulnerabilities and outlines Microsoft's latest enhancements. Additionally, Microsoft has introduced the KB5031354 and KB5031358 updates for Windows 11.

In my own experience, I also installed the updates without encountering any 0x8007000d errors. The process went seamlessly, and my system seemed to run smoothly after the update.
What is the Issue with the October 2023 Security Update Installation?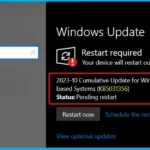 Microsoft has received reports that the Windows updates released on October 10, 2023, may fail to install. Some users may face difficulties installing the October 2023 security update.
Which Versions of Windows are Affected by this Issue?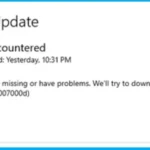 This issue affects Windows 10 versions 21H2 and 22H2.
Issue with October 2023 Security Update Installation
On October 10, 2023, Microsoft released the KB5031356 update for Windows 10. It is precisely for OS builds 19044.3570 and 19045.3570. This update is aimed at improving the performance and security of your Windows operating system.
It may include fixes for known issues, security enhancements, and overall system stability.
Suppose you are experiencing an issue with the October 2023 Security Update installation.
Here are some step-by-step guides to help you troubleshoot the problem.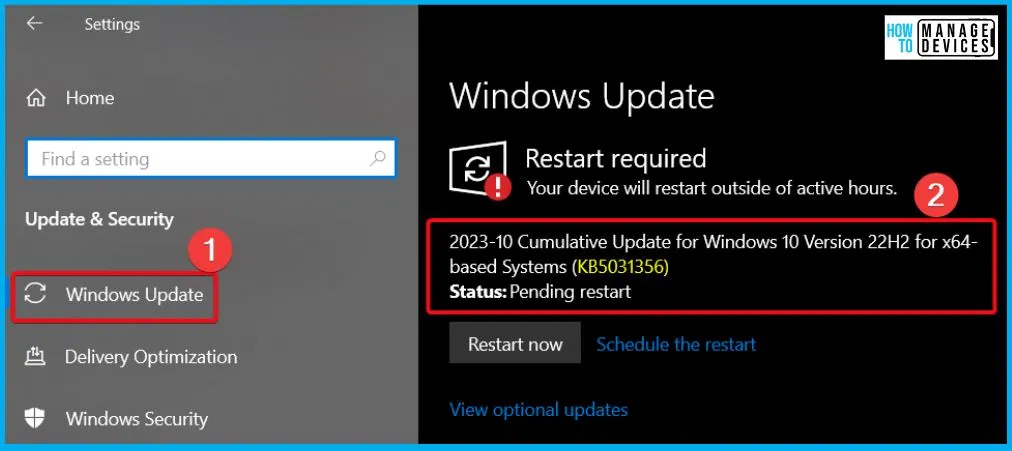 Error 8007000D (ERROR_INVALID_DATA)
There are difficulties with installing Windows updates released on October 10, 2023 (specifically, KB5031356). Some devices may show initial progress during installation but fail to complete it.
One common problem they encounter is called Error 8007000D, which is also known as ERROR_INVALID_DATA.
By clicking Update History, you can find this error in the Windows Update section under System Settings.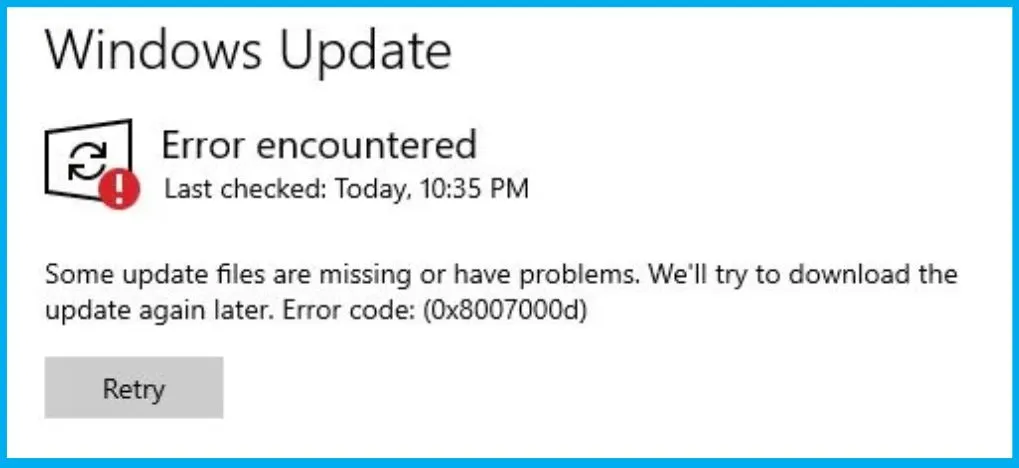 Feedback Hub
Microsoft actively seeks user feedback on this issue and encourages anyone experiencing problems with the update to share their experience through the Feedback Hub. The Feedback Hub is a place that allows you to report issues you encounter while using Windows 11 or Windows 10.

Additional Guidance for Resolving Windows 10 Update Issues
Suppose your device is having problems updating to the latest version of Windows 10. There are several reasons for this, and the following tips will help you identify and address the specific issue affecting your device. Before you start, ensure your device is connected to a power source and has a stable internet connection, and follow the steps below.
It's important to note that specific updates need administrator access for installation. If your account doesn't have administrator access, a couple of options are shown in the table below.
Note! – Before proceeding with any of the solutions provided below, it is crucial to safeguard your files. To protect your files, you should Create a Backup of Your Files. Another reliable option for backing up your files is by utilizing OneDrive.
| Additional Guidance for Resolving Windows 10 Update Issues | Details |
| --- | --- |
| Create a Local User or Administrator Account in Windows | This helps you to set up an account with the necessary administrator permissions. |
| Seek Help from an Administrator | This will help you with a smooth update process. |
Issue with October 2023 Security Update Installation – Table 1
Resolution
This issue is resolved using Known Issue Rollback (KIR). The known Issue Rollback (KIR) is a feature designed to restore any device affected by a potential issue during a Windows update. Please be aware that the fix could take up to 48 hours to reach regular consumer and business devices that an IT department doesn't manage.
Run Command Prompt as Administrator – Access the Start menu and type 'cmd.' Select ' Run as administrator' from the search results' right-side panel.
Execute the Command – In the window that appears, type the following command to execute a restore command.
Dism /online /cleanup-image /RestoreHealth
Wait for Completion – Allow the command to complete successfully, then close the window.
Search for Updates – You can now search for updates again by navigating to the Windows Updates section in the Settings view.
Access Windows Updates Settings – Opening the Start menu and type 'Windows Updates'. From the search results, select 'Check for updates.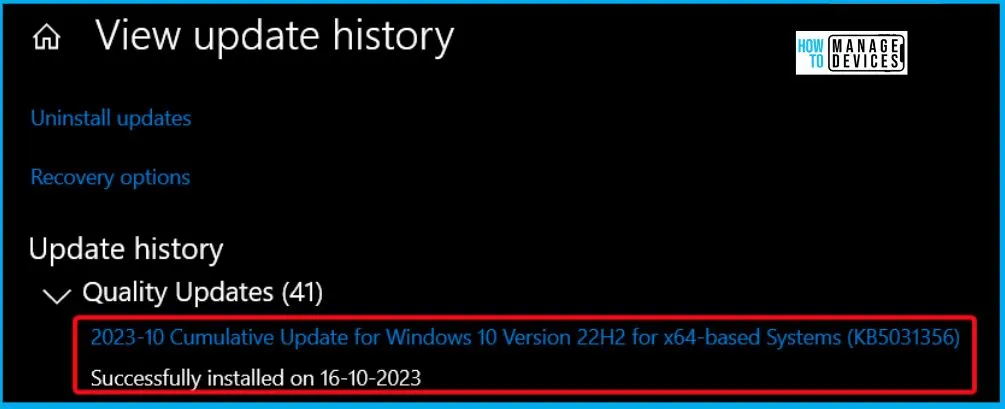 Windows 10, version 21H2 | Microsoft Learn
We are on WhatsApp. To get the latest step-by-step guides and news updates, Join our Channel. Click here – HTMD WhatsApp.
Author
About the Author – Vidya is a computer enthusiast. She is here to share quick tips and tricks with Windows 11 or Windows 10 users. She loves writing on Windows 11 and related technologies. She is also keen to find solutions and write about day-to-day tech problems.