Let's learn the Latest AI Features of Opera Browser 2023. Opera is launching its browser with generative AI tools into its desktop browser. The company introduced AI prompts and popular GPT-based services ChatGPT and ChatSonic into Opera and Opera GX.
Opera browser's features are nearly equal to Microsoft Edge. A Chinese consortium owns opera. Here the chatbots are added to the sidebar of the browser. It also has a built-in VPN system, a viable alternative to Edge if you want more control over your privacy without sacrificing usability.
The company promises to add more AI-powered features that would run a GPT-based model on its own. This browser uses a GPT-4 based bot which generates images from text inputs. The chatbots summarize articles or web pages and write social media posts for you.
This post will describe the features and the new AI features for your reference to understand the Opera browser well, the operationalization of the browser and how it makes a difference from other browsers. Let's look into it to know better about the Opera browser.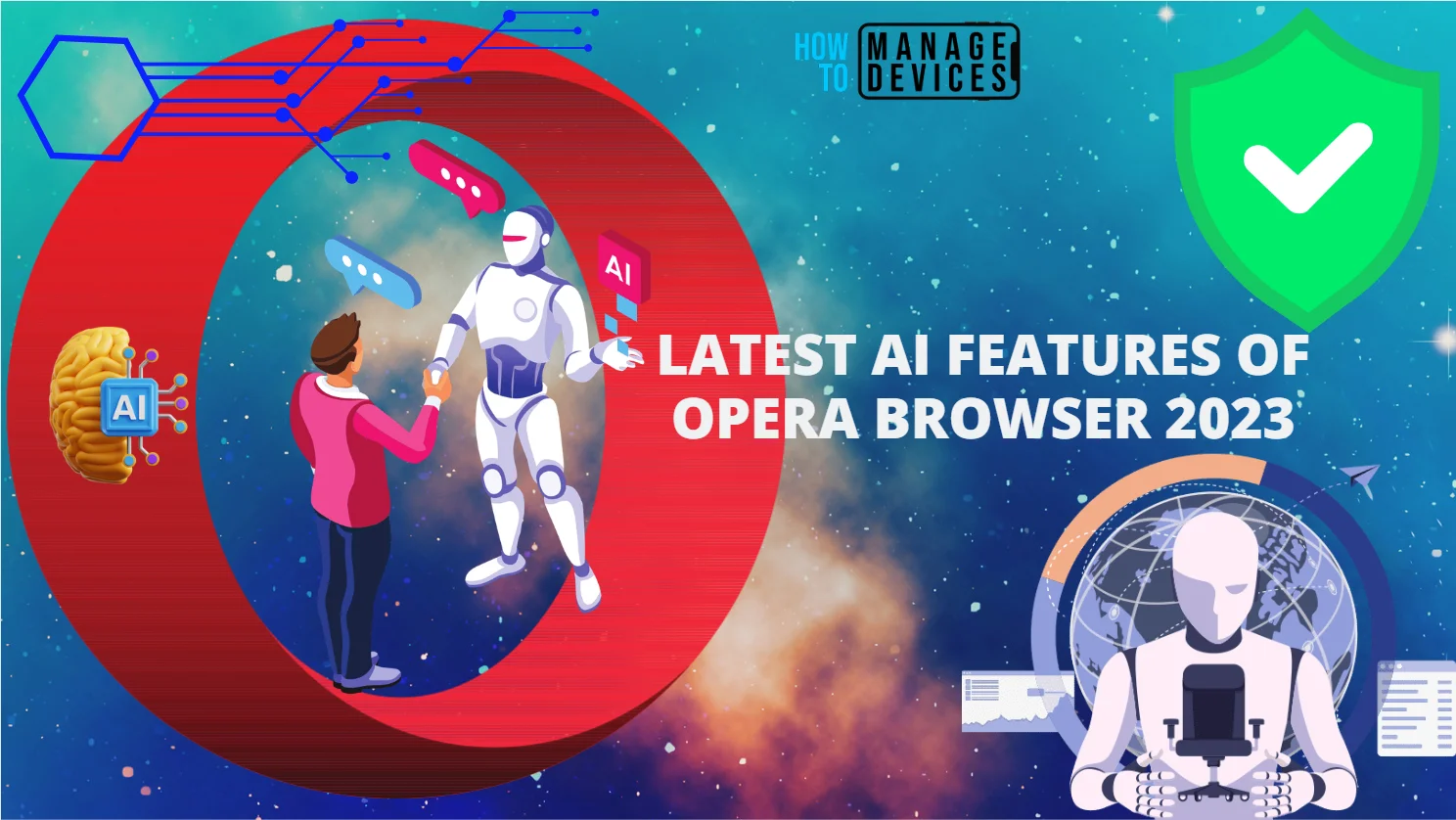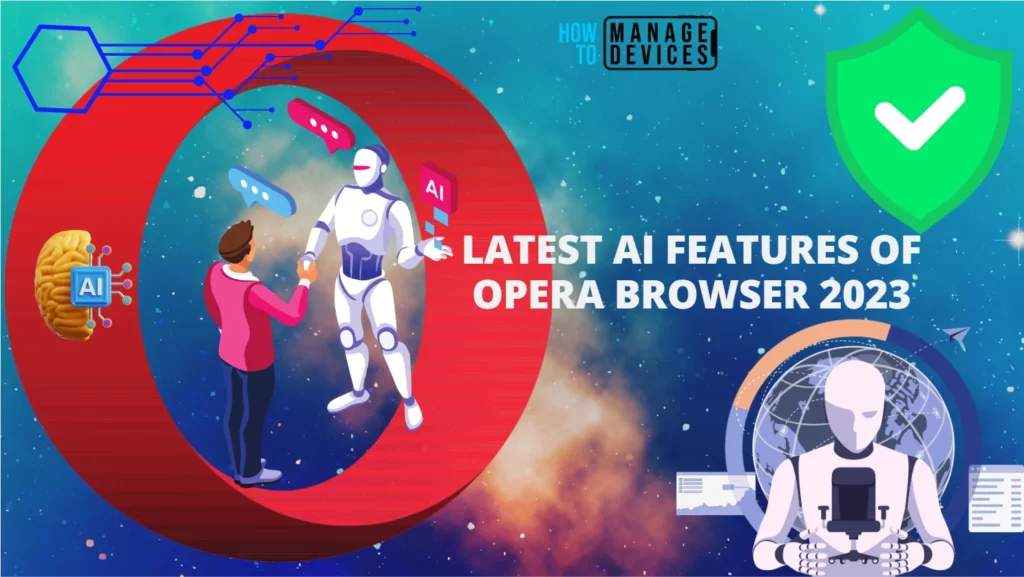 Why Opera Browser?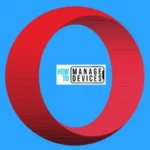 Opera has been innovating the browser space for more than 25 years. Ad-blocking, tracking protection, and a free VPN help to make this the best web browser. It automatically protects you from phishing, crypto mining, and paste-hijacking. Its sidebar provides messages, social media apps, and music services. Its workspaces, battery saver, and Video Pop-out help you browse more smoothly. Click here to learn how to install Opera Browser on your device.
Features of Opera Browser
Opera browser has been used for more than 25 years; Opera has been building the best teams, audiences, and online experiences. Expand your browsing capabilities with contextual AI prompts in early access. In Opera, some chatbots summarize articles or web pages. To use this feature, A user must manually switch on 'AI Prompts' through the settings menu.
In the Opera Browser, some AI Features are developed, making this browser cool and smooth. The AI features are listed below with the browser home screen image. Click here to learn all features of the Opera browser.
Generative AI
Lucid Mode
Video Pop Out
Free VPN
Integrated Messanger
Integrated Social Media
Ad blocker
A player in the sidebar
Opera Flow
Snap Shot
Battery Saver
Opera Browser Home Screen
The Opera browser has many features; after installation, the home screen of the browser and the options available are shown below in the image for better understanding (Image Source: HTMD).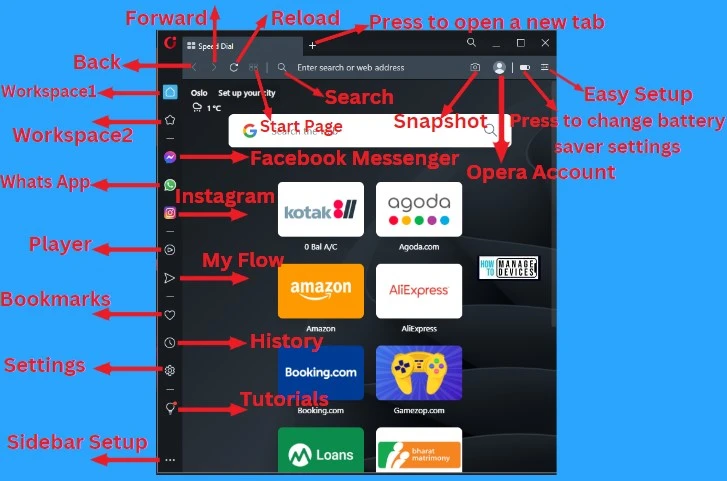 Types of Opera Browsers
Various types of Opera browsers are also available for certain types of users. Various opera browser means various users have various requirements, so Opera was developed to fulfill user needs. The browser of Opera according to the user requirement is listed below:
Opera
Opera GX
Opera for Chromebook
Opera Mini
Opera Crypto Browser
| List of Opera Browsers | Description |
| --- | --- |
| Opera | This browser is for the personal use of every user |
| Opera GX | This browser is specially developed for Gamers |
| Opera for Chromebook | This is the perfect browser for your Chromebook |
| Opera Mini | This is a very light data-saving browser |
| Opera Crypto Browser | This browser opens the gate way for Web 3 |
Latest AI Features of Opera Browser 2023 – Table 1


AI Features of Opera Browser
The Opera browser introduced essential AI features that make a huge difference from other browsers. Some AI features that make it different are listed below, and discuss their features in detail one by one.
Early Access – AI Prompts
Lucid Mode
VPN Service
Pinboards
Video Pop-out
Early Access – AI Prompts
Expand your browsing capabilities with contextual AI prompts. The GPT-based features like Chat GPT and ChatSonic provide a better option that helps the user discover different suggestions regarding the content. AI rapidly changes contextually based on the website you are visiting.
The AI prompts show suggestions when you visit a particular website. You can see different prompts by highlighting words or phrases on a web page. All prompts change contextually based on the website you are visiting.
Shorten
What's the main point
Find related content
Create a tweet
Ask questions about this
Create a meme idea
Craft a rap about it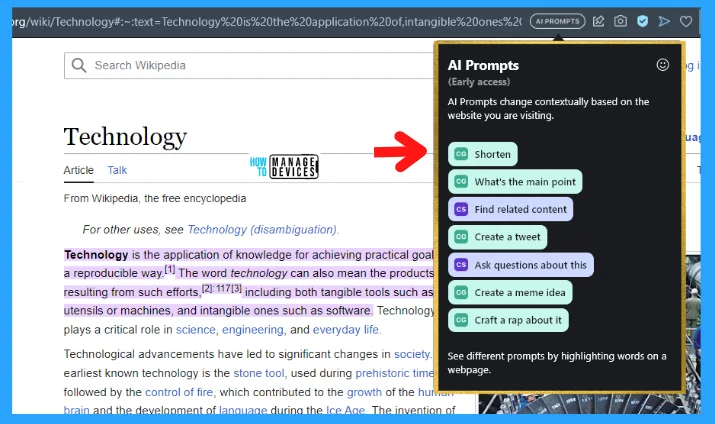 Lucid Mode
Enhance online video and image quality. Watch sharper videos on YouTube, Facebook, and Instagram in one click. The benefits of lucid mode are that it improves low-quality video and enhances images online in one click.
Free video enhancement: Enhance online videos and image quality for free with Lucid Mode in Opera Browser. And enhance video quality by clearing the blurriness in YouTube videos, and watch video clips on Facebook, Instagram, and more with sharper quality.
One-click improvement: Clean up content with one click or set Lucid Mode as the default for videos and images.
Higher quality images: Optimize videos, graphics, or both for higher quality webpage content and increase image sharpness by enhancing image quality and webpage graphics for a clearer view of online content.
YouTube videos: Unblur videos and improve the quality on YouTube, Instagram, and others for free. To improve YouTube quality, start a YouTube video in Opera Browser and hover your mouse over it. Then click the Lucid Mode button to improve video quality.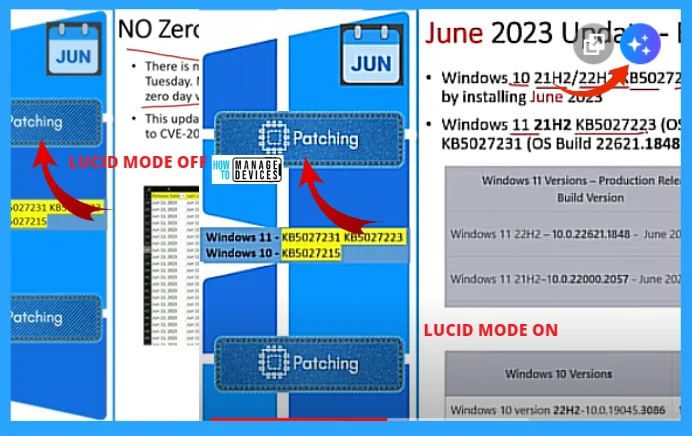 VPN Service
Opera VPN privacy & protection service helps you to browse safely with Free VPN or protect your entire device for a monthly subscription with VPN Pro. Free VPN and VPN Pro are integrated into Opera Browser, requiring no third-party or unsecured extensions.
Browse with VPN to prevent third parties from tracking you. VPN connects via servers worldwide, so connection speed and some web pages or services might be affected. The benefits of free VPN and VPN Pro are compared in the table below.
| Facilities | Free VPN | VPN Pro |
| --- | --- | --- |
| Integrated in Opera Browser | Yes | Yes |
| Protection | Opera Browser only | Entire Device (up to 6) |
| No-log Service | Yes | Yes |
| Mobile & Desktop | Yes | Yes |
| Location | 3 general locations | 30+ unique locations |
| No. of Servers | 100+ high-speed servers | 3000+ high-speed servers |
| No data cap | Yes | Yes |
| Unlimited Bandwidth | Yes | Yes |
| Data Encryption | Yes | Yes |
| DNS leak protection | Yes | Yes |
| Two-factor authentication | No | Yes |
| Live chat support | No | Yes |
Latest AI Features of Opera Browser 2023 – Table 2
Browse with a virtual IP address that hides your location and lets you view the web with enhanced online privacy within the Android and desktop in Opera Browser. It does not log your activity or collect information and improves your privacy and security while browsing with Opera.
The free VPN secures your internet traffic within Opera Browser. There is no need to download any additional apps or browser extensions for the best VPN, and also no need for a subscription, login, data limit, or payments. Enhanced online privacy is a right for everyone.
Activate the free VPN service in settings, then the quick VPN access in your browser lets your turn the service on or off.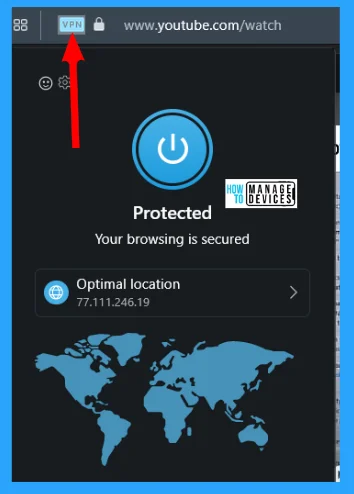 How VPN Protects: When you connect to a website without a VPN service, the website can see your IP address. But, when using a VPN connection, the internet traffic and private data are encrypted and routed through a remote VPN server so the website only sees the server's address. This is especially useful when you get internet access through public Wi-Fi or have an internet connection accessed by other devices.
Pinboards
The pinboard is designed to collect pictures, links, music, files, and notes to plan getaways, create vision boards, compare shopping, share designs – anything you need. The benefits of pinboard are shown below.
Convenient: Collect your content like images, screenshots & links in one convenient place.
Memorable: Take notes, and add link details to remember where the content came from.
Shararble: Share your pinboards to plan and brainstorm together.
Social: Get emoji reactions from those you share pinboards with and see what people think about emoji reactions on shared pinboards.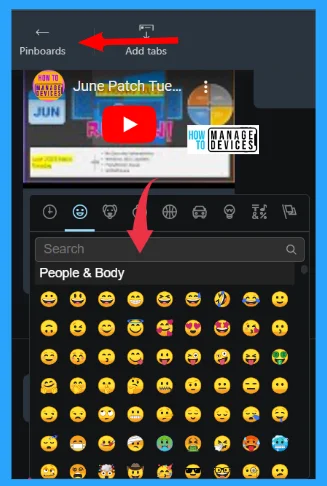 Video Pop-out
Opera video pop-out is a picture-in-picture style feature that is so useful once you use it and you get addicted to this feature. This feature lets you detach your webpage video frame and drag it wherever you want, turning any video page into a pop-out video player that is always on top.
Always on top: The floating video window stays in the foreground, visible over whichever apps or windows you have open. Popped-out videos will hover above other windows and applications so that you can keep watching during other work.
Adjustable: You can move it wherever you want and adjust the size so it's always visible but never in the way. Smoothly drag the window to any part of your computer screen and resize the always-on-top video.
Simple: Pop out a video in one click. The button appears in the top center when you hover the mouse over an online video and click on it to detach it.
Controllable: The most useful controls are in the popped-out video, so you can control your video easily while multitasking. Keep your meetings on top in a separate adjustable window so you can work and browse simultaneously without juggling tabs. Adjusting the volume, pausing, playing, and moving to the next video can all be done in the pop-out video window. Player controls are found at the bottom of the window.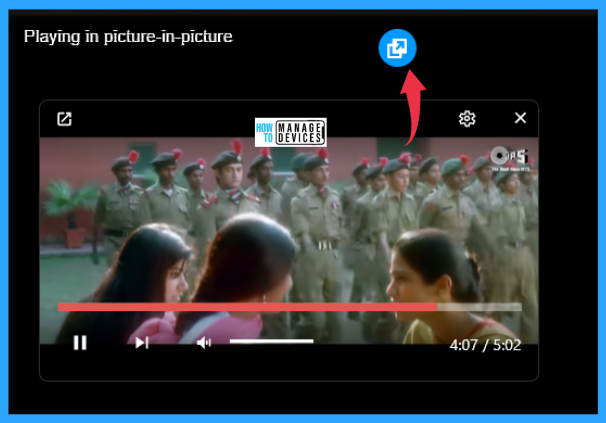 Opera -vs- Chrome
Let's Compare the privacy and security features of Opera vs. Chrome browser. See which browser protects your privacy and how it protects you more against fraud, malicious ads, and user tracking.
| Options | Opera | Chrome |
| --- | --- | --- |
| Phishing protection | Yes | Yes |
| Autofill | Yes | Yes |
| Safety Check | Yes | Yes |
| Tracking protection | Yes | No |
| Cryptoming protection | Yes | No |
| Paste protection | Yes | No |
| Free VPN | Yes | No |
| Premium VPN | Yes | No |
| Built-in Ad blocker | Yes | No |
Latest AI Features of Opera Browser 2023 – Table 3
I hope the information on the Latest AI Features of Opera Browser 2023 is helpful. Please follow us on HTMD Community and visit our website HTMD Forum if you like our content. Suggest improvements, if any, and we love to know which topic you want us to explore next.
Author
Alok is a Master of Computer Applications (MCA) graduate. He loves writing on Windows 11 and related technologies. He likes to share his knowledge, quick tips, and tricks with Windows 11 or Windows 10 with the community.