You can start learning how to build PowerShell PowerCLI Scripts using the free eBook provided by Altaro. VMware vExpert Xavier Avrillier writes this free eBook. This presents a use-case approach to learning how to automate tasks in server environments using PowerCLI.
Learn to write scripts to complete the basics of installation using PowerCLI. Well, it's a known fact that you need to spend time learning scripting technologies, but once you learn, you can save a lot of time with repetitive tasks.
What is PowerCLI?
A version of PowerShell developed specifically for VMware.
Why?
Why download this eBook? Well, this is all about learning PowerCLI scripts. Once you learn the PowerCLI use can use the same scripting method for all the other technologies within the VMware world. Also, in the long run, this will be your entry point for vendor agonistic scripting.
eBook Details?
Automating vSphere is particularly useful for countless applications. The best way is to automate through PowerCLI. Learn how to develop your own PowerCLI scripts with this free 100+ page eBook from Altaro, PowerCLI: The Aspiring Automator's Guide.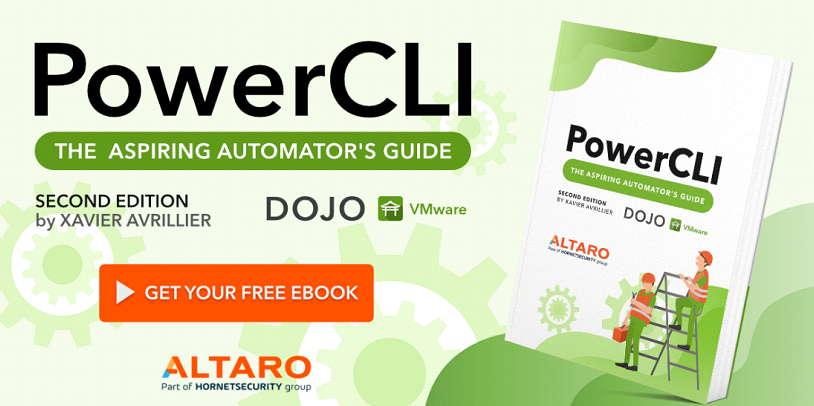 Download
Stop looking at scripts online in envy because you wish you could build your own scripts.
Resources