Let's see the easiest method to find out the list of SCCM client settings assigned for a device in the ConfigMgr console.
The list of client settings feature is useful for troubleshooting scenarios. You can check which are the client settings.
You don't have to use the PowerShell script or SQL query to find out the list of client settings for a device in SCCM. The client settings list can be accessed from the SCCM admin console itself. The client setting is where to configure SCCM client policies from the server-side.
You can modify default client settings when you want to configure settings for all users and devices in your ConfigMgr hierarchy. You can create a custom settings policy to deploy specific policies to a small set of devices or users.

Where is SCCM Client Settings Configurations?
You can configure client settings from the Client Settings node of the Administration workspace in the console.


NOTE! I recommend changing default client settings instead of creating a custom client policy if you want to change client settings.
Find List of SCCM Client Settings Assigned for a Device
Let's find the list of SCCM client settings assigned for a device from the ConfigMgr console itself. You can't get the list of collections of a user from the SCCM console.
However, you can get the list of client settings for a user. I have explained this scenario in the below section of this post.

Open Configuration Manager console.
Navigate \Assets and Compliance\Overview\DevicesYou can also Search for a device from any collection.
Select a Device (Prod-Win20 is the device).
Check the botton of the console – there are 5 different tabs available:Summary

Client Check Details
Malware Detail
Antimalware Policies
Client Settings
Collections

Click on Client Settings to find out the client settings assigned of a device.


Once you are there in the Client Settings tab, you can see all the assigned client settings. The client settings set for a device called Prod-Win20 are listed below.
Default Client Settings. HTMD Client Policy. Primary User.


Find List of SCCM Client Settings Assigned for a User
Now you can check the client settings assigned for a user from the admin console. This is useful for troubleshooting issues on policy settings for users in SCCM.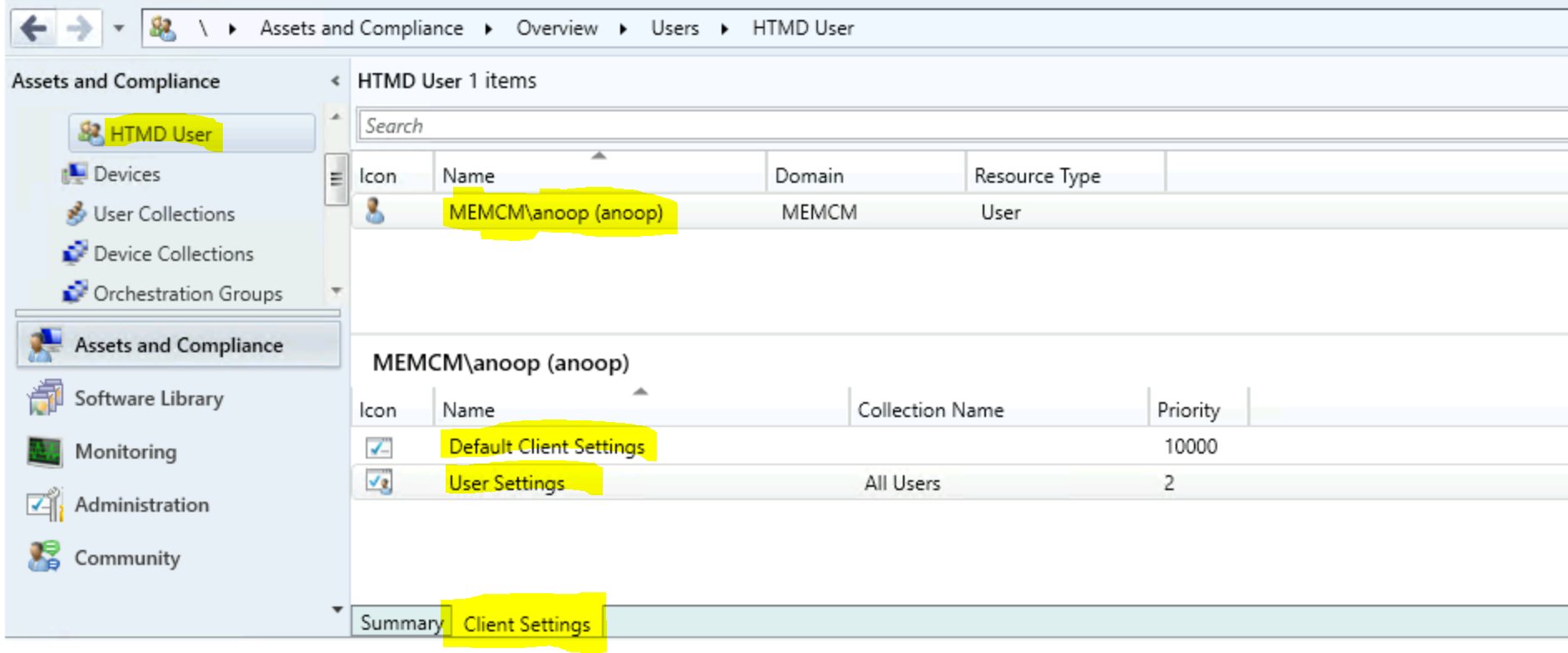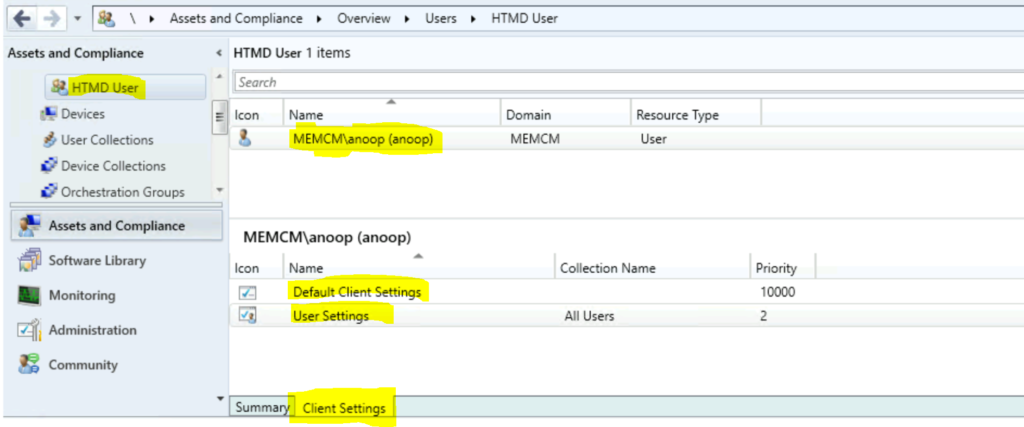 Resources
Author
Anoop C Nair is Microsoft MVP! He is a Device Management Admin with more than 20 years of experience (calculation done in 2021) in IT. He is Blogger, Speaker, and Local User Group HTMD Community leader. His main focus is on Device Management technologies like SCCM 2012, Current Branch, and Intune. He writes about ConfigMgr, Windows 11, Windows 10, Azure AD, Microsoft Intune, Windows 365, AVD, etc.