Let's learn how to use the ControlUp Enrich tool with Intune to simplify your device management. Microsoft has announced an Intune extension (plug-in) from a third-party vendor called the ControlUp Enrich at Microsoft Ignite 2023. It promises to enhance digital employee experiences with its great capabilities.
Efficient management of virtual desktop infrastructure in Azure can be challenging, particularly regarding monitoring and analyzing performance metrics. Given the numerous dashboards and data sources to navigate, IT administrators may find it difficult to determine where to commence when accessing pertinent performance metrics for Azure Virtual Desktop.
As such, it is imperative to establish a structured approach to performance analysis that takes into account the most relevant metrics, ensuring that the virtual desktop infrastructure is performing optimally.
The ControlUp tool is a Real-Time DX and Edge DX solution. These new capabilities include great integration with Microsoft Intune, enhanced monitoring and alerting for Azure Virtual Desktop and Windows 365 Cloud PC, and expanded real-time unified communication monitoring for Microsoft Teams.

Video – New Intune Plugin from ControlUp
New Intune Plugin from ControlUp. What is this ControlUp Intune Plugin? Manage Microsoft Intune Devices using ControlUp Enrich. Monitor Intune Devices using ControlUp Enrich.
ControlUp Enrich for Microsoft Intune
ControlUp, known for being the leading organization in Digital Employee Experience (DEX) management, has declared the release of a suite of new features at Microsoft Ignite 2023, These functionalities are designed to improve digital employee experiences across the Microsoft end-user computing portfolio.
This move indicates ControlUp's commitment to providing advanced solutions that cater to the ever-evolving needs of the digital workforce. The introduction of these features is expected to bring significant benefits to businesses and academic institutions alike as they seek to optimize their digital environments for maximum productivity and efficiency.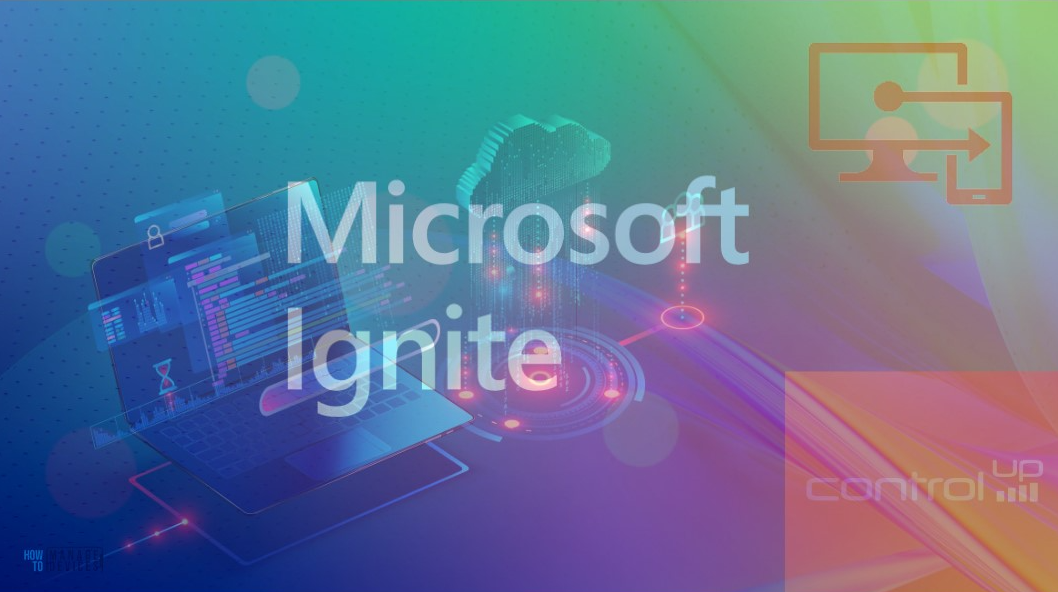 The ControlUp Enrich DEX plug-in for Microsoft Intune offers desktop administrators a real-time user experience analysis for managed physical and Cloud PC desktops without requiring them to navigate away from the familiar Intune interface.

The Intune plug-in brings in real-time performance metrics, asset information, and vital application and OS events. Also, It allows you to see any real-time experience issues a user might have without having to leave the Intune interface.
IT teams can promptly troubleshoot and resolve issues that impede user productivity through the plug-in's embedded actions and remote assistance capabilities. This latest development is a significant improvement in managing desktop performance, and it is anticipated to enhance the management of desktop infrastructure in the future.
ControlUp Enrich DEX plug-in Installation
As I mentioned above, the ControlUp Enrich is available as a plug-in to add it to your browser, as same as any other plug-in. ControlUp Enrich will ask you to log in with your corporate email ID and create a trial account once you add its Plug-In.
Let's add the Plug-In to our test environment, ControlUp Enrich is available now in the Chrome and Microsoft Edge add-on stores, and installation and setup take only seconds.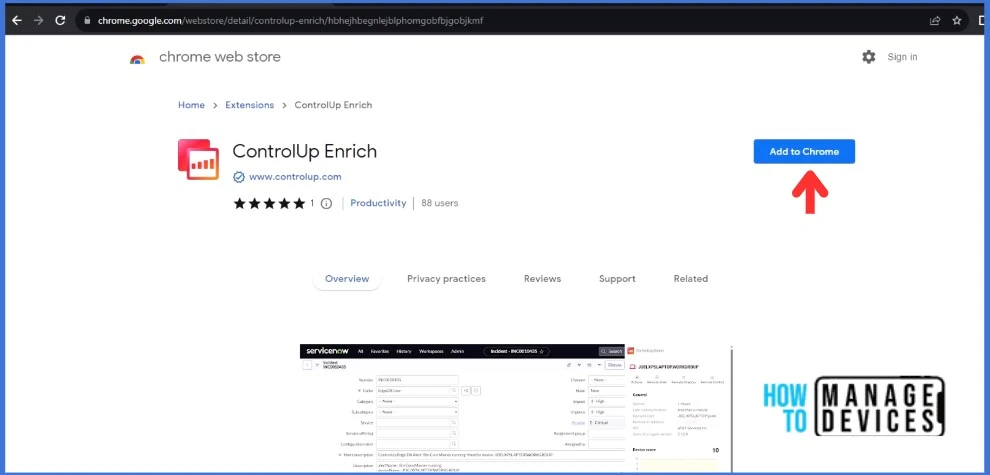 Manage Microsoft Intune Devices using ControlUp Enrich
Here's how you can manage Microsoft Intune Devices using ControlUp Enrich. The new ControlUp Enrich DEX plug-in for Microsoft Intune, now in tech preview, gives desktop admins real-time user experience insights for managed physical and Cloud PC desktops.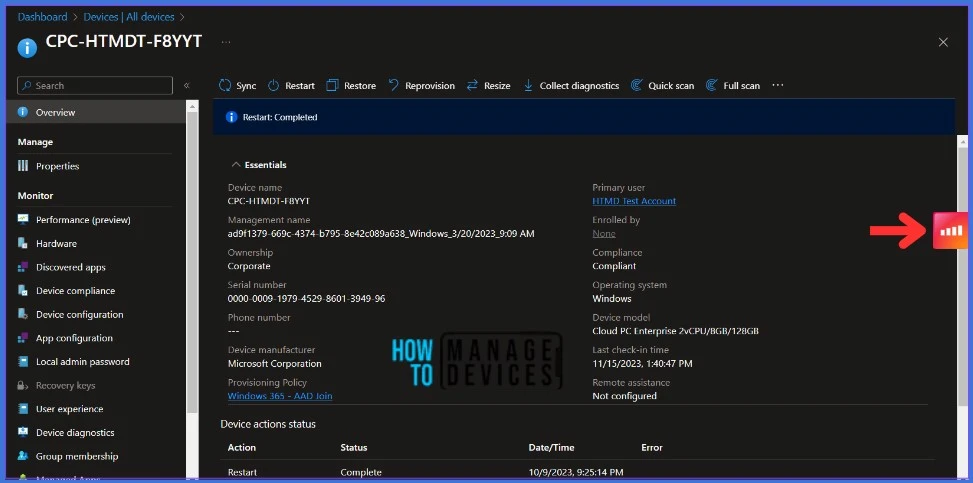 Click on the ControlUp icon that appears on the right side. It will ask you to log in. To sign in to ControlUp, you can use your corporate email ID and associated password. It may take a while to set up your trial account in ControlUp.
To use ControlUp Enrich to manage your devices, you need to install the ControlUp Agent Manager on each device you want to manage. Once you complete your profile setup, you can easily download the Agent Manager installation file. You can install the agent on Windows, macOS, Linux and Thin Client operating systems. Also, the installation command will be available at the bottom of the webpage.
Once you complete your profile setup, the Tenant Name and Device Registration Code will be available in Configuration > Downloads for agent installation.
Click on the Download button to download the ControlUp Agent Manager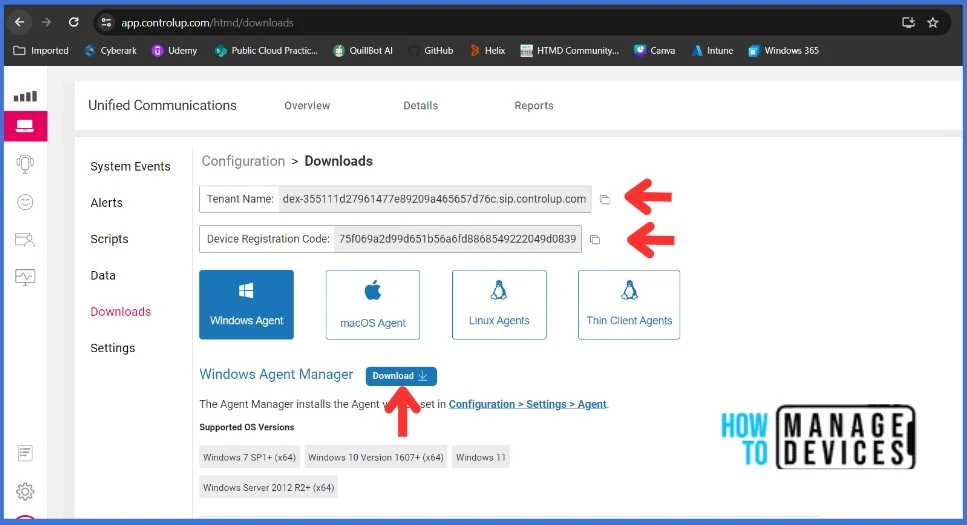 Command line install would be the best method when you want to install the Agent Manager MSI installer on multiple devices. You may use the Win32 application deployment method to deploy it. Refer to the below guides to learn more about Win32 application deployment
Install the ControlUp Agent Manager on the devices. I'm using the Command line install here in this example. You can double-click to run the MSI installer if you would like to install the agent interactively.
| Parameters | Description |
| --- | --- |
| DEVREGCODE | Sets the Device Registration Code |
| TENANT | You must add the Tenant Name here |
| PROXY | It sets a web proxy address and port number. For example, PROXY=10.0.0.1:8080. |
| GROUP | Adds the device to a group. For example, GROUP=Finance. |
| ONLYSTARTONBOOT=1 | You must add it if you are installing the Agent onto a Windows image for cloning. This option installs the Agent Manager but does not start the Agent service. The Agent service automatically starts and connects to your DEX environment on the first boot of the cloned image |
| ALLUSERS | It specifies per-user installation context. ALLUSERS=1: It specifies per-machine installation context. ALLUSERS=2: It enables the system to define the values of ALLUSERS |
Manage Microsoft Intune devices using ControlUp Enrich. Table.1
To navigate to the ControlUp Agent downloaded location in the command prompt, you can use the "cd" command followed by the path of the folder where the agent is stored. For example, if the agent is stored in the Downloads folder, you can run the command cd Downloads to navigate to that folder.
Once you are in the correct folder, you can run the following command to install the ControlUp Agent, Make sure to replace DEVREGCODE with your Device Registration Code and TENANT with your Tenant ID.
msiexec /i agentmanagersetup.msi /qn DEVREGCODE=75f069a2d99d651b56a6fd8868549222049d0839 TENANT=dex-355111d27961477e89209a465657d76c.sip.controlup.com ALLUSERS=1
Monitor Intune Devices using ControlUp Enrich
ControlUp Enrich offers desktop administrators a real-time user experience analysis for managed physical and Cloud PC desktops without requiring them to navigate away from the familiar Intune interface. Let's start exploring the ControlUp Enrich.
Sign in back to the Microsoft Intune Admin portal.
Click on any device that you installed the ControlUp Agent.
You will get a ControlUp icon that appears on the right side. Click on it.
The ControlUp Enrich window will be opened with General, Device score, OS and Hardware, Top Processes and Top Active Applications information.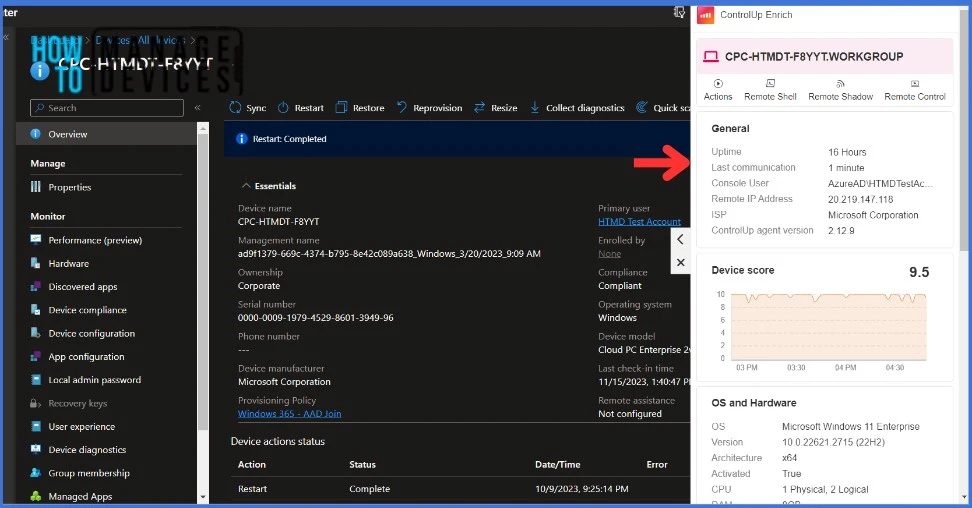 You can expand the ControlUp Enrich window by clicking the arrow button on the left side.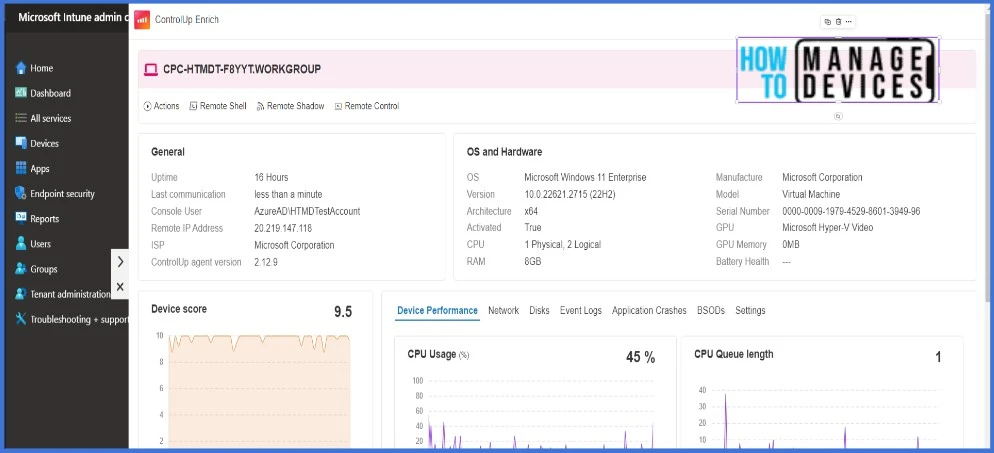 I can see that this window has a lot of helpful information. It seems like there are many useful details that have been included here. You can monitor live CPU Usage and Memory usage.
It's worth noting that we have the capability to monitor and collect real-time data on Network Usage, Disk Usage, Event Logs, Application Crashes, BSODs Logs, and Settings Data.
Take Remote Control using ControlUp Enrich
The ControlUp Enrich platform indeed offers a wide range of monitoring options that are quite impressive. It's great to see how much visibility and control it provides. As for the Remote Control capability, it's definitely worth exploring. With it, you can easily connect to and take control of remote machines to troubleshoot and resolve issues. This feature can be extremely helpful for IT professionals who need to manage large networks and ensure smooth operations.
Click on Remote Control
Please choose the user account you wish to use to access the remote device.
You will get a prompt confirming the user's consent. Toggle 'ON' to prompt users with a connection approval pop-up. Toggle 'OFF' for direct, uninterrupted connections to the user's device.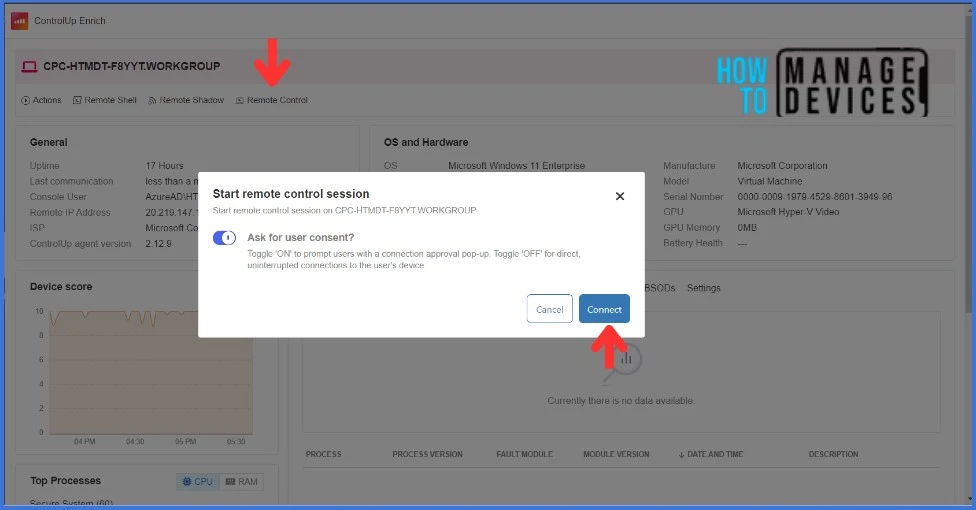 Click on Connect to take the remote. ControlUp Enrich will then attempt to establish a connection to the device using the specified user account, providing you with remote access.
You can use Remote Shadow, which allows for viewing end-user device activity without the ability to interact with it. This feature is a valuable resource for monitoring user behaviour with minimal privacy or security concerns. By utilizing Remote Shadow, businesses and organizations can effectively track and assess user engagement without compromising their personal information
Access a Device Shell Remotely Using ControlUp Enrich
Launching a Remote Shell session can be quite useful, as it allows you to remotely access the device shell on Windows, Linux, and macOS devices. This feature can come in handy when you need to perform tasks on a device that is not physically accessible to you.
With Remote Shell, you can execute commands, modify files, and access various system resources from a remote location. It's a powerful feature for system administrators and developers who need to manage and troubleshoot devices from afar.
Click Remote Shell from the menu.
Choose the user account you wish to use to access the Remote Shell.
NOTE : If you use SYSTEM as the user for a Windows remote shell, you will be accessing the local system as NT Authority/SYSTEM. This grants you local admin permissions.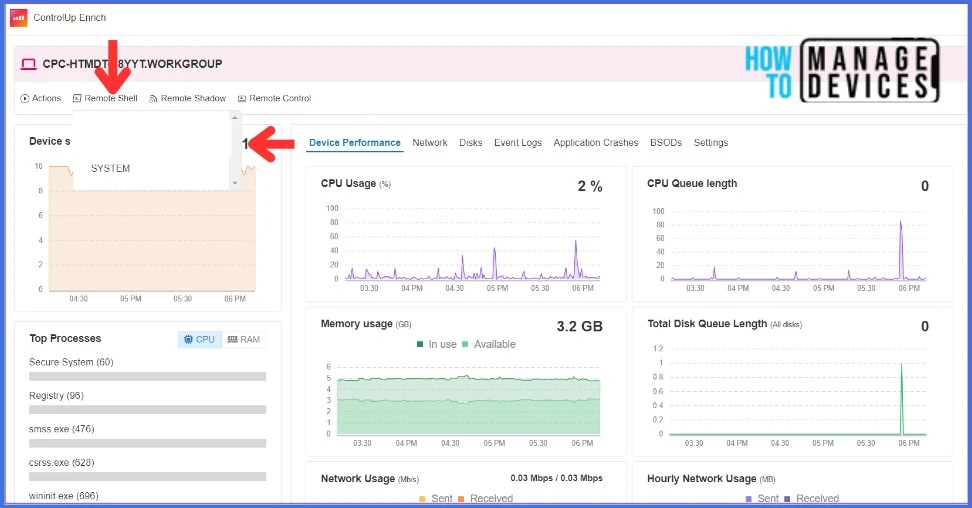 You will have access to the Remote Shell once you click on the user account that you wish to use to access.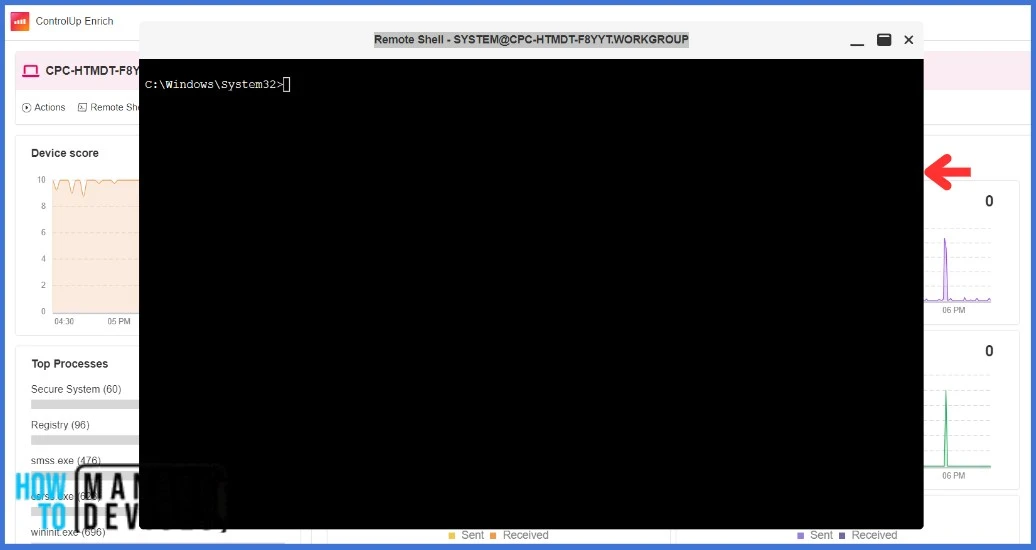 Advantages of using ControlUp Enrich in Intune
I haven't had the chance to explore ControlUp Enrich in Intune fully. However, there are several advantages to having ControlUp Enrich integrated with Intune, including:
It improves the digital experience inside Microsoft Intune.
Improves IT team efficiency by bringing data into the Intune interface.
It provides real-time insights about the performance and user experience using the device.
It helps you to detect and resolve issues faster.
Thank you for your patience in reading this post. See you in the next post. Keep supporting the HTMD Community.
We are on WhatsApp. To get the latest step-by-step guides and news updates, Join our Channel. Click here – HTMD WhatsApp.
Author
About Author – Sujin Nelladath has over 10 years of experience in SCCM device management and Automation solutions. He writes and shares his experiences related to Microsoft device management technologies, Azure, and PowerShell automation.