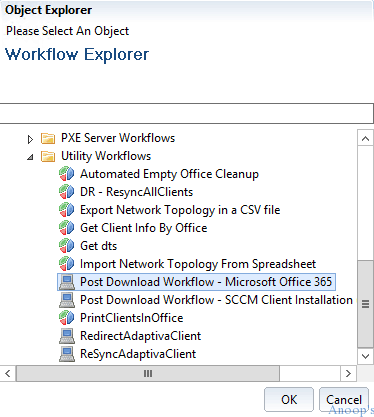 Microsoft introduced a new deployment process for Office 365 which uses their Click-to-Run technology. Click-to-Run allows us to download the latest content from internet and update Office 365. So the challenge for SCCM admins are how to keep office 365 updated in a controlled way using SCCM. We can't give access to users to download the content from internet and install the updates. If you give access to users to download then we will hit bandwidth issues and more over the updates can't be managed centrally. We've challenges in deploying office 365 via SCCM. One of them is Source location of the SCCM package/application, how to keep source of the package updated? and how to stage this DPs?  Adaptiva Onesite newest version 5.5 has a solution via it's intelligent workflow to resolve all these challenges.
Using ConfigMgr/SCCM and Adaptiva OneSite's Content Push feature, Office 365 source can be distributed once over the WAN. Adaptiva Onesite 5.5 helps to replicate the content seamlessly to clients on the LAN using peer-to-peer technology.  Using Microsoft's Office Deployment Tool or ODT, administrators can download Microsoft Office 365 source files locally and synchronize the Office source files when updates are available. Using a scheduled task, Office will check for updates from a defined source location and if there is a difference in version, Office will be updated accordingly. Preparing the source folders for the Office 365 is the first step, there are 3 folders, Office 365 ODT Source, Office 365 SCCM Package Source and Office 365 User Folder.


When the content source is updated OneSite will automatically generate a small diff file using a proprietary state-of-the-art differential compression algorithm and this replicates only the differences to the targeted clients. This significantly reduces the amount of traffic which needs to traverse the WAN. Enable Update distribution points on a schedule then click the Schedule button to create a re-occurring schedule in which the Office 365 package source will be updated.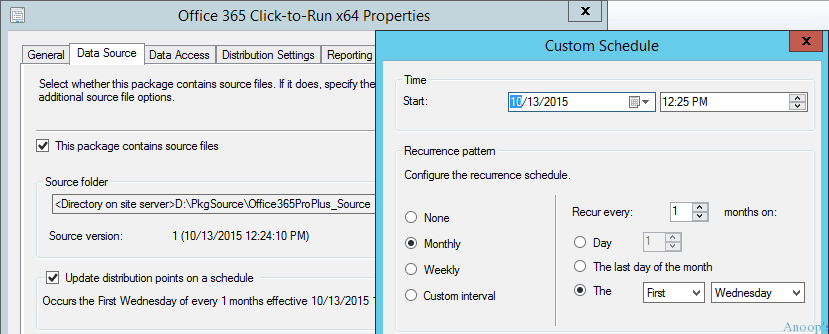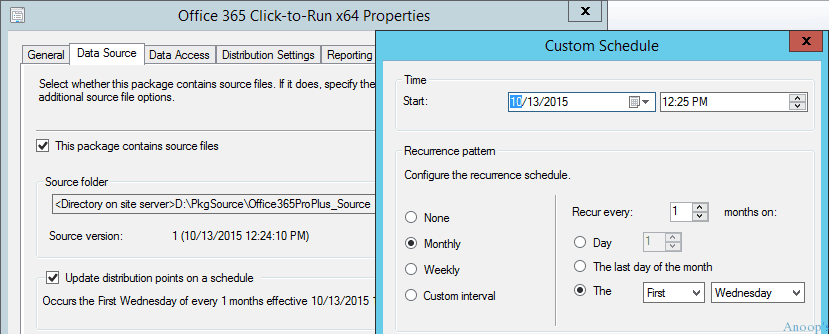 Following are the high level steps which we need to complete for Office 365 deployment via SCCM. Create Package/Application for Office 365, Distributing the Office 365 Content with "update distribution points on a schedule", Creating the Office 365 Content Push Policy – In the Adaptiva Server Workbench, click the Home button and in the "Workbench Perspectives" pane, expand the One Site folder and open the One Site – Content Push Perspective. Another interesting/useful option with Adaptiva workbench is a check the box Empty Unpacking Folder Before Use.

Click-to-Run applications are always get regular updates. Most probably, Office 365 comes with every month updates and that is the main reason we kept DP content update on monthly schedule. Update management is also a worry for SCCM admins. Adaptiva OneSite solution gives an opportunity to fix this issue as well.  Once the schedule is reached the package content is updated on its Distribution Point(s). After that Adaptiva will automatically replicate the differences to targeted clients which will save a significant amount of bandwidth.