Today's article focuses on Microsoft Entra Portal Walkthrough. This article will explore the various components and functionalities offered within the Entra portal. This comprehensive walkthrough will explore the platform's tools, resources, and features.
As we progress, we'll better understand how the Entra portal can streamline business operations and enhance productivity. Microsoft has introduced a transformative rebranding initiative that renames Azure AD to the all-new Microsoft Entra ID. Please note that this walkthrough aims to provide an extensive overview of the Entra portal, shedding light on its capabilities and potential applications.
Let's embark on this exciting journey of discovery and explore the Microsoft Entra portal's possibilities. Suppose you want to know more about Microsoft Defender for Endpoint Portal Walkthrough. Entra is the new home for all the Azure AD portal related topics.
Microsoft Entra helps you to Protect any identity and secure access to any resource with a family of multicloud identity and network access solutions. You can easily Discover the latest identity and access innovations and strengthen your defenses with Microsoft Entra.

What are the Advantages of Microsoft Entra Portal?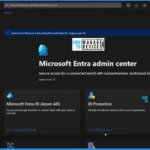 The Microsoft Entra portal helps you to leverage adaptive identity and network access controls, ensuring the security of access to any application or resource for all users and digital workloads throughout your entire environment. By implementing Entra's advanced features, you can establish a robust security framework that adapts to individual user contexts and network conditions, bolstering protection against potential threats.
1. Secure access to any app or resource from anywhere
2. Protect and verify every identity
3. Provide only the access necessary
4. Simplify the user experience
Azure AD is Entra ID Now?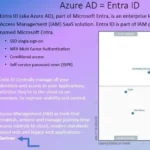 Azure AD is now Entra ID. The name change from Azure AD to Microsoft Entra ID and the licensing changes for the existing products, effective from October 1, 2023.
Video – Microsoft Entra Portal Walkthrough
This video provides a comprehensive overview of the Microsoft Entra portal, showcasing in-depth details about its functionalities and various nodes. Through this video, you will gain valuable insights into how the Entra portal operates and the key elements it encompasses.

Microsoft Entra Portal
In this post, we will delve into the Entra portal walkthrough, exploring its features and the customization options it offers. By closely examining all the nodes present within the Entra portal, we'll understand its structure and capabilities comprehensively. Additionally, we'll compare the Entra portal with the classic Azure AD portal, highlighting the key differences between the two platforms.
Microsoft Entra is a SaaS solution, an IAM product from Microsoft.
IAM is nothing but Identity and Access Management.
The below window helps you to show 3 pillars of Entra and their subcategories.
Entra Pillars
Subcategories
Identity and Access Management
Microsoft Entra ID
Microsoft Entra ID Governance
Microsoft Entra Extra External ID
New and Identity Categories
Microsoft Entra Verified ID
Microsoft Entra Permissions Management
Microsoft Entra Workload ID
Network Access
Microsoft Entra Internet Access
Microsoft Entra Private Access
Microsoft Entra Portal Walkthrough – Table 1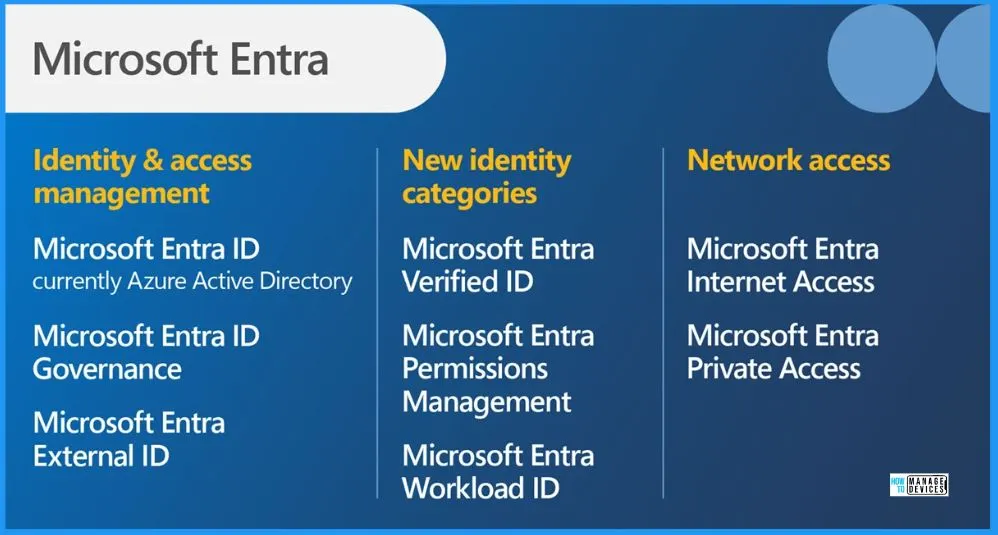 Microsoft Entra is a powerful force in protecting identities and securing access across various environments. This product family brings together multicloud identity and network access solutions. The below window shows the current Azure AD SKU names to the new SKU names under Microsoft Entra ID. Service plan display names will change on October 1, 2023.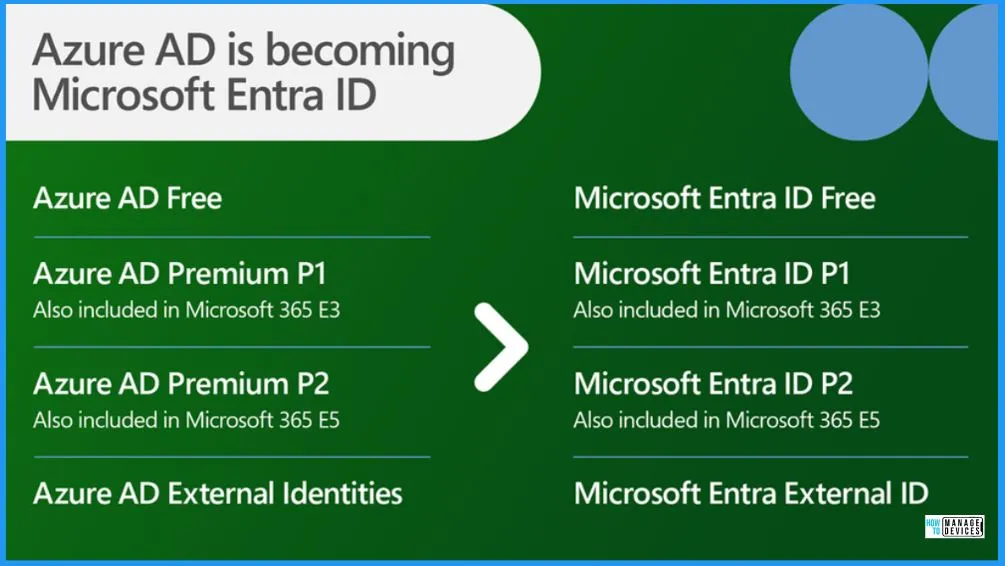 Microsoft Entra Portal Walkthrough
You can see the Microsoft Entra portal in the below screenshot. As you can see, Entra.microsoft.com, you need to log in with your corporate ID username and password, and probably most of your access is secured via conditional access policy, etc. This is the new portal for Azure AD and all the other products related to Azure AD.
You can see different options on the left side of the portal, including the following.
Home
Favorites
Identity
Protection
Identity governance
Verifiable Credentials
Permission Management
Global secure Access (Preview)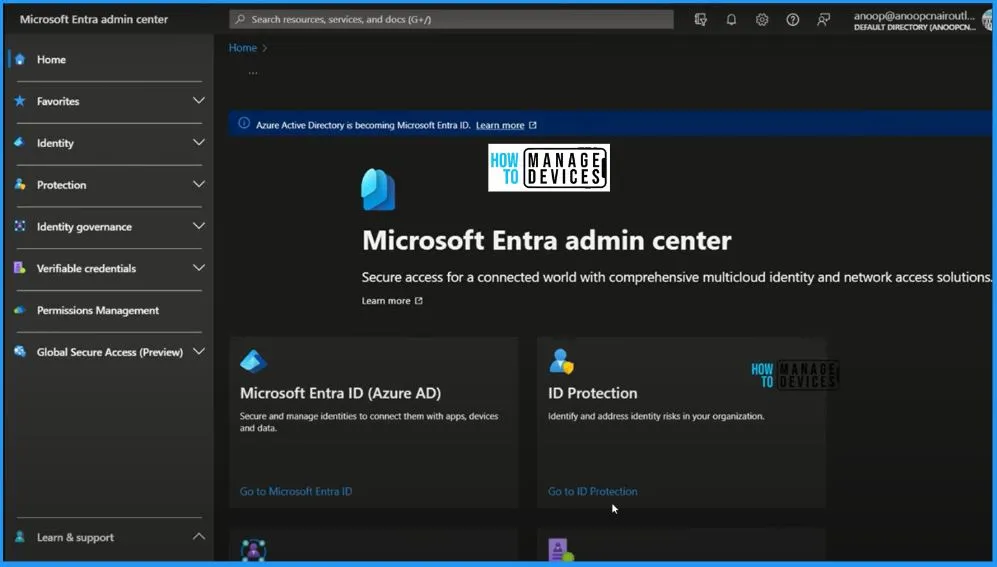 Change the Appearance and Startup View in Entra Portal
You can easily change the appearance and startup views by selecting the settings icon on the top right side of the Entra portal. After clicking the Settings icon, you can reach the portal settings. Select the Appearance + Startup views tab from the left side of the below window.
Select the Theme from the set of options.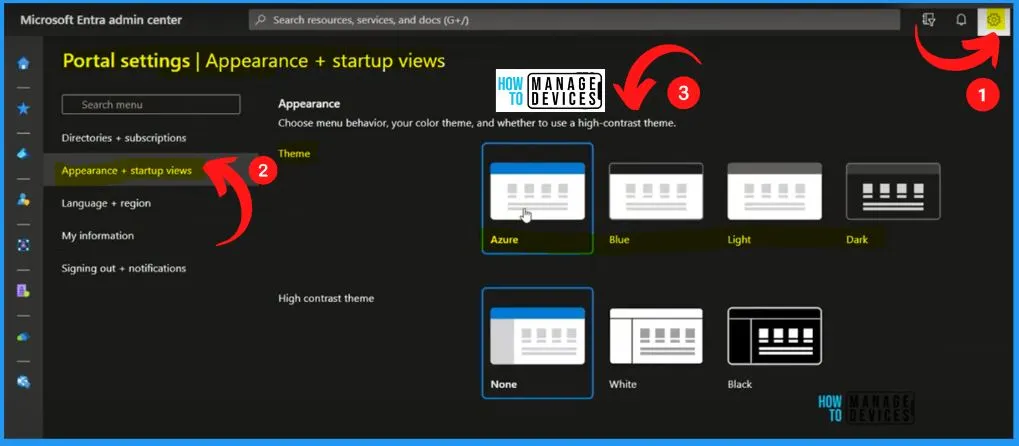 Home Tab in Entra Portal
In the Entra home tab, you can see different tiles such as Microsoft Entra ID, ID Protection, ID Governance, Verified ID, Workload ID, etc. You can easily change the home page view or customize the home page view. The 3 dots menu shows the following options.
Copy the title to Clipboard.
Print content
Toggle full-screen view
Favorites Tab in Entra Portal
In the Entra portal, managing your Favorites list is a breeze. You can add or remove items based on your preferences effortlessly. To add an item to your Favorites, click the Star button next to it, and it will instantly appear in the Favorites tab for quick access.
Conversely, if you wish to remove an item from your Favorites, select the Star button, and it will be removed from the list. This intuitive and user-friendly feature allows you to tailor your Favorites tab to include the most important resources and applications, ensuring a seamless and personalized experience as you navigate the Entra portal.
The below window shows 3 favorites: identity, all users, and global secure access.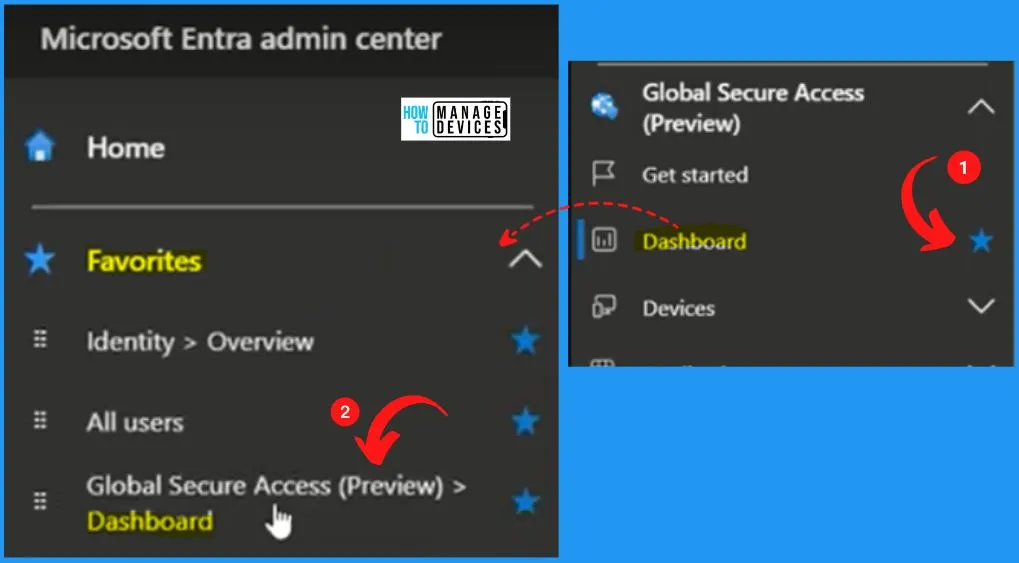 Identity Tab in Entra Portal
The Identity tab in Entra helps you to show different options. This is one of the core features of Entra. The Identity includes the options such as Overview, Users, Groups, Devices, Applications, protection, identity governance, etc.
Users Tab under Identity
Within the Entra portal, the Users tab is a comprehensive hub to manage user accounts efficiently. The Users tab under Identity helps you to show the sub-options such as All users, Deleted users, User settings, etc.
The All Users tab helps you to show all the users in this particular tenant, and all the New users will be onboarded from this All Users tab. This tab also helps you to add new users.

Deleted Users under the Users Tab
One valuable aspect of the Users tab is its inclusion of the "Deleted users" section. When a user account is deleted, it is automatically displayed in the Deleted Users tab. This functionality allows administrators to track and recover any accidentally deleted accounts, ensuring data integrity and simplifying user management tasks.
User settings help you to see different user configuration options

Groups Tab
The Groups section in the Entra portal provides a comprehensive set of options to manage group-related tasks efficiently. The Entra portal's Groups section helps you show options such as All Group, Deleted Groups, and Group settings.
All groups – This option allows you to view a complete list of all the groups created in the Entra portal.
Deleted groups – In this section, you can easily access a list of groups that have been deleted.
Group settings – This option gives you quick access to the settings and configurations of individual groups.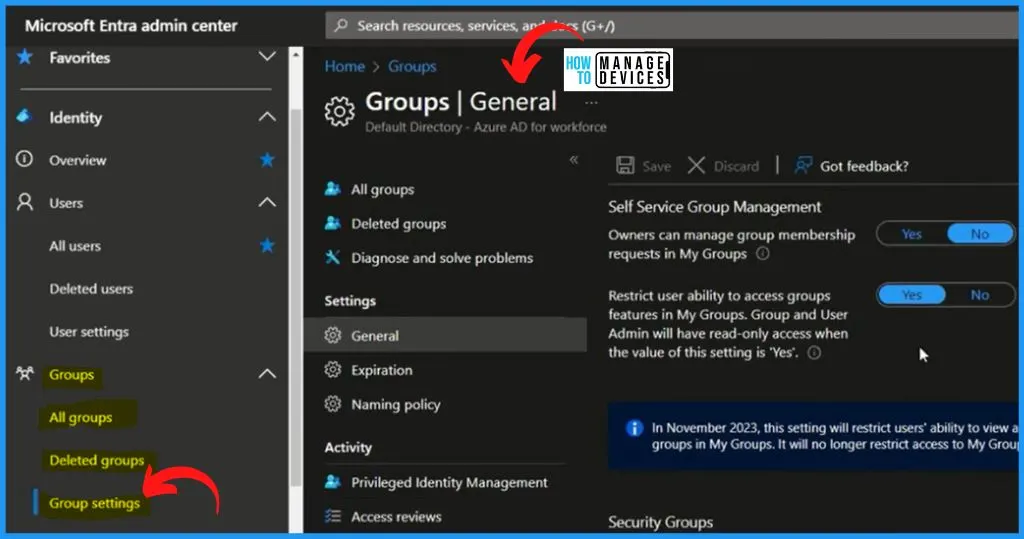 Device Tab in Entra Portal
Within the Entra portal, the Device tab serves as a central tab to manage various aspects related to devices efficiently. This tab offers several essential options to streamline device management.
Overview: The Overview option helps you to provide a comprehensive summary of all enrolled devices within the Entra portal.
All devices – It offers a detailed view of each device's properties, configurations, and associated users, making tracking and managing devices easier.
Bitlocker keys: The Bitlocker key ID is a 32-digit key ID. The Bitlocker keys option is particularly significant for data security. Here, you can securely store and retrieve Bitlocker recovery keys for encrypted devices, ensuring seamless data recovery in case of a lockout or other critical scenarios.
Applications Tab
The Application tab helps you to show the options, such as Enterprise applications and App registrations. If we click on the enterprise application, we can see all the default applications or the applications we created for the automation.
Application proxy provides single sign-on (SSO) and secures remote access for web applications hosted on-premises.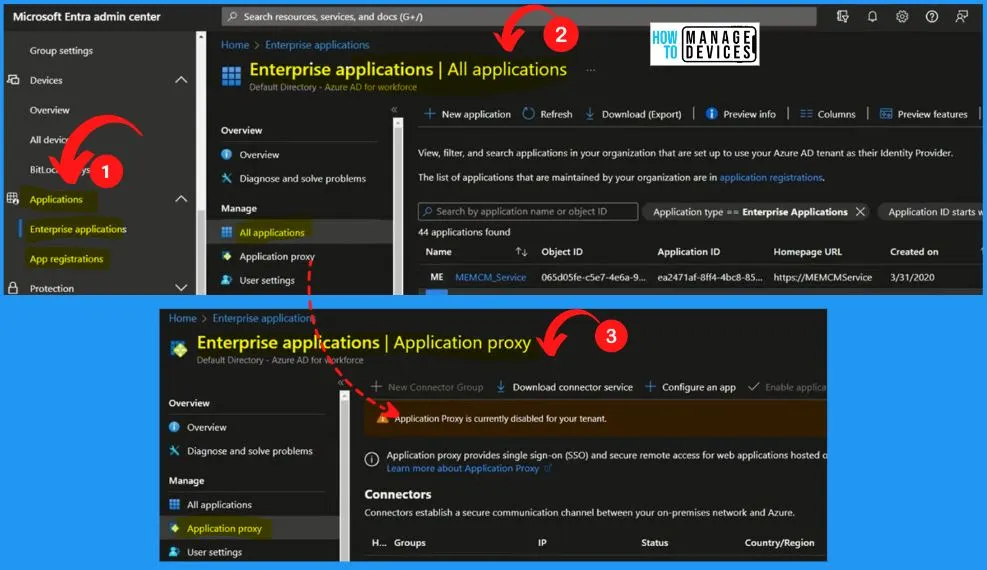 Protection Tab in Entra Portal
The Product tab in the Entra portal serves as a comprehensive control center, providing a wide array of essential options to enhance security and streamline identity management. Within this tab, you will find many powerful features and functionalities such as identity protection, conditional access, authentication methods, password reset, custom security attribute, Risky activities, etc.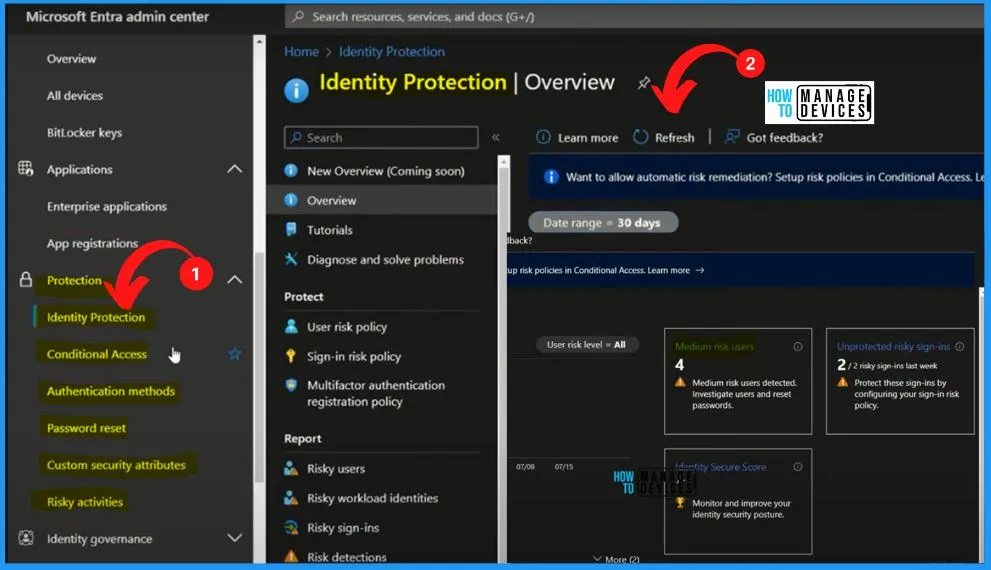 Identity Governance Tab in Entra Portal
Entitlement management is the main one in Identity governance. And it includes other options such as Access reviews, Privileged identity management, and Lifecycle workflows. Access Reviews helps you regularly assess and validate user access to resources and applications.
Privileged Identity Management (PIM): With PIM, you gain granular control over privileged access rights.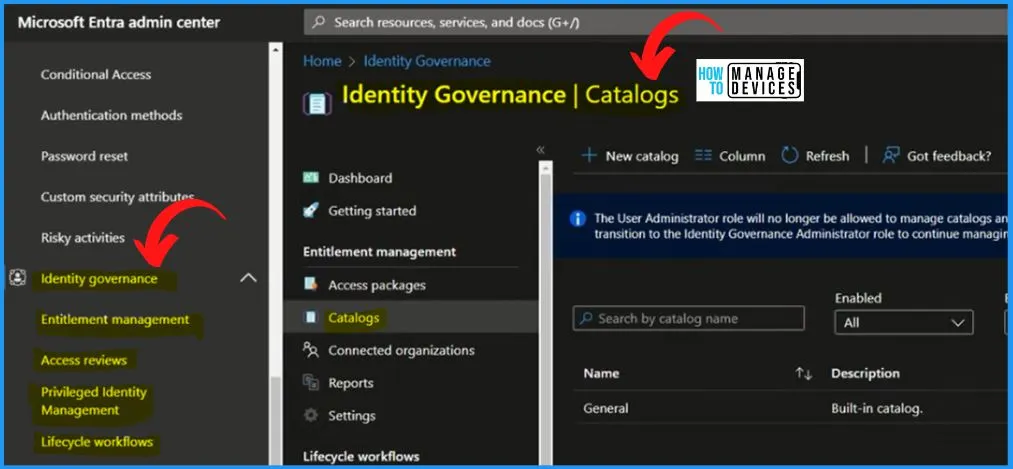 External Identities and Verifiable Credentials Tabs in Entra Portal
The External identities tab includes the options such as overview, All identity providers, User flows, Custom authentication extensions, Cross tenant access settings, and External collaboration settings.
The Verifiable credentials include the options such as Setup, Overview, Credentials, and organization settings.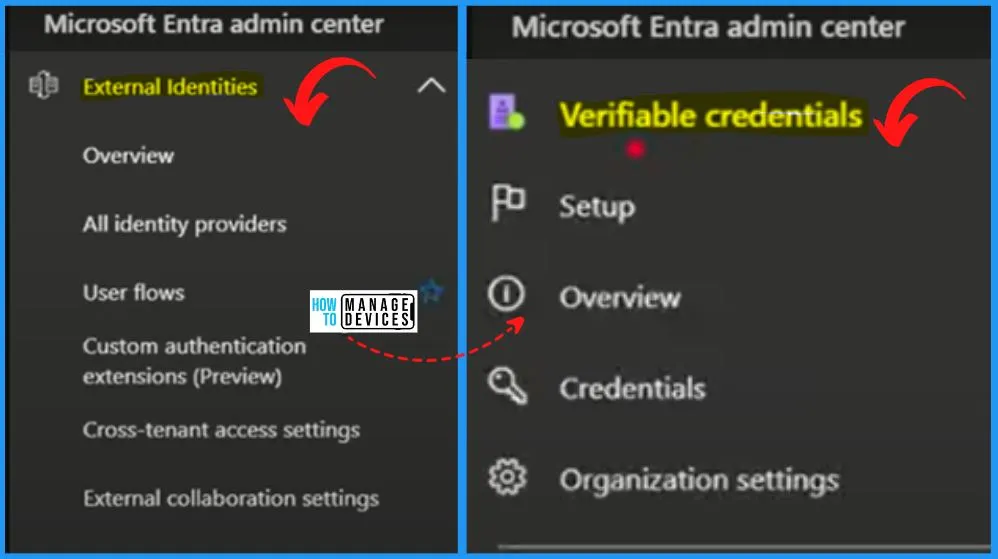 Permissions Management Tab
Permission management is another useful option in the Entra portal. It can help with zero-trust security. Zero Trust is a security used to design security principles for your organization. Zero Trust helps secure corporate resources by following security principles such as verifying explicitly, using least privilege access, and assuming breach.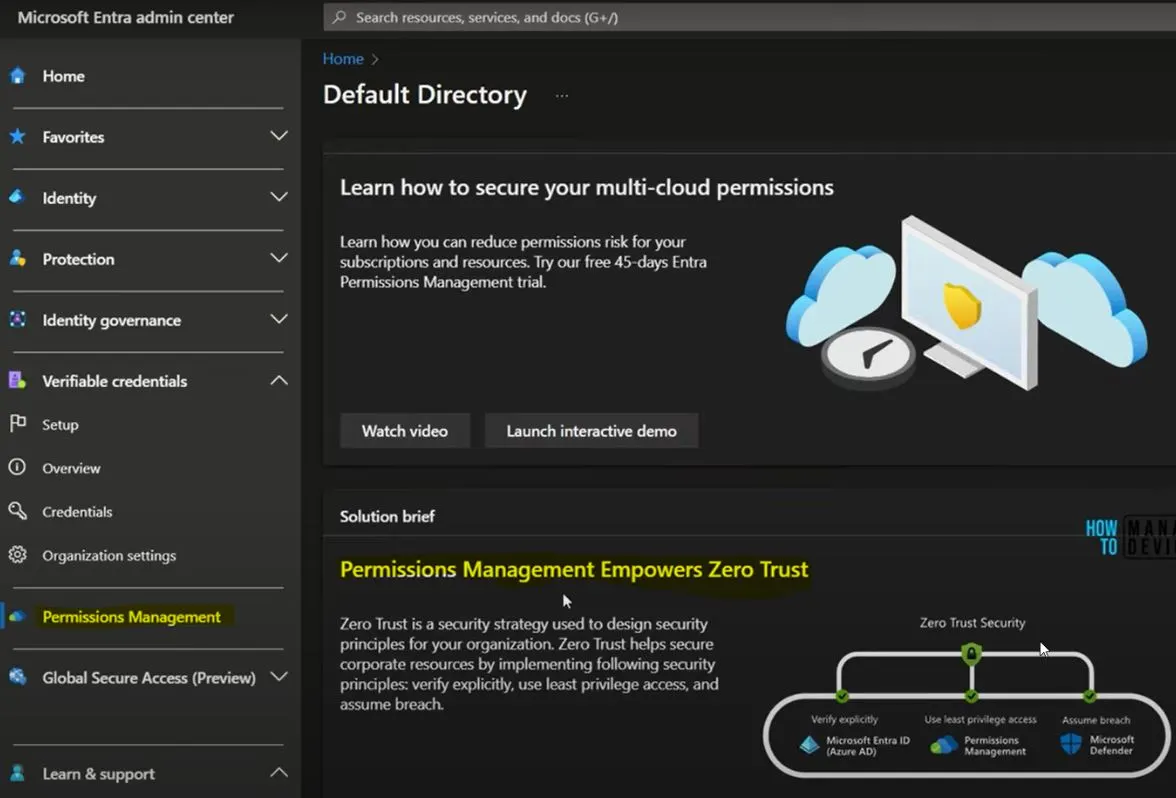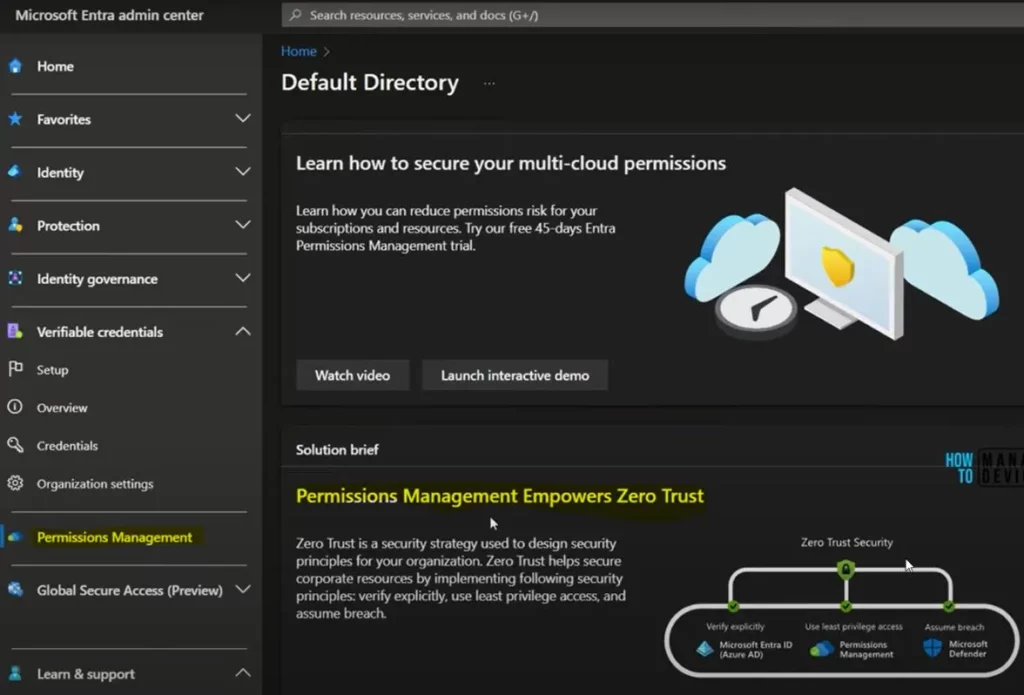 Global secure access is the unifying term for both Microsoft Entra Internet access and Microsoft Entra private access. Under Global secure access, options such as Get Started, Dashboard, Devices, Applications, etc. All the tabs under Global secure access are explained in detail in the What is Entra Global Secure Access post.
Global Secure Access includes the following.
Get Started
Dashboard
Devices
Applications
Global settings
Secure
Connect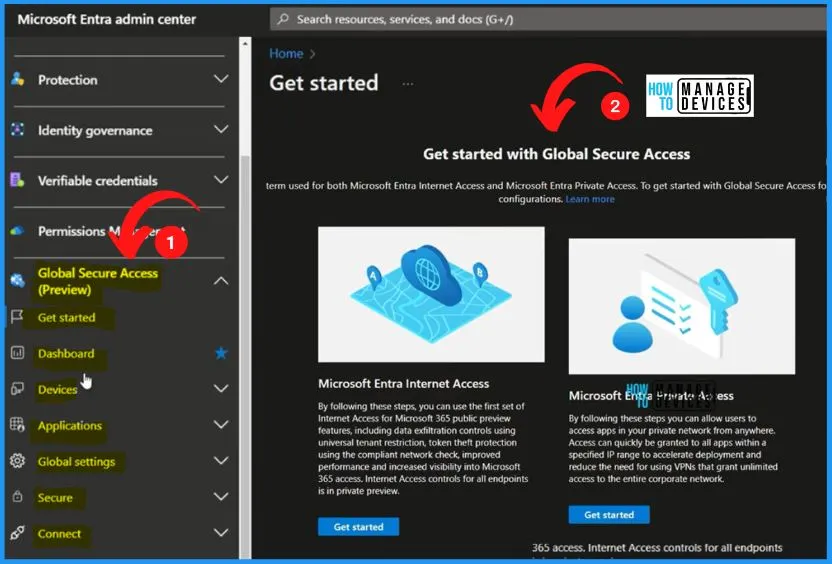 Microsoft Entra – Secure Identities and Access | Microsoft Security
Author
About Author – Vidya is a computer enthusiast. She is here to share quick tips and tricks with Windows 11 or Windows 10 users. She loves writing on Windows 11 and related technologies. She is also keen to find solutions and write about day-to-day tech problems.