Let's discuss the new Microsoft Teams client faster with the latest architecture and the Introduction of the new era of Microsoft Teams. Microsoft is starting to roll out the next chapter of the Microsoft Teams story with the public preview of the new Microsoft Teams app for Windows.
The new preview version of the Microsoft Teams desktop app for Windows has undergone a complete overhaul to provide users with a faster, simpler, and more flexible experience. The new Microsoft Teams improves the overall user experience, making it more intuitive and efficient.
With the help of the new Teams app, you can easily launch up to 2X faster, and it also enables you to join meetings up to 2X more quickly. The enhanced user interface is that makes it easier to find and access features
Microsoft Teams is a collaboration and communication platform that enables individuals and teams to chat, meet, call, and collaborate on projects and tasks. With the new preview version of Microsoft Teams, users can get several exciting features and enhancements to the existing platform.

What are the Features of the New Microsoft Teams?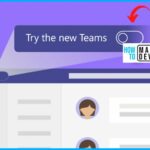 The new Microsoft Teams preview promises to make collaboration and communication even more seamless and efficient for individuals and teams. The new features with the latest Microsoft Teams are as follows.
1. Faster, Simpler, and More Flexible
2. More resource-efficient
3. Collaborate more effectively
4. Simplify IT management
5. Secure your business data
6. Better performance and faster loading times
7. New meeting options such as Together Mode and Dynamic View
8. Improved collaboration features
9. Improved search functionality
Microsoft Teams New Client
The new version of the MS Team app is designed to be faster, with quicker loading times and improved performance. The new features and options are more accessible and user-friendly.
You can easily try this new Microsoft Teams feature by Selecting the "Try the new Teams toggle" in the upper-left corner of the Windows desktop.
Toggle back and forth between the new Teams and the legacy version (classic Teams) as often as you like.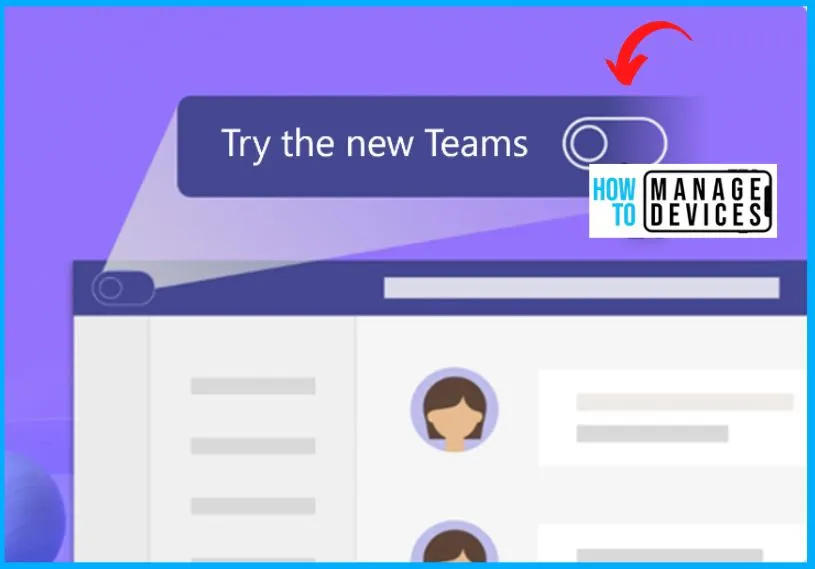 The new Microsoft Teams desktop app provides greater flexibility with enhanced customization options. You can easily choose from various settings and options to personalize your experience.

Let's check out what's available and what the team is still working on; this list will be updated regularly.
What's available
What's being worked on
Activity feed
Mac, VDI, EDU, and web platforms
Chat
Special clouds (GCC-High, DoD)
Meetings – Including meeting start notification, custom backgrounds, and PowerPoint Live
Advanced calling features – Call queues and reverse number lookup
Teams and channels – Including the new channels experience
Support for multiple work accounts and tenants
Advanced meeting features – breakout rooms and 7×7 video
Downloading, uploading, and viewing files, as well as the Files tab in chats and channels
Teams and channel creation, cross-posting, and channel announcements
Apps, including 1st party apps, such as Approvals and Tasks, and Microsoft 365 apps, such as Microsoft Viva
Search in chats and channels
Files app, 3rd party apps, and Line of Business (LOB) apps
New Microsoft Teams Client Faster with Latest Architecture – Table. 1
The New Microsoft Teams – Faster, Simpler, More flexible, and Smarter
The new Microsoft Teams faster is twice as fast while using half the system resources. To achieve this, you should invest in overhauling the platform to optimize the data, network, chat, and video architecture for speed and performance.
The new Teams provide a simpler feature-rich experience for a diverse and growing user base. It is excited to roll out enhancements to the core Teams experience that helps you to stay on top of your notifications, search for information, manage your messages, and organize your channels.
The new Teams help you to provide a more flexible experience, such as collaborating with people across organizational boundaries. Instead of logging in and out of different tenants and accounts, you can now stay signed in across them all—receiving notifications no matter which one you use.
Smarter is an important feature in new Teams. The new Teams will be the foundation for next-generation AI experiences, including those we've previously announced, such as intelligent, recap, and Copilot for Microsoft Teams.
The New Teams Architecture
Microsoft Teams has recently undergone a major overhaul of its desktop client, aiming to deliver a more streamlined and user-friendly user experience. It reflects a significant investment by Microsoft in improving the functionality and usability of its platform.
The New Teams also helps you to collaborate and communicate easier and more efficiently for everyone who uses it.
| Classic Teams | New Teams |
| --- | --- |
| Custom HTML/CSS (Web Client) | Fluent (Web Client) |
| AngularJS (Web Client) | React (Web Client) |
| | Client Data Layer (Web Client) |
| Electron (Host) | WebView2 (Host) |
New Microsoft Teams Client Faster with Latest Architecture – Table. 1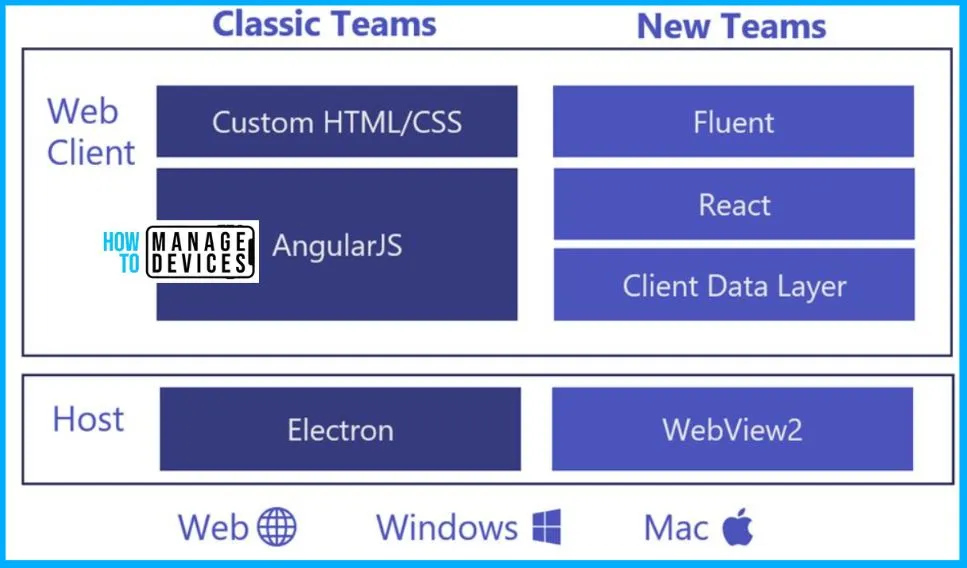 WebView2
WebView2 helps you to reduce memory usage and a lowered disk footprint as resources are shared with Edge. It also allows you to take greater advantage of the native capabilities provided by WebView2 and ensure support for more up-to-date versions of Chromium (latest performance and security updates).
WebView2 is an SDK that helps you build hybrid cross-platform applications for more efficient use of resources. The WebView2 includes the following.
Rearchitected video rendering pipelines/Large scale meetings
Harden Security
Expand performance infra and tooling
Multi-account/Multi-tenant
Streamline app installation(MSIX)
Optimize memory/get what you need(partial Data)
Moving from polling to push notifications
Embrace open source
Simplify accessibility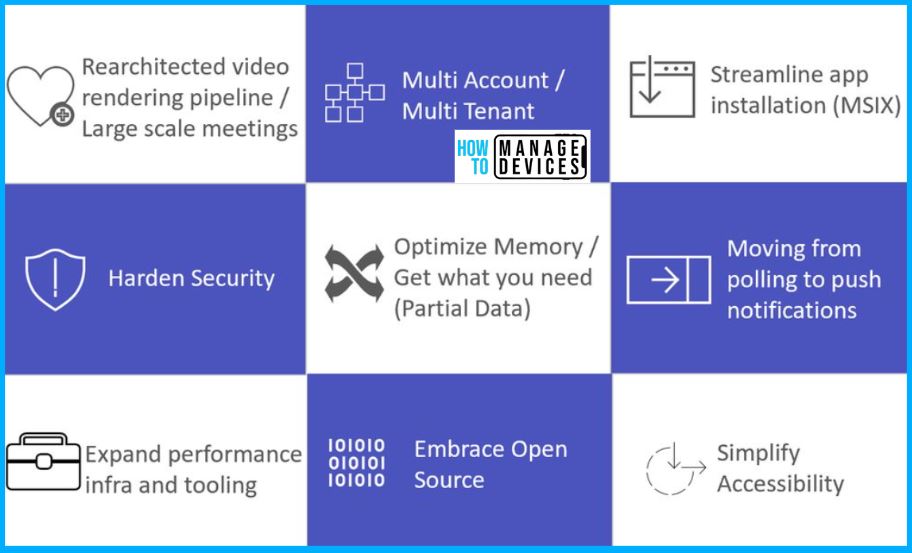 New Microsoft Teams Desktop Architecture
The diagram below presents a broad overview of the desktop client architecture's primary elements. Apps built on the Teams platform no longer require the overhead of a WebView wrapper, and the Apps are now hosted in an out-of-process iFrame using the Edge Renderer Process.
The native host takes advantage, such as
Edge WebView2, GraphQL is employed to abstract the client data layer
Inter-process communication (IPC) acts as the connecting agent
ReactJS, TypeScript, and Fluent UI are the standardized technologies used for the user experience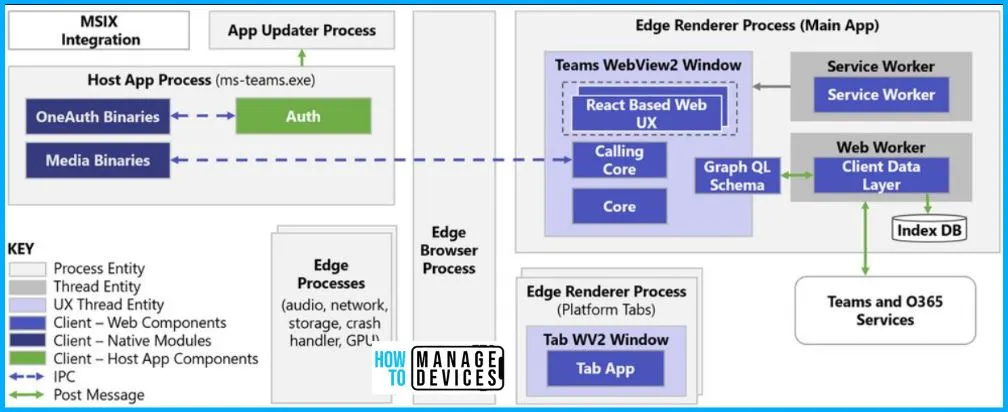 Author
About Author – Vidya is a computer enthusiast. She is here to share quick tips and tricks with Windows 11 or Windows 10 users. She loves writing on Windows 11 and related technologies. She is also keen to find solutions and write about day-to-day tech problems.