You can patch Chrome with SCCM 3rd Party Software Update Feature. In this post, you will see how to patch Chrome with SCCM 3rd party software to update the custom catalog.
Introduction
Let's learn how to patch Chrome, 7-Zip, etc.. with SCCM third-party custom catalog. There are two types of custom catalogs in SCCM 3rd party software updates. The following are the two types of custom catalogs:
This post will teach you how to patch Chrome with SCCM 3rd party software update feature with Patch Connect Plus custom catalog. You can download the free trial version of ManageEngine from here.
Step 1 – Enable SCCM 3rd party patching.
I have already explained the steps to enable SCCM third-party software updates. I would recommend reading the previous post to allow the new feature.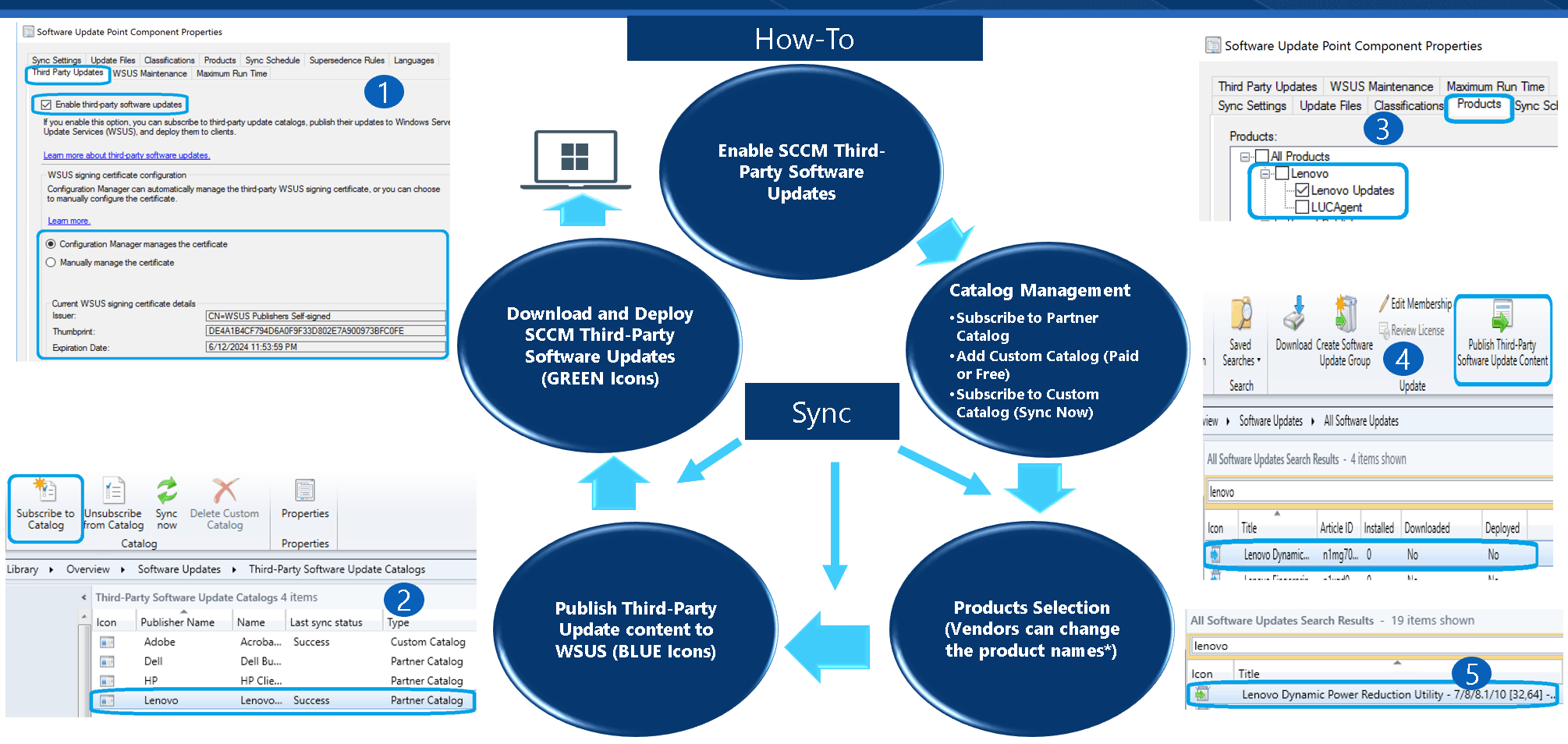 You can check out the five (5) steps mentioned in the above picture. In the below sections, I will go through each step in detail.
Step 2 – Add Chrome Custom Catalog
Google provides no free Chrome catalog to keep it safe and secure. The most reliable way is to use SCCM 3rd party updates options to save the Chrome browser updated. Let's see how to keep Chrome secure.
The following steps will help you add a custom catalog from Patch Connect Plus:
Request for the Free Trial version of Patch Connect Plus from the ManageEngine site (you might need your corporate or private domain eMail ID).
Wait for the trial version confirmation eMail with Custom Catalog URL. Your custom catalog will be something similar to "https://pcp.manageengine.com/thirdpartyupdate catalog?key=0d2079XXXXXd5f9e451926" (This URL won't work – Use your unique URL which you get through the eMail)
Navigate to Software Updates – Third-Party Software Update Catalogs from the latest version of SCCM.
Click on Add Custom Catalog from the ribbon menu from the SCCM console.
You must provide the following details in the Third-Party Software Updates Custom Catalogs Wizard. The next four(4) values are mandatory.

Download URL – Your unique URL from ManageEngine, as mentioned above
Publisher – ManageEngine
Name – Patch Connect Plus
Description – Mainly for Testing Chrome Updates with SCCM custom catalog.

Go ahead and click on Next, Next, and close the wizard to complete the "Add Custom Catalog" step.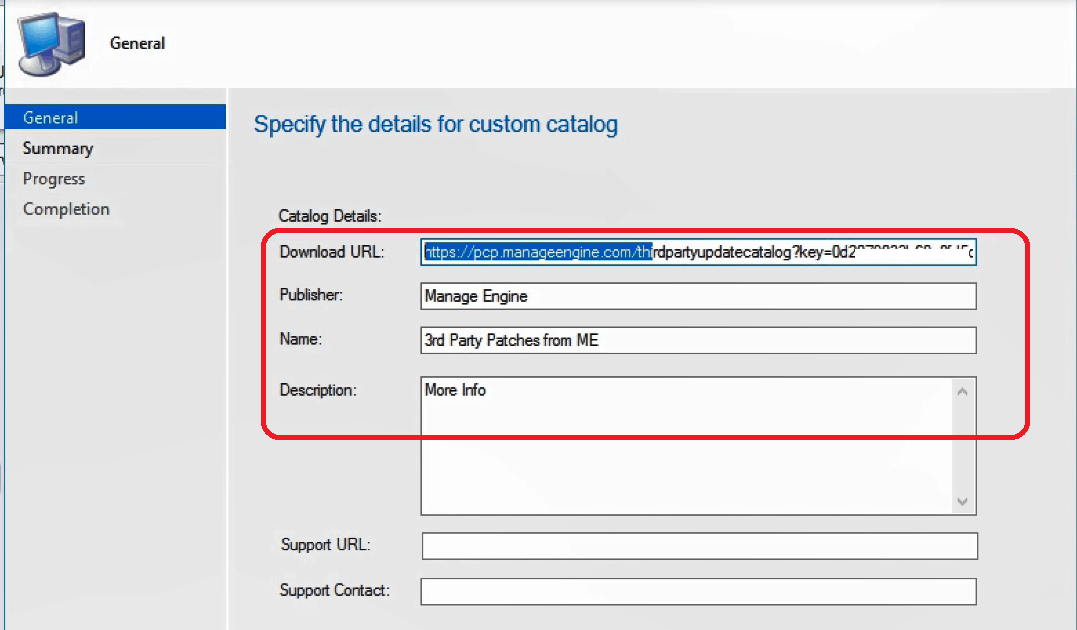 Step 2 – Subscribe to Patch Connect Plus Catalog
Complete the following steps to subscribe to Patch Connect Plus Catalog and patch Chrome with SCCM third-party software updates.

Select the Custom Catalogs to which you want to Subscribe to:

I selected Patch Connect Plus

Click the NEXT button from Third-Party Software Updates Wizard
On the Download page of the third-party software update wizard, SCCM will download the CAB file using the URL you provided while adding a custom catalog (STEP 1).
Review and Approve the catalog certificate from the review and approve page of the Third-party updates wizard.
Click on the View Certificates box to view the certificate properties and to confirm whether it's from Zoho Corp.

Click the OK button on certificate properties windows.
Click on the Checkbox near "I have read and understood" to agree and proceed further.

Click on Next, Next to continue and finish the subscription process of the third-party catalog subscription for Patch Connect Plus.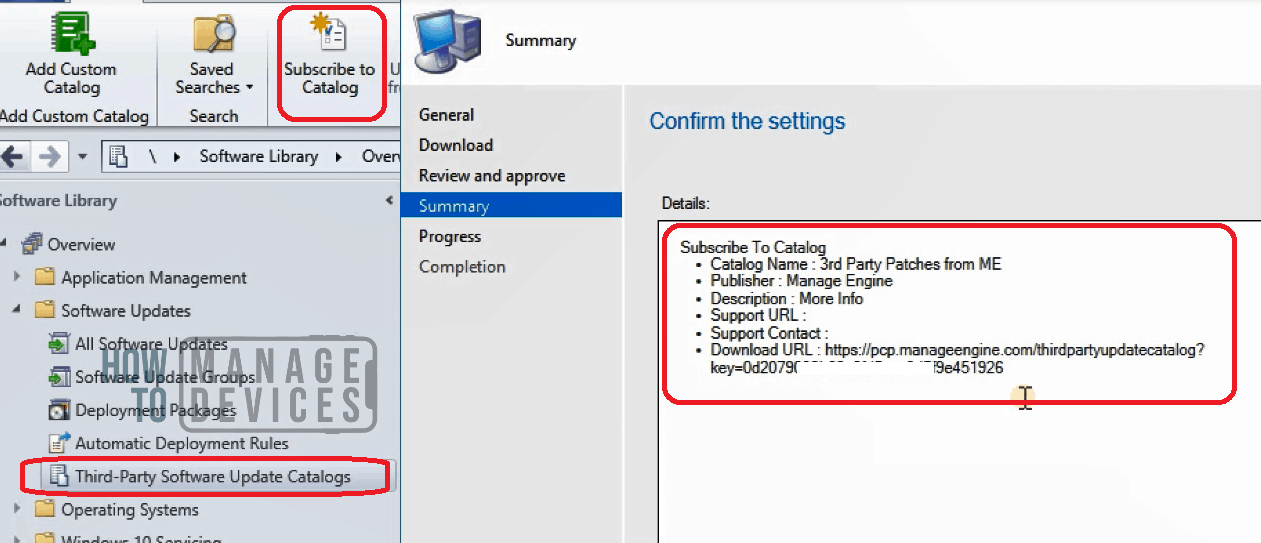 Step 3 – Select Google Chrome Product Category
Ensure you have completed the WSUS Sync successfully before checking for Google Chrome (x64) product category from Software Update Point Component Properties.
You might be able to use the "Google Chrome (x64)" and "7 Zip (x64)" products if you complete the steps mentioned above.
Select "Chrome (x64)" from the Products tab and click on the OK button to close the Software Update Point Component Properties window.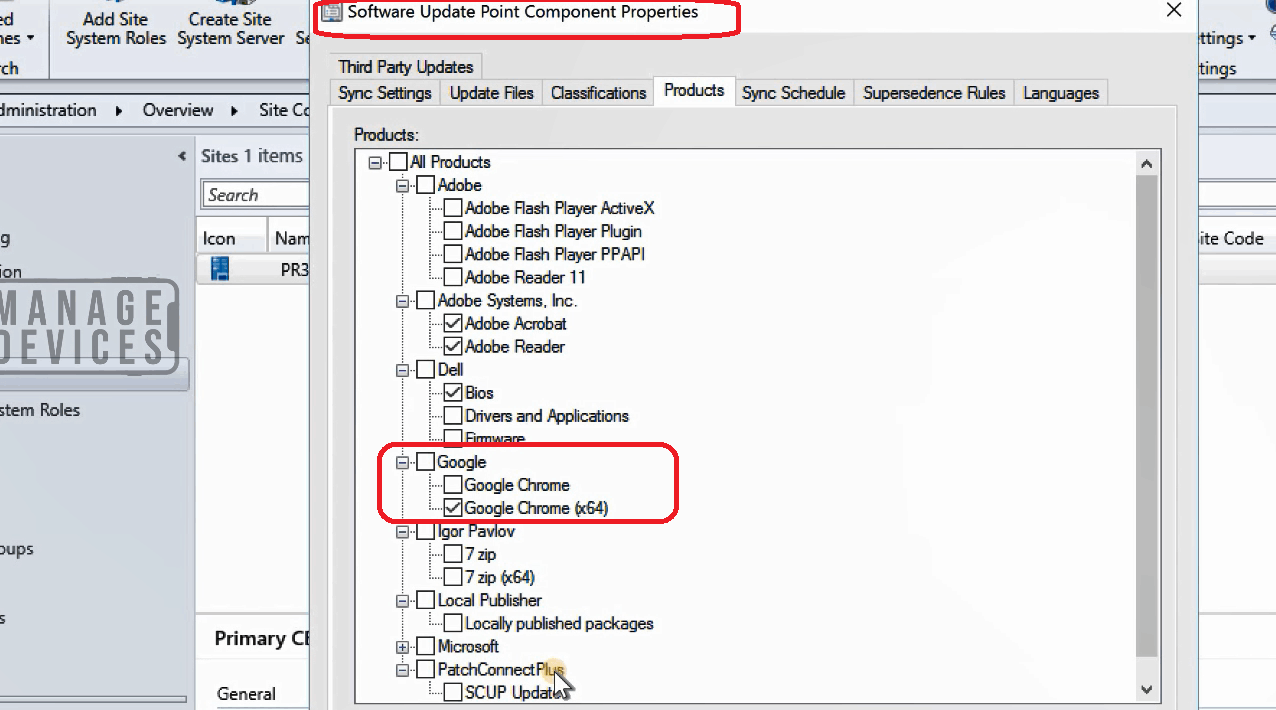 Step 4 – Publish Chrome Patches
You need to ensure that you've completed the WSUS Sync successfully before publishing the Chrome content.
Choose the Google Chrome (x64) (75.0.3770.100) (Article ID) – BLUE icon from All Software Updates Node.
Click on Publish Third-Party Software Update Content button from the ribbon menu.
NOTE! – You can get more details from SMS_ISVUPDATES_SYNCAGENT.log. Content folder -> <Driver Letter>:\Program Files\Microsoft Configuration Manager\ISVTemp.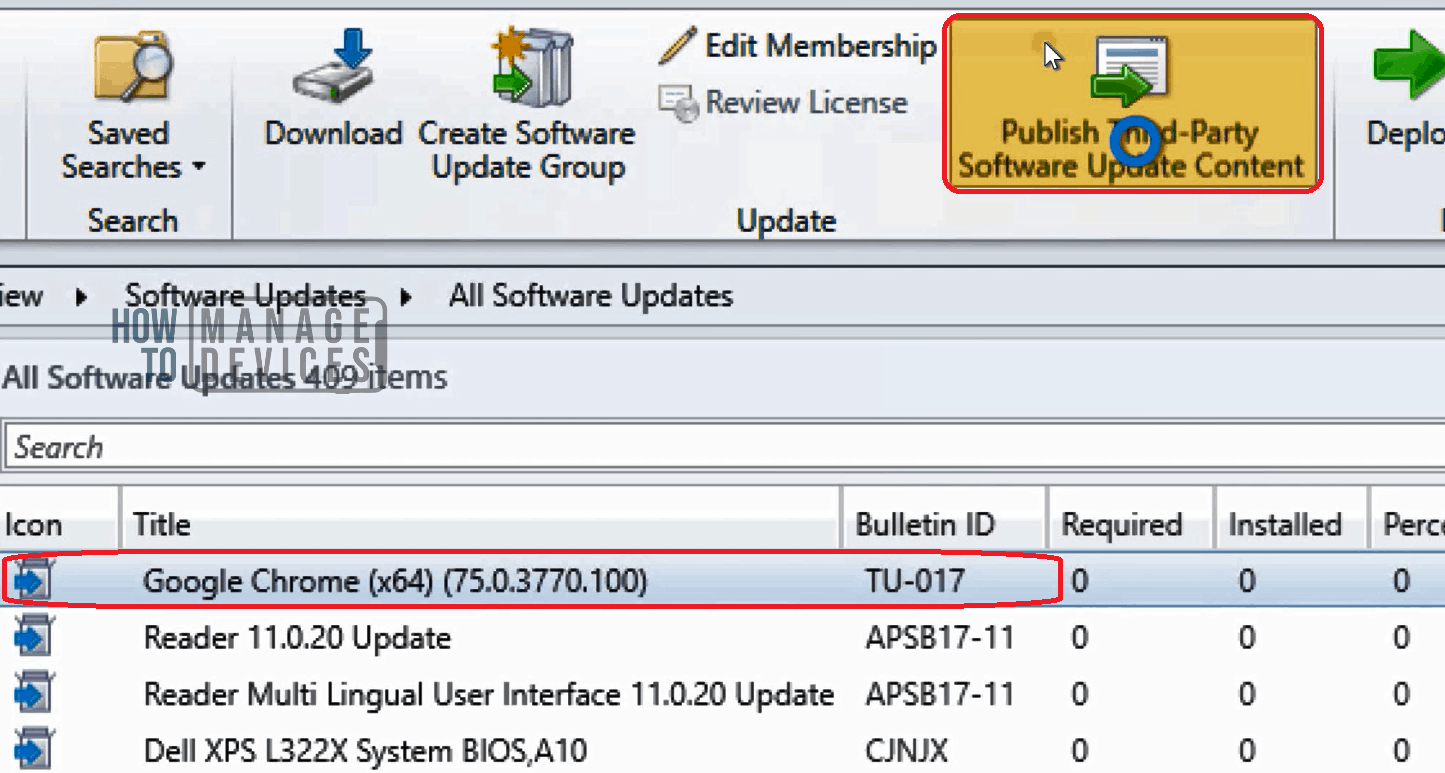 STEP 5 – Deploy Chrome Patches with SCCM
Before you continue with this step, you need to ensure that WSUS Sync is completed successfully.
After step 4 and publishing Google Chrome (x64) patches, the update icon will be changed to GREEN. Once the Google Chrome Patch icons are green, you can use your software update templates to create a patch package for Chrome and deploy it to the required clients.
I have already created a template for software update patching (Adobe patches) in my previous post. I used the same template to deploy Chrome patches with SCCM 3rd party software update.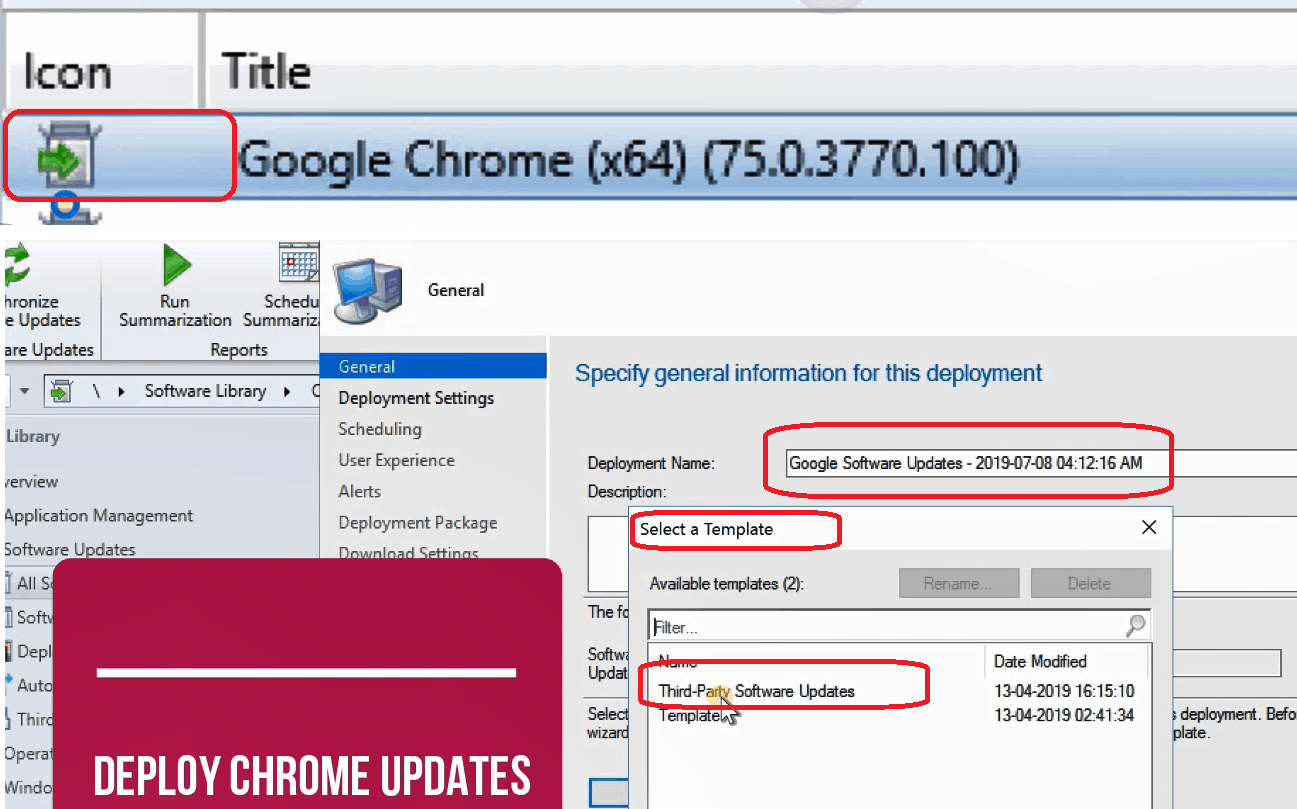 Results – Patch Chrome with SCCM
Once you complete step 5, you can go through and validate the deployment. Also, check out whether the Chrome patch package is distributed to DPs.
The installation & troubleshooting methods on the SCCM client side are the same as any other software update or patch installation & troubleshooting (check out the Client Software Update Scanning section).
This method is the same because the SCCM client also uses a software update agent component to install SCCM 3rd party software update.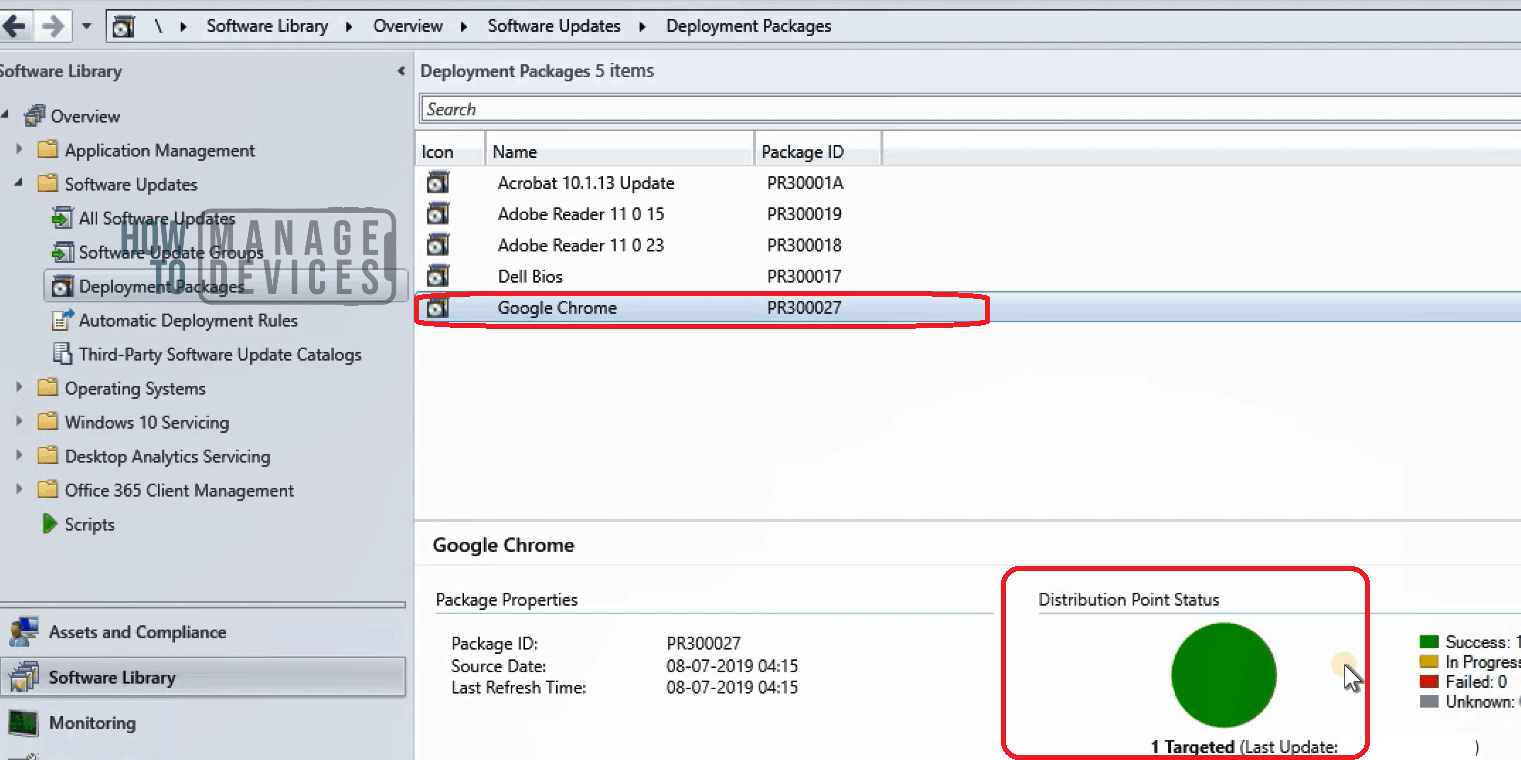 Video – How to Patch Chrome with SCCM Custom Catalog
End to end process of patching Chrome with SCCM custom catalog cab is explained in this video tutorial.
Resources
Additional Tip
Do you want to test the 7-Zip updates with the SCCM custom catalog? You can follow the same steps as explained above. On STEP 3, you can select 7 Zip (x64) from the product category and click OK.