With Windows Insider build 22579, is Microsoft planning to rename Window Terminal to Terminal Application? Let's find out more details about the changes that Microsoft is planning to make with Windows Terminal rebranding?
Microsoft announced that the Windows 11 WIN + X menu changed to point to Windows PowerShell instead of Windows Terminal with Windows 11 insider build 22579. This change ensures that users can still access the console if Windows Terminal has been uninstalled quickly.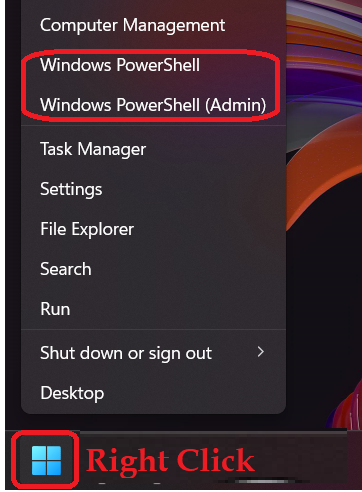 Suppose you have Windows Terminal installed and would like Windows PowerShell to open in Windows Terminal. In that case, you can go into Settings > Privacy & Security > For Developers and set Windows Terminal as your default terminal app.
Microsoft never announced this branding change from Windows Terminal app to Terminal app as far as I know, so this is just another testing they are doing for Widnows 11 Insider builds.

The Terminal application name makes more sense because the Terminal app is the default command-line tool for Windows, Linux, and other sub subsystems available on Windows 11 PCs. There are references to Windows Terminal in some places, such as Settings > Privacy & Security > For Developers.

Windows 11 App Execution Aliases – Rename Windows Terminal?
I see the changes in App Execution Aliases within the settings app. I have seen the brand change indications in various places. I have noticed the Terminal branding in many places instead of Windows Terminal.
You can check Settings -> Apps -> Advanced App Settings -> App Execution Aliases and see the Windows Terminal is changed to Terminal.
You can use wt.exe to launch Windows Terminal from the Run command box.

Windows 11 Search – Rename Windows Terminal to Terminal
This was the experience before Windows 11 insider build 22579. I tried "Windows Terminal" in the search box. You can check the below search results, and Windows Terminal was the thing until the new Windows 11 Insider build.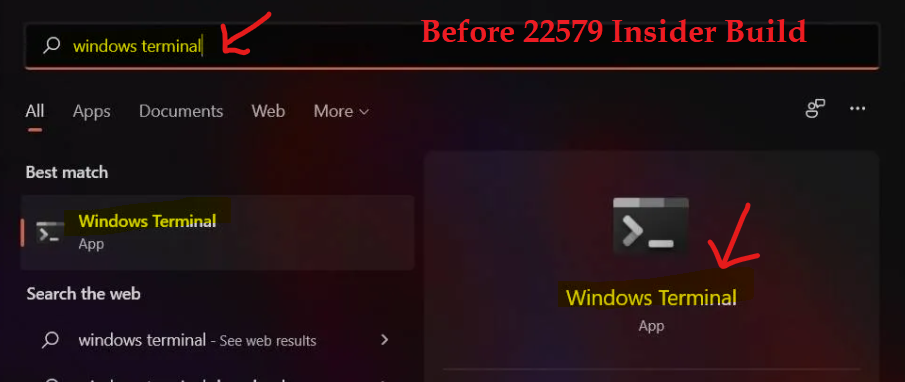 Even the Windows 11 Search box is not returning results with the "Windows Terminal" application if you use the search keyword as Windows Terminal. As you can see in the below screenshot, I think this change is from Windows insider build 22579 onwards. This might be something Microsoft is testing.
As you can see, the search results show web results about Windows Terminal but not the Windows Terminal (aka Terminal) application.

The Windows 11 Search box with just "Terminal" as a search keyword gives you the details. It shows the correct results. Microsoft is planning to rebrand (rename)the Windows Terminal App to Terminal.

Terminal Application Instead of Windows Terminal
The Terminal application instead of the Windows Terminal application is a nice change from my perspective. The name "Terminal" application is the command-line tool for Windows, Linux, and other subsystems of Windows 11 in the future.

Resources
Announcing Windows 11 Insider Preview Build 22579 | Windows Insider Blog
Author