SCCM Upgrade Guide – Updates and Servicing Configuration Manager | ConfigMr | MEMCM? Microsoft SCCM team released the production version of SCCM 1706. The SCCM 1706 updates are available as an in-console update for previously installed sites that run SCCM CB versions 1606, 1610, or 1702.
In this post, we see the SCCM 1706 in-place upgrade video tutorial and the secret behind the success of SCCM CB Updates and Servicing. More details about SCCM CB 1706 new features are documented here.
The SCCM 1706 upgrade step-by-step video guide is here. This provides more details about the replication, pre-requisite checks, the actual upgrade process of SCCM CB 1702 to 1706, how to enable pre-released Features, etc.
Also, I have another post, "Feature Comparison Video SCCM ConfigMgr CB 1702 VS 1706," – here (published later this week).

What is the Secret of the SCCM Updates and Servicing Model?
The real secret is nothing but continuous improvements that Microsoft SCCM PG (Product Group) put in SCCM CB. There are loads of things involved in a continuous improvement story.
In this post, we will see one part of it, which is prerequisite checks during in console update and servicing process.
I think SCCM PG works based on feedback and telemetry data to improve prerequisite checks.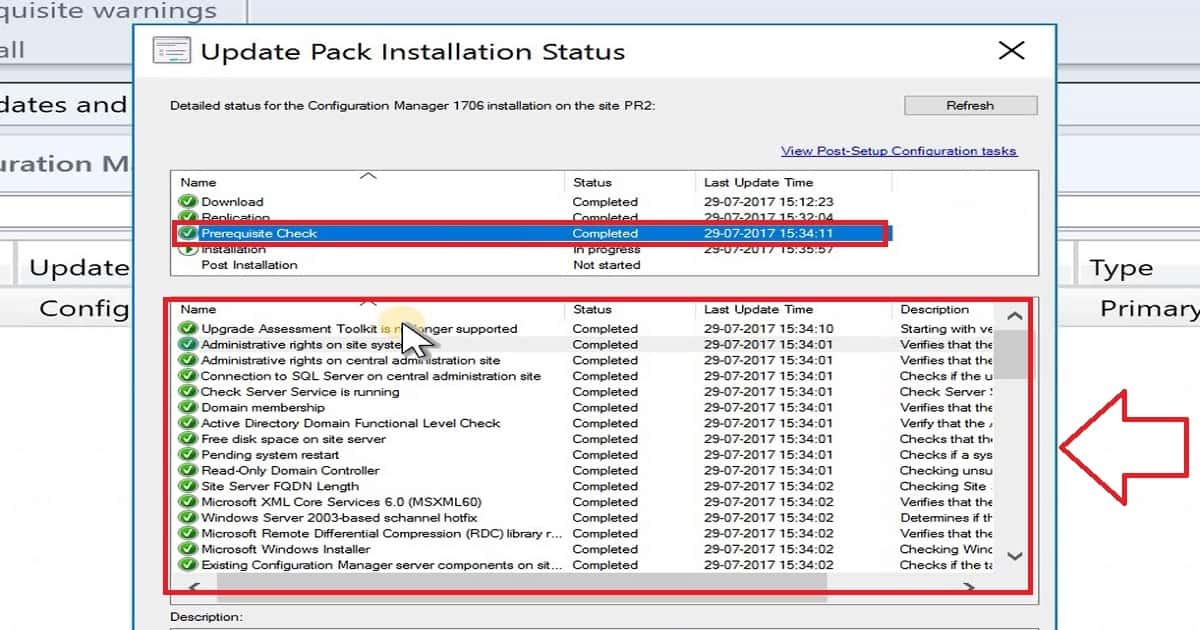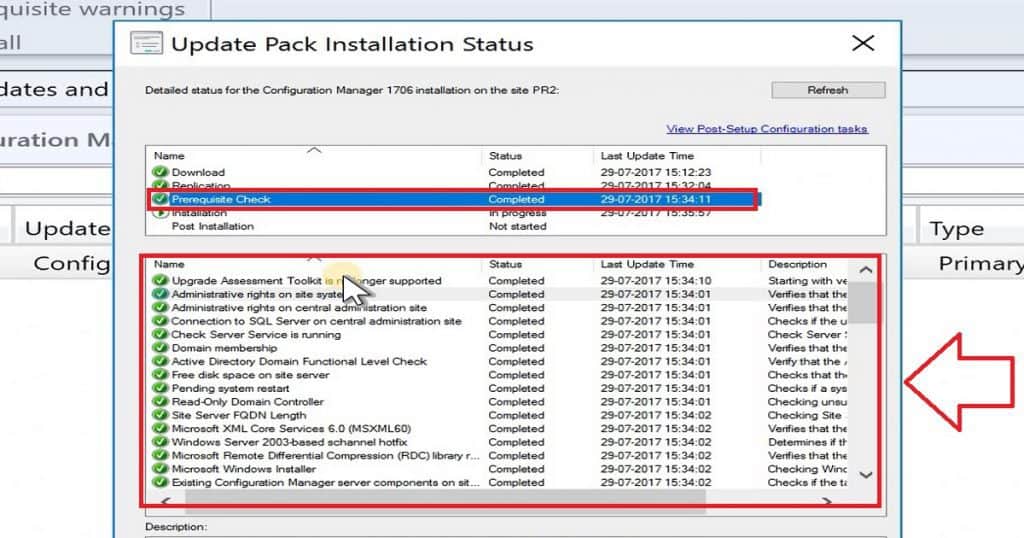 Why are the Prerequisite checks important in Updates & Servicing Model?
The prerequisite checks are important pieces of the SCCM CB updates and servicing framework. Do you know how many prerequisite checks are there in this framework?

SCCM CB updates and serving prerequisite checker validates the entire SCCM CB infra whether it's ready for in-place upgrade. Hence it can make sure 99% of the promotion will be successful.
There are 62 prerequisite checks in the release of SCCM CB 1706. I never knew that the SCCM CB upgrade process goes through 62 reviews. This is to make sure that everything is OK to start the upgrade.
I have listed down all the checks included in the production version of SCCM CB 1706. The prerequisite checks cover CAS, Primary servers, and remote site systems servers.
It also includes SQL version, Collation settings, and Replication link verification. SCCM CB prerequisite checks consist of unsupported configurations (NAP, System Health Validation Point) with an SCCM CB environment.
List of SCCM 1706 Prerequisites
Upgrade Assessment Toolkit is no longer supported
Administrative rights on-site system
Administrative rights on the central administration site
Connection to SQL server on CAS
Check Server Service is Running
Domain Membership
Active Directory Domain Functional Level Checks
Free Disk space on-site server
Pending System Restart
Read-Only Domain Controller
Site Server FQDN Length
Microsoft XML Core Services 6.0(MSXML6.0)
Windows Server 2003-based channel hotfix
Microsoft Remote Differential Compression (RDC) library is registered on the computer specified for SCCM site server installation.
Microsoft Windows Installer
Existing SCCM server component installed on target site server
Firewall Exceptions for SQL Server
Firewall Exception for SQL server (Standalone primary)
SQL server service running account
Dedicated SQL Server Instance
Parent/Child database collation
Minimum .NET Framework version for SCCM
Windows Deployment Tools Installed
User State Migration Tool (USMT) installed
Primary FQDN
Site Code in Use
Verify CAS version
Required SQL Server Collation
Backlogged Inboxes
DP package version
SQL Server Database collation
Share Name in Package
Software Update Point in NLB configuration
Migration active source hierarchy
Unsupported upgrade path
Active Replica MP
Parent Site replication status
Unsupported site system role "Out of band service point."
The System health Validation point site system role is NO longer supported
Network Access Protection (NAP) is no longer supported
Verify Database Consistency
SQL Server Sysadmin rights
SQL server admin rights for reference site
Site Server computer account administrative rights
SQL Server Version
SQL Server Edition
SQL Server TCP port
Case-insensitive collation on SQL server
Validate FQDN of SQL server computer
Windows Failover Cluster
Windows PE Installed
SMS Provider machine has the same domain as the site server
Custom Client Agent Settings have NAP enabled
Default Client Agent Settings have NAP enabled
SQL Availability group configured for the readable secondary server
SQL Availability group configured for manual failover
SQL Availability group configured on the default instance
SQL Index creates Memory Option
SQL Server Supported version
Unsupported site server operating system version for setup
Unsupported Operating System version for Site System Role
SUP using a Load Balancer(NLB/HLB)is no longer supported
Author
Anoop is Microsoft MVP! He is a Solution Architect in enterprise client management with more than 20 years of experience (calculation done in 2021) in IT. He is Blogger, Speaker, and Local User Group HTMD Community leader. His main focus is on Device Management technologies like SCCM 2012, Current Branch, and Intune. He writes about ConfigMgr, Windows 11, Windows 10, Azure AD, Microsoft Intune, Windows 365, AVD, etc……………