Let us discuss SCCM Software Update is not working through OSD Task Sequence. I have seen many folks complaining that their software update is not working through the OSD Task sequence. Some challenges in that the client won't know where to go for windows updates etc., but we can help it find those updates with a Server Locator Point by Installing that role on our SCCM server. Note: You must have created a Deployment Management Task containing windows updates applicable for the OS you are installing in your Build and Capture task sequence. The Deployment Management Task must be targeted to a collection that your build and capture computer will be in during OSD deployment. A suitable collection would be the Unknown Computers collection.
SCCM Software Update is not working through OSD Task Sequence
Quote
Server locator points are used in a Configuration Manager 2007 hierarchy to complete client site assignments on the intranet and help clients find management points when they cannot find that information through Active Directory Domain Services.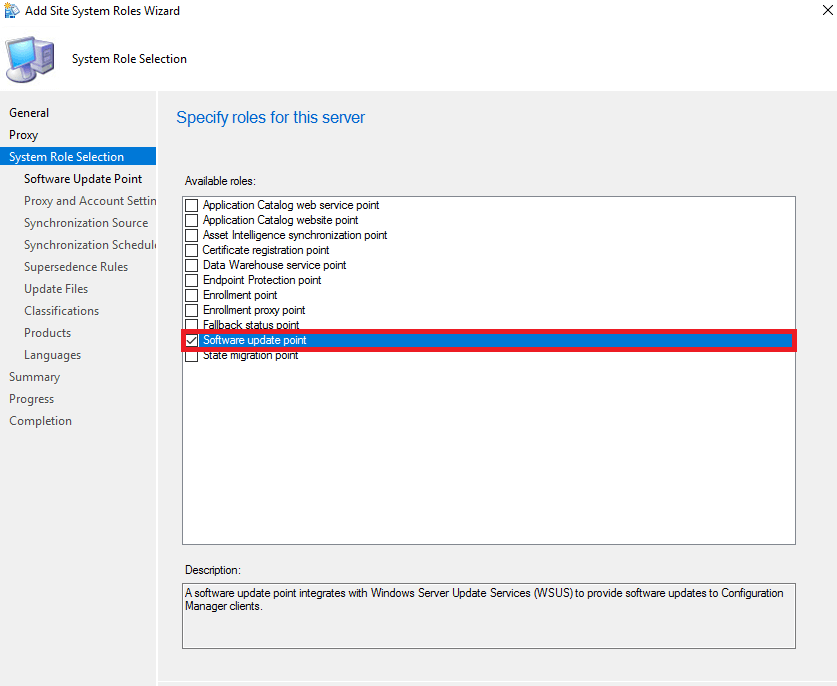 Intranet clients use Active Directory Domain Services as their preferred method to complete site assignments and find management points. However, clients must use a server locator point if the Active Directory schema is not extended for Configuration Manager 2007, the site is not published to Active Directory Domain Services, or if clients do not belong to the same Active Directory forest as the site server's forest.
Note: You need only one server locator point for the Configuration Manager 2007 hierarchy, even if you have multiple sites. In a multi-site hierarchy, install the server locator point in the central site. If you install a server locator point in the middle of the hierarchy, it will have no knowledge of sites above it in the hierarchy.

To install the Server Locator Point Role >> Link
How you can patch your machines using the SUP in SCCM. More specifically, we will be utilizing Update Lists >> Link http://www.windows-noob.com/forums/index.php?/topic/1809-using-update-lists-when-deploying-monthly-updates/
Resources
Install WSUS for ConfigMgr Software Update Point Role | SUP | SCCM
Anoop is Microsoft MVP! He is a Solution Architect in enterprise client management with more than 20 years of experience (calculation done in 2021) in IT. He is a blogger, Speaker, and Local User Group HTMD Community leader. His main focus is on Device Management technologies like SCCM 2012, Current Branch, and Intune. E writes about ConfigMgr, Windows 11, Windows 10, Azure AD, Microsoft Intune, Windows 365, AVD, etc…