Let's SCCM Delta download is enabled ignoring the client policy. The client is always listening to port 8005. I have noticed a lot of chatter on this Delta Download topic after SCCM 2203 upgrade.
As per Sean Pierce, After updating to 2203, we noticed that our clients were ignoring client policy – specifically, software updates. Even though we have delta download disabled, the agents are ignoring it. Many others are having a similar issue.
It seems to be a change at the Windows or Windows Update Agent (WUA) level (?) to Always turn on the delta download endpoint if the OS version allows, regardless if express is enabled or not.
The Delta download decreases the content size that clients download from these distribution points (DPs). The SCCM Clients only download the bits they require (deltas) but not the full update.

What is SCCM Delta Download, and How does this work?
Let's understand more about the Delta download mechanism that SCCM uses with the help of the WUA (Windows Update Agent). More details are available as part of the MS docs.
The component-based servicing (CBS) feature uses the stub (CAB file) to do a local inventory, comparing the deltas of the file on the Windows 11/10 device with what is needed to get to the latest version of the file being offered.
The following are the important SCCM and Windows log files associated with Windows updates and servicing.
C:\Windows\Logs\CBS\CBS.log
DeltaDownload.log
DeltaDownloadController.log
DeltaDownloadServiceShutdown.log
DeltaDownloadServiceStartup.log
SCCM Client Settings to Disable Delta Download
You have an option in SCCM Client settings policies to disable the delta download under the software updates tab (section). As per the client settings policy, the Delta Download is Disabled.

Navigate \Administration\Overview\Client Settings
Open the Client Settings policy (or Default Client Settings)
Scroll down to the Software Updates tab.
Check the settings

Allow Clients to Download Delta Content when the option is available -> No

Port that clients use to receive requests for data content -> 8005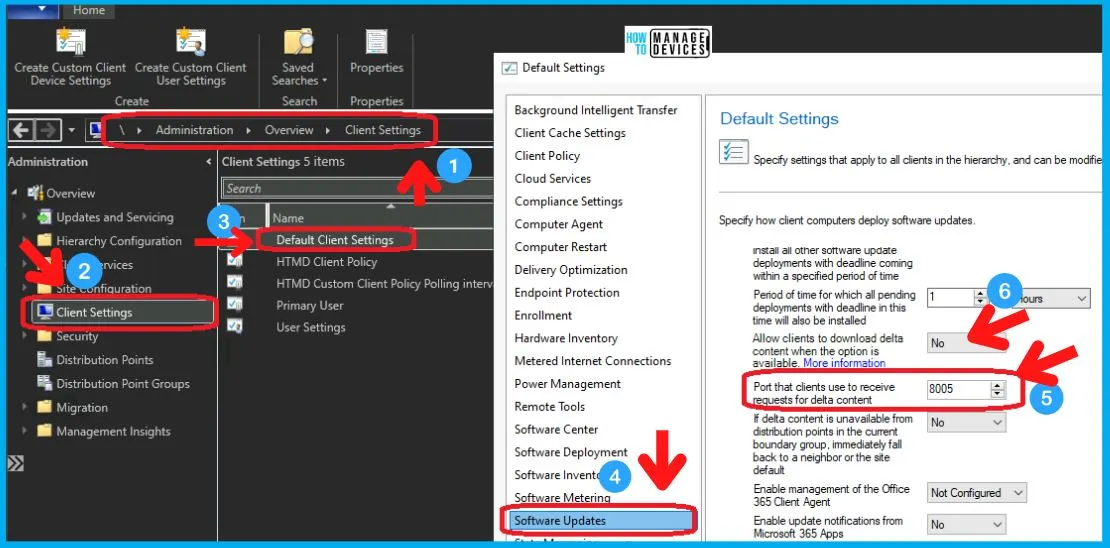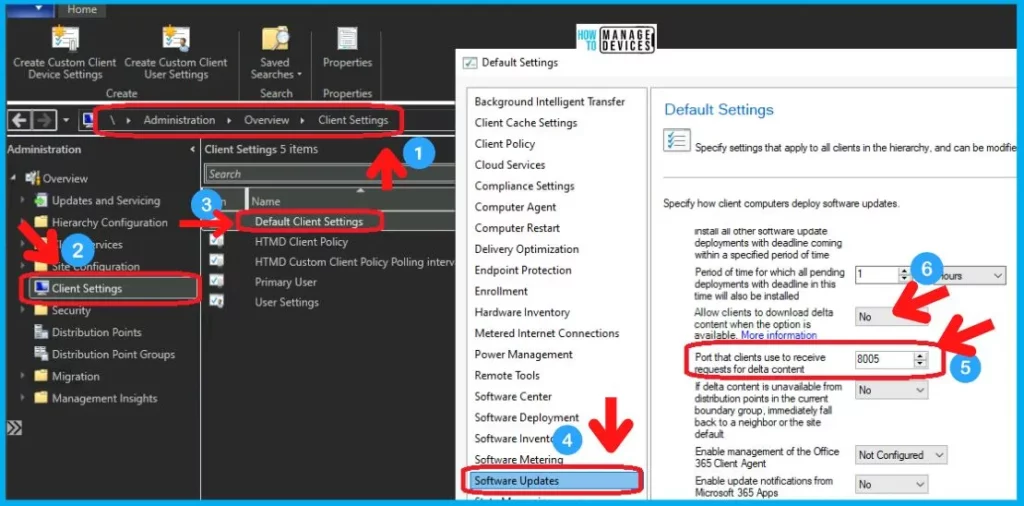 Delta Download Before SCCM 2203 Upgrade
Let's check the Delta Download Before SCCM 2203 Upgrade. I have checked the DeltaDownload.log file from C:\Windows\CCM\Logs to confirm the behavior before the 2203 upgrade. As per the following log file entry, the Delta Download agent is not started because the client agent setting is disabled.
DeltaDownload.log Entry ->Not starting Delta Download Agent since the client agent setting for Delta Download is disabled.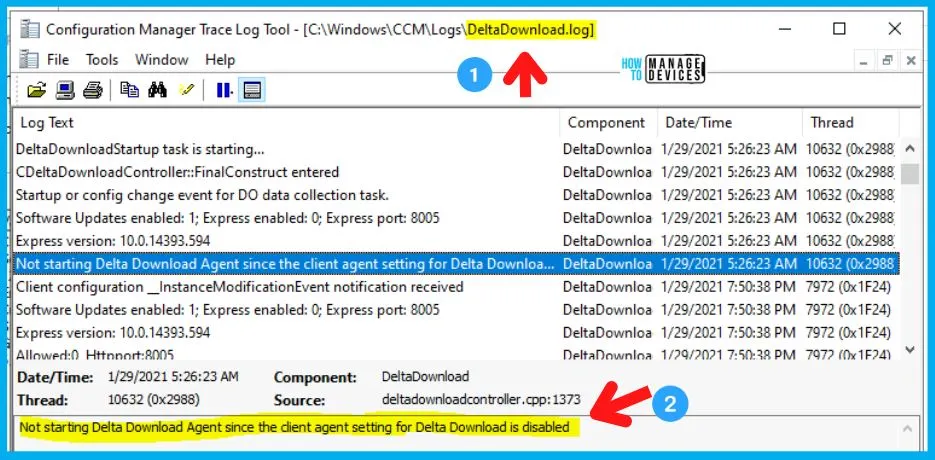 SCCM Delta Download is Enabled Ignoring Client Policy
After SCCM 2203 upgrade, SCCM Delta Download has Enabled Ignoring Client Policy even if it's set to DISABLE. I have not changed the client settings, but the delta download policy behavior is changed, as shown in the log (DeltaDownload.log) entries below.
Software Updates enabled: 1; Express enabled: 0; Express port: 8005
Always turn on delta download endpoint if OS version allows, regardless if express enabled or not. Set bIsDeltaDownloadEnabled to true.
Express version: 10.0.14393.594
Allowed:1, HttpPort:8005
http://localhost:8005
Windows update version = 10.0.19041.1320
Successfully set UpdateServiceUrlAlternate
Successfully set PopulateEmptyContentUrls
Existing WUA Managed server was already set (http://localhost:8005), skipping Group Policy registration.
DeltaDownloadController main thread has started.
Listening for requests on the following url: http://localhost:8005/
DeltaDownloadListener: Listener created with 960 threads
Rob B mentioned in the comments that Microsoft support confirmed this was not necessarily a bug or an issue but part of a 'feature change' introduced in 2203 and that there may be either an update or documentation noting this at later date.
I know the feature change argument is a bit strange message from MS Support to introduce the important and impactful changes into a production system such as Configuration Manager. I still think it's more to do with Windows core or WUA changes, along with some SCCM changes that caused this "feature change."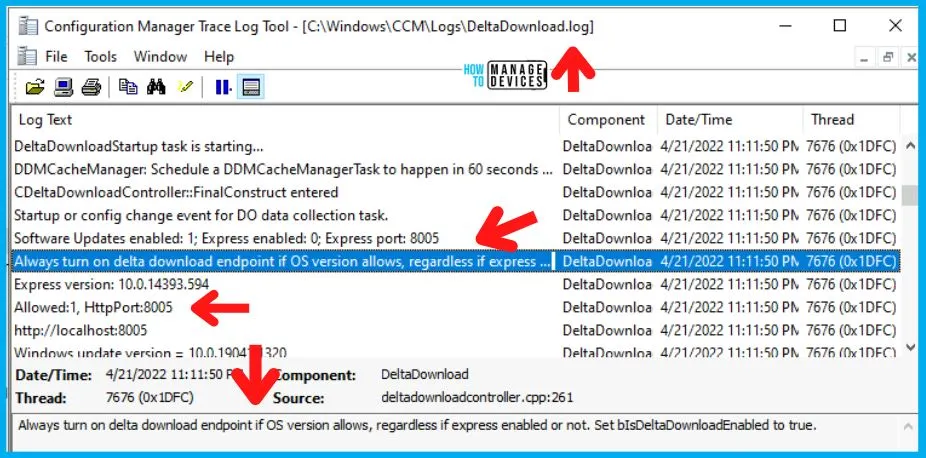 What is the Problem with Port 8005 and SCCM Delta Download
The port 8005 is used by the client for downloading express/delta updates. The default port conflicts with systems running Apache Tomcat. There is a documentation issue raised on this topic long back, but it was not for Delta download, though.
So if you have a conflict with Apache Tomcat and this delta download listening port 8005, you can change the port numbers from Client Settings. I have changed the SCCM Delta Download HTTP Listening ports to 19999 as an example from the SCCM client settings policy.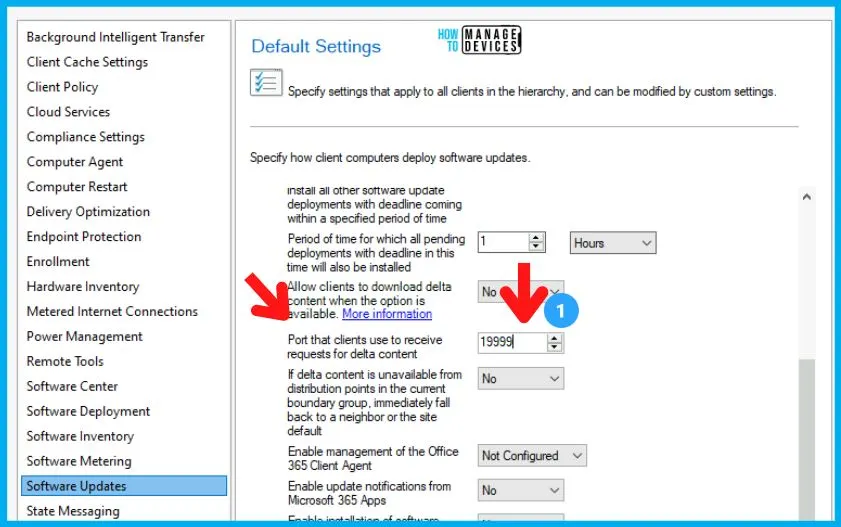 Author
Anoop is Microsoft MVP! He is a Device Management Admin with more than 21 years of experience (calculation done in 2022) in IT. He is Blogger, Speaker, and Local User Group HTMD Community leader. His main focus is on Device Management technologies like SCCM 2012, Current Branch, and Intune. He writes about ConfigMgr, Windows 11, Windows 10, Azure AD, Microsoft Intune, Windows 365, AVD, etc.