In this post, you will learn about the tool that can help you read the status messages. The status messages are convenient in SCCM troubleshooting scenarios.
I'm going to introduce the SCCM status message viewer tool. Are status messages still a thing?
[Related Posts] CMTrace Log File replacement Tool SCCM OneTrace
Introduction
SCCM evolved much in modern days, and its client-server communication channel (well, most of it) changed from status messages to state messages at the start of the SCCM 2012 version.

But, it still uses status messages on the SCCM 1907 technical preview version. The next stage of SCCM evolution was the introduction of Fast Channel Notification (BGB – Push notification).
Subscribe to this Blog Via Email
[jetpack_subscription_form show_only_email_and_button="true" custom_background_button_color="#fcb900″ custom_text_button_color="#313131″ submit_button_text="Subscribe" submit_button_classes="wp-block-button__link has-text-color has-very-dark-gray-color has-background has-luminous-vivid-amber-background-button-color" show_subscribers_total="true" ]
The latest is the introduction to the SCCM MPE component. This SCCM Message Processing Engine component (MPE) is a high-speed message subscription channel.
Another game-changer in fast and real-time communications between site servers like CAS and child primary servers.



SCCM Status Message Viewer Tool
SCCM Support Center OneTrace is the which can help you to read/view the SCCM status message.
You have to install the MSI from the SCCM primary site server "C:\Program Files\Microsoft Configuration Manager\tools\SupportCenter/supportcenterinstaller.msi.
The MSI mentioned above installation will create four shortcuts in the start menu. And launch the shortcut for the OneTrace tool is "Support Center OneTrace (Preview)."
The Support Center OneTrace is an SCCM status message viewer tool.
NOTE! – I don't know whether this tool can be used to read state messages from the SCCM client and server.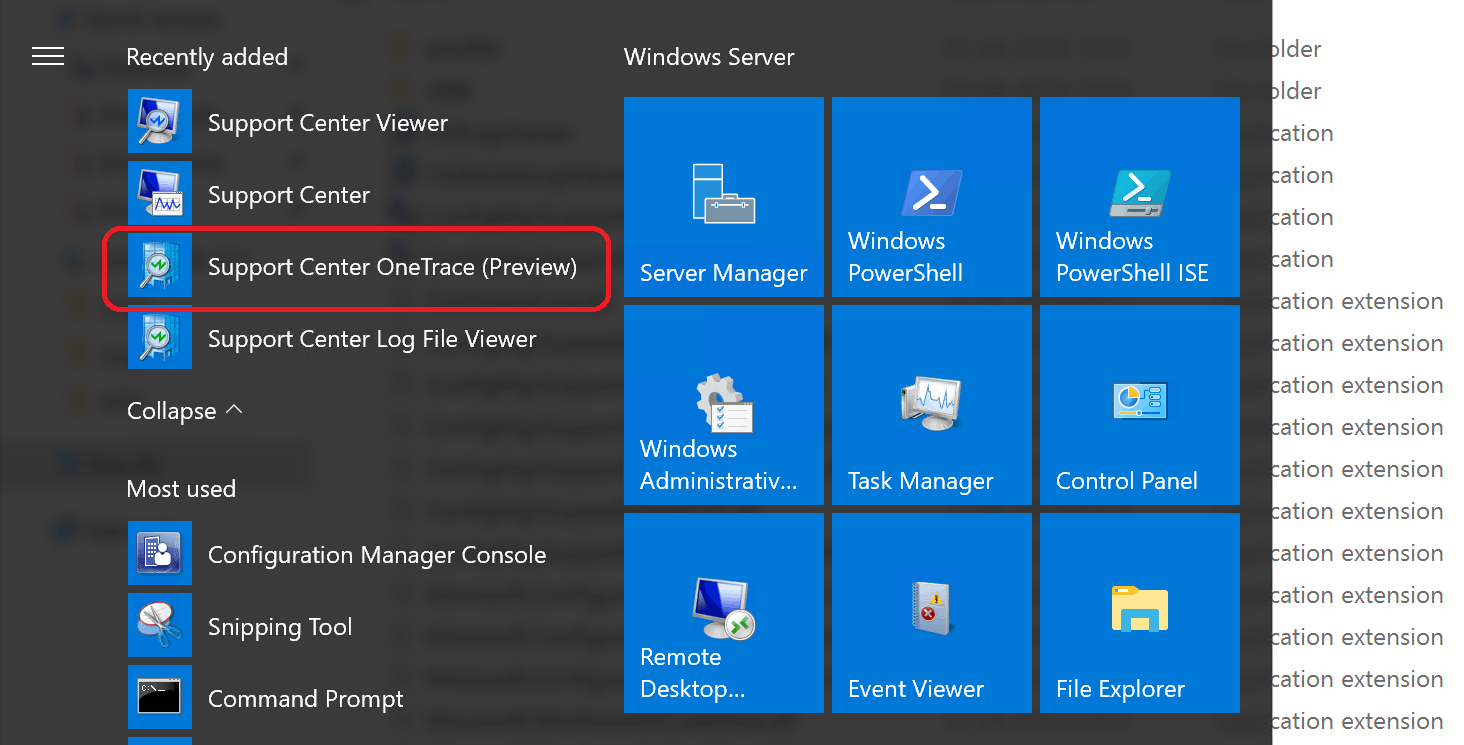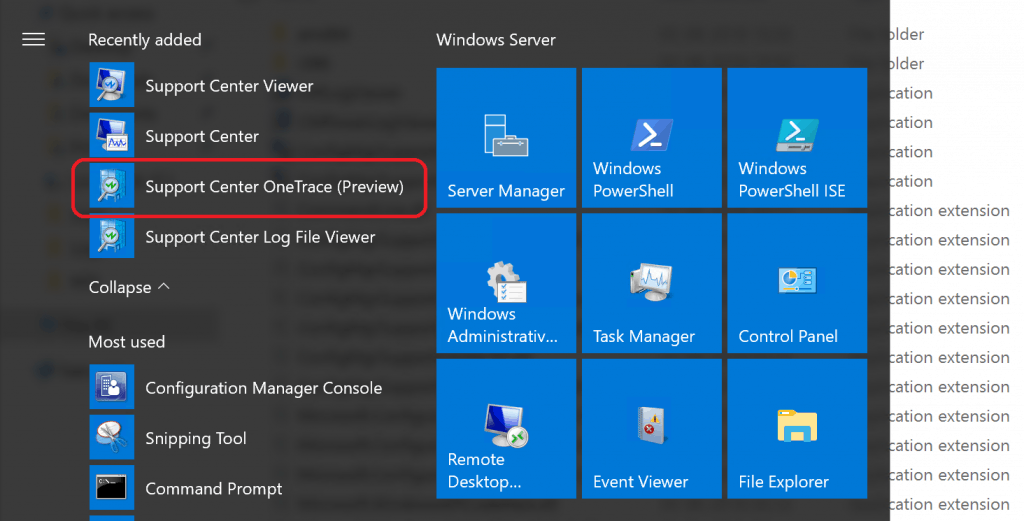 OneTrace to View Status Message
Once Support Center MSI is installed, SCCM Status Message Viewer Tool called OneTrace can be launched from the following application shortcut.
Launch "Support Center OneTrace (Preview)"
File – > click on View Status Message
The new Window opens up. Enter the computer name you want to connect to check SCCM Status Message.
Click on the "Connect" button to connect to a remote computer and read/view that status message from the remote machine.
4228 - Failed to execute worker "M365ADeploymentPlanWorker" was triggered by regular schedule.
 6416 - Failed to execute worker "M365AUploadWorker" was triggered by regular schedule.
 3900 - Distribution Manager is beginning to process package "Configuration Manager Client Upgrade Package" (package ID = TP400004).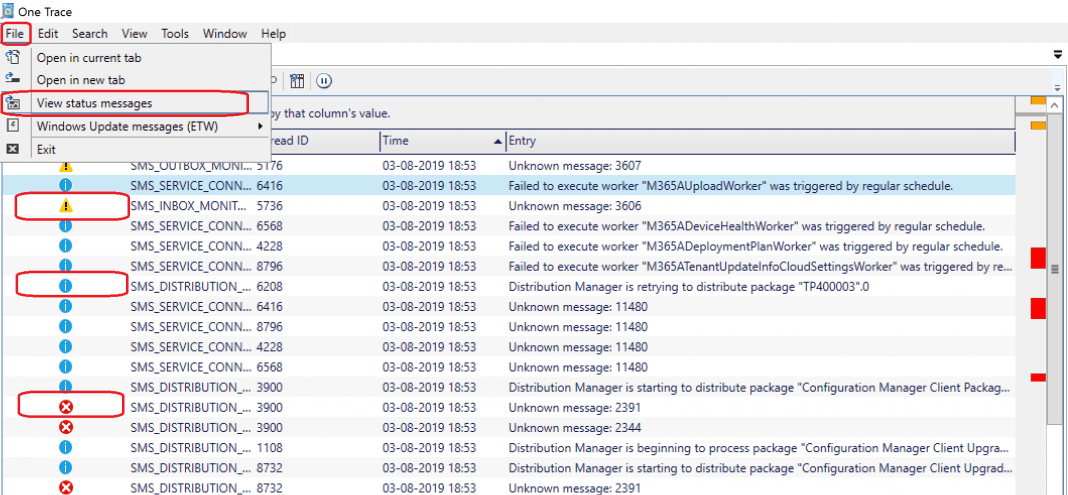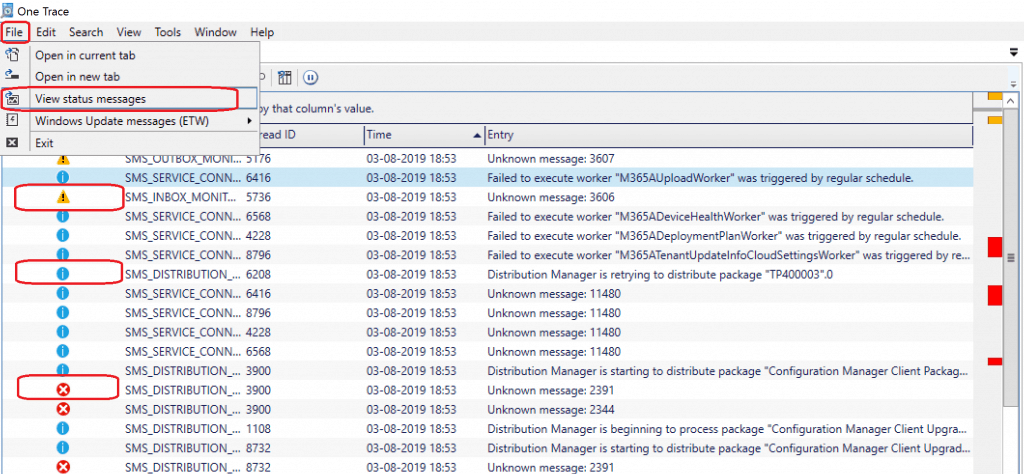 Resources