Windows 10 with Cortana for India More New Features? Microsoft has released a new build for Windows 10 TP2, and the build # is 10061. This build includes new features and some bug fixes.
For Indian Windows Insiders, the biggest feature included in this build is that they've enabled the Cortana for India location.
After the upgrade to the latest Windows 10 TP2 # 10061, I'm very happy to talk to Cortana for the first time :). As an IT Pro, I'm happy to see that Microsoft has fixed the Hyper-V errors in this Windows 10 10061 build.
We could not enable Hyper-v in the previous builds if we were doing it for the first time for that machine. 

Spartan, the new browser, still has some problems going to suspended mode after minimizing it, as posted in "Windows 10 Spartan The New Internet Browser is Suspended"
The power button is moved down in this build of Windows 10 as per the feedback, and we can easily re-size the start menu. Transparency of the start menu is improved, and notification menu transparency is improved now. The taskbar time and calender view changed now (this is the first time I'm noticing that, so not sure whether this was there in the previous version or not).
Windows 10 with Cortana for India More New Features
Cortana is enabled for the India location in Windows 10 Build # 10061. Cortana is the best thing that ever happened to me in this build. Cortana can understand the Indian accent (I must say South Indian Accent, probably :)).
New Mail and Calendar Applications: I've already seen this application working very well in Windows 10 for Mobile phone 10052, as posted in "Download and Update Next Version Windows 10 for Mobile Phones with Bug Fixes". It's a similar universal experience in laptops as well.

Task View Button is visible in the Taskbar of a new build of Windows 10 TP. Also, in this version, you can see loads of improvements. The improvements also apply to Alt+Tab and Snap Assist.
Photos universal application: I've seen some updates for the Photos app. Albums are tiles available now.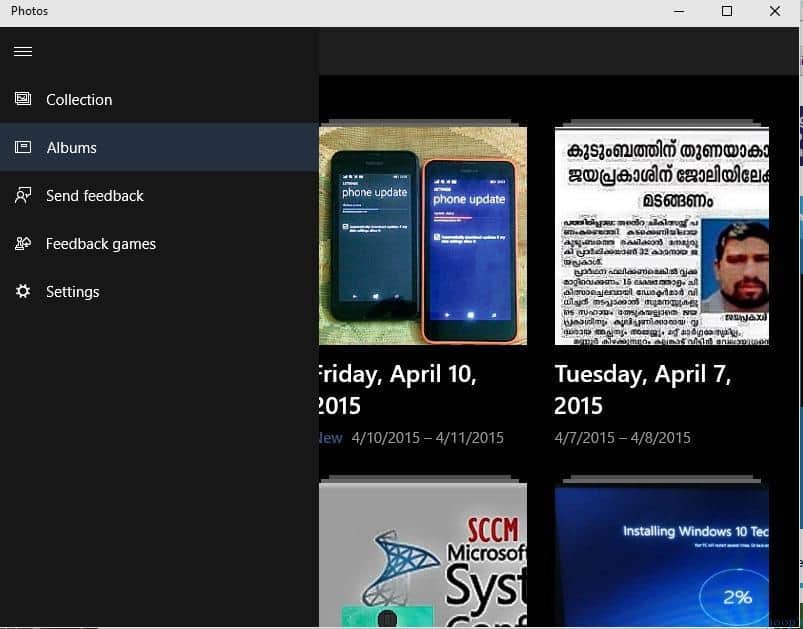 In the spartan project, the new browser still has a problem going to suspended mode after minimizing it. However, MS fixed the following things in Spartan. We can now double-click on the title bar to maximize.
We have also made some tweaks to the alignment of the Favorites Bar so that the text and icons no longer appear partially below the bottom of the Favorites Bar.
Hyper-v can be enabled in the fresh Windows 10 build # 10061 before there was a bug with enabling Hyper-v. For me, Hyper-v was working because I've enabled the Hyper-v with Windows 8.1 build, and then I upgraded to Windows 10.
If your scenario is different and a fresh Windows 10 build, then the Hyper-v won't get enabled on your Windows 10 TP (less than build #10061) laptops or desktops. In this build, Microsoft has fixed the Hyper-V issue.
Resources
SCCM Related Posts Real World Experiences Of SCCM Admins (anoopcnair.com)
Author
Anoop is Microsoft MVP! He is a Solution Architect in enterprise client management with more than 20 years of experience (calculation done in 2021) in IT. He is a blogger, Speaker, and Local User Group HTMD Community leader. His main focus is on Device Management technologies like SCCM 2012, Current Branch, and Intune. E writes about ConfigMgr, Windows 11, Windows 10, Azure AD, Microsoft Intune, Windows 365, AVD, etc…