In this post, you will learn how to disable Cortana in Windows 10 or Windows 11 using Intune. Cortana can help you access information quicker, connect with other people faster, and be better at keeping on track.
Cortana is ready to help you easily find and change your Windows 10 and Windows 11 settings. Cortana can open any setting for you. There's no need to hunt through Settings —just open Cortana and use voice or text to open Settings and make changes.
There are different ways to manage Cortana in Windows 10 or Windows 11 devices. If you want to check for the method to disable Cortana using Windows Settings, Registry. You can follow the post Hide or Show Cortana Button on Taskbar.
What can you do with Cortana in Windows? Cortana makes it easy to keep track of everything that needs to get done. You can ask different questions to Cortana and take help –

Calendar and schedule assistance. Cortana can help you manage your calendar.
Meeting help.
Find out about people in your organization.
Make lists and set reminders and alarms.
Open apps.
Get definitions and quick answers.
Get weather and news updates.
Why do you need to disable Cortana? Some users and organizations don't want to collect personal information and search history, from devices that Microsoft usually collects to provide a better end-user experience. If you disable this setting, Cortana is turned off. When Cortana is off, users will still be able to use search to find items on the device.
How to Disable Cortana Using Intune | MEM
The Intune Settings Catalog is the best place to go for all the policy settings in Intune (MEM). In the settings catalog profile, you will also get an option Duplicate to create a copy of an existing setting catalog profile.
Let's follow the step below to disable Cortana using Intune –
Sign in to the Endpoint Manager Intune portal https://endpoint.microsoft.com/
Select Devices > Windows > Configuration profiles > Create profile.

In Create Profile, Select Platform, Windows 10, and later and Profile, Select Profile Type as Settings catalog. Click on Create button.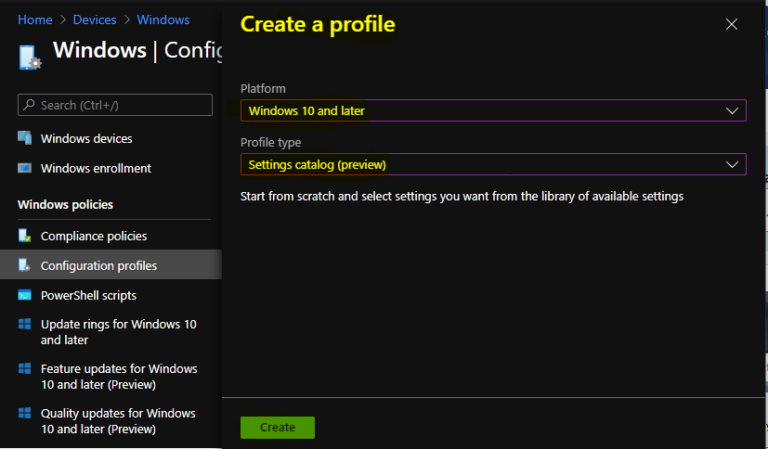 On the Basics tab, enter a descriptive name, such as Disable Cortana. Optionally, enter a Description for the policy, then select Next.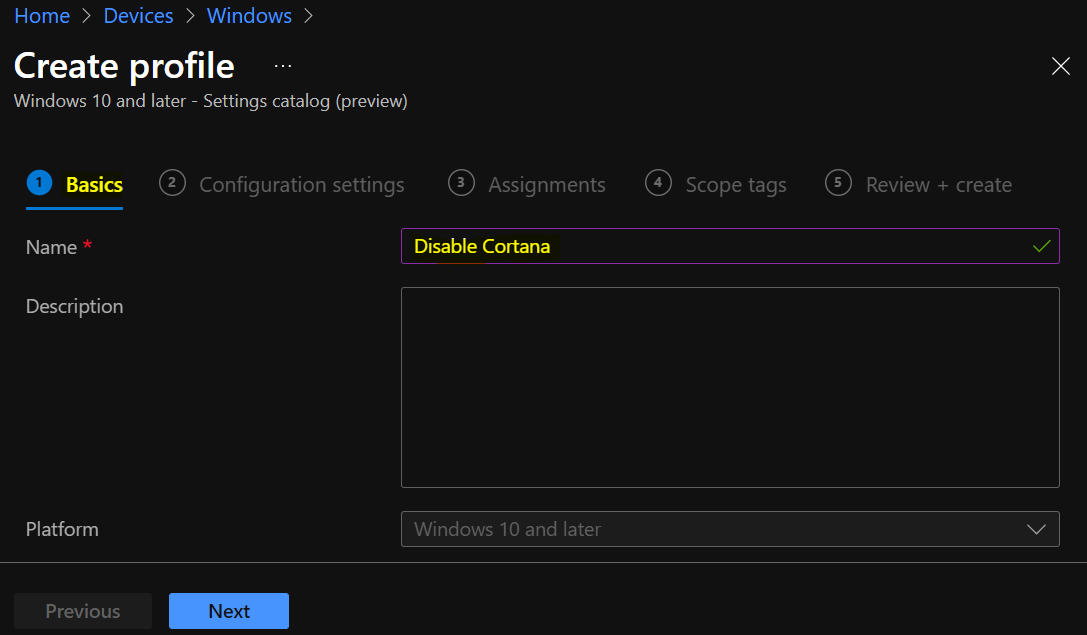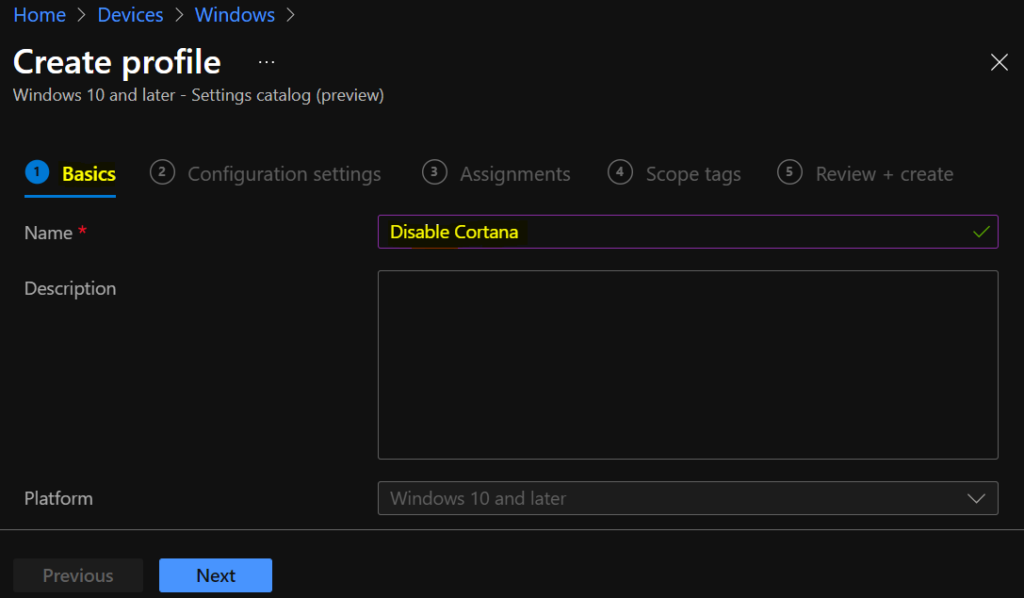 In Configuration settings, click Add settings to browse or search the catalog for the settings you want to configure.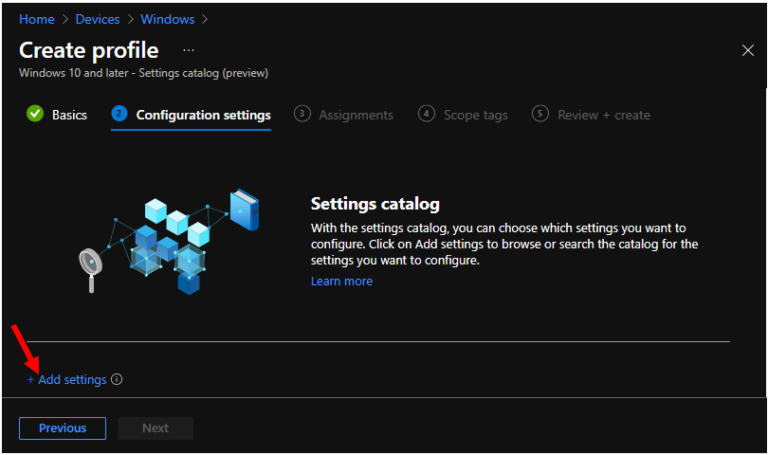 On the Settings Picker windows, Select Experience to see all the settings in this category. Select the below settings, Allow Cortana. After adding your settings, click the cross mark at the right-hand corner to close the settings picker.
Note – In policy, use the search box to find specific settings. You can search by category or a keyword, such as Cortana It will display all the related settings available. This setting will be available in three different categories, Above Lock, Experience and Search.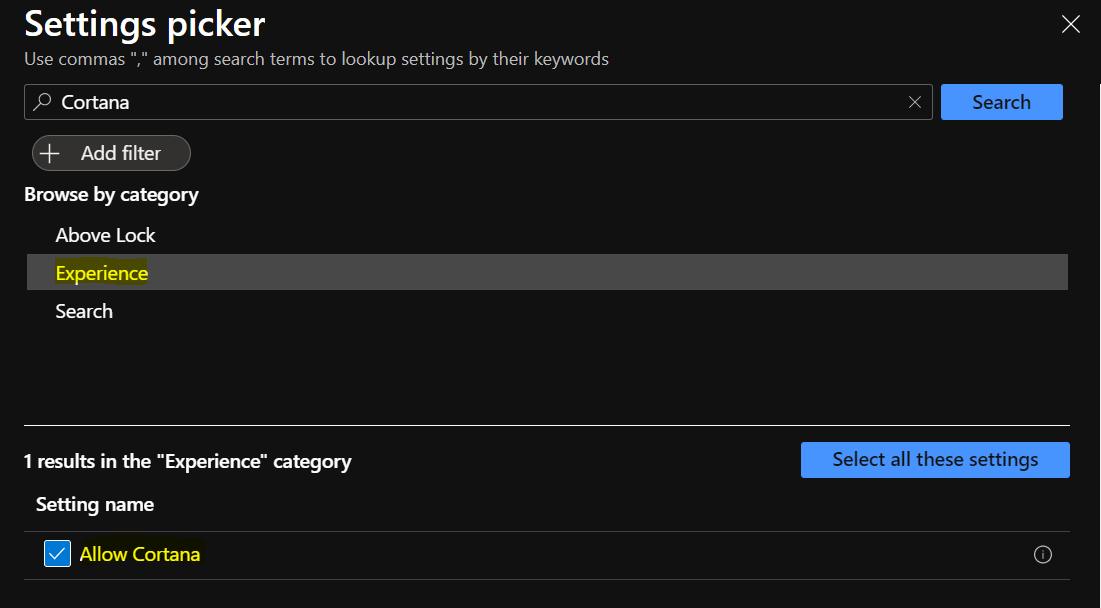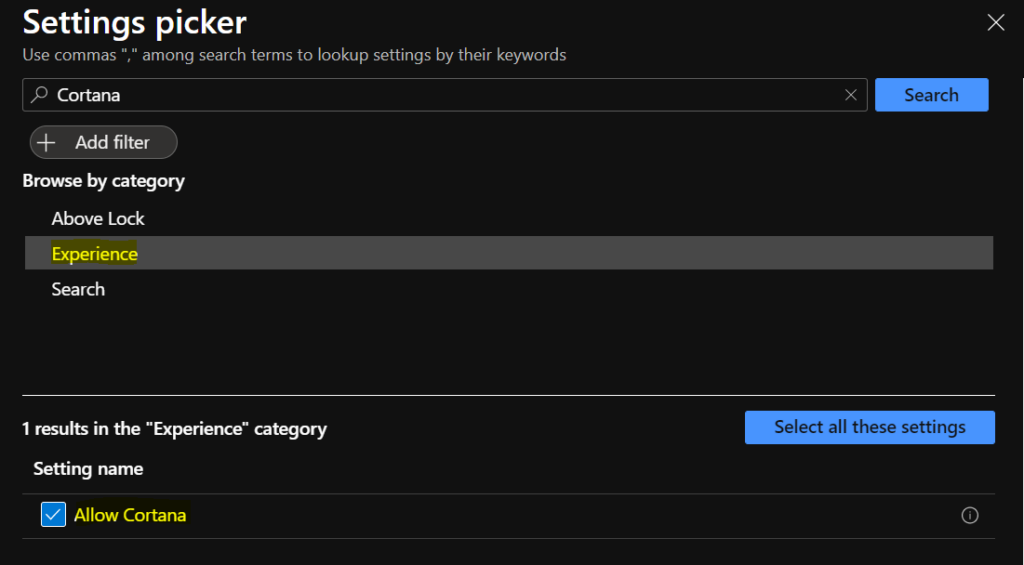 The setting is shown and configured with a default value Allowed. Set Allow Cortana to Block and Click Next.
Allow Cortana – Specifies whether Cortana is allowed on the device. If you enable or don't configure this setting, Cortana is allowed on the device. If you disable this setting, Cortana is turned off. When Cortana is off, users will still be able to use search to find items on the device.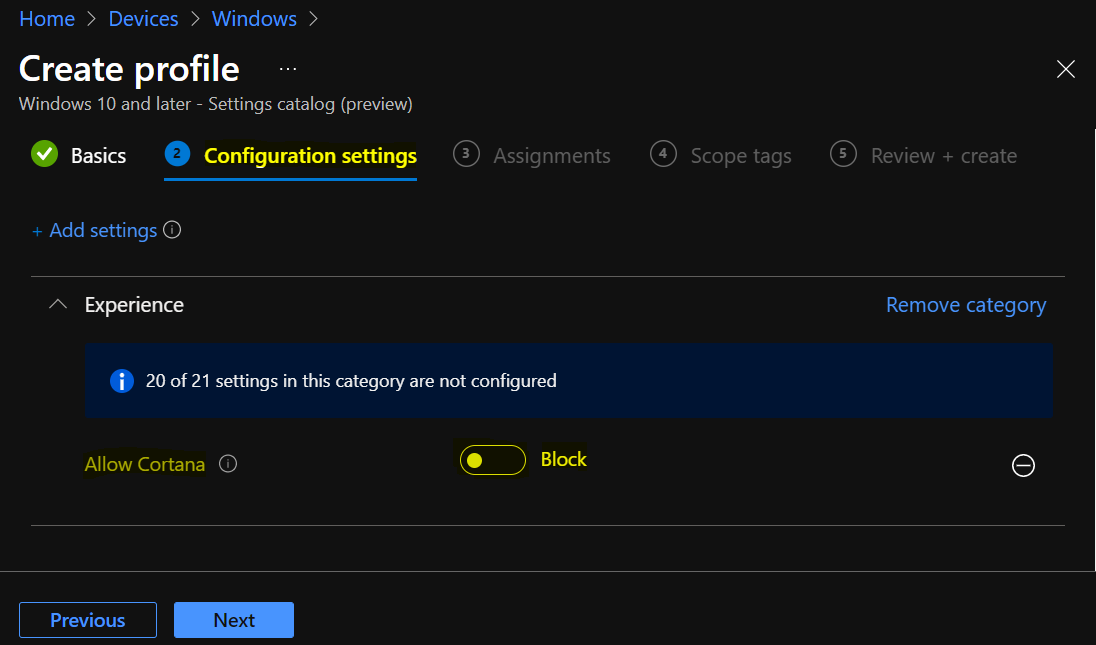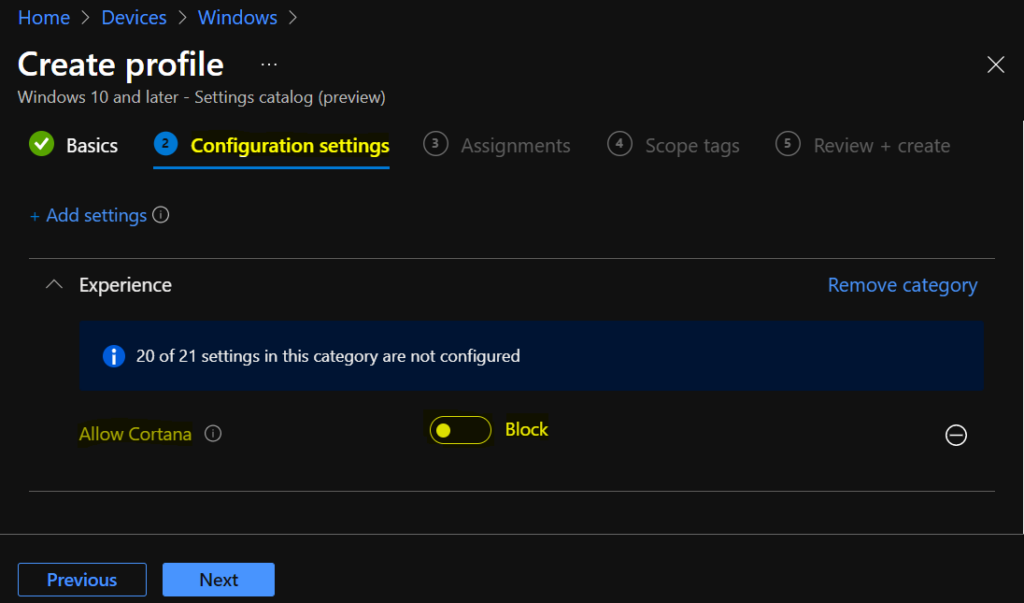 Under Assignments, In Included groups, click Add groups and then choose Select groups to include one or more groups. Click Next to continue.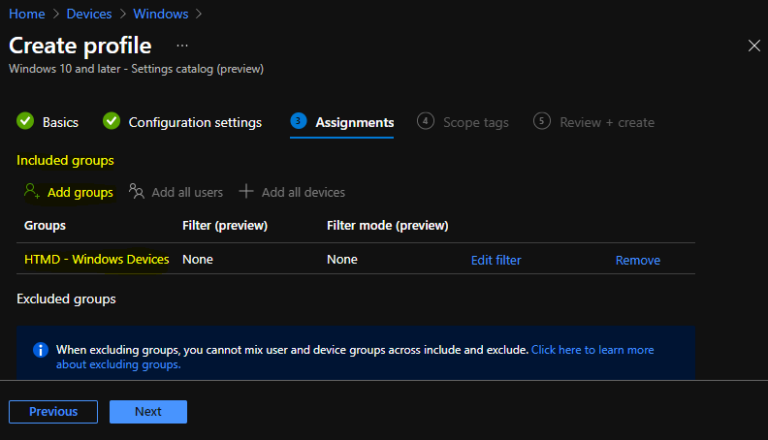 In Scope tags, you can assign a tag to filter the profile to specific IT groups. Add scope tags (if required) and click Next.
In Review + create, review your settings. When you select Create, your changes are saved, and the profile is assigned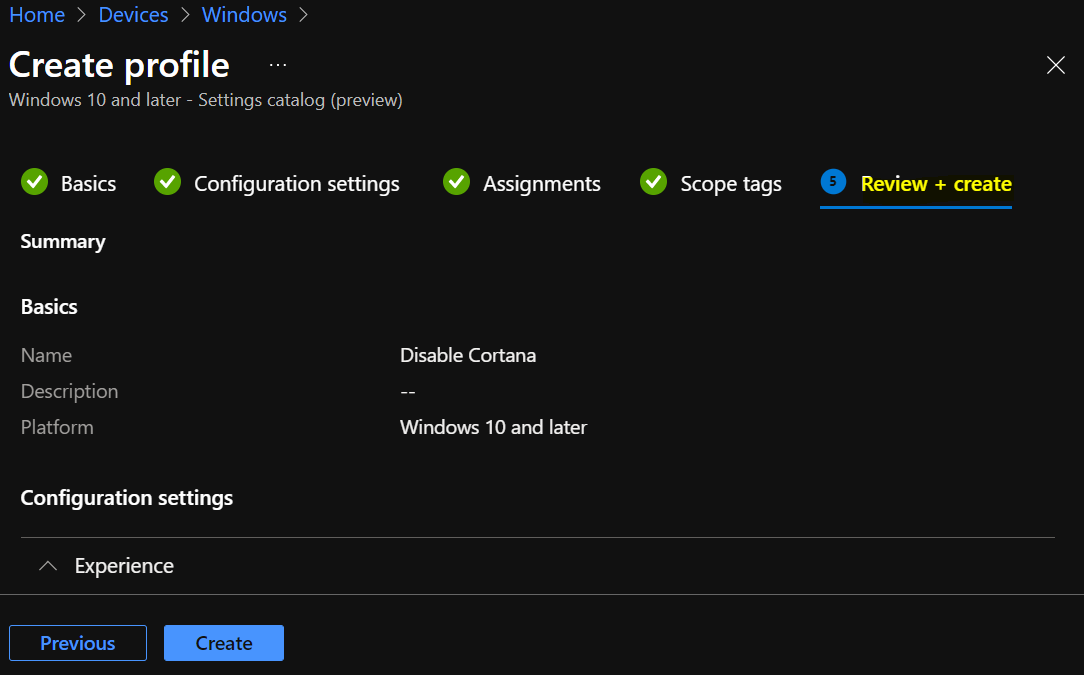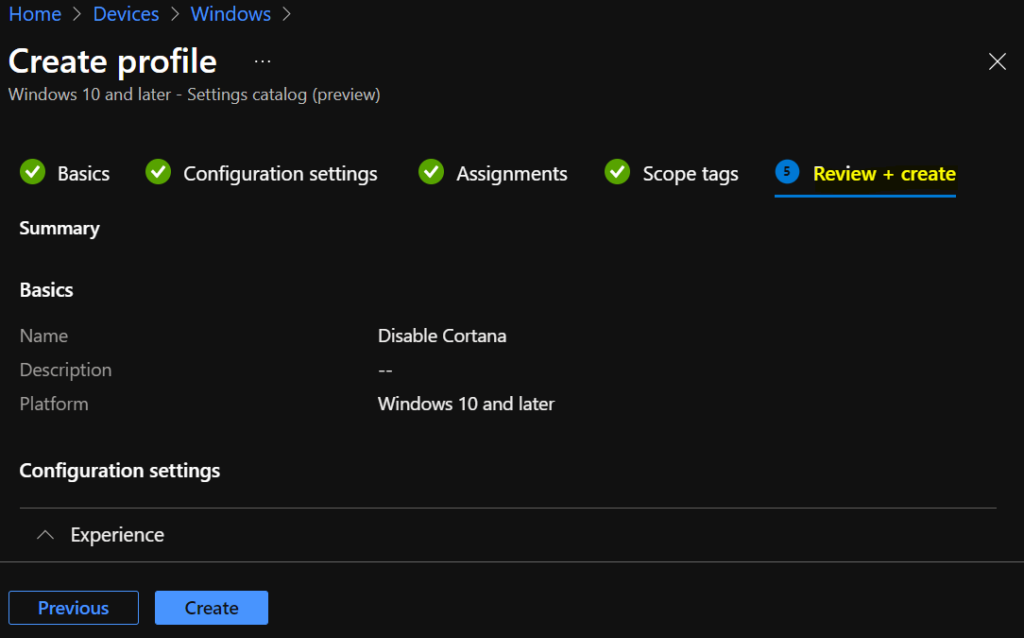 A notification will appear automatically in the top right-hand corner with a message. Here you can see that Policy "Disable Cortana" was created successfully. The policy is also shown in the Configuration profiles list.
Your groups will receive your profile settings when the devices check-in with the Intune service. Once the policy applies to the devices, Cortana is turned off.
Reporting – Disable Cortana
You can check Intune settings catalog profile report from Intune Portal, which provides an overall view of device configuration policies deployment status.
To monitor the policy assignment, from the list of Configuration Profiles, select the policy, and here you can check the device and user check-in status. If you click View Report, additional details are displayed.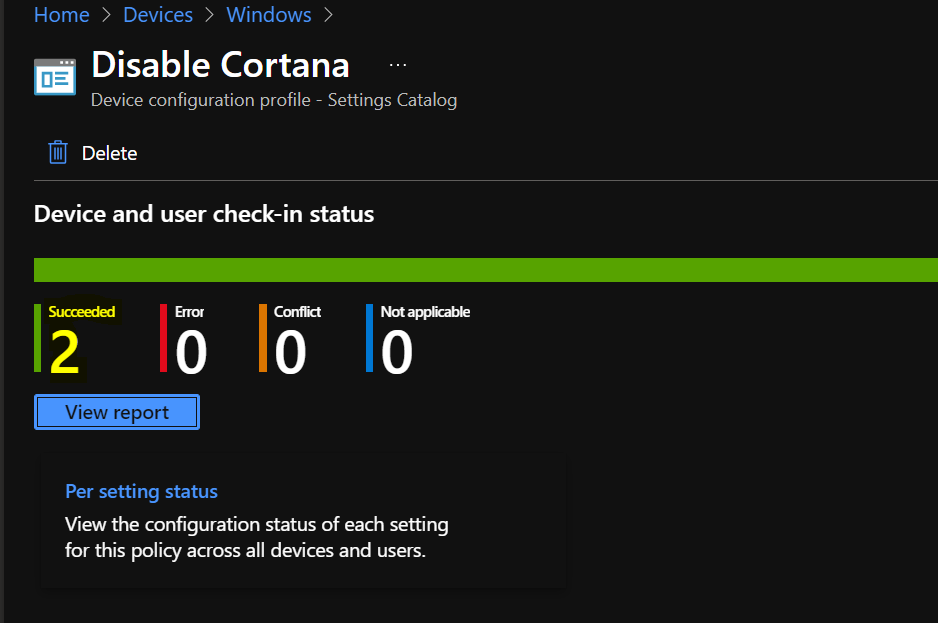 Intune MDM Event Log
The Intune event ID indicates a string policy is applied on the Windows 10 or 11 devices. You can also see the exact value of the policy being applied on those devices.
In the target device, You can check the Event log path to confirm – Applications and Services Logs – Microsoft – Windows – Devicemanagement-Enterprise-Diagnostics-Provider – Admin.
You can look at the Event ID 813 generated for the configured policies for managing apps, Here are the highlights from the Event logs.
MDM PolicyManager: Set policy int, Policy: (AllowCortana), Area: (Experience), EnrollmentID requesting merge: (A5552FF5-1D65-4248-9CE8-D2FA23AA067E), Current User: (Device), Int: (0x0), Enrollment Type: (0x6), Scope: (0x0).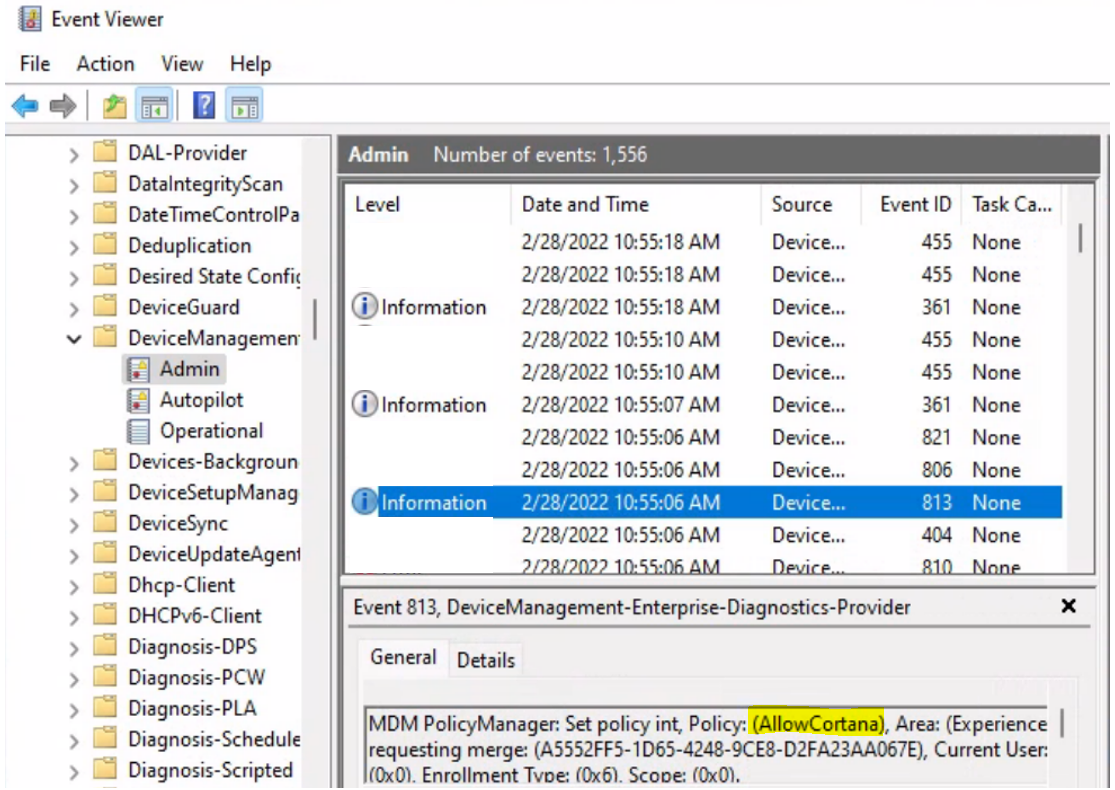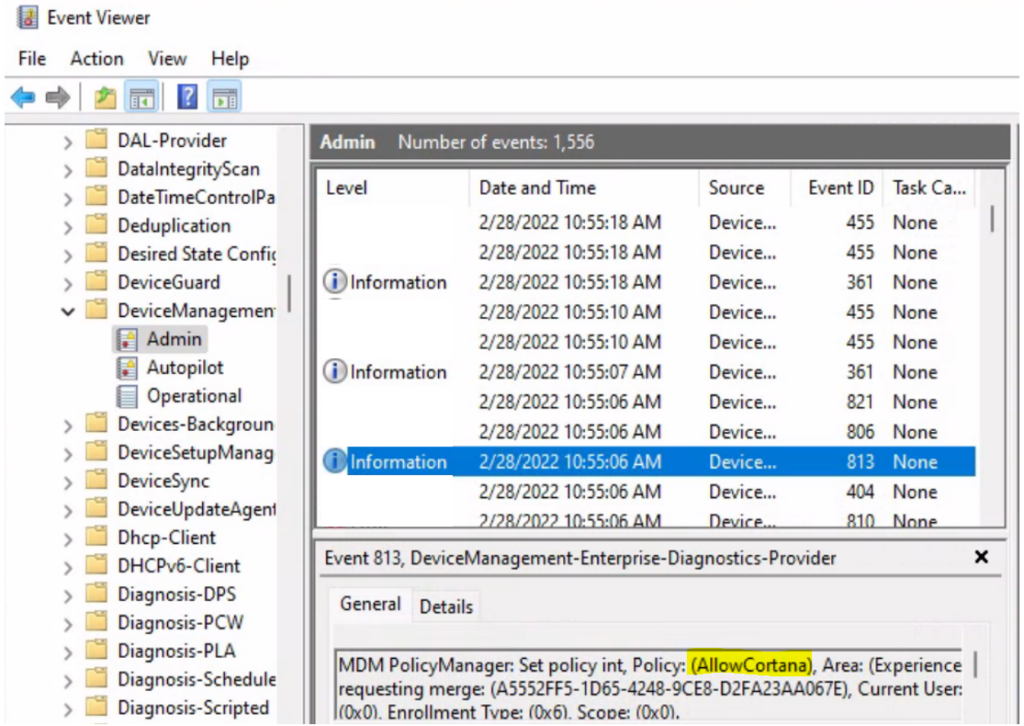 Validate Registry
Here you can validate whether the registry values are changed or not. You can see the registry entries related to the Device Lock Inactivity Time in the following registry path –
The best way to do a keyword search (Ctrl + F) For example – AllowCortana helped find the correct registry path for policy. These registry values determine the site list that has been applied for users.
HKEY_LOCAL_MACHINE\SOFTWARE\Microsoft\PolicyManager\current\device\Experience "AllowCortana"=dword:00000001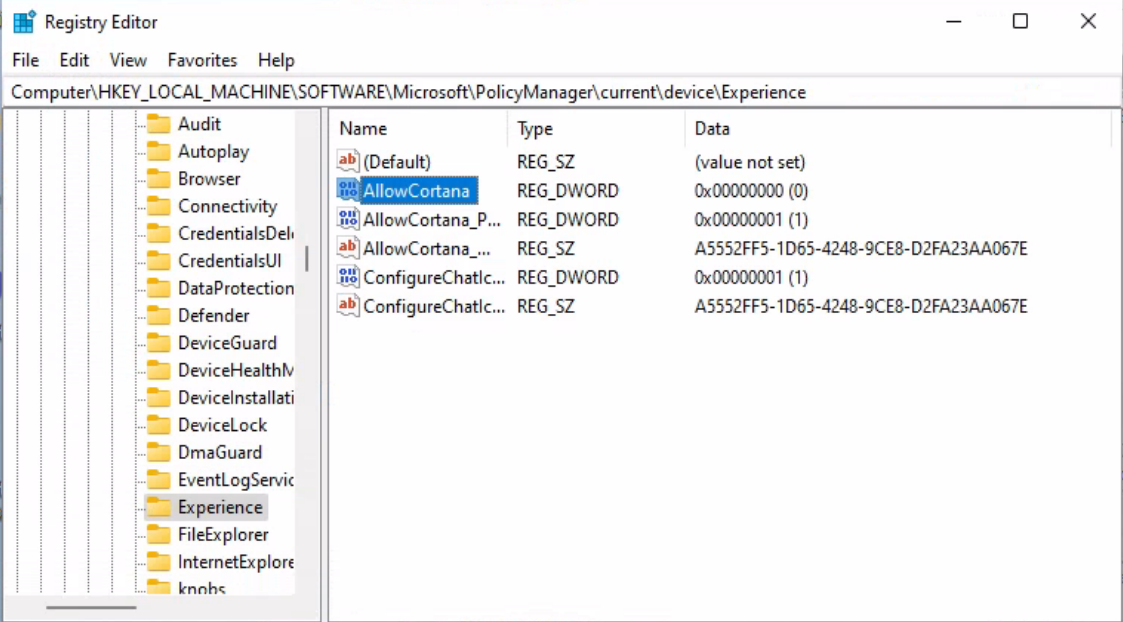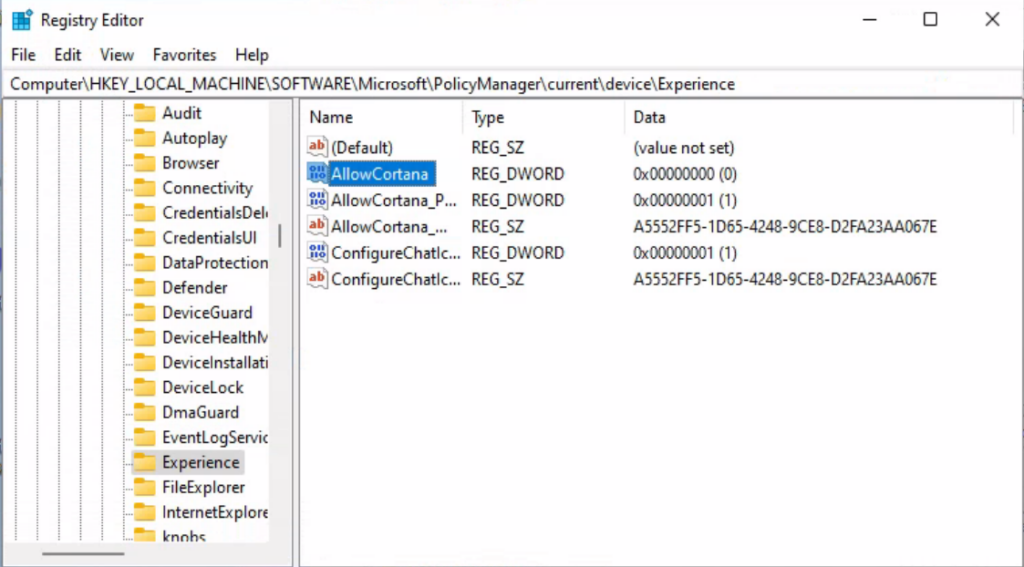 Author
About Author – Jitesh, Microsoft MVP, has over five years of working experience in the IT Industry. He writes and shares his experiences related to Microsoft device management technologies and IT Infrastructure management. His primary focus is Windows 10 Deployment solution with Configuration Manager, Microsoft Deployment Toolkit (MDT), and Microsoft Intune.