Let's see more details about Windows 11 upgrade to build 22449 branch. Microsoft released the next branch of the Windows 11 Insider Dev channel. Microsoft is moving the Dev Channel back to receiving builds from our active development branch (RS_PRERELEASE).
Branch 22449 builds are from the earliest stage in a new Windows 11 development cycle with the latest work-in-progress code from our engineers. So Microsoft doesn't recommend using this build on production devices.
New features and Windows 11 OS improvements from these builds could show up in next future Windows releases. These features could be part of the Windows 11 2022 release. So these features won't be available for the Windows 11 planned to release on 5th Oct 2021.
Microsoft announced the boot screen update, and the boot screen shows a progressive ring animation for loading the OS instead of an animated circle of dots. The following are the other updates coming with Windows 11 22449 branches.

New Features – Next Branch of Windows 11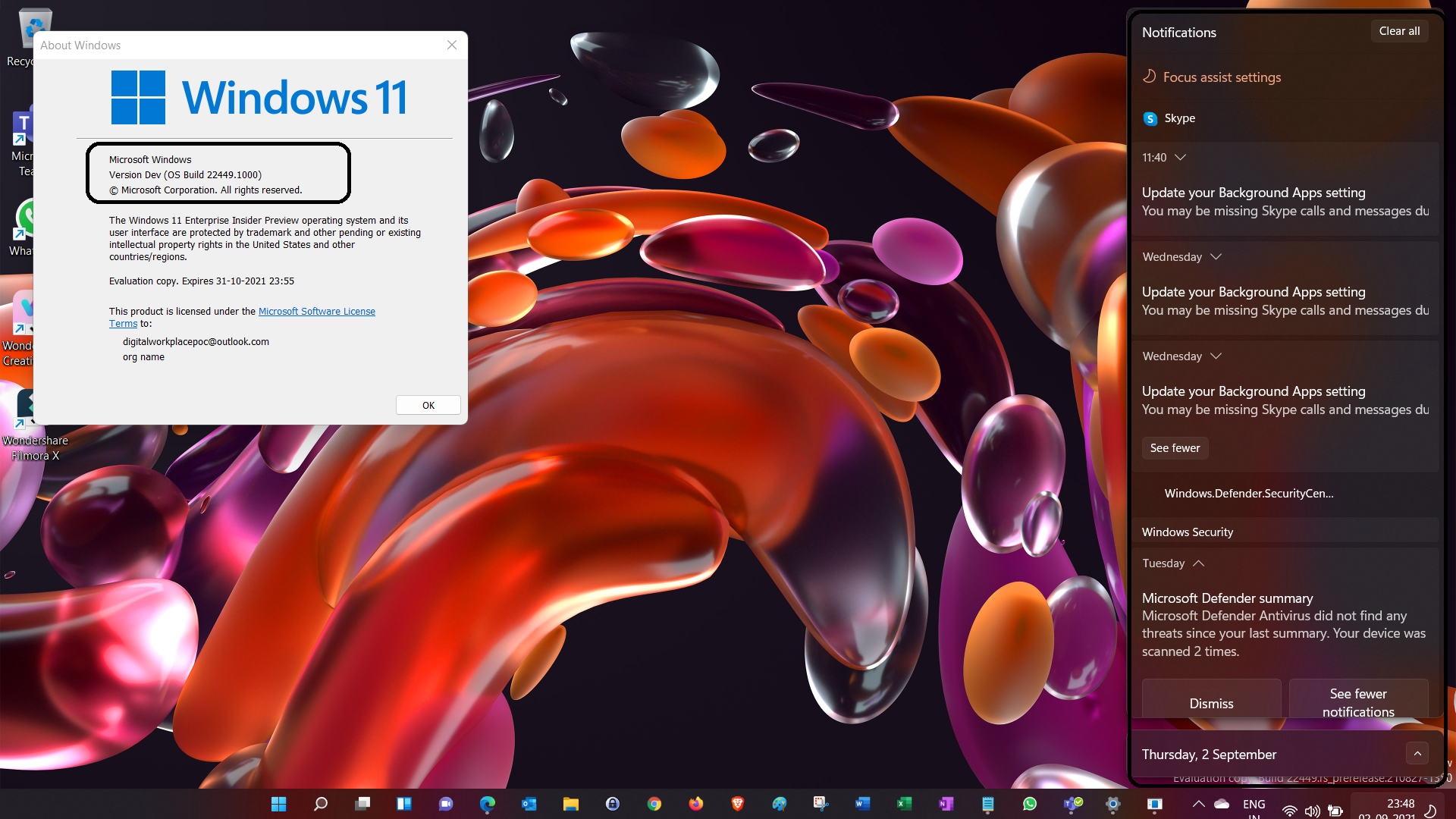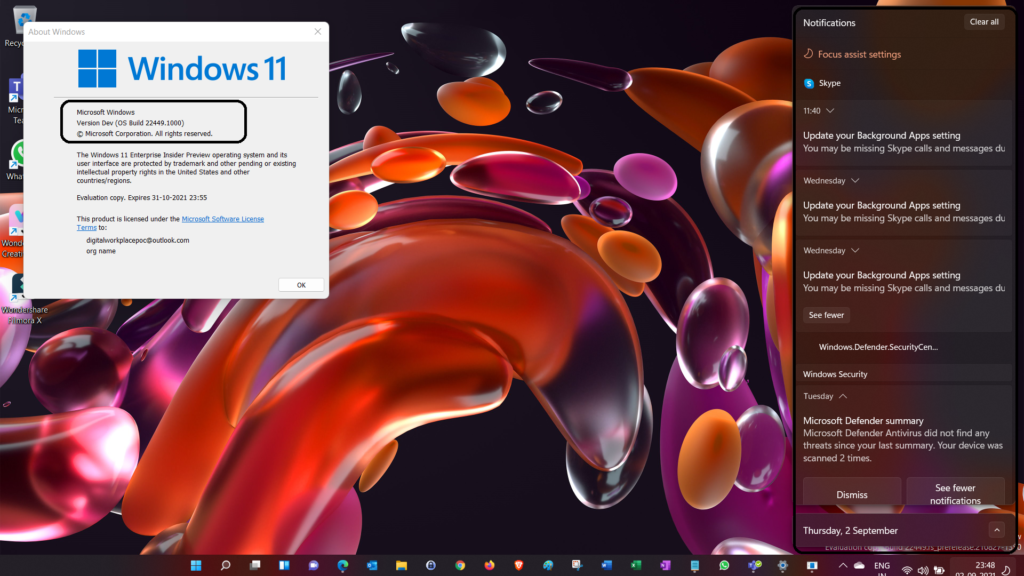 Right-clicking on the Bluetooth entry in Quick Settings and selecting Settings will now open the main Bluetooth & Devices page in Settings.
The Windows startup sound will no longer play after an unattended update (aka a scheduled Windows update when you are not at your PC).
Added a link to the touch keyboard personalization settings from Typing > Touch Keyboard to help improve discoverability.
Notifications now have an acrylic background.
Updated animation used in the notification introducing you to Windows Hello if it hasn't been set up.
Updated the dialog when closing Windows Sandbox so that it has rounded visuals.
Adjusted the design of the Notification Center to make the app names more visibly separated from the notifications.
Windows 11 Build 22449 Upgrade
Let's see the how-to upgrade to Windows 11 Build 22449. You can go to Settings apps from Start. Navigate to Windows Updates -> Click on Download now button to start the upgrade process.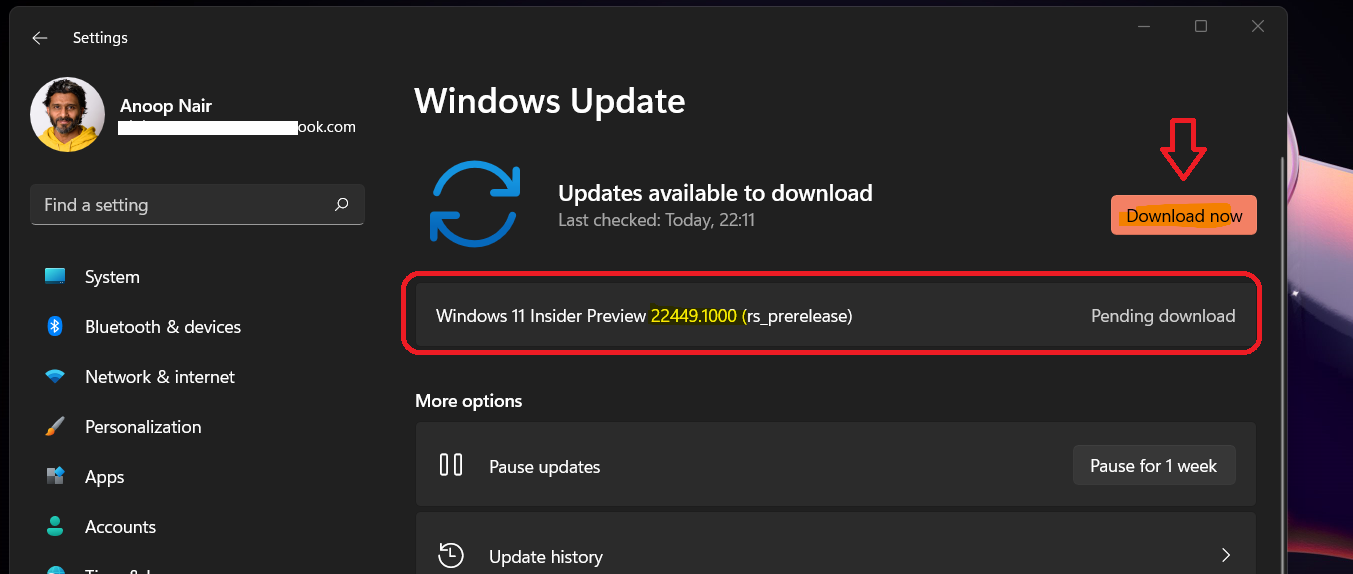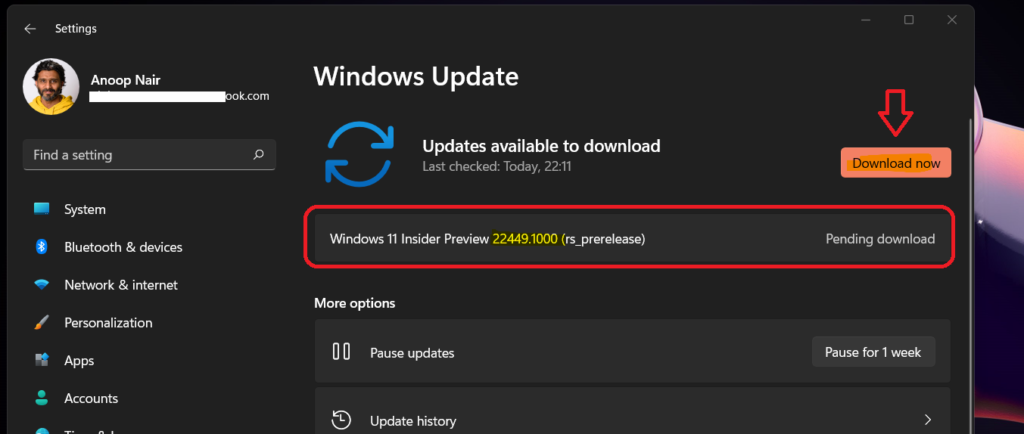 Normally the download of Windows 11 Build 22449 takes more time if you compare it with normal Windows 11 upgrades within the same branch. The Windows 11 one branch update to the next branch update is similar to the full version upgrade.
NOTE! I don't think the Windows 11 yearly update won't be similar to the enablement package update/upgrade in Windows 10.


The installation of the Windows 11 upgrade to the next branch took around 20-30 minutes on the physical device shown in the following video – Windows 11 Free Upgrade Requirements | Why are you not getting Free Windows 11 Upgrade?

Restart to install the newest Windows feature update with new features and apps; this one could take a little longer than other upgrades/updates. There are three options below:
Restart Now
Pick a time
Remind me Later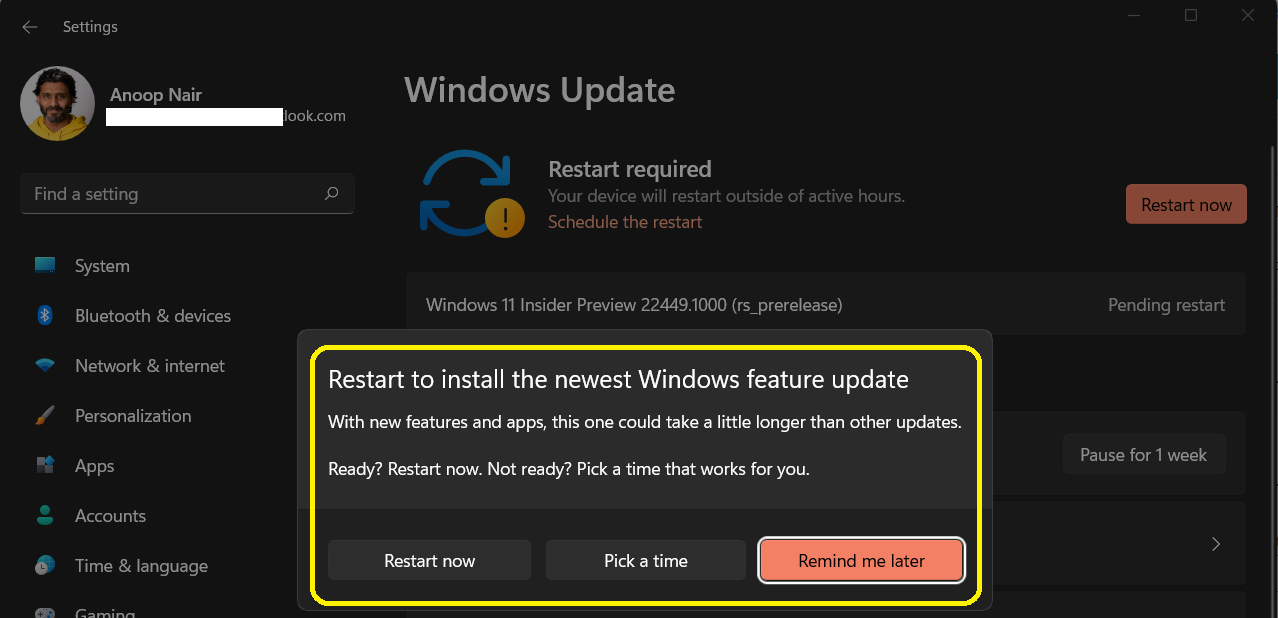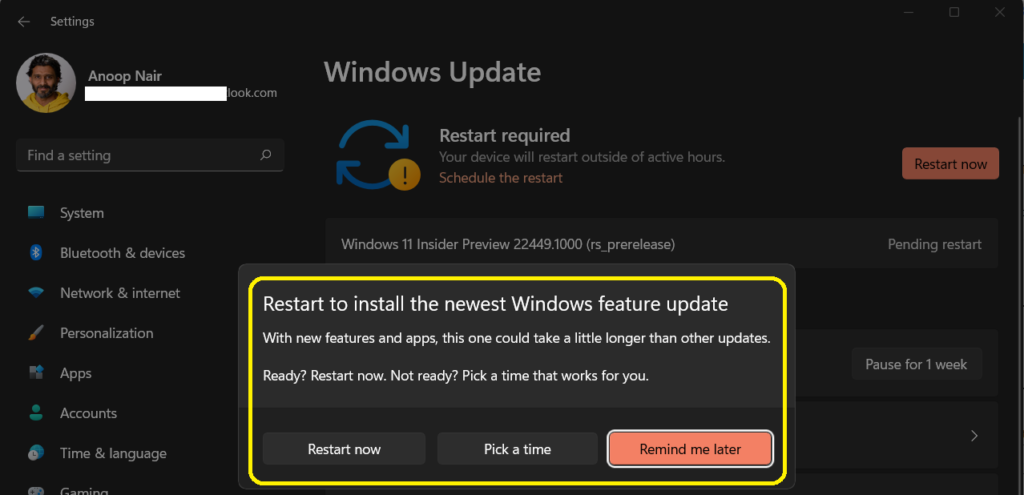 The restart notification of the next Windows 11 branch 22449 is not changed much. I got the same notification experience as explained in the previous branch upgrade – The latest Windows 11 update experience.


Resources
PC Health Check App Windows 11 Upgrade Requirement Updates
Anoop is Microsoft MVP! He is a Solution Architect in enterprise client management with more than 20 years of experience (calculation done in 2021) in IT. He is a blogger, Speaker, and Local User Group HTMD Community leader. His main focus is on Device Management technologies like SCCM 2012, Current Branch, and Intune. E writes about ConfigMgr, Windows 11, Windows 10, Azure AD, Microsoft Intune, Windows 365, AVD, etc…