Let's learn how to use Intune endpoint analytics to measure and review Windows restart Frequency and start-up time to drill down on disruptive restarts, such as those caused by blue screens. The added insights into restart frequencies within your organization to help you identify problematic devices.
In endpoint analytics startup performance, we've provided insights into PC boot times, and how to improve the reboot times of poorly performing devices. Reboot frequency can affect a user's experience. A device that reboots daily due to Stop errors results in poor user experience even if the boot times are fast.
The full power of analytics can also help you determine if a user has an abnormally high number of unexpected restarts, enabling you to troubleshoot and take appropriate action quickly. The devices enrolled in endpoint analytics are configuration manager, and Intune devices. After enrollment, client devices require a restart to enable all analytics fully.
Intune also provides integrated reports that allow you to view comprehensive status information for Windows 11 devices readiness state. To utilize these insights effectively, you need to configure the necessary prerequisites to enable endpoint analytics.

Get Windows Restart Frequency Insights from Intune Endpoint Analytics
To get insights into Windows restart frequency using Intune Endpoint Analytics, you would need to follow these steps, Here's how you can access to Restart frequency report inside the endpoint analytics, Devices meet the endpoint analytics startup performance requirements.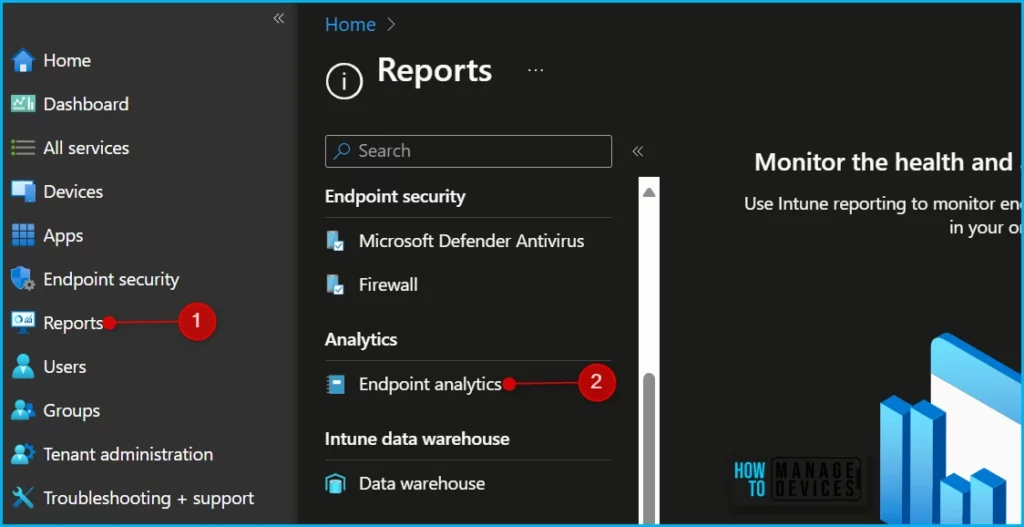 In the Endpoint analytics, inside Reports, click on Startup performance. The startup performance score helps IT get users from power-on to productivity quickly, without lengthy boot and sign-in delays. Switch to the Restart frequency tab for insights into PC boot times and tips on improving the reboot times of poorly performing devices.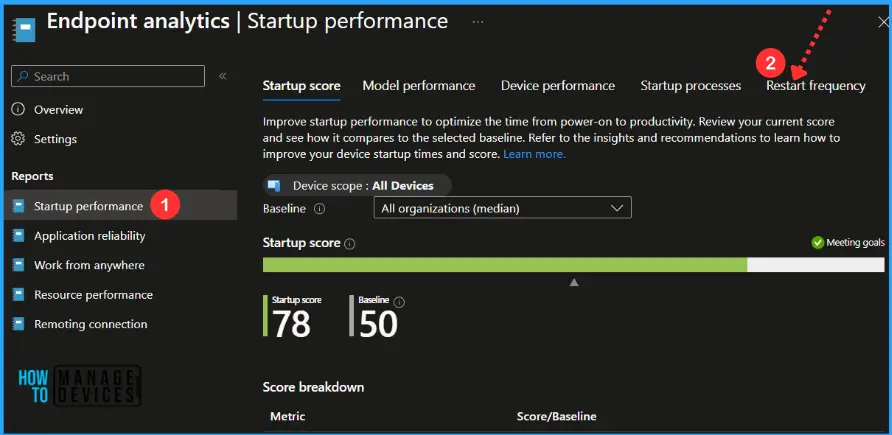 The restart frequency tab shows aggregates of restart frequency counts for each of the restart categories over the last 30 days. This can be useful to identify devices with high restarts, maybe based on blue screens. For each restart category, the following information is displayed:
Number of devices that have had at least one restart in that category
The average number of restarts per device across all devices, to understand the total impact.

This average is for all devices, not just the ones that had at least one restart in the category.
Review the Restart frequency and restart type for the devices in your tenant. The percentages below are out of the devices that have reported restarts in the last 30 days.

Any restart: Device restarted for any reason
Long power-button press: Devices shutdown by holding the power button down
Update: The device restarted during update install
Restart (no update): Device restarted when no update was pending
Shutdown (no update): The device was powered off when no update was pending
Unknown: Abnormal shutdown that was neither a blue screen nor a long power-button press.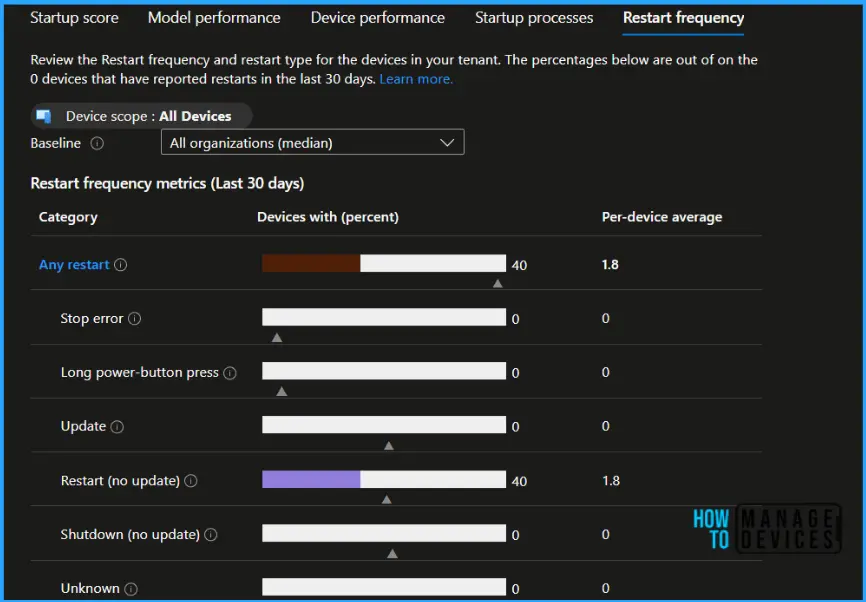 The trend chart indicates how the rolling 30-day average changes over time. If there's a regression, you can see it and identify when it started. Click through the metrics table to go to the Device performance tab, which is sorted by the number of restarts, so you can quickly identify the devices with the most restarts.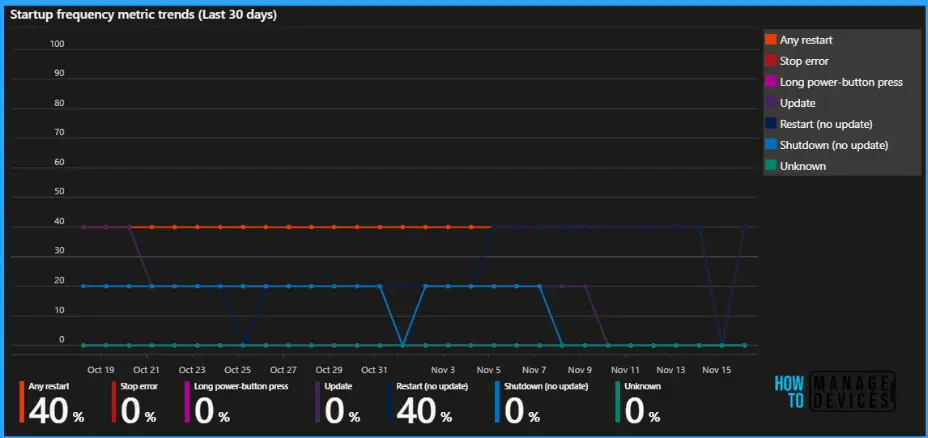 In the device performance tab, two default columns are available; total number of restarts and the number of Stop errors (blue screen errors) each device has had in the last 30 days. You can sort by these columns to find problematic devices.
Review the startup times and restart frequencies of devices in your tenant. Select a device to drill down on startup details.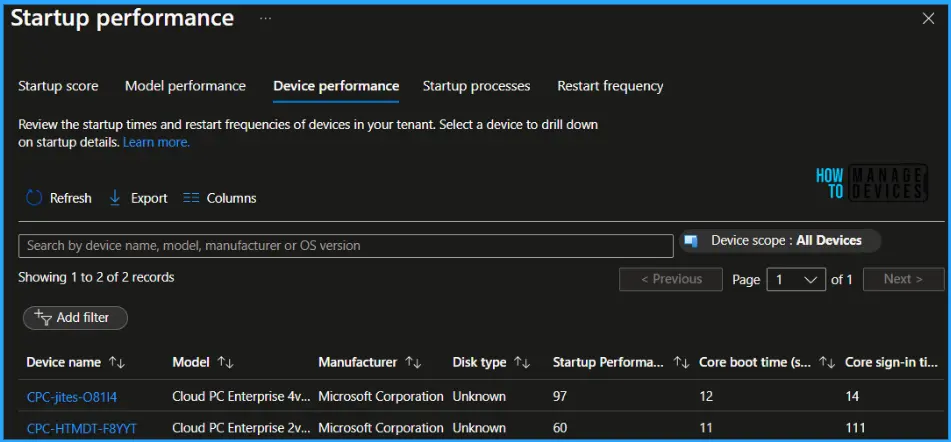 If you want to add or remove columns to reports, Use the Columns property to add or remove columns from the appeared report. Click on the Columns, and A flyout displays, here, you can Check or Uncheck the columns you want to include in the device performance report. Select Apply to update.
Model
Manufacturer
Disk type
Startup Performance Score
OS Version
Core boot time (seconds)
Group Policy boot time (seconds)
Core Sign-in time (seconds)
Group Policy sign-in time (seconds)
Time to responsive desktop (seconds)
Restarts (last 30 days)
Stop errors (last 30 days)
Health status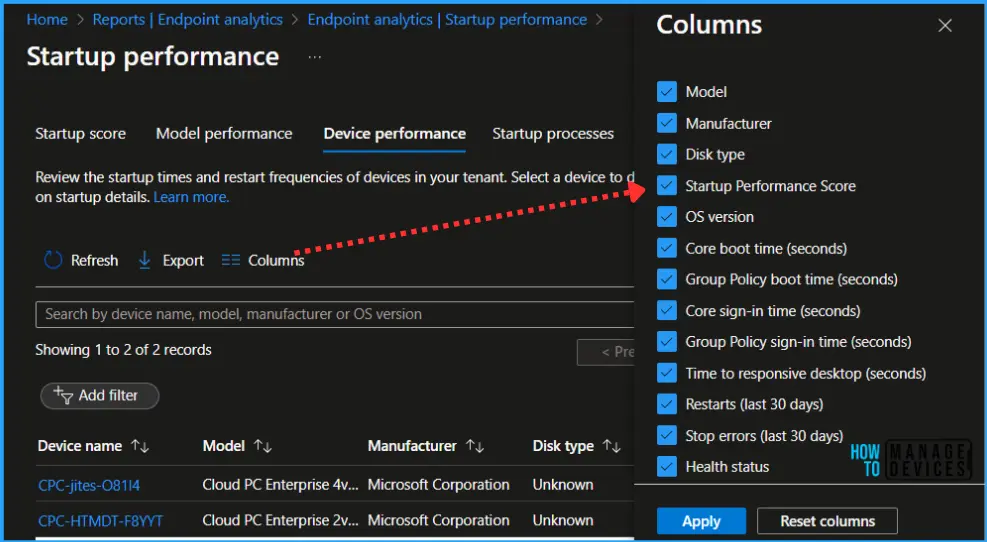 Select a particular device in the Device performance tab to go to the device's Startup performance tab. The OS restart history table has the following information, Review the startup performance, boot and sign-in history for this device.
The Restart category for each reboot.
For Stop errors (blue screen errors), the following additional information is available:

The stop code, also called the bug check code
A Failure bucket ID that can be used for diagnostics when working with Microsoft support

Here's what the restart frequency looks like. It shows additional OS restart history.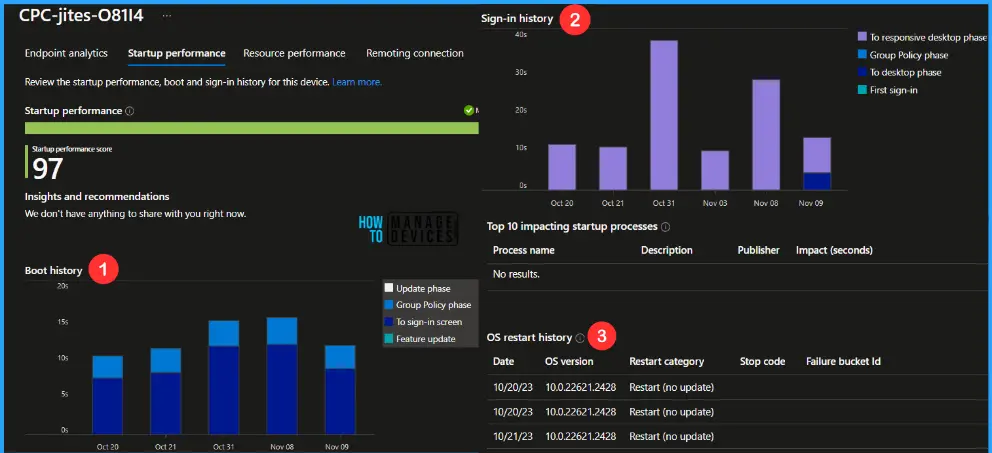 We are on WhatsApp. To get the latest step-by-step guides and news updates, Join our Channel. Click here –HTMD WhatsApp.
Author
About Author – Jitesh, Microsoft MVP, has over six years of working experience in the IT Industry. He writes and shares his experiences related to Microsoft device management technologies and IT Infrastructure management. His primary focus is Windows 10/11 Deployment solution with Configuration Manager, Microsoft Deployment Toolkit (MDT), and Microsoft Intune.