Let's discuss Windows Update Assistant Tool utilization on PC. This feature enables you to update your device using the update assistant tool. It can automatically update your device whenever the updates are ready.
The Windows 10 Update Assistant downloads and installs feature updates on your device. Feature updates like Windows 10, version 1909 (a.k.a. the Windows 10 November 2019 Update) offer new functionality and help keep your systems secure. You will get these updates automatically after you download the Update Assistant.
In Windows 10, you decide when and how to get the latest updates to keep your device running smoothly and securely. You will get the latest fixes and security improvements when you update, helping your device run efficiently and stay protected. In most cases, restarting your device completes the update.
If you don't want to wait for an automatic update, or if you want to check for quality updates (which are more frequent and include small fixes and security updates), you can update Windows 10 yourself. This post is about how to start an automatic update or manual update.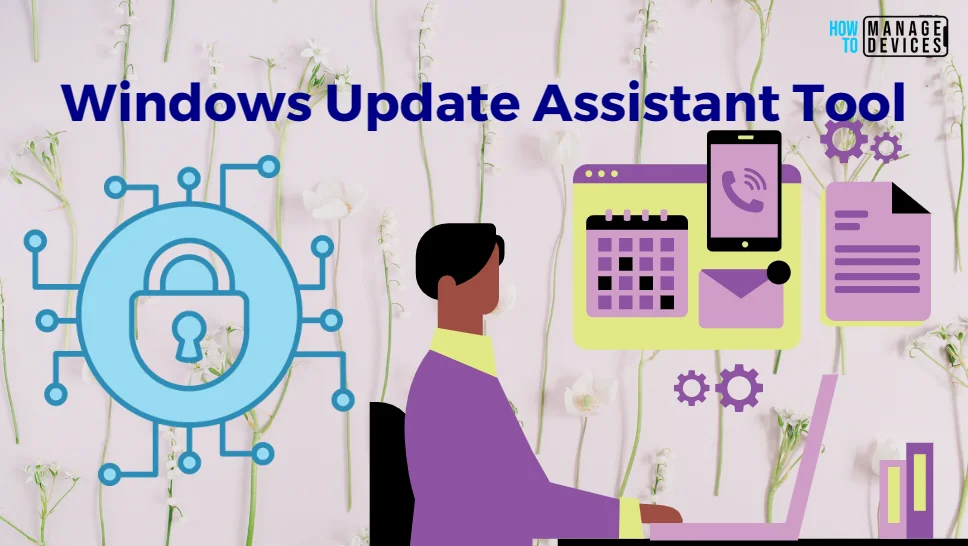 How to Download Windows Update Assistant Tool
Before you download, you need to know about the version of Windows 10 that is running on your device. You can check quickly and easily. Press Win + R in the Run window, type winver, and click OK or press Enter; then you will find the result.
To install the windows update assistant, you need to download the .exe file from the Microsoft website and install it on your computer. Click on Windows 10 update assistant to download.

The Windows10Upgrade9352.exe is downloaded and saved inside your device's download folder (default folder). To install the downloaded file, follow the process listed below:
Double-click on the .EXE file to open.
Now click YES on the User Account Control window, which asks, "Do you want to allow this app to make changes to your device?"

The Windows 10 update assistant opens and searches for any updates for your device; if no updates are available, it shows the message "Thank you for updating to the latest version of Windows 10." If any updates are there, it asks for downloading and installing the updates.


NOTE: Windows 10 Update Assistant doesn't run on ARM-based PCs. It's only supported for PCs using x86/64 processors.
How the Updates for Windows Work
After the installation of the updates successfully to the device, there is some process that the windows updates work. There are four phases to the Windows update process that are described in the table below:
| Phases | Description |
| --- | --- |
| Scan | A device checks the Microsoft Update server, Windows Update service, or your Windows Server Update Services (WSUS) endpoint at random intervals to see if any updates have been added since the last time updates were searched and then evaluates whether the update is appropriate by checking the policies that have been set up by the administrator. This process is invisible to the user. |
| Download | Once the device determines that an update is available, it begins downloading the update. The download process is also invisible to the user. With feature updates, download happens in multiple sequential phases. |
| Install | After the update is downloaded, depending on the device's Windows Update settings, the update is installed on the system. |
| Commit and Restart | Once installed, the device usually (but not always) must be restarted in order to complete the installation and begin using the update. Before that happens, a device is still running the previous version of the software. |
Windows Update Assistant Tool -Table 1
A basic way to update your device manually using the system settings. This is how you don't need to install any tools; follow the process to continue.
Click on the Start menu or windows button and select Settings
When the settings open, double-click on the Update & Security

Now the windows update opens, where you can find if any updates are available. If a feature update is available for your device, it will appear separately on the Windows Update page. To install it, select Download and Install now or there is an option that asks to Restart Now to update.

Types of Updates for Windows
You are aware of various types of updates available by Microsoft. Still, the two overarching types you have the most direct control over are Feature Updates and Quality Updates. All updates and its description are represented in the table below.
| Updates | Description |
| --- | --- |
| Feature Updates | Released annually. Feature updates add new features and functionality to Windows 10. Because they are delivered frequently (rather than every 3-5 years), they are easier to manage. |
| Quality Updates | Quality updates deliver both security and non-security fixes. Quality updates include security, critical, service stack, and driver updates. They are typically released on the second Tuesday of each month, though they can be released at any time. The second Tuesday releases are the ones that focus on security updates. Quality updates are cumulative, so installing the latest quality update is sufficient to get all the available fixes for a specific feature update, including any out-of-band security fixes and any servicing stack updates that might have been released previously. |
| Servicing stack updates | The "servicing stack" is the code component that installs Windows updates. From time to time, the servicing stack itself needs to be updated to function smoothly. If you don't install the latest servicing stack update, there's a risk that your device can't be updated with the latest Microsoft security fixes. Servicing stack updates are not necessarily included in every monthly quality update and occasionally are released out of band to address a late-breaking issue. Always install the latest available quality update to catch any servicing stack updates that might have been released. The servicing stack also contains the "component-based servicing stack" (CBS), which is a key underlying component for several elements of Windows deployment, such as DISM, SFC, changing Windows features or roles, and repairing components. The CBS is a small component that typically does not have updates released every month. |
| Driver Updates | These updated drivers are applicable to your devices. Driver updates are turned off by default in Windows Server Update Services (WSUS), but you can control whether they are installed or not for cloud-based update methods. |
| Microsoft Product Updates | These update other Microsoft products, such as Office. You can enable or disable Microsoft updates by using policies controlled by various servicing tools. |
Windows Update Assistant Tool -Table 2
The information shared above regarding Windows 10 Update Assistant Tool is helpful. Please follow us on HTMD Community and visit our website HTMD Forum if you like our content.
Author
Alok is a Master of Computer Applications (MCA) graduate. He loves writing on Windows 11 and related technologies. He likes to share his knowledge, quick tips, and tricks with Windows 11 or Windows 10 with the community.