This is the key takeaway from Windows Dynamic Update. I was not close to this topic until this point in time. The session with Steve DiAcetis was very useful in understanding the basics of Windows 10 Dynamic Update.
Learn how to Enable Windows 11 Patching Using SCCM WSUS. Windows 11 Software Update End-User experience and Windows 11 Quality Updates, Feature Updates, Driver Updates, and Firmware Updates | CUs are 40% Smaller.
Introduction – What is A Windows 10 Dynamic Update?
How does it work? Where is content acquired from?, How to Patch Windows OS Image?
Get updates, drivers, and optional Features – This is Windows 10 dynamic updates screen for the folks who are wondering what Windows Dynamic Update (DU) is.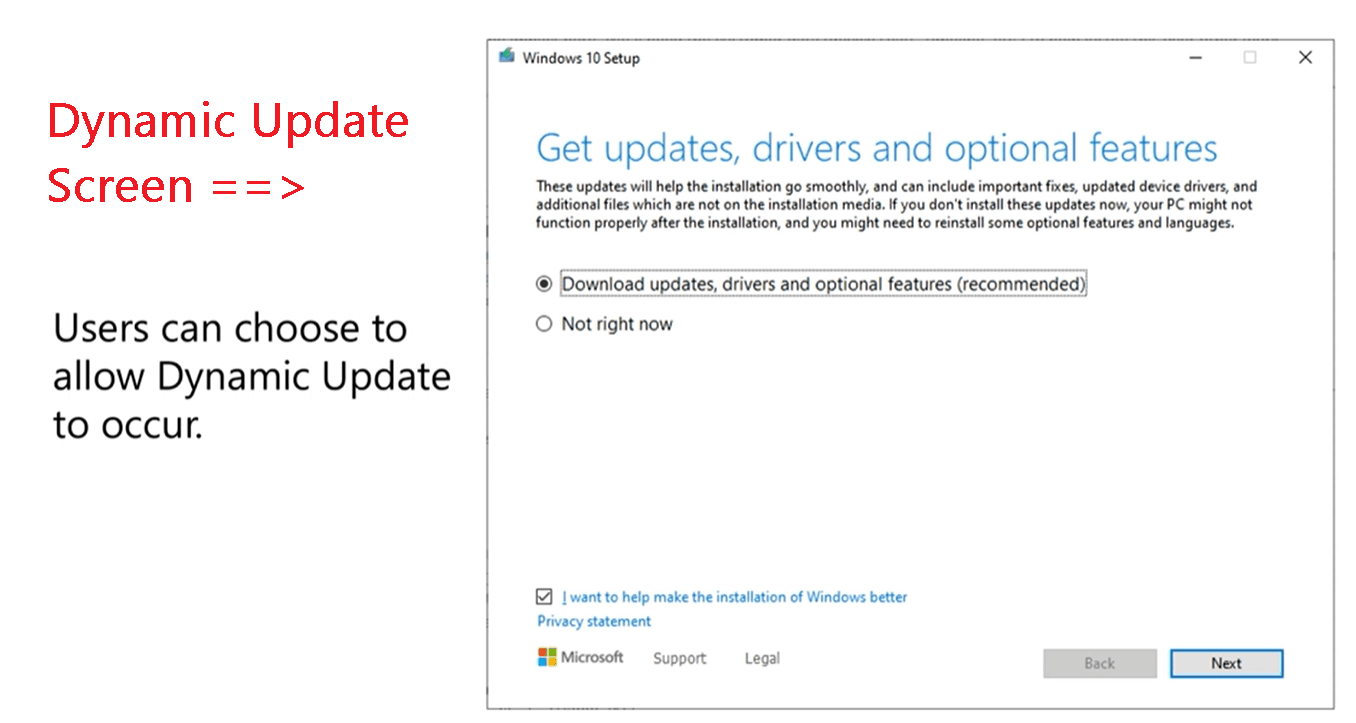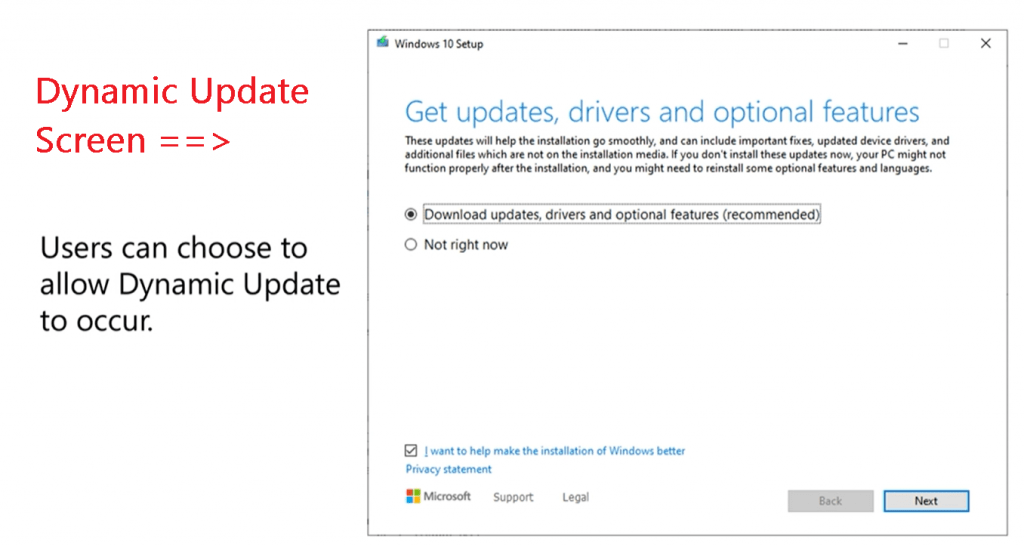 Quick Tips Dynamic Updates
Windows 10 Dynamic update is not there in the source media (Windows 10 ISO)
It makes it easier to complete Windows 10 setup.
Reduce the need to apply patches to recently installed systems
Ensure that the Features on Demand & Language pack successfully migrated during Windows 10 upgrades (1903 to 1909, for example)
Is dynamic Update Applicable? ONLY when you launch SETUP.EXE from Windows 10 OS.
Media-based feature updates and clean installs
Pre-UUP WSUS based updates (Unified Update platform-UUP)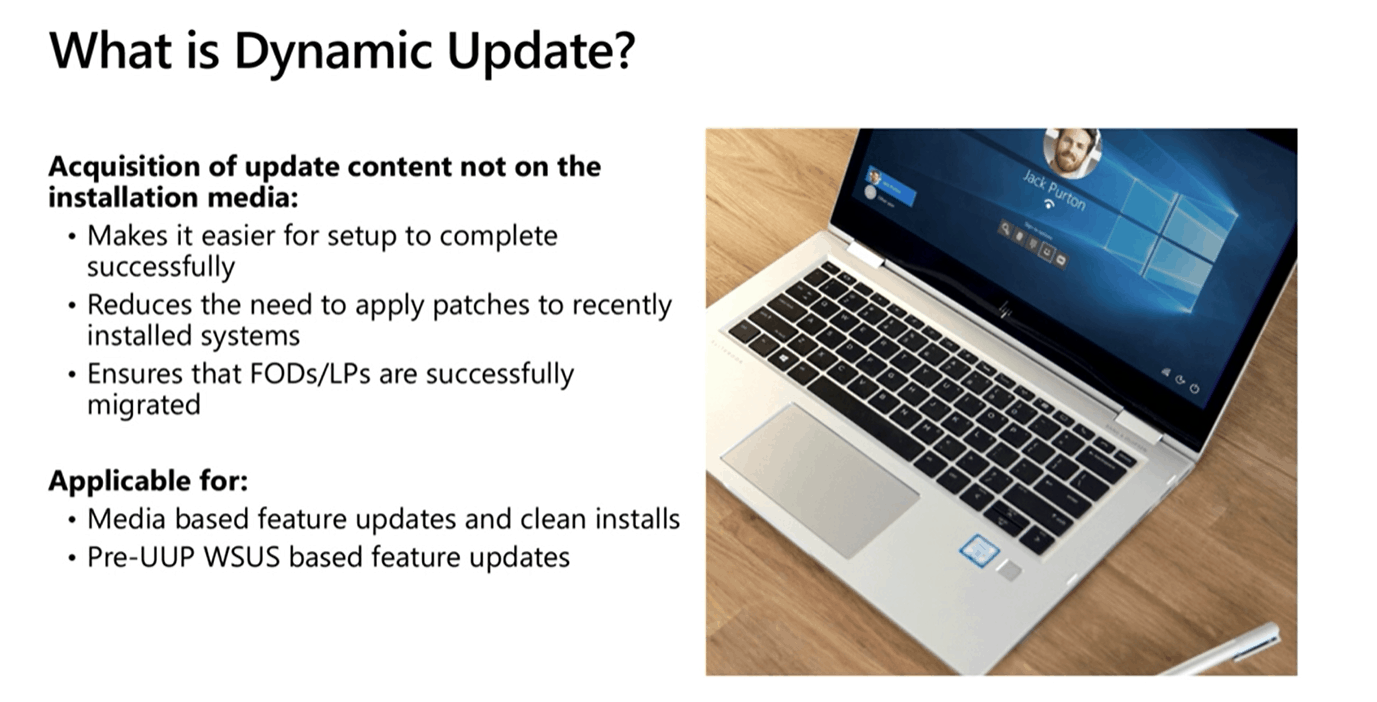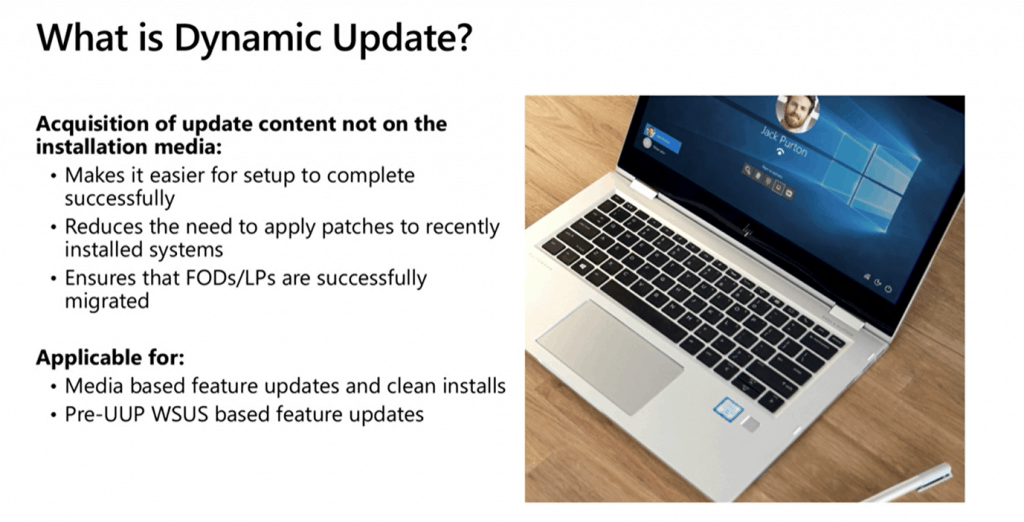 Components Get Updated with Dynamic Updates
Dynamic Update will deliver the new version of Setup.exe (just in time fixes for the setup program)
Download updates for the OS you are moving to…
Updates for WinPE
Updates for WinRE
Updates Windows Servicing Components
Driver Updates
Latest Quality Update (LCU)
Acquisition of Supplemental media content
Features on Demand (FOD)
Language support (i.e., Language packs or LPs)
Windows 10 Dynamic Update won't Perform?
Dynamics is NOT
Out of Box Experience Day Package (OOBE ZDP)
Device Setup Manager (DSM)
Windows 10 Dynamic Update is NOT available
WinPE
PXE BOOT
How Windows 10 Dynamic Update Works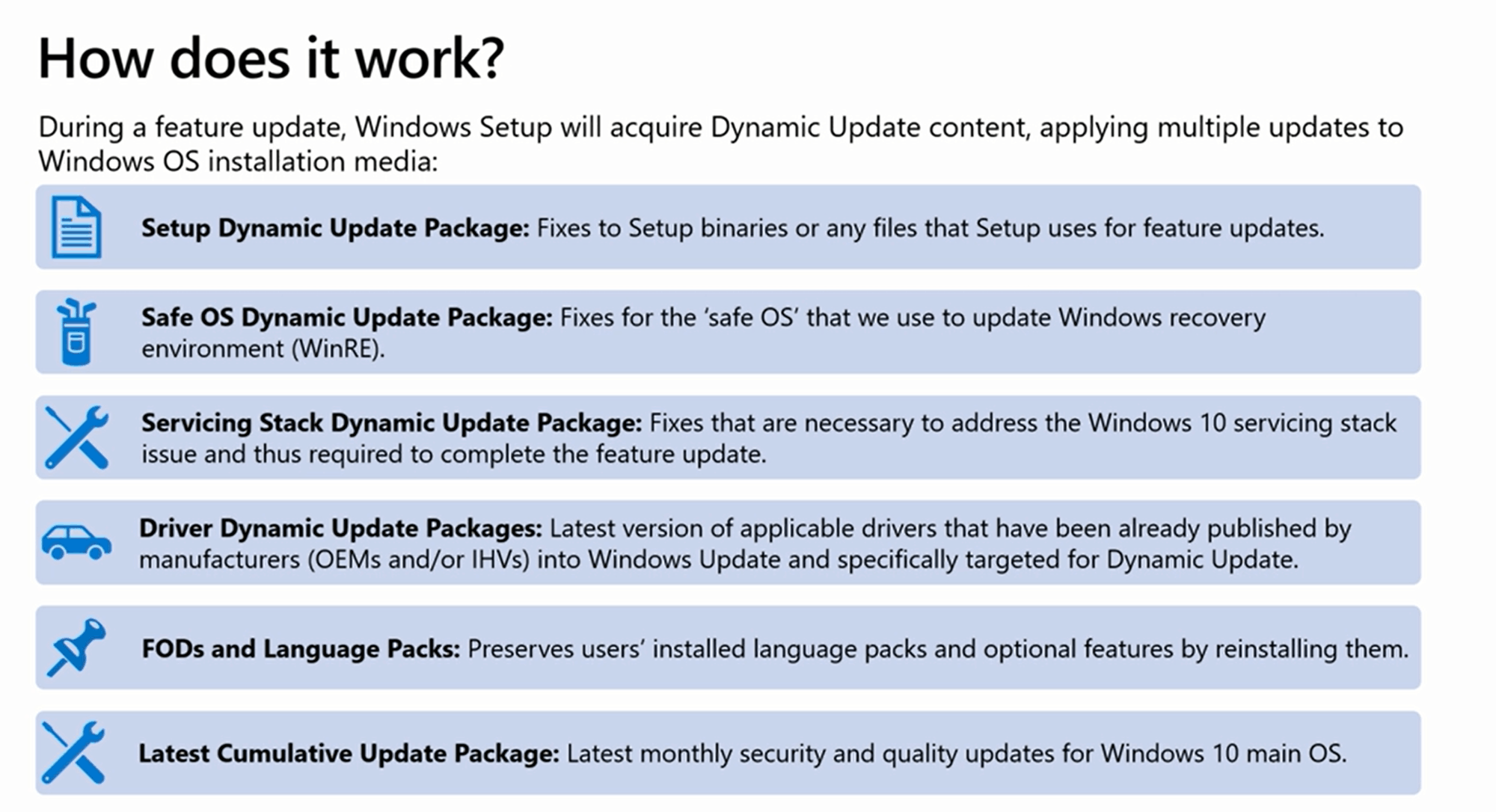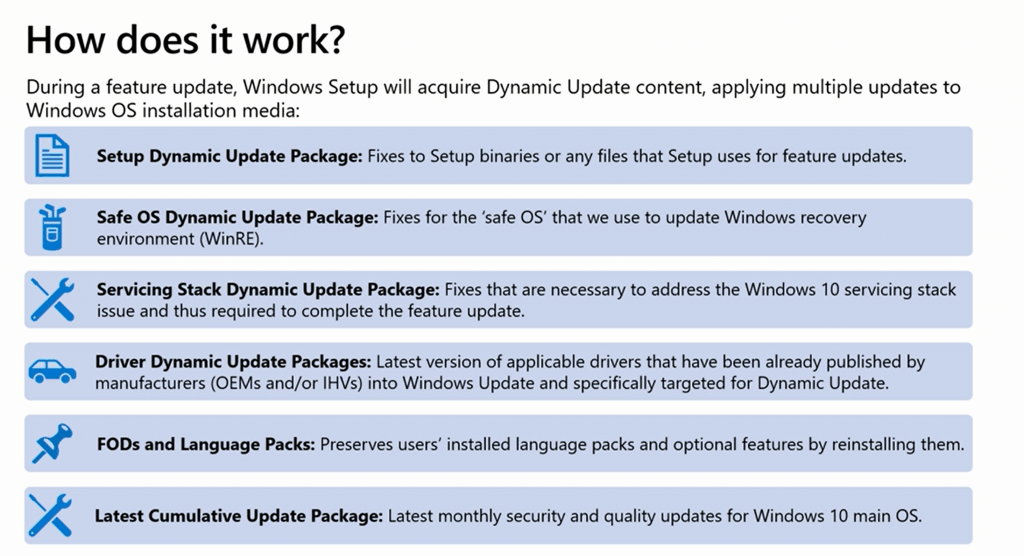 Setup Dynamic Updates Package:
Safe OS Dynamic Updates Package.
Servicing Stack Updates (SSU): Updates to the Update Engine at the lowest level of OS
Latest Cumulative Update:
Driver Updates:
Feature on Demand & Language Packs
Download Windows Dynamic Update?
Windows Dynamic Update is enabled?

Automatically acquired from Windows Update. It won't update the entire content of Windows 10 OS from the Internet.
With UUP on-prem (private preview), automatically get the Windows 10 Dynamic updates from SCCM or WSUS
Manually can be acquired from Microsoft Update Catalog
Enable/Disable Windows Dynamic Update?
Setup Command Line Parameter
Setup /Auto Upgrade /Dynamic Update Disable
Setup Configuration File
[SetupConfig]
auto=upgrade
DynamicUpdate=Disable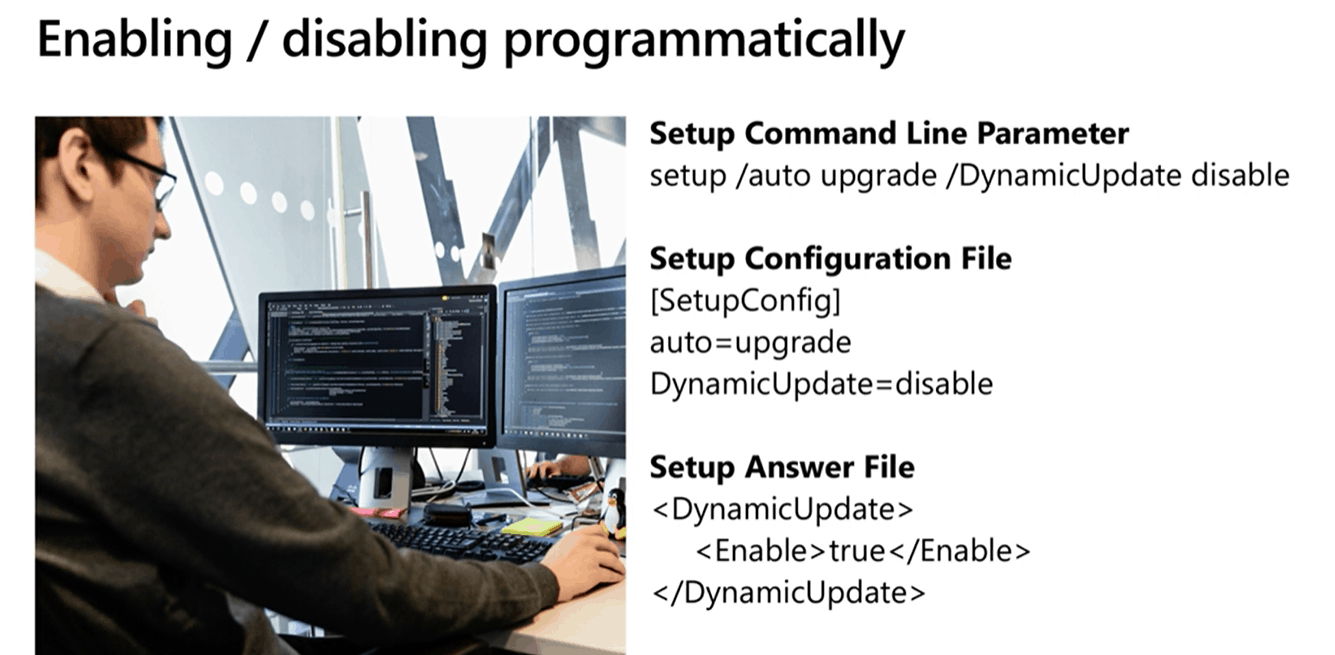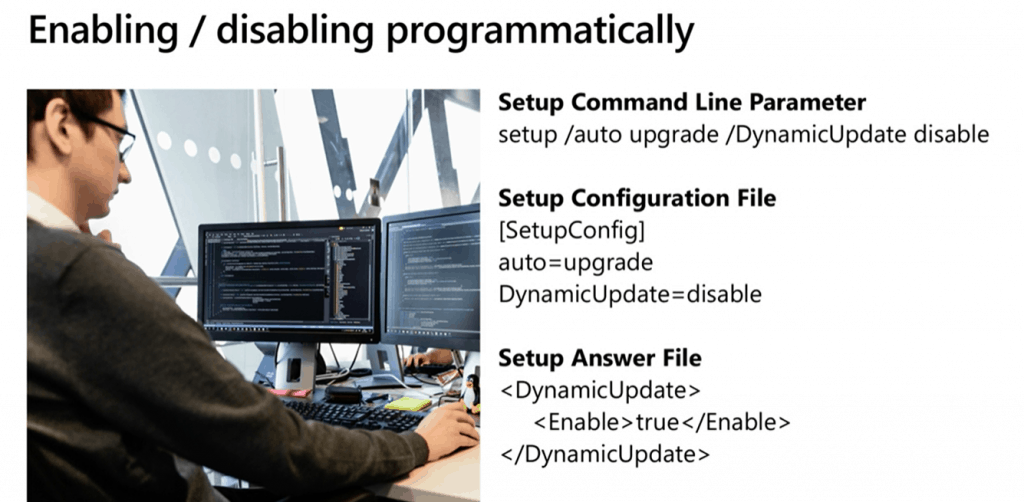 Manually Download Windows 10 Dynamic Update
You can download all the following Windows 10 Dynamic Update from the Microsoft update catalog https://www.catalog.update.microsoft.com/Home.aspx.
Setup DU
Safe OS DU
SSU DU
LCU
NOTE! – You have to download Language Pack and Features on Demand content (separate ISO) from the volume licensing site.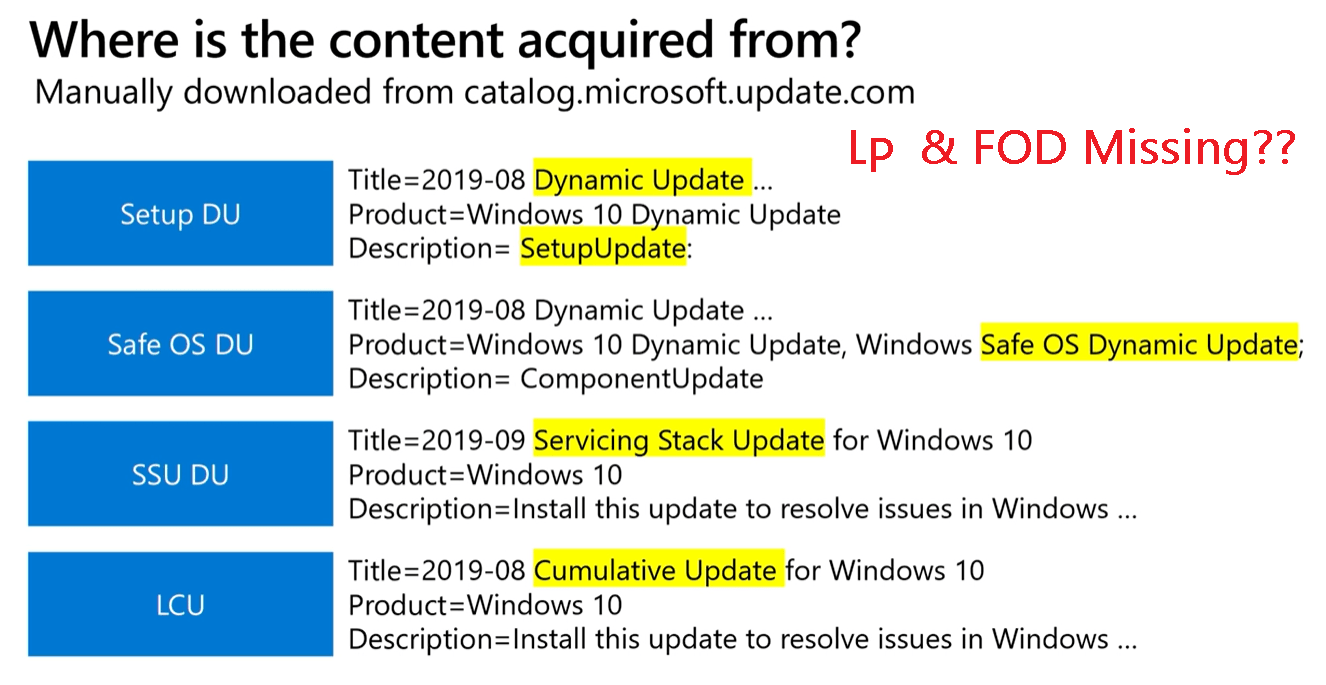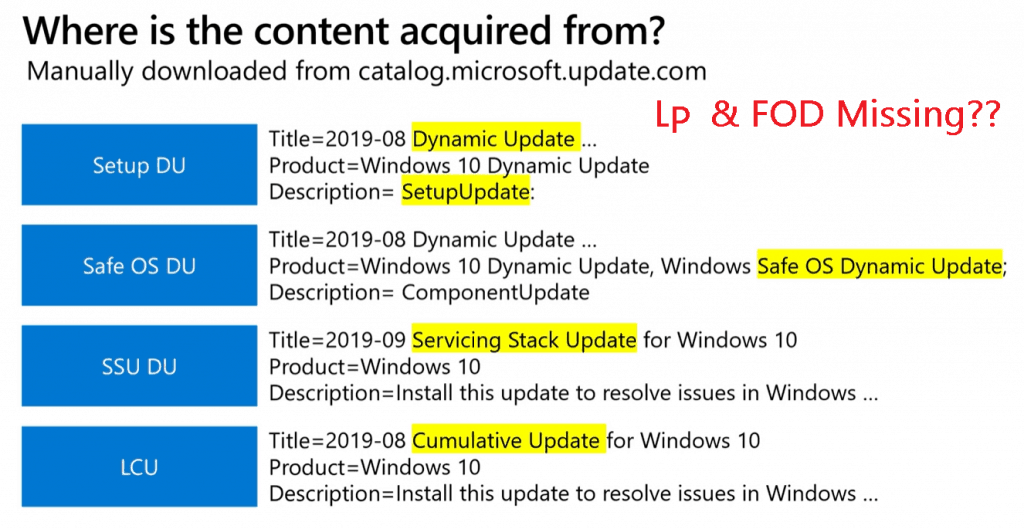 Windows Dynamic Update Flow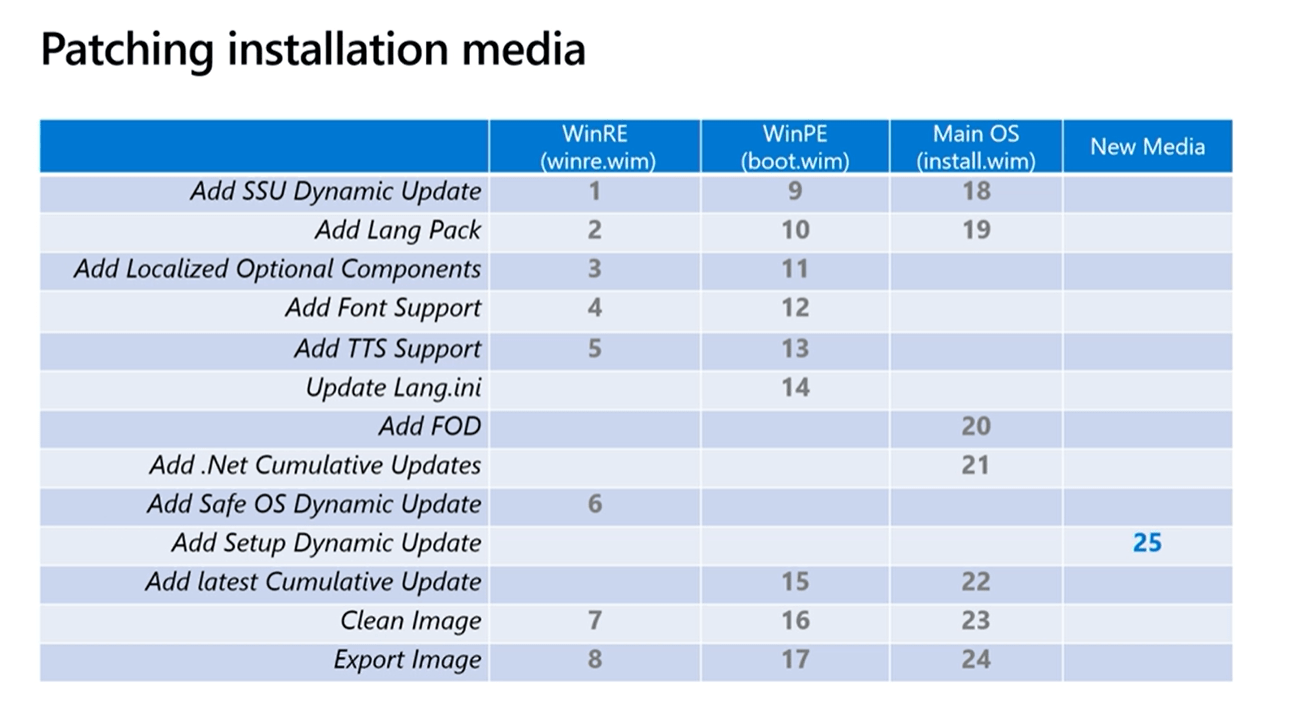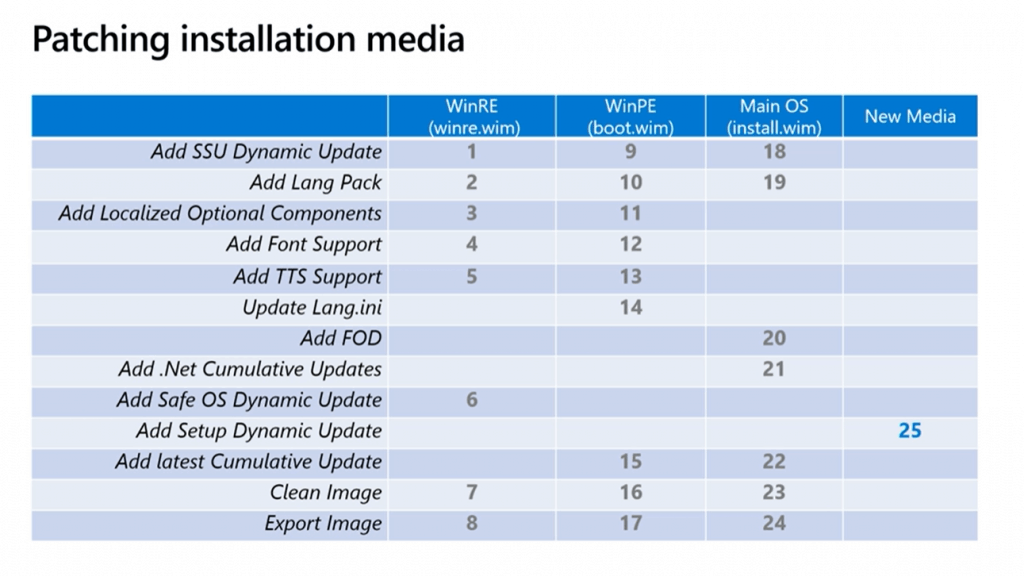 Ignite Session
Is it demystifying Windows 10 Dynamic Update – https://myignite.techcommunity.microsoft.com/sessions/81662?
Resources