Let's Explore ClickOnce App Installation Prompts and Windows 10 Update KB5028244 Issues and Solutions. Microsoft has confirmed a bug already introduced with the July 2023 preview update KB5028244 for Windows 10 22H2. This issue persists and has been carried over into subsequent updates as well.
After installing KB5028244 or later updates, a situation might arise where applications deployed through ClickOnce could start requesting installation, even if these ClickOnce apps have already been installed and designated as "trusted."
We have an article highlighting the Windows Updates New Feature Get the Latest Updates as soon as They're Available. This feature appeared in April's optional patch Windows Updates. Access the Temporary Enterprise Feature Control video to gain insights into effectively managing the activation of new monthly features via the Intune Windows Update for Business (WUfB) Policy. For more comprehensive information, learn how to toggle enabling or disabling new monthly features using Intune, specifically through implementing monthly patches.
A ClickOnce application is any Windows Presentation Foundation (.xbap), Windows Forms (.exe), console application (.exe), or Office solution (.dll) published using ClickOnce technology. The process of publishing a ClickOnce application offers three distinct ways from a web page, via a network file share, or leveraging traditional media like a CD-ROM.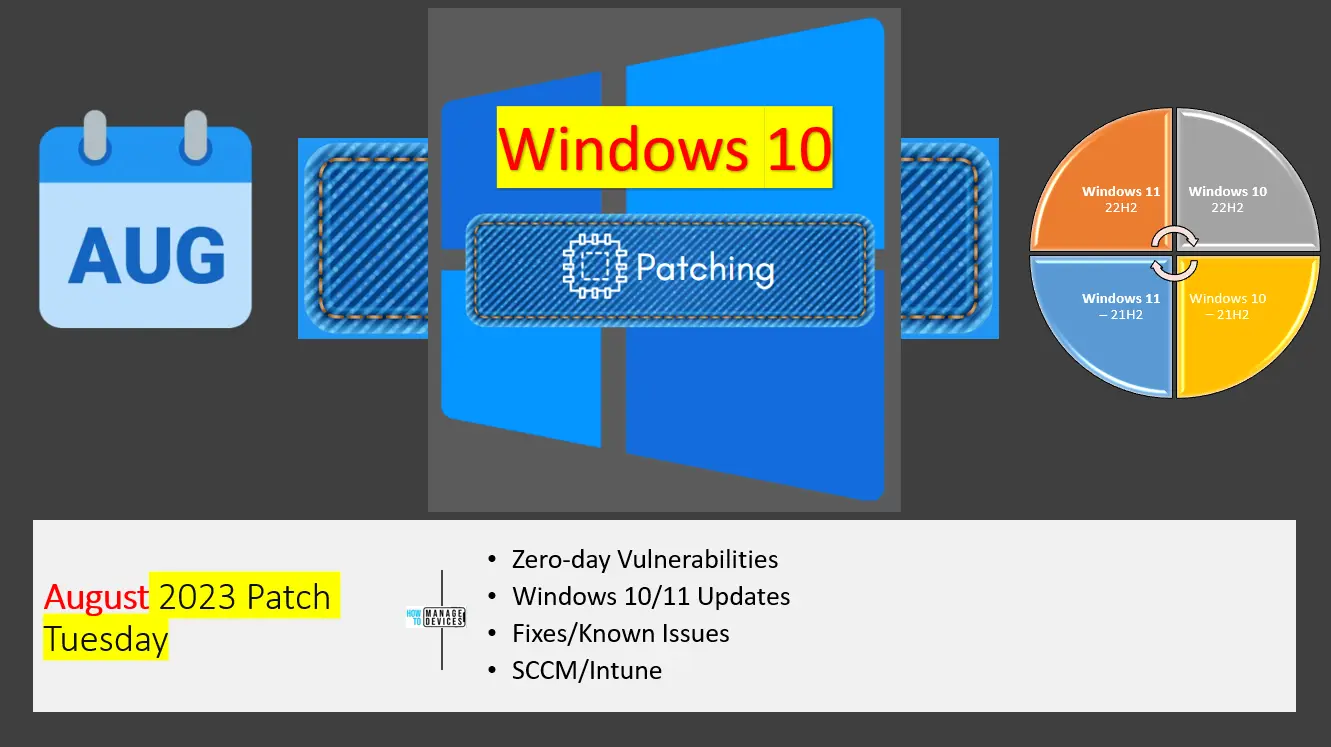 Are ClickOnce Applications Automatically Updated?
Yes, ClickOnce applications support automatic updates. When updates are available, the application can automatically download and install these updates on the user's computer.
Can a ClickOnce Application Run Offline?
Yes, a significant advantage of ClickOnce applications is their ability to be installed and executed on an end user's computer, even offline.
Can ClickOnce Applications be Uninstalled Easily?
Yes, ClickOnce applications can be easily uninstalled from the user's computer. Users can remove the application through the standard software uninstallation process in the Windows operating system.
ClickOnce App Installation Prompts and Windows 10 Update KB5028244 | Issues and Solutions
When facing ClickOnce app installation prompts in the presence of Windows 10 Update KB5028244, it's essential to address the issue promptly. Users can attempt to resolve this by employing several strategies. The table below helps you to show the "Apps deployed via ClickOnce might prompt for installation when opened" status, Originating update and history.

Status
Originating update
History
Resolved KB5029331
OS Build 19045.3271
KB5028244
2023-07-25
Resolved: 2023-08-22, 10:00 PT
Opened: 2023-08-13, 18:39 PT
ClickOnce App Installation Prompts and Windows 10 Update KB5028244 | Issues and Solutions – Table 1
Windows 10 Update KB5028244 Inducing ClickOnce Installation Issues
Microsoft has confirmed a known issue caused by recent updates rolled out for Windows 10. Let's check the ClickOnce Installation Issues while inducing Windows 10 Update KB5028244. Select Settings Apps from the Start menu.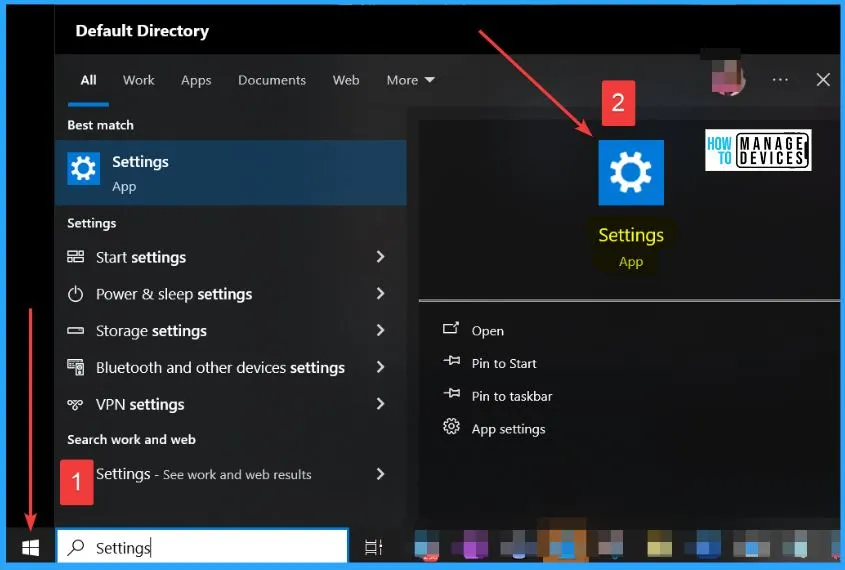 The Settings app, formerly PC Settings, is an integral element of Microsoft Windows. It allows users to adjust their user preferences, configure their operating system, and manage their connected devices. The Windows settings help you to show options such as Devices, Accounts, Privacy, Network and Internet, Updates and security, etc.
Select Update and Security from Windows Settings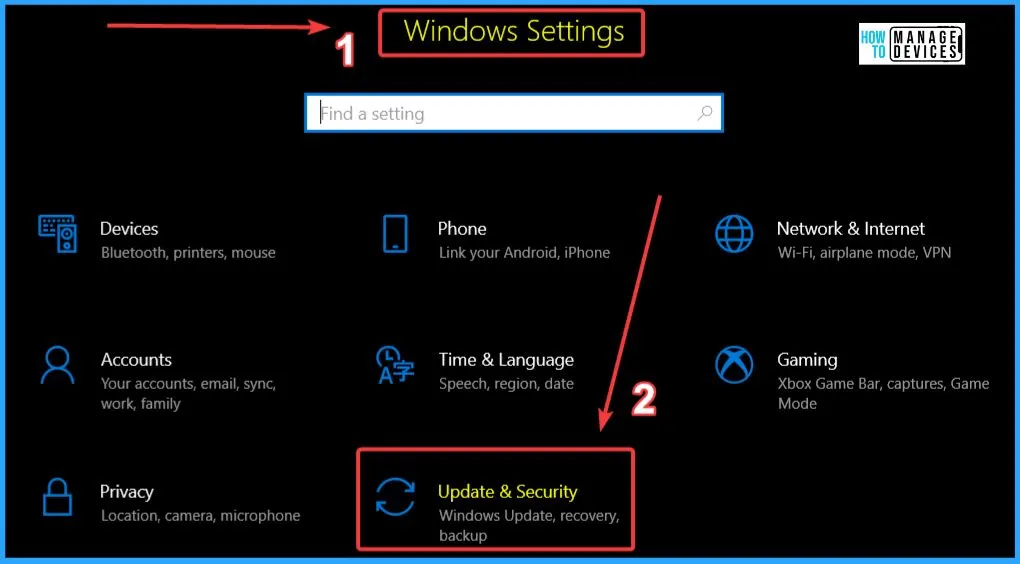 Update and security in Windows settings help you to show a set of options such as Windows update, Delivery optimization, Windows security, Backup, troubleshooting, Recovery, etc. Select Windows update on the Left side of the settings window.
Select View update history from the below update window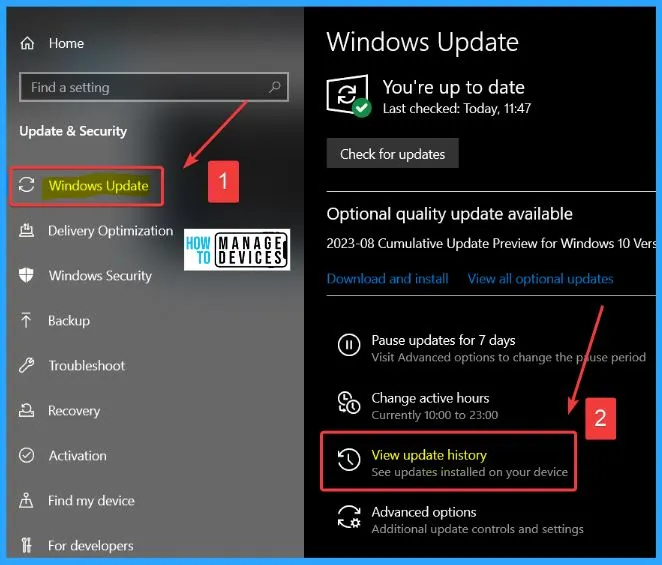 Quality Updates
The cumulative update for Windows 10 version 22H2 for x64-based systems(KB5029244) was successfully installed on 23-08-2023 and is shown on my PC. According to Microsoft's statement on this recent known issue, the problem arises after installing the latest updates. Apps deployed using ClickOnce technology may initiate installation prompts, even if already installed and designated as trusted.
Essentially, the ClickOnce apps display as not installed when, in fact, they have been, which encapsulates the root of the issue.
Affected Platforms
Client: Windows 10, version 22H2; Windows 10, version 21H2
Server: None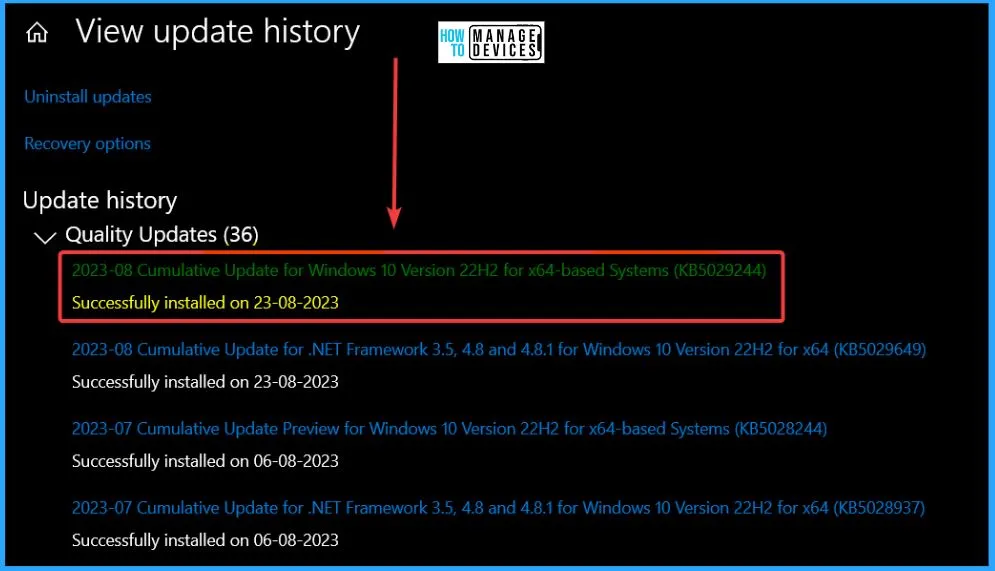 ClickOnce Application and the Benefits of Using ClickOnce for Deployment
Clickonce application is any Windows presentation foundation, forms, Console application, or Office solution published using Clickonce technology. ClickOnce simplifies the deployment process by allowing easy distribution over the web, network shares, or physical media.
It provides users with free installation and updating experiences.
Moreover, its ability to run both online and offline offers enhanced flexibility for different usage scenarios.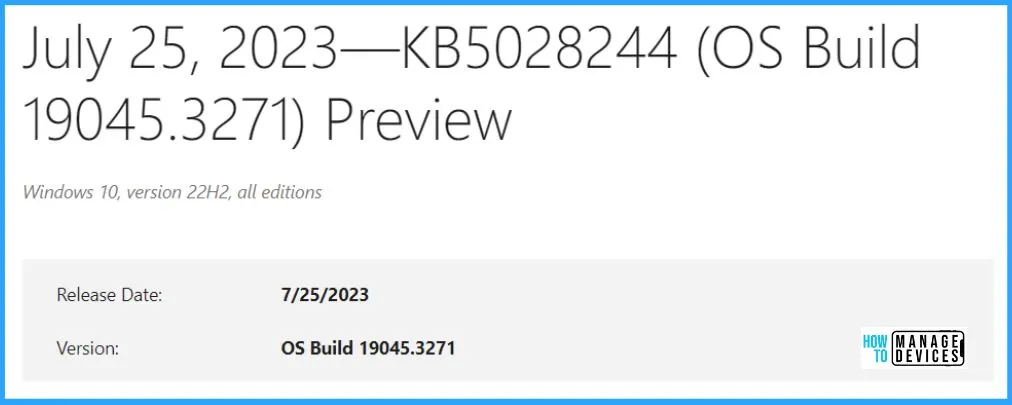 Workaround Related to the Issue
As per Microsoft, users can employ the solution to uninstall the affected ClickOnce Application that is encountering installation prompts incorrectly and then reinstall the application. This workaround aims to reset the application's status and should reduce the installation prompt problem.
Resolution
This issue has been effectively resolved through updates launched on August 21, 2023 (KB5029331) and subsequent versions. After installing KB5029331 or later updates, you do not need to use a Known Issue Rollback (KIR) or a special Group Policy to resolve this issue. For instances where the issue persists due to updates released before August 21, 2023, a solution is provided by installing and configuring a specific Group Policy.
The special Group Policy can be found in Computer Configuration -> Administrative Templates -> <Group Policy name listed below>.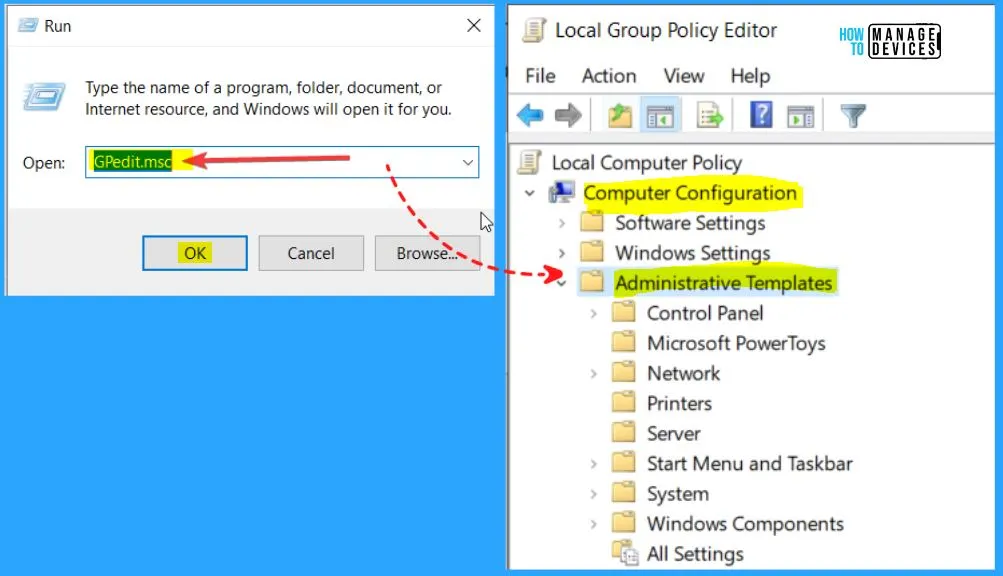 Known Issue Rollback (KIP)Process
Known Issue Rollback (KIR) helps you keep Windows devices protected and productive. KIRs apply to only nonsecurity updates. This is because rolling back a fix for a nonsecurity update doesn't create a potential security vulnerability. Microsoft's KIR is the Technology. The applicable Versions are the Windows Server 2019 and Windows 10 versions 1809 and later.
It helps you to facilitate the targeted rollback of a specific change introduced by a nonsecurity Windows Update release. Only the particular change causing an issue is rolled back, leaving other changes from the same update untouched.
KIR is employed when a Windows update introduces an unintended problem or regression, avoiding the need to uninstall the update.
The rollback executed using KIR is temporary and remains in place until a subsequent update is issued to address the identified problem.
Instead of uninstalling the update, KIR allows precise resolution by targeting the problematic change.
Once Microsoft releases an update to fix the problem, the rolled-back change is reintroduced, restoring the original functionality.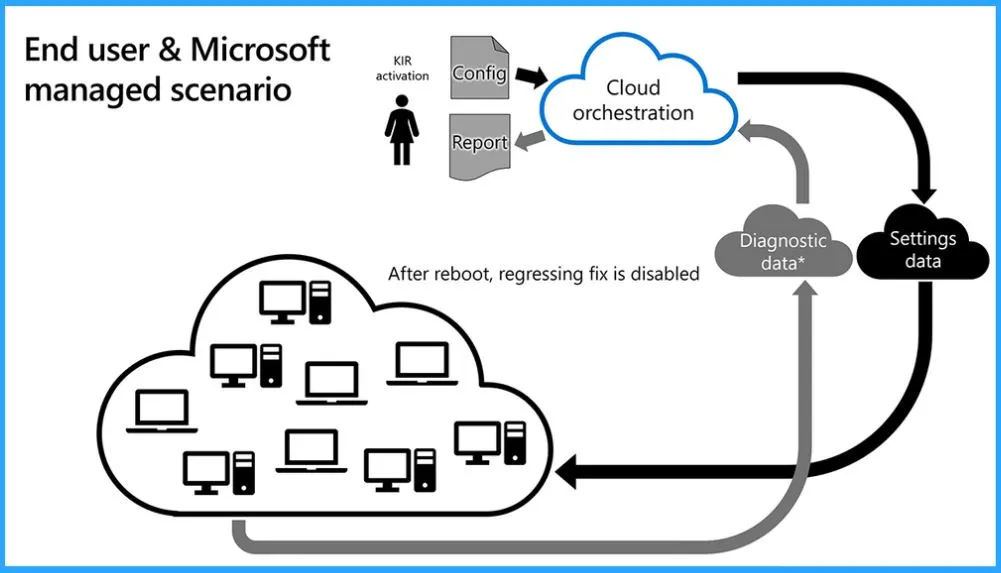 Group Policy Downloads with Group Policy Name
You can easily find the Group Policy with the Group Policy name. Download for Windows 10, version 22H2; Windows 10, version 21H2 – Windows 10 20H2, 21H1, 21H2 and 22H2 KB5028244 230814_03351 Known Issue Rollback.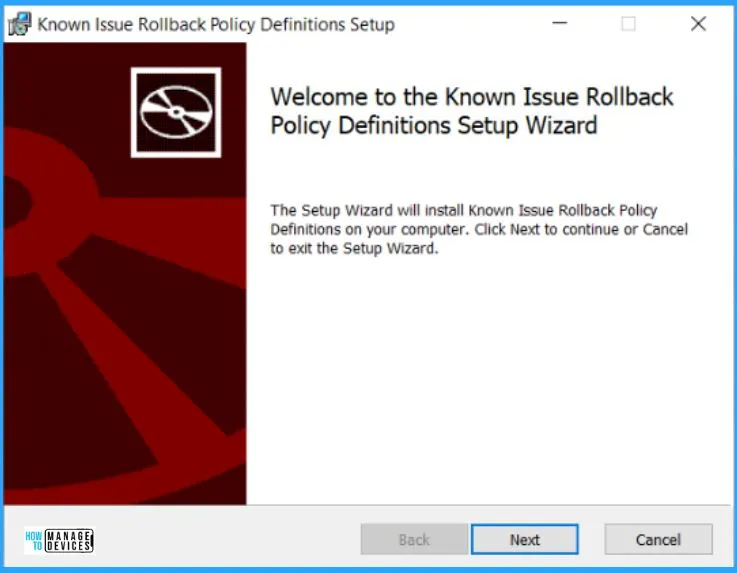 Author
About the Author – Vidya is a computer enthusiast. She is here to share quick tips and tricks with Windows 11 or Windows 10 users. She loves writing on Windows 11 and related technologies. She is also keen to find solutions and write about day-to-day tech problems.