Let's learn how to enable Windows 10 servicing using SCCM (a.k.a Configuration Manager). I've seen many organizations using an In-place update task sequence instead of Windows 10 servicing to upgrade to the latest version of Windows 10 2004.
Pre Requisites
To enable Windows 10 servicing using SCCM + WSUS, the following are the supported WSUS version required.
WSUS 10.0.14393 (role in Windows Server 2016)
WSUS 10.0.17763 (role in Windows Server 2019) (Requires Configuration Manager 1810 or later)
WSUS 6.2 and 6.3 (role in Windows Server 2012 and Windows Server 2012 R2)
NOTE! – Don't worry about the warning message if your WSUS server is on Windows server 2019.


From the Products make you have enabled the following product.

Windows 10, version 1903 and later


The service connection point must be installed and configured for Online
Enable Specify thread priority for feature updates from Client settings (1902 or later).
Enable Dynamic Update for feature updates from Clients settings (1906 or later).
Enable Windows 10 servicing using SCCM
Let's follow the below steps to enable Windows 10 servicing using SCCM.

Launch ConfigMgr console
Navigate to the Administration workspace. Expand Site Configuration, and select the Sites node.
Select the top-level site in the hierarchy. Click Configure Site Components from the ribbon menu, and select Software Update Point.
Click the Classification tab from Software Update Point Component Properties.
Click on UPGRADE and enable the checkmark for upgrade options.


Sync All Windows 10 Update
Now, let's sync using Synchronize Software Update option to enable the upgrade category.


Log – WSyncMgr.log
Let's review the log file to understand the sync process.
Performing sync on local request
Full sync required due to changes in category subscriptions.
Read SUPs from SCF for CMMEMCM.memcm.com
Synchronizing WSUS, default server is CMMEMCM.memcm.com
Synchronizing WSUS server CMMEMCM …
sync: Starting WSUS synchronization
sync: WSUS synchronizing categories
sync: WSUS synchronizing categories, processed 1 out of 1 items (100%)
sync: WSUS synchronizing updates
sync: WSUS synchronizing updates, processed 166 out of 6771 items (2%), ETA in 00:39:47
sync: WSUS synchronizing updates, processed 6771 out of 6771 items (100%)
Done synchronizing WSUS Server CMMEMCM
Requested categories: Product=Windows 10, version 1903 and later, Servicing Drivers, Product=Office 365 Client, Product=Windows 10, Product=Windows 10, version 1903 and later, UpdateClassification=Security Updates, UpdateClassification=Update Rollups, UpdateClassification=Upgrades, UpdateClassification=Service Packs
Synchronizing update 96326779-6c2b-4018-befe-452a0518fd28 - Feature update to Windows 10 (consumer editions), version 2004, uk-ua x86
Synchronizing update 3a14b9a0-aaa7-41a6-863f-ab78d3f112c4 - Feature update to Windows 10 (consumer editions), version 2004, en-us x86


Results – Enable Windows 10 servicing using SCCM
Navigate to \Software Library\Overview\Windows 10 Servicing\All Windows 10 Updates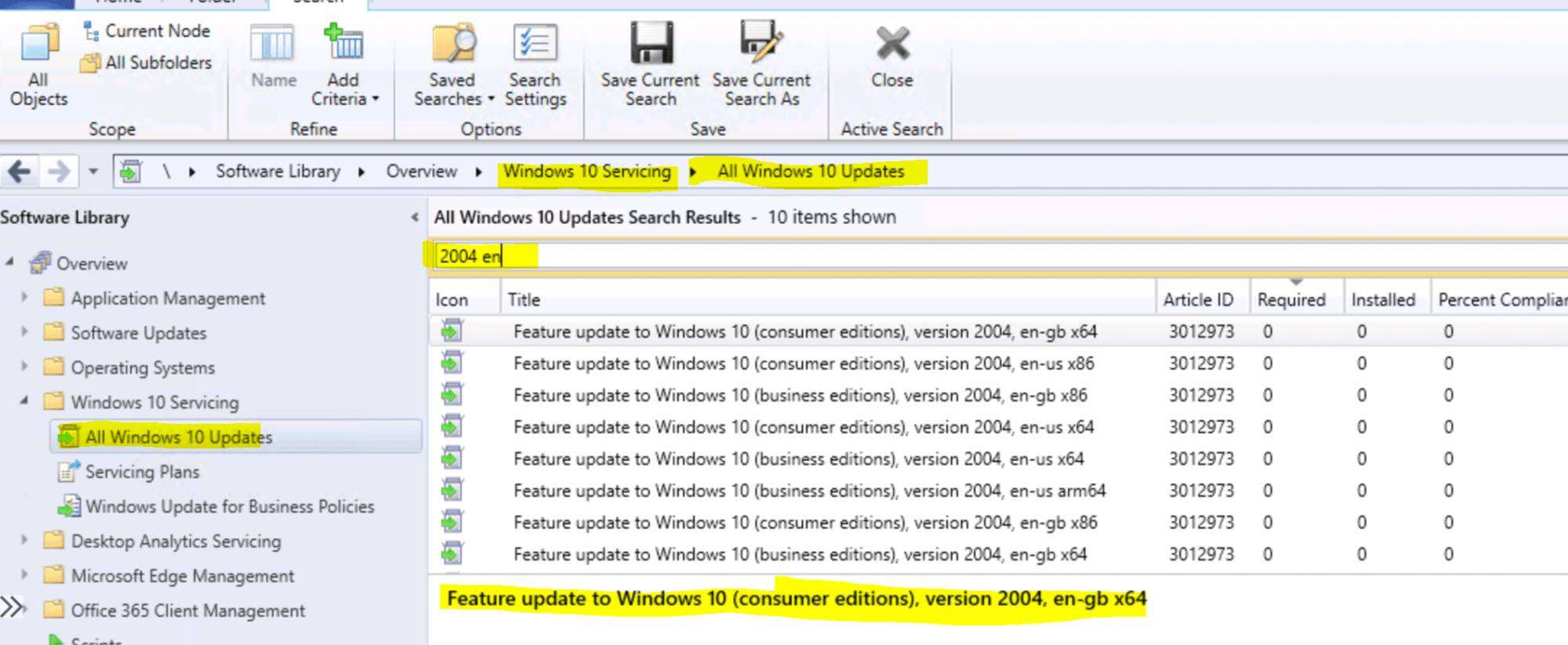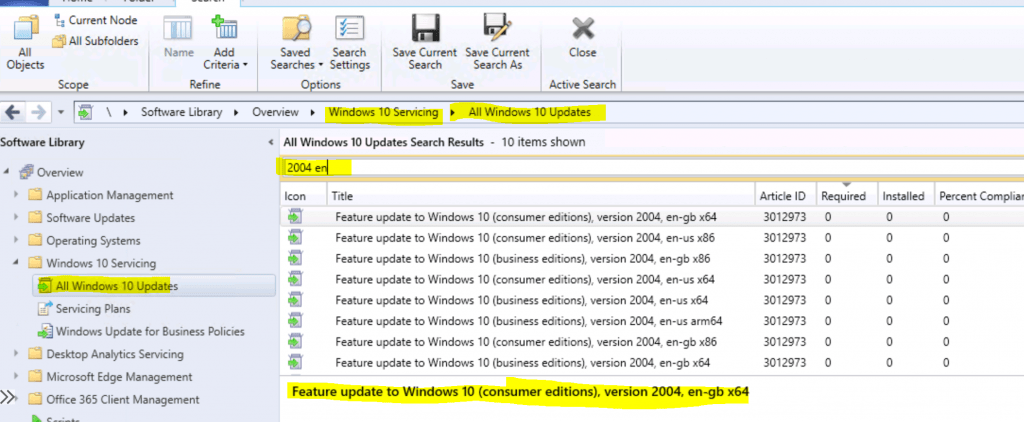 Resources