I stumbled across another useful Intune troubleshooting option. Have you notices an option in Intune troubleshooting blade to get into each set of device configuration profile? Intune Device Configuration profile settings view helped me to troubleshoot restriction policy deployments.
Basics of Intune Troubleshooting
There are two (2) phases in Intune device restriction policy troubleshooting. All these two steps are explained in the video tutorial below. In all Intune troubleshooting, I would recommend to start with Intune portal and then move on to next level.
Server Side (Intune Portal) – Deep dive into Intune Troubleshooting with Device Configuration profile settings view
Client Side (Windows iOS Android Device Side) – Troubleshooting Logs/Events etc
What is Device Configuration Profile Settings View?
You might not have heard more about profile settings view as part of Intune troubleshooting blade. This profile settings view in Intune portal is an instrumental view for looking at each setting which you deployed to a device.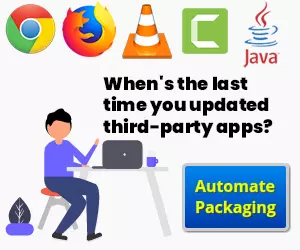 There are three (3) types of details given in the profile settings blade.
Setting —-> Name (OMA-URI details in case of custom CSP)
State ——> Secceeded / Failed / Pending
State Details —--> <Blank> – Coming soon?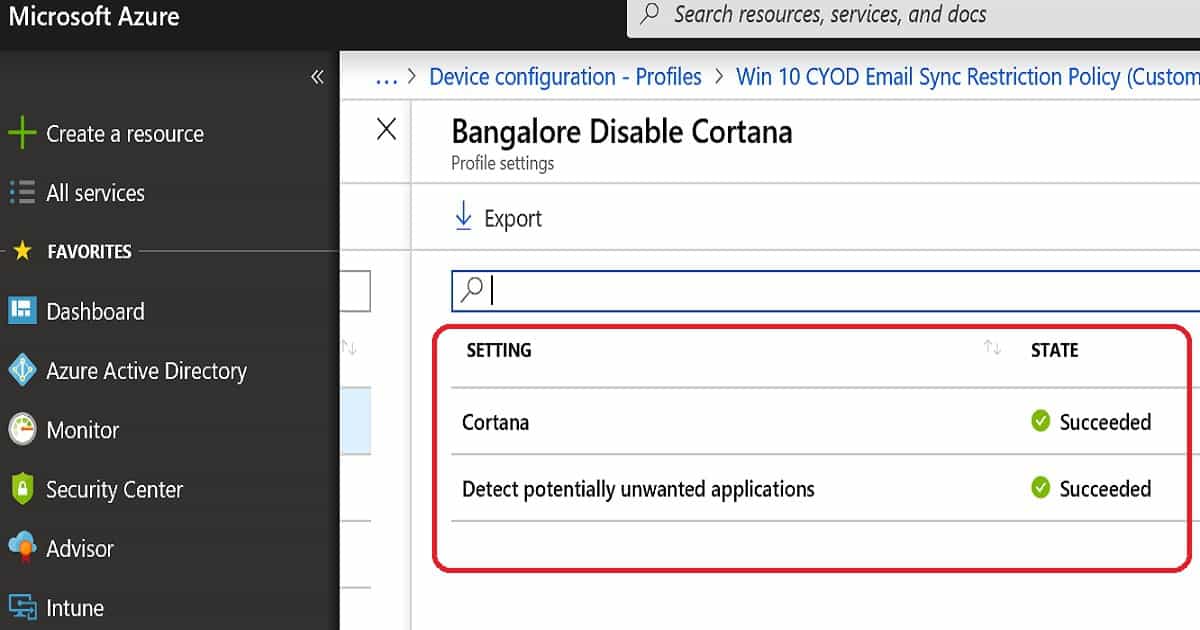 For example – If I have deployed a device configuration profile and that profile has ten (10) settings, Intune Device configuration profile settings view can tell you the status of each of those individual settings. It might be possible that out of ten (10) settings one (1) or two (2) setting got failed and rest all are succeeded. Using profile settings view you can quickly identify the problematic setting and further troubleshooting on it.
Video – Intune Profile Settings View
Where is Device Configuration Profile Settings View?
There are a couple of options to get the details of profile settings of device configuration profile. The best approach is to use Intune troubleshoot blade blade to check profile settings view. The second option is to view it from Device configuration profiles blade. But both of the options will give you same data.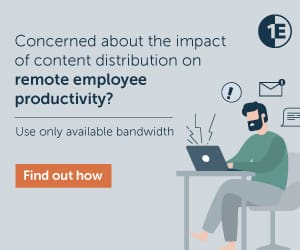 Intune Troubleshooting blade —--> Device Configuration
Intune Device Configuration blade —--> Device Status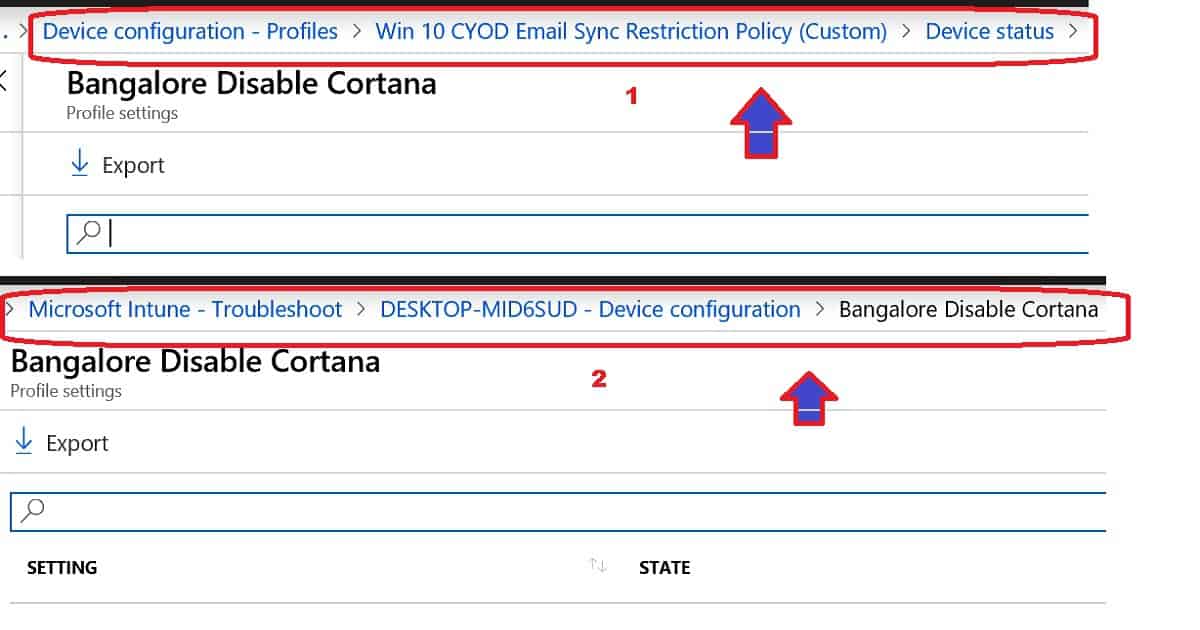 Where to start checking Device Configuration Profile Settings view?
The following steps will help you to get the details of Intune profile settings policies? This blade helped me several times to troubleshoot and drill down into the issue.
Log in to the Azure portal – http://portal.azure.com
Navigate to Intune Blade
Click on Troubleshoot node
Click on Select User button
Search and select the user id which you want to troubleshoot
Click Select to start Intune troubleshooting
Troubleshooting blade will give you all the details of the selected user
Click on the device which you want to troubleshoot
Click on the Device Configuration tab
Select the intune Device Configuration profile you want to troubleshoot
Check out Profile Settings view to confirm which view is failed (if there is any)?
Hover the mouse over the profile settings to check the OMA-URI details when you have deployed custom device configuration policy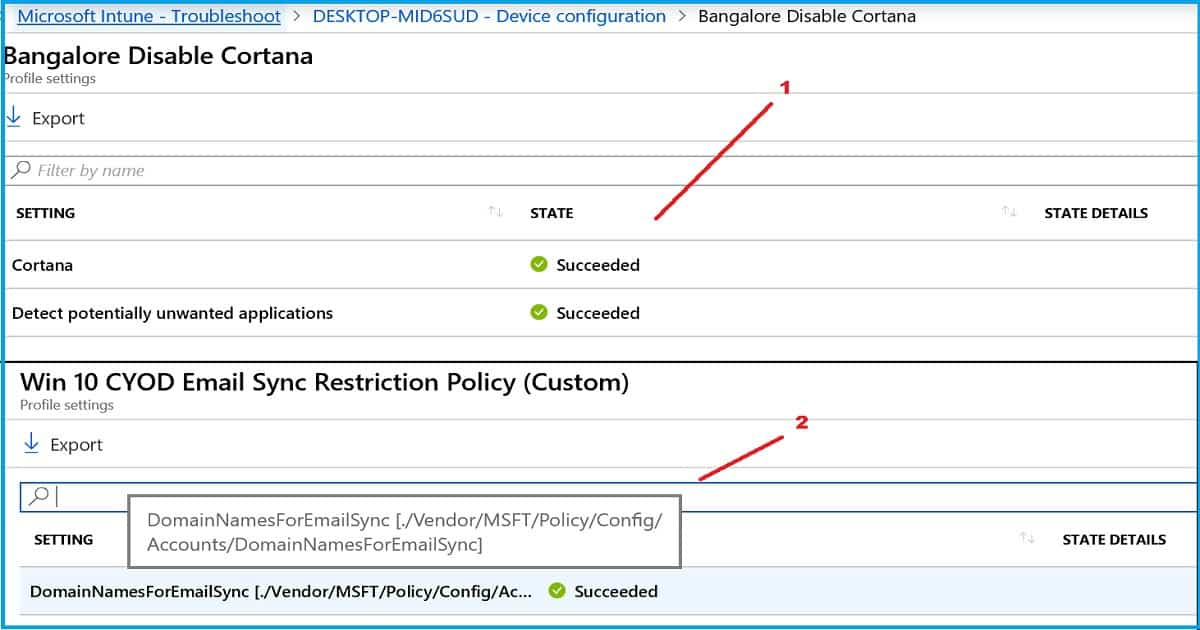 Intune Client Side (Device Side) Intune Troubleshooting
I will segregate this device side troubleshooting into three parts. This segregation is based on the platform of the end user device.
Windows Devices
The troubleshooting Windows devices are the easiest way for me because I'm very used to Windows devices. But it could be different for you.
I have explained Windows troubleshooting in the previous post. But the best place to start troubleshooting is event logs.
Event Logs :- Microsoft->Windows->DeviceManagement-> Enterprise-Diagnostics-Provider/Admin
Event ID 814 Intune Policy Deployed successfully and applied on Windows 10 machine.
MDM PolicyManager: Set policy string, Policy: (DomainNamesForEmailSync), Area: (Accounts), EnrollmentID requesting merge: (0536D04B-985C-452B-9637-D862493F0F61), Current User: (Device), String: (anoopcnair.com|howtomanagedevices.com|xyz.com|abc.com), Enrollment Type: (0x6), Scope: (0x0).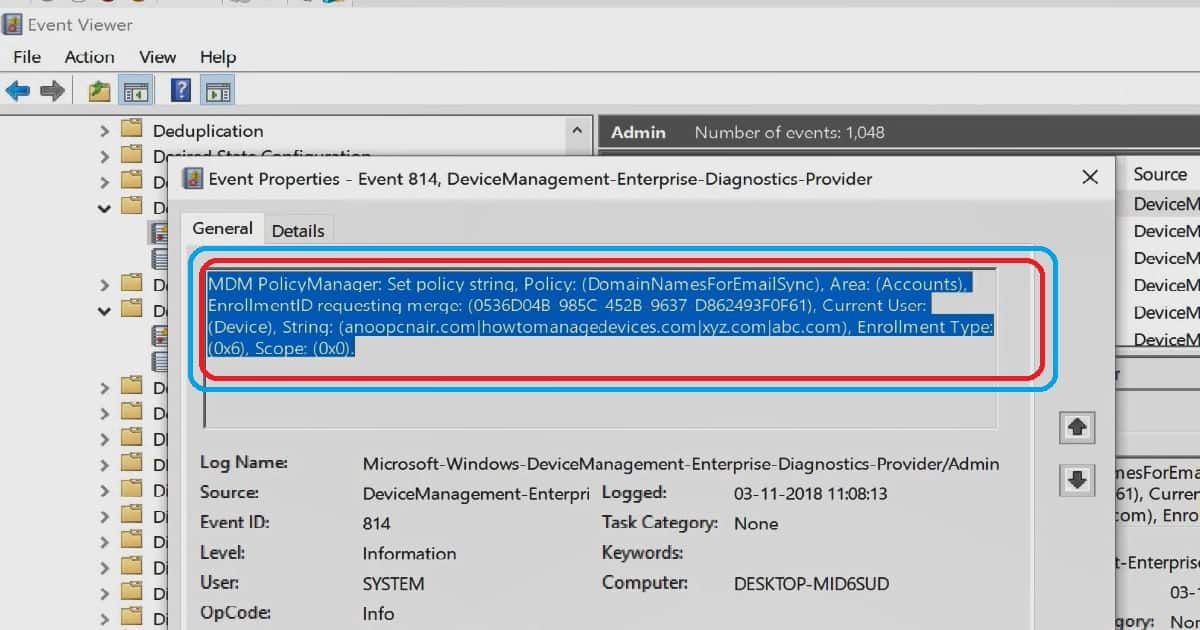 iOS Devices
The best approach to troubleshoot iOS devices is explained in the Microsoft documentation here. Another option is send the logs to IT admins using the Company portal app. Check the device configuration Profile Settings and then check the logs.
In case you are managing iOS device via Intune MAM only, then better to use the following method. To access the Intune Diagnostic Console, open the newest version of Intune Managed Browser and then:
Enter "about:intunehelp" in the navigation bar and follow the instruction from the screen.
Android Devices
Check the device configuration Profile Settings and then check the logs at the Android device. You can get the logs from an Android device using Company portal application.
Company portal application is required in Intune MAM only scenario for Android devices. More details available in the following documentation from Microsoft. I recommend reading the documentation before starting troubleshooting Intune managed Android devices.
https://docs.microsoft.com/en-us/intune-user-help/troubleshoot-your-device-android