How to Start Troubleshooting Intune Issues | Fix Intune Issues with Easy Steps Microsoft Endpoint Manager. Intune troubleshooting is made easy with the Azure portal. It's recommended to start with the "Microsoft Intune – Help and Support" page in the Intune portal whenever you face any issue with Intune.
In this post, we will see "How to start Troubleshooting Intune Policy Deployment Issues from Intune portal." More tips, "Troubleshoot Intune Issues."
You can also check the user-based Intune security policy troubleshooting from the following post – Intune User Policy Troubleshooting Tips For Prevent Changing Theme. There is one post that will help you to resolve device based Intune security policy issues – Troubleshoot Microsoft Edge Security Policy Deployment Issues with Intune.
Latest Intune Troubleshooting Strategies | Fix Intune Policy Conflicts | Methods IT Admins -Helpdesk
In this video, you will learn about the Latest Intune Troubleshooting strategies to make Intune app and policy deployment troubleshooting easy!

Related Posts
Update 20-Jan-2018 – When you have an iOS device and want to perform Intune side of troubleshooting, Microsoft released an excellent document here, "Troubleshooting iOS device enrollment problems in Microsoft Intune."
How do you check the status of Intune service? – Troubleshooting Intune Issues
When you have a major issue with Intune managed devices, the first place is to look at the current status of the Intune and other dependent services. You can check that from the Intune Tenant Admin – tenant status tab from the MEM Admin Center portal.
Under the Tenant status tab, there is a link to check the status of your Intune and other services for your tenant. Intune service status – See the current level of the service where you can get the position.
You can check Intune service health for your tenant from the Sevice health and Message Center tab. Also, Intune message center provides you with the details about the new changes and information related to that.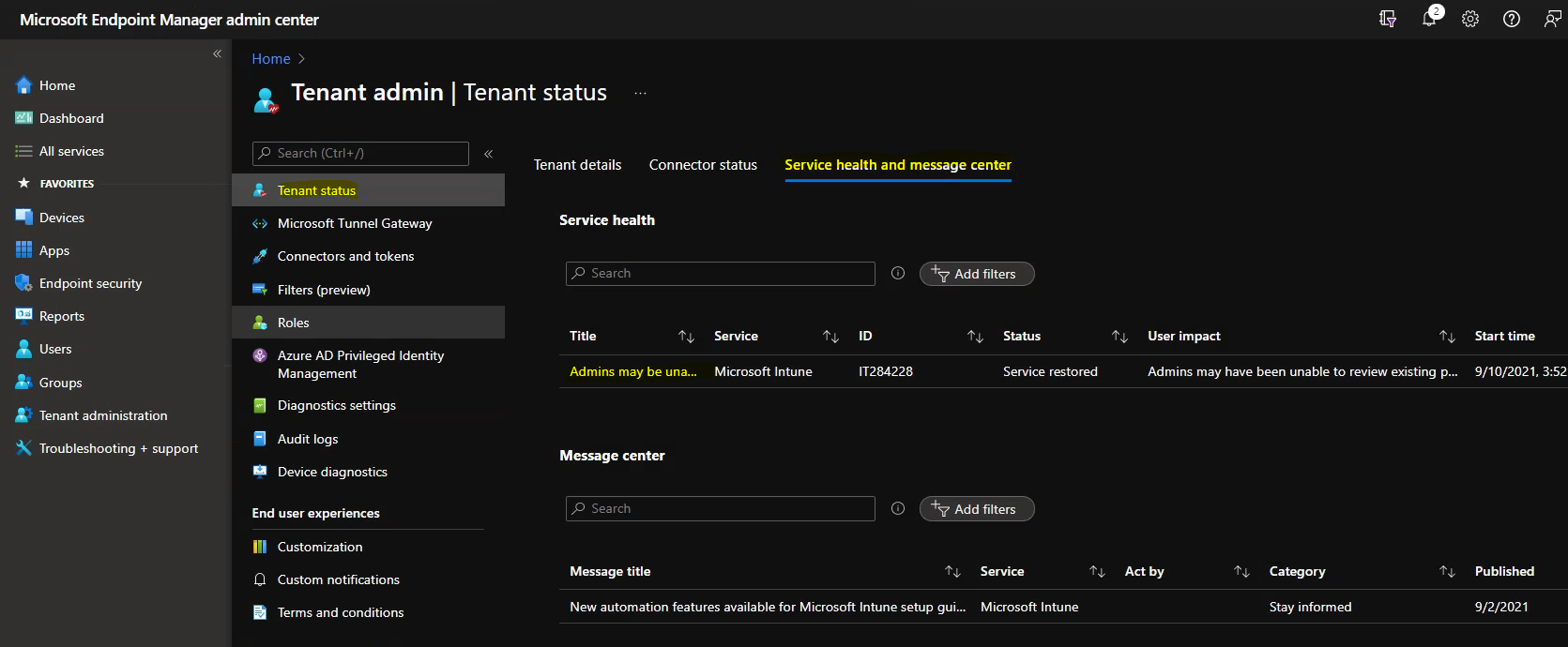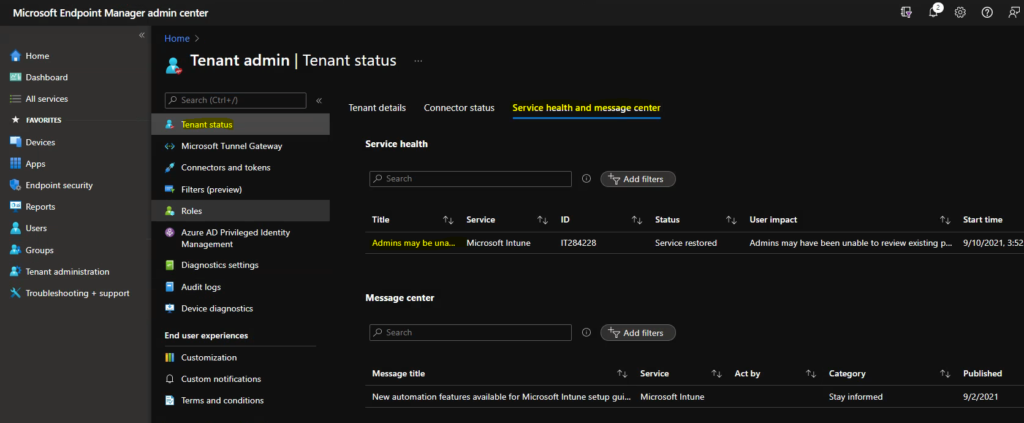 How to start troubleshooting Intune Policy Deployment?
When you have a major impact on all Intune-managed devices/users, ensure that the tenant's health is OK. Once you are sure that there is no issue from the Intune service side for your tenant, it's time to proceed with your policy assignment and other detailed troubleshooting.
When the issue is NOT impacting all devices or users, it's better to start with the second stage of Intune troubleshooting.
[Related Posts – How to Troubleshoot Windows 10 Intune MDM Issues]
Troubleshoot +Support is the tab from the MEM admin center portal. Select one of the users having issues with application or policy deployment. For example, when a user is not getting the application assigned to AAD Group. Another example is the user is not getting the compliance of configuration policies assigned.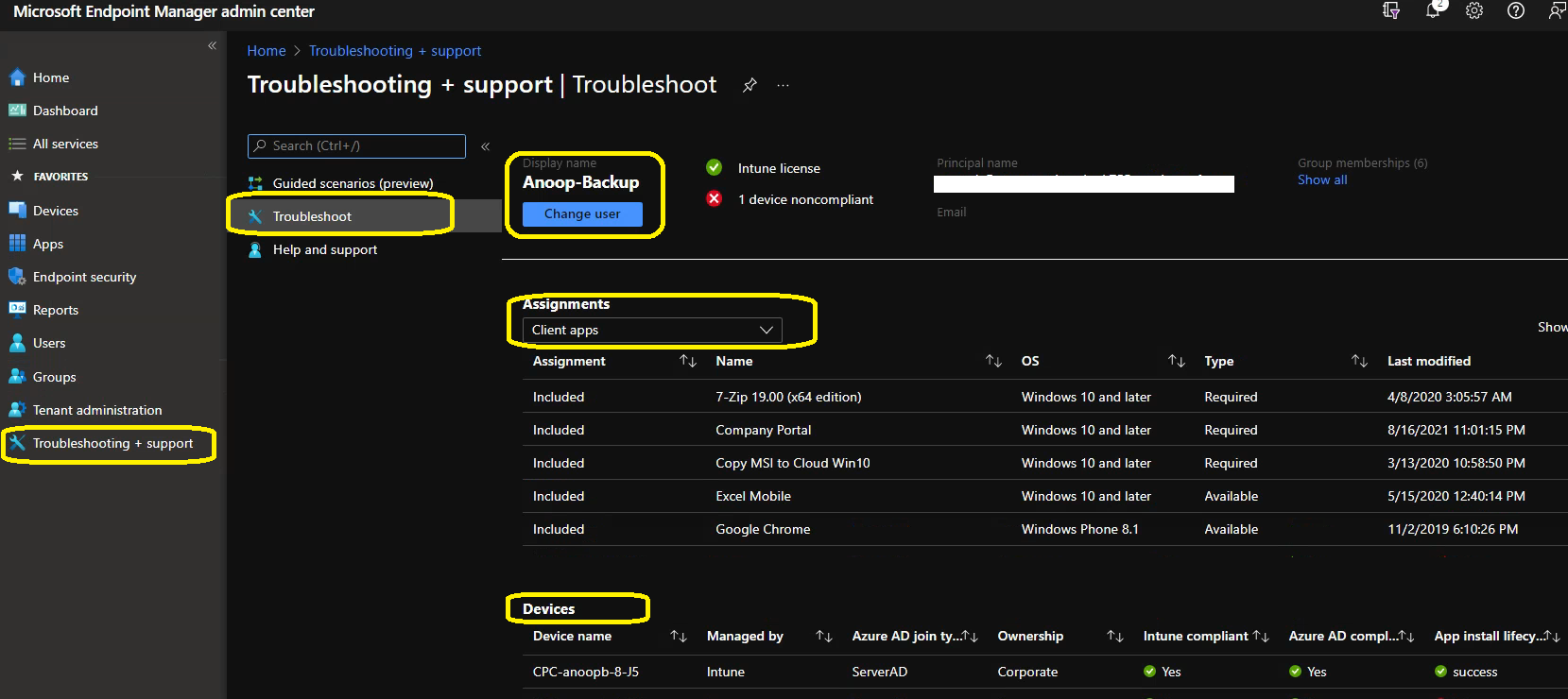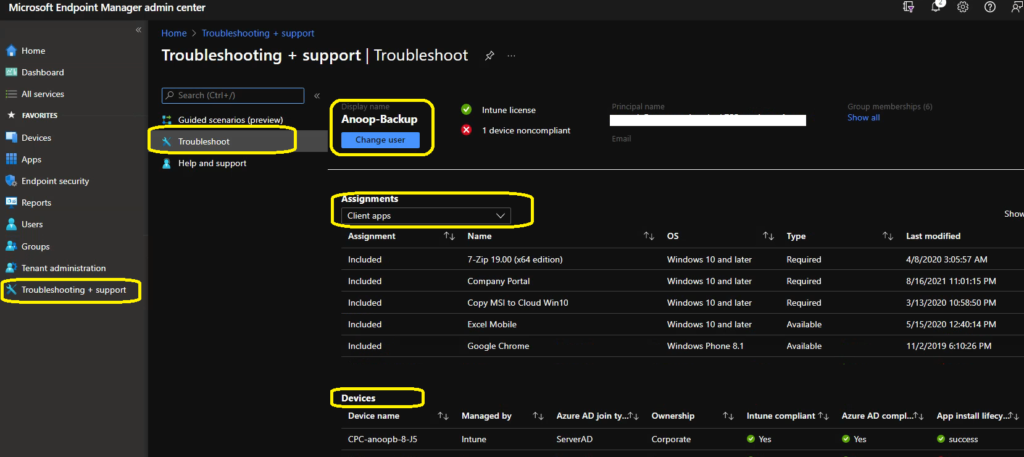 I selected Anoop Nair as the user. All the details of this user will be available in the troubleshooting tab. This will help Intune admin to confirm whether we have targeted all the applications and policies to correct AAD groups. You can check and confirm whether the user.
Does the user have a valid Intune license or not
Is the user part of the correct AAD group or not
Is the Device compliant or not
Status of Company Data Removal/wipe from a device
Another set of user details you can check in the troubleshoot tab of Intune blade is the Principal name of the selected user and Email ID. All the other information available in the Intune troubleshooting blade are
Intune license assigned to user or not
Whether Devices compliant status
Whether apps are in a compliant state or not
Azure AD Group membership for the user
Mobile Apps Assignment to the user
Compliance policies deployed or assigned to users
App protection status for the devices
Configuration profile deployment status for the user
List of the devices for that user and status of devices
There are some red icons, as you can see in the video tutorial and the screenshot below. Those red icons could indicate potential issues with application or policy deployments. I could see problems with the Android device of Anoop. App protection status is not looking good for Android devices. The Intune troubleshoot blade provides a useful report that "31 apps non-compliant".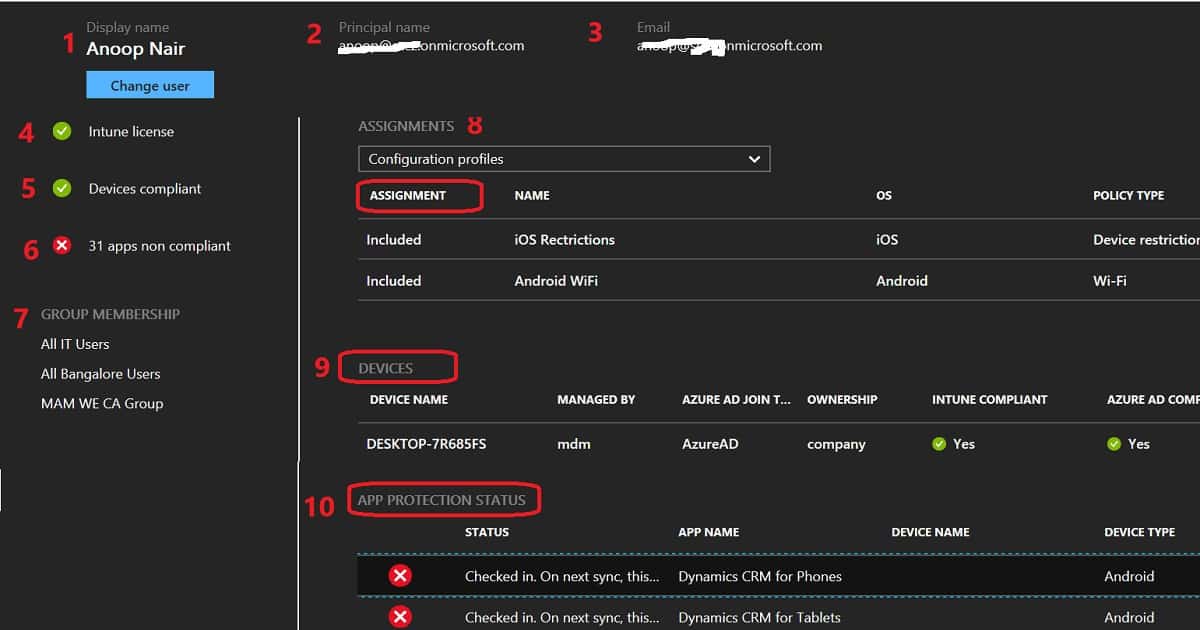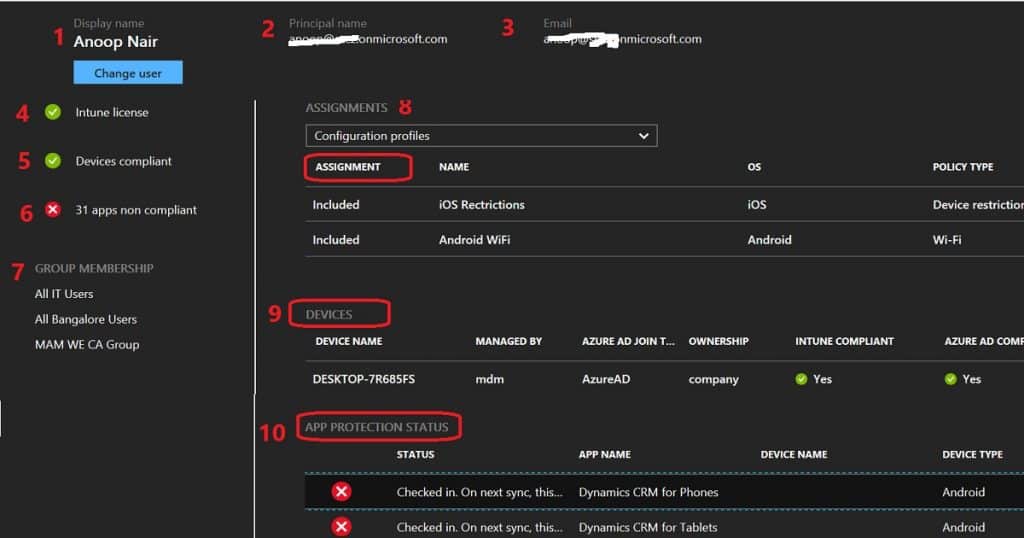 There are Six (6) Assignment categories in Intune Troubleshooting Blades. Each type will give you the details of the user assignments. If some terms are missing, we need to look at the targeting AAD groups of those policies.
Mobile Apps
Compliance Policies
Configuration Profiles
App Protection Policies
Windows 10 Update Rings
Enrollment Restrictions
The above information is important to start Intune troubleshooting from the Azure portal. We can directly go into details of each of the assigned policies for that user from the troubleshooting tab. More detailed troubleshooting can be done by looking at the device properties and hardware information.
For example, you have started a company data wipe action for a device, but, the device or user can still access the corporate mail from the device. Intune admin can directly search the user from Intune troubleshooting session and get all the user's device details. Once the device is identified, you can check the following information about the device.
Device name, Managed by, Azure AD join type, Ownership, Intune compliant, Azure AD compliant, OS, OS version, and Last check-in.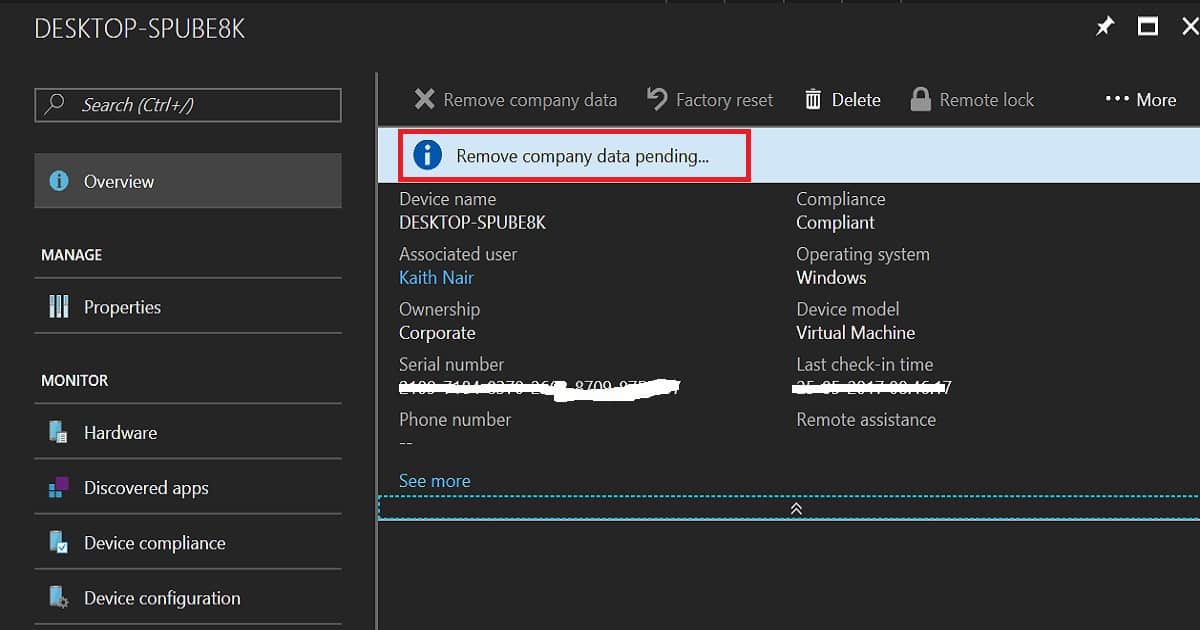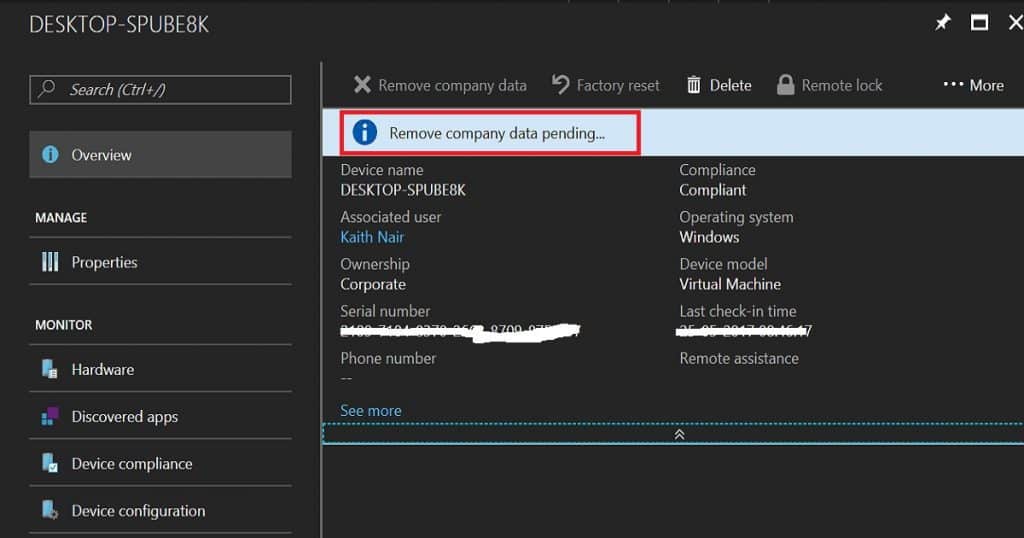 Last Check-In details are important in this device retirement, or company data wipe troubleshooting scenario. The last check-in details will tell you when the device was in touch with Intune service is the last time. You can check the Company Data Removal action, Factory reset details, and status from the Intune troubleshooting blade.
[Related Posts – How to Troubleshoot Windows 10 Intune MDM Issues]
The Intune Troubleshooting blade is a one-stop shop for all the troubleshooting activities related to Intune device management, compliance policies, configuration profile deployments, etc.
How to raise a free Intune support case for Intune Issues?
Microsoft provides an option to raise a support case for Intune issues from the Intune MEM admin center portal – The Help and Support tab. The charges of these types of support cases are directly linked to your Intune subscription contract.
There is an option to raise an Intune support case with Microsoft's exclusive contract. I would recommend using premier contract support for Intune issues that are of high impact and if you need immediate help.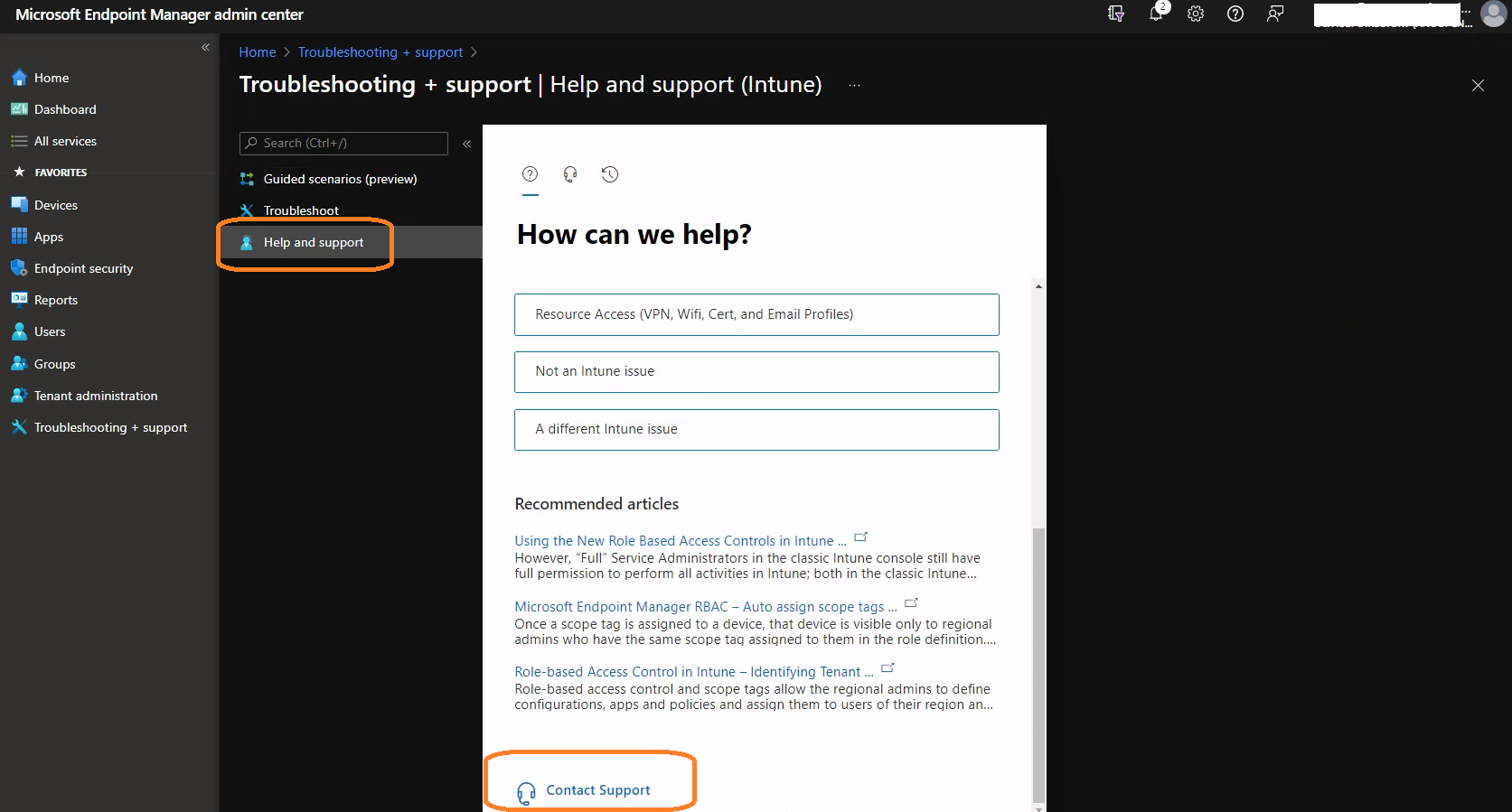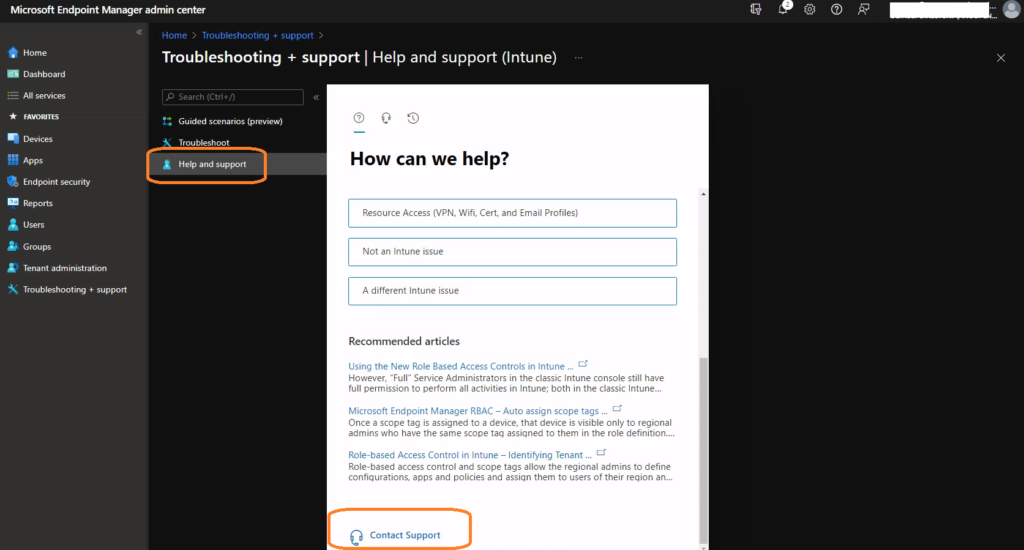 Severity options are important while raising Intune support case. Severity options should be selected as per the impact of the issue. Also, depending on the severity of the problem, the response time will vary. There are three categories, as you can see below:-
C- Minimal Impact – The issue impacts only a couple of users or devices etc.
B – Moderate Impact – The issues that can become critical in a couple of days if they aren't resolved ASAP.
A – Critical Impact – High Priority issues which are impacting a whole lot of users
[Related Posts – How to Troubleshoot Windows 10 Intune MDM Issues]
References
General troubleshooting tips for Microsoft Intune – here
How to get support for Microsoft Intune – here
How to Troubleshoot Windows 10 MDM Policy Deployments – here
Intune Support Case Severity Levels and Response time – here
Author
Anoop is Microsoft MVP! He is a Solution Architect in enterprise client management with more than 20 years of experience (calculation done in 2021) in IT. He is Blogger, Speaker, and Local User Group HTMD Community leader. His main focus is on Device Management technologies like SCCM 2012, Current Branch, and Intune. He writes about ConfigMgr, Windows 11, Windows 10, Azure AD, Microsoft Intune, Windows 365, AVD, etc……………