Let's try to understand How toCreate Microsoft Store Apps in SCCM Application. Microsoft Store for Business gives the opportunity for organizations to make store applications available for SCCM admins automatically.
This guide gives you the opportunity to find, acquire, manage, and distribute free and paid store apps to ConfigMgr and deploy it to Windows 10 devices. Make sure you have already completed the connection configuration between SCCM and MSfB.
NOTE! – This feature is getting deprecated by Microsoft. So this feature won't be available after the 2022 Nov release of SCCM.
Create Microsoft Store Apps in SCCM Application
I hope you already completed the activities mentioned in the previous posts regarding connection configuration between SCCM and MSfB & Add Microsoft Store Application to ConfigMgr.

Now let's see how to Create a ConfigMgr Application Object for Microsoft Business Store App.
Launch Admin Console
Navigate to \Software Library\Overview\Application Management\License Information for Store Apps
Select and Right-click on the Company Portal app from Microsoft Store
Click on the Create Application option (or you can use the ribbon menu option to create Microsoft Store for Business application deployment)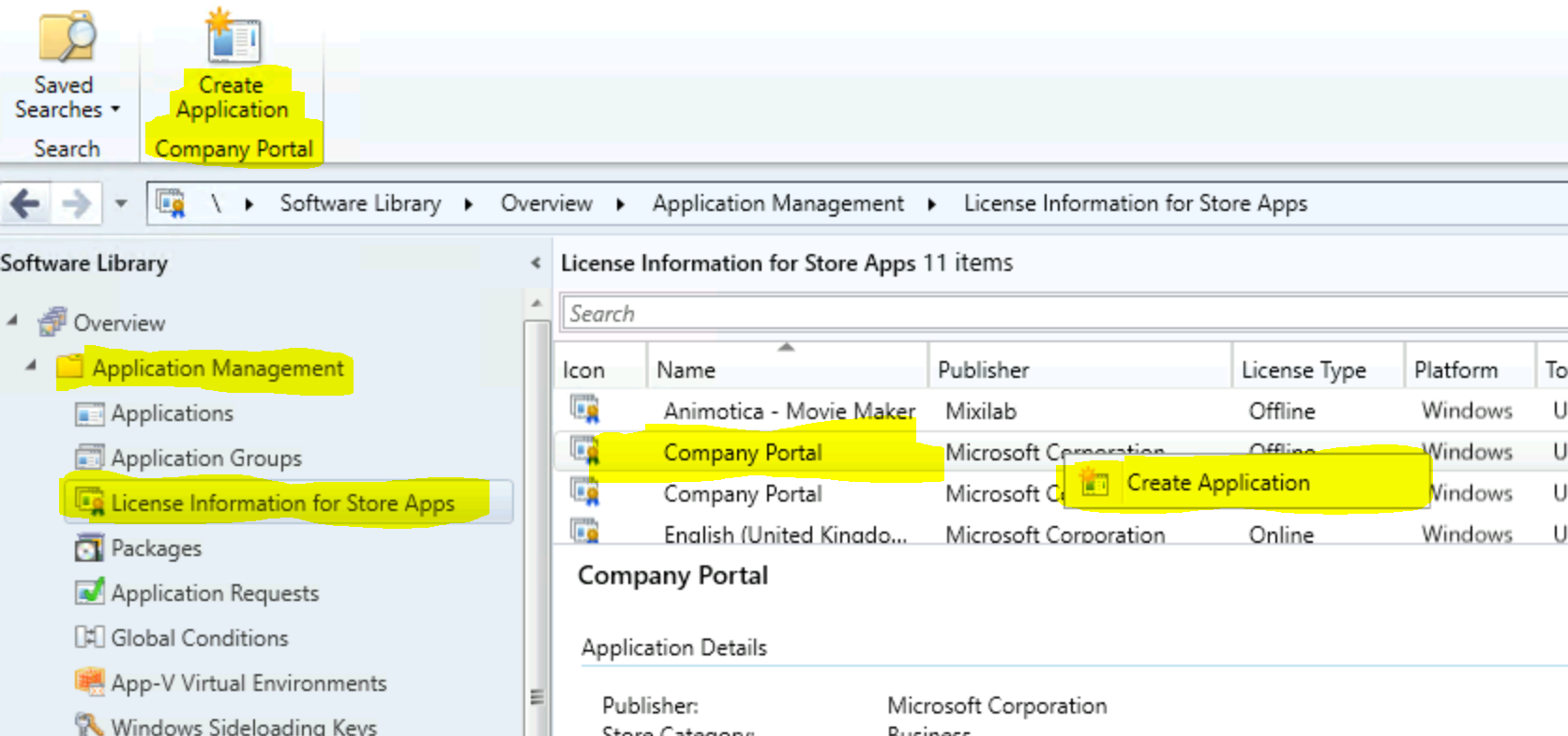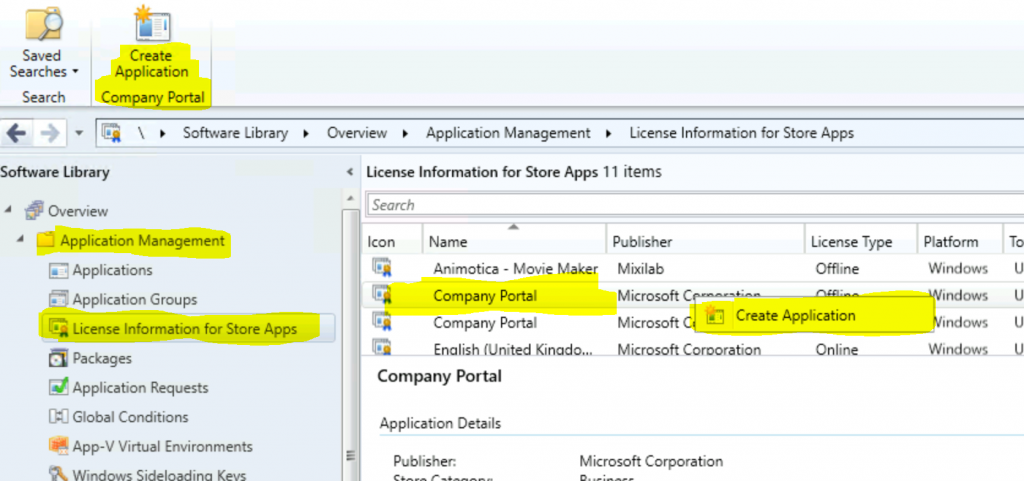 Click on the Next button from Create Volume Purchased Application page on Create Application Wizard.
Import all the information of applications from Microsoft Store for Business and click on the Next button to continue.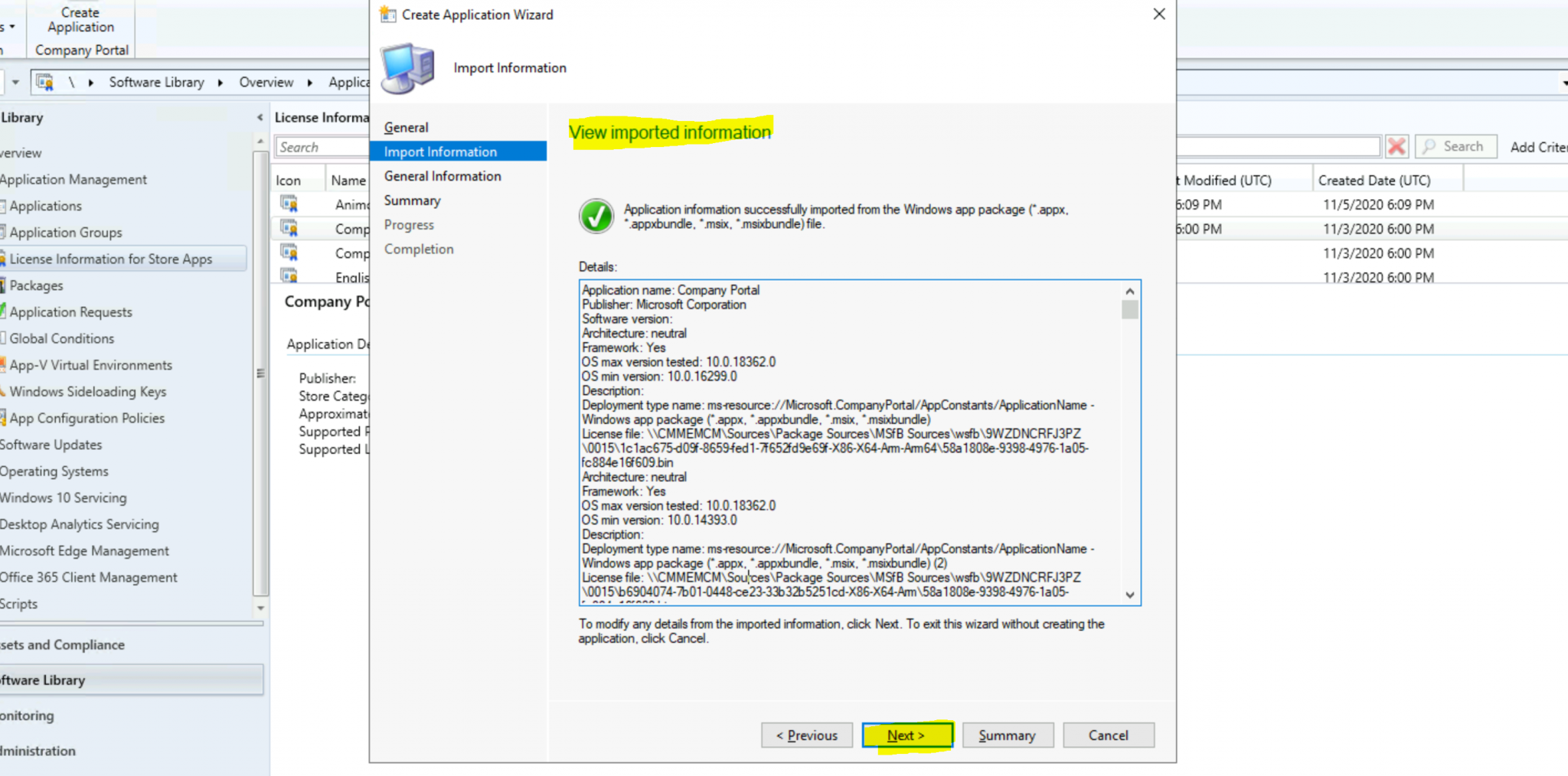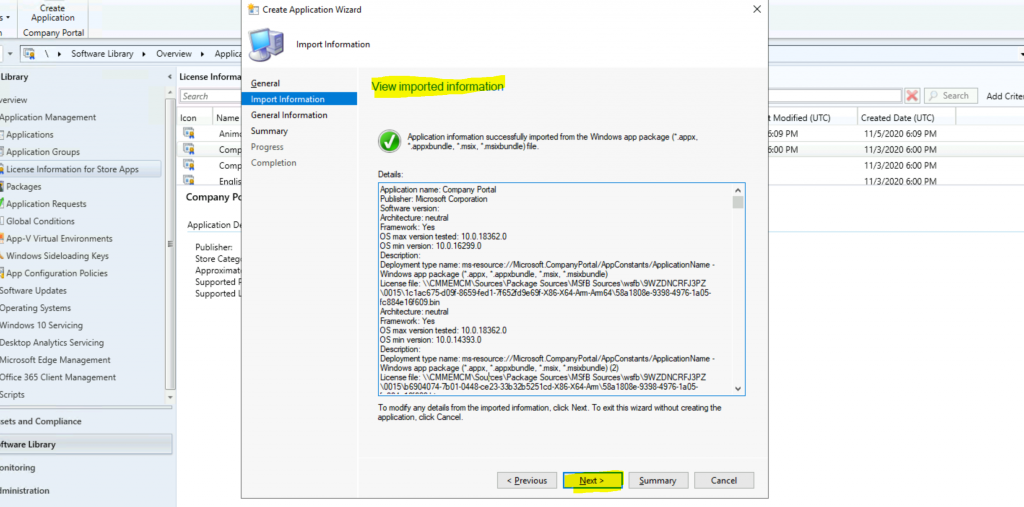 All the information is already populated on the Specify information about this application page (create application wizard).
NOTE! – All the metadata information imported from Microsoft Store for business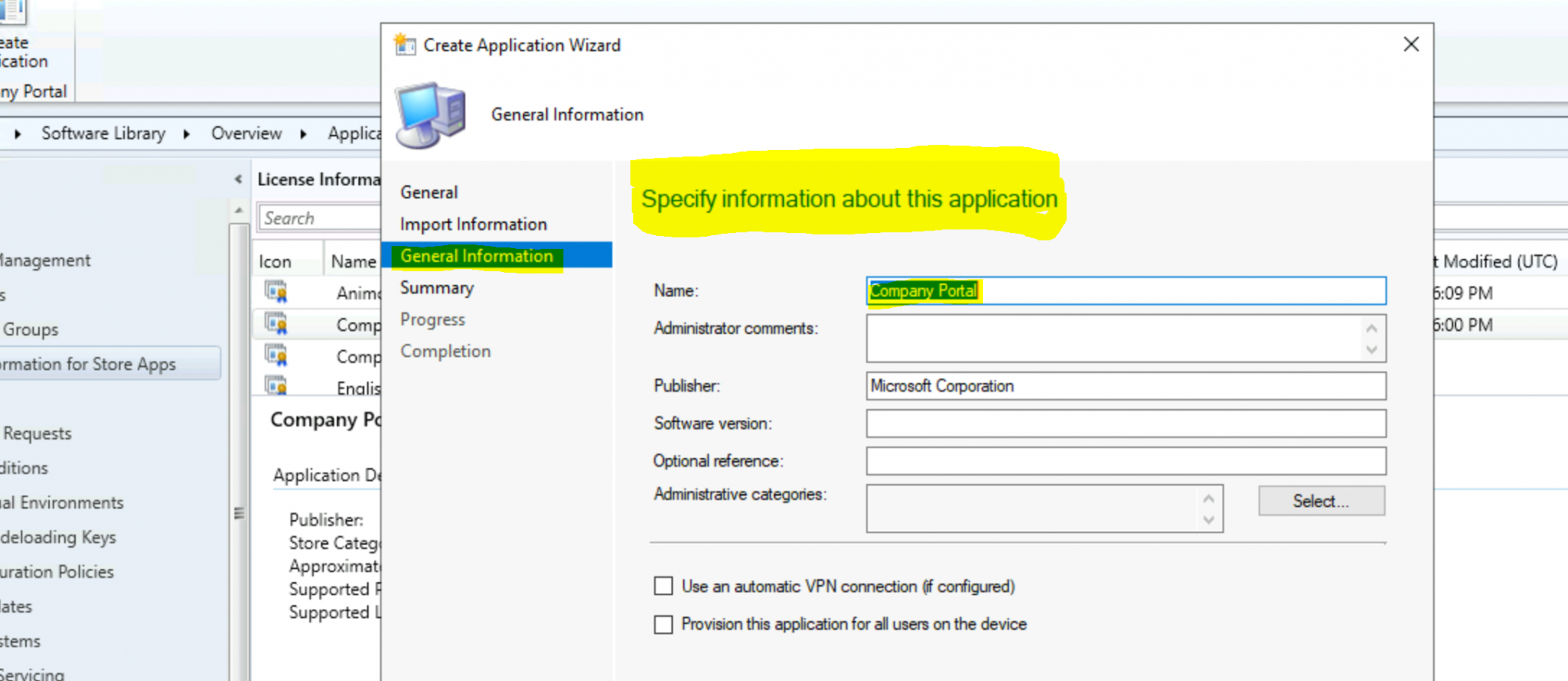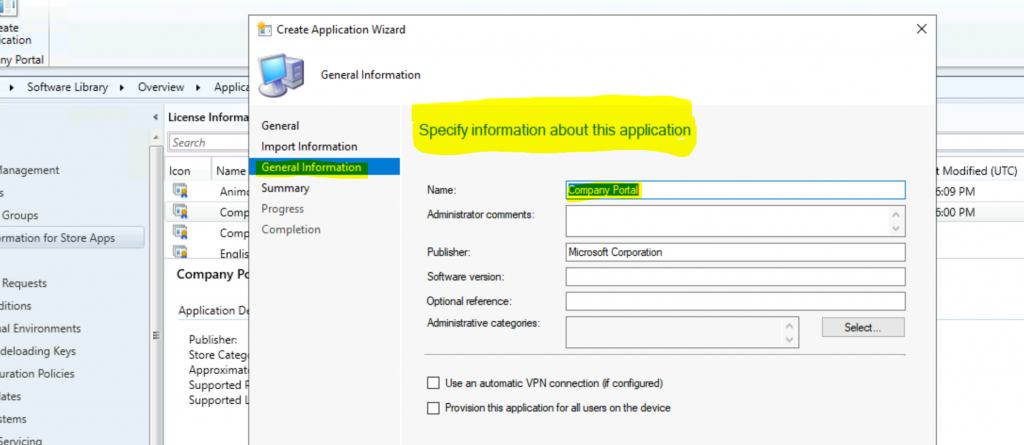 Click on the Next, Next, and Close buttons from the Summary page.
Results
The Creation process of Microsoft Business Store Apps Using ConfigMgr is completed. The MSfB offline application is ready to deploy, similar to any other SCCM application.
Navigate to \Software Library\Overview\Application Management\Applications
Check for Company Portal Offline application


Resources
Author
Anoop is Microsoft MVP! He is a Solution Architect in enterprise client management with more than 20 years of experience (calculation done in 2021) in IT. He is a blogger, Speaker, and Local User Group HTMD Community leader. His main focus is on Device Management technologies like SCCM 2012, Current Branch, and Intune. E writes about ConfigMgr, Windows 11, Windows 10, Azure AD, Microsoft Intune, Windows 365, AVD, etc…
Application name: Company Portal
Publisher: Microsoft Corporation
Software version:
Architecture: neutral
Framework: Yes
OS max version tested: 10.0.18362.0
OS min version: 10.0.16299.0
Description:
Deployment type name: ms-resource://Microsoft.CompanyPortal/AppConstants/ApplicationName - Windows app package (*.appx, *.appxbundle, *.msix, *.msixbundle)
License file: \CMMEMCM\Sources\Package Sources\MSfB Sources\wsfb\9WZDNCRFJ3PZ\0015\1c1ac675-d09f-8659-fed1-7f652fd9e69f-X86-X64-Arm-Arm64\58a1808e-9398-4976-1a05-fc884e16f609.bin
Architecture: neutral
Framework: Yes
OS max version tested: 10.0.18362.0
OS min version: 10.0.14393.0
Description:
Deployment type name: ms-resource://Microsoft.CompanyPortal/AppConstants/ApplicationName - Windows app package (*.appx, *.appxbundle, *.msix, *.msixbundle) (2)
License file: \CMMEMCM\Sources\Package Sources\MSfB Sources\wsfb\9WZDNCRFJ3PZ\0015\b6904074-7b01-0448-ce23-33b32b5251cd-X86-X64-Arm\58a1808e-9398-4976-1a05-fc884e16f609.bin
Architecture: neutral
Framework: Yes
OS max version tested: 10.0.16299.0
OS min version: 10.0.10586.0
Description:
Deployment type name: ms-resource://Microsoft.CompanyPortal/AppConstants/ApplicationName - Windows app package (*.appx, *.appxbundle, *.msix, *.msixbundle) (3)
License file: \CMMEMCM\Sources\Package Sources\MSfB Sources\wsfb\9WZDNCRFJ3PZ\0015\4285e4f2-7963-5c85-42d6-fb4a776c6547-X86-X64-Arm\58a1808e-9398-4976-1a05-fc884e16f609.bin
Architecture: neutral
Framework: Yes
OS max version tested: 10.0.14393.0
OS min version: 10.0.10240.0
Description:
Deployment type name: ms-resource://Microsoft.CompanyPortal/AppConstants/ApplicationName - Windows app package (*.appx, *.appxbundle, *.msix, *.msixbundle) (4)
License file: \CMMEMCM\Sources\Package Sources\MSfB Sources\wsfb\9WZDNCRFJ3PZ\0015\8b8cccab-9b4b-d834-9f41-1f3d24642873-X86-X64-Arm\58a1808e-9398-4976-1a05-fc884e16f609.bin
Detection Method:
Name:Microsoft.CompanyPortal
Publisher:Microsoft Corporation
Architecture: neutral
Resource ID:~
Version:2020.918.802.0
Publisher ID:8wekyb3d8bbwe
Windows app dependencies:
Name: Microsoft.NET.Native.Framework.2.2
MinVersion: 2.2.27405.0
Architecture: arm
Name: Microsoft.NET.Native.Runtime.2.2
MinVersion: 2.2.27328.0
Architecture: arm
Name: Microsoft.Services.Store.Engagement
MinVersion: 10.0.18101.0
Architecture: arm
Name: Microsoft.UI.Xaml.2.3
MinVersion: 2.31912.11002.0
Architecture: arm
Name: Microsoft.VCLibs.140.00
MinVersion: 14.0.27810.0
Architecture: arm
Name: Microsoft.NET.Native.Framework.2.2
MinVersion: 2.2.27405.0
Architecture: x64
Name: Microsoft.NET.Native.Framework.2.2
MinVersion: 2.2.27405.0
Architecture: x86
Name: Microsoft.NET.Native.Runtime.2.2
MinVersion: 2.2.27328.0
Architecture: x64
Name: Microsoft.NET.Native.Runtime.2.2
MinVersion: 2.2.27328.0
Architecture: x86
Name: Microsoft.Services.Store.Engagement
MinVersion: 10.0.18101.0
Architecture: x64
Name: Microsoft.Services.Store.Engagement
MinVersion: 10.0.18101.0
Architecture: x86
Name: Microsoft.UI.Xaml.2.3
MinVersion: 2.31912.11002.0
Architecture: x64
Name: Microsoft.UI.Xaml.2.3
MinVersion: 2.31912.11002.0
Architecture: x86
Name: Microsoft.VCLibs.140.00
MinVersion: 14.0.27810.0
Architecture: x64
Name: Microsoft.VCLibs.140.00
MinVersion: 14.0.27810.0
Architecture: x86
Content location: \CMMEMCM\Sources\Package Sources\MSfB Sources\wsfb\9WZDNCRFJ3PZ\0015\1c1ac675-d09f-8659-fed1-7f652fd9e69f-X86-X64-Arm-Arm64
Number of files: 16
Content files:
Microsoft.CompanyPortal.appxBundle
Microsoft.NET.Native.Framework.2.2_arm.appx
Microsoft.NET.Native.Runtime.2.2_arm.appx
Microsoft.Services.Store.Engagement_arm.appx
Microsoft.UI.Xaml.2.3_arm.appx
Microsoft.VCLibs.140.00_arm.appx
Microsoft.NET.Native.Framework.2.2_x64.appx
Microsoft.NET.Native.Framework.2.2_x86.appx
Microsoft.NET.Native.Runtime.2.2_x64.appx
Microsoft.NET.Native.Runtime.2.2_x86.appx
Microsoft.Services.Store.Engagement_x64.appx
Microsoft.Services.Store.Engagement_x86.appx
Microsoft.UI.Xaml.2.3_x64.appx
Microsoft.UI.Xaml.2.3_x86.appx
Microsoft.VCLibs.140.00_x64.appx
Microsoft.VCLibs.140.00_x86.appx
Detection Method:
Name:Microsoft.CompanyPortal
Publisher:Microsoft Corporation
Architecture: neutral
Resource ID:~
Version:2019.918.709.0
Publisher ID:8wekyb3d8bbwe
Windows app dependencies:
Name: Microsoft.NET.Native.Framework.1.7
MinVersion: 1.7.27413.0
Architecture: arm
Name: Microsoft.NET.Native.Runtime.1.7
MinVersion: 1.7.25531.0
Architecture: arm
Name: Microsoft.Services.Store.Engagement
MinVersion: 10.0.18101.0
Architecture: arm
Name: Microsoft.UI.Xaml.2.0
MinVersion: 2.1810.18003.0
Architecture: arm
Name: Microsoft.VCLibs.140.00
MinVersion: 14.0.27323.0
Architecture: arm
Name: Microsoft.NET.Native.Framework.1.7
MinVersion: 1.7.27413.0
Architecture: x64
Name: Microsoft.NET.Native.Runtime.1.7
MinVersion: 1.7.25531.0
Architecture: x64
Name: Microsoft.Services.Store.Engagement
MinVersion: 10.0.18101.0
Architecture: x64
Name: Microsoft.UI.Xaml.2.0
MinVersion: 2.1810.18003.0
Architecture: x64
Name: Microsoft.VCLibs.140.00
MinVersion: 14.0.27323.0
Architecture: x64
Name: Microsoft.NET.Native.Framework.1.7
MinVersion: 1.7.27413.0
Architecture: x86
Name: Microsoft.NET.Native.Runtime.1.7
MinVersion: 1.7.25531.0
Architecture: x86
Name: Microsoft.Services.Store.Engagement
MinVersion: 10.0.18101.0
Architecture: x86
Name: Microsoft.UI.Xaml.2.0
MinVersion: 2.1810.18003.0
Architecture: x86
Name: Microsoft.VCLibs.140.00
MinVersion: 14.0.27323.0
Architecture: x86
Content location: \CMMEMCM\Sources\Package Sources\MSfB Sources\wsfb\9WZDNCRFJ3PZ\0015\b6904074-7b01-0448-ce23-33b32b5251cd-X86-X64-Arm
Number of files: 16
Content files:
Microsoft.CompanyPortal.appxBundle
Microsoft.NET.Native.Framework.1.7_arm.appx
Microsoft.NET.Native.Runtime.1.7_arm.appx
Microsoft.Services.Store.Engagement_arm.appx
Microsoft.UI.Xaml.2.0_arm.appx
Microsoft.VCLibs.140.00_arm.appx
Microsoft.NET.Native.Framework.1.7_x64.appx
Microsoft.NET.Native.Runtime.1.7_x64.appx
Microsoft.Services.Store.Engagement_x64.appx
Microsoft.UI.Xaml.2.0_x64.appx
Microsoft.VCLibs.140.00_x64.appx
Microsoft.NET.Native.Framework.1.7_x86.appx
Microsoft.NET.Native.Runtime.1.7_x86.appx
Microsoft.Services.Store.Engagement_x86.appx
Microsoft.UI.Xaml.2.0_x86.appx
Microsoft.VCLibs.140.00_x86.appx
Detection Method:
Name:Microsoft.CompanyPortal
Publisher:Microsoft Corporation
Architecture: neutral
Resource ID:~
Version:2017.1121.758.1000
Publisher ID:8wekyb3d8bbwe
Windows app dependencies:
Name: Microsoft.NET.Native.Framework.1.7
MinVersion: 1.7.25531.0
Architecture: arm
Name: Microsoft.NET.Native.Runtime.1.7
MinVersion: 1.7.25531.0
Architecture: arm
Name: Microsoft.Services.Store.Engagement
MinVersion: 10.0.1706.0
Architecture: arm
Name: Microsoft.VCLibs.140.00
MinVersion: 14.0.25426.0
Architecture: arm
Name: Microsoft.NET.Native.Framework.1.7
MinVersion: 1.7.25531.0
Architecture: x64
Name: Microsoft.NET.Native.Runtime.1.7
MinVersion: 1.7.25531.0
Architecture: x64
Name: Microsoft.Services.Store.Engagement
MinVersion: 10.0.1706.0
Architecture: x64
Name: Microsoft.VCLibs.140.00
MinVersion: 14.0.25426.0
Architecture: x64
Name: Microsoft.NET.Native.Framework.1.7
MinVersion: 1.7.25531.0
Architecture: x86
Name: Microsoft.NET.Native.Runtime.1.7
MinVersion: 1.7.25531.0
Architecture: x86
Name: Microsoft.Services.Store.Engagement
MinVersion: 10.0.1706.0
Architecture: x86
Name: Microsoft.VCLibs.140.00
MinVersion: 14.0.25426.0
Architecture: x86
Content location: \CMMEMCM\Sources\Package Sources\MSfB Sources\wsfb\9WZDNCRFJ3PZ\0015\4285e4f2-7963-5c85-42d6-fb4a776c6547-X86-X64-Arm
Number of files: 13
Content files:
Microsoft.CompanyPortal.appxBundle
Microsoft.NET.Native.Framework.1.7_arm.appx
Microsoft.NET.Native.Runtime.1.7_arm.appx
Microsoft.Services.Store.Engagement_arm.appx
Microsoft.VCLibs.140.00_arm.appx
Microsoft.NET.Native.Framework.1.7_x64.appx
Microsoft.NET.Native.Runtime.1.7_x64.appx
Microsoft.Services.Store.Engagement_x64.appx
Microsoft.VCLibs.140.00_x64.appx
Microsoft.NET.Native.Framework.1.7_x86.appx
Microsoft.NET.Native.Runtime.1.7_x86.appx
Microsoft.Services.Store.Engagement_x86.appx
Microsoft.VCLibs.140.00_x86.appx
Detection Method:
Name:Microsoft.CompanyPortal
Publisher:Microsoft Corporation
Architecture: neutral
Resource ID:~
Version:2017.812.648.1000
Publisher ID:8wekyb3d8bbwe
Windows app dependencies:
Name: Microsoft.NET.Native.Framework.1.3
MinVersion: 1.3.24201.0
Architecture: arm
Name: Microsoft.NET.Native.Runtime.1.4
MinVersion: 1.4.24201.0
Architecture: arm
Name: Microsoft.VCLibs.140.00
MinVersion: 14.0.24123.0
Architecture: arm
Name: Microsoft.NET.Native.Framework.1.3
MinVersion: 1.3.24201.0
Architecture: x64
Name: Microsoft.NET.Native.Runtime.1.4
MinVersion: 1.4.24201.0
Architecture: x64
Name: Microsoft.VCLibs.140.00
MinVersion: 14.0.24123.0
Architecture: x64
Name: Microsoft.NET.Native.Framework.1.3
MinVersion: 1.3.24201.0
Architecture: x86
Name: Microsoft.NET.Native.Runtime.1.4
MinVersion: 1.4.24201.0
Architecture: x86
Name: Microsoft.VCLibs.140.00
MinVersion: 14.0.24123.0
Architecture: x86
Content location: \CMMEMCM\Sources\Package Sources\MSfB Sources\wsfb\9WZDNCRFJ3PZ\0015\8b8cccab-9b4b-d834-9f41-1f3d24642873-X86-X64-Arm
Number of files: 10
Content files:
Microsoft.CompanyPortal.appxBundle
Microsoft.NET.Native.Framework.1.3_arm.appx
Microsoft.NET.Native.Runtime.1.4_arm.appx
Microsoft.VCLibs.140.00_arm.appx
Microsoft.NET.Native.Framework.1.3_x64.appx
Microsoft.NET.Native.Runtime.1.4_x64.appx
Microsoft.VCLibs.140.00_x64.appx
Microsoft.NET.Native.Framework.1.3_x86.appx
Microsoft.NET.Native.Runtime.1.4_x86.appx
Microsoft.VCLibs.140.00_x86.appx