Let's learn how you can disable Chrome Ad Privacy Notifications. The latest update brings you a new privacy feature, presented with Ad privacy feature that gives you more choice over the ads you see.
While the information can be valuable, some users may find difficulties with the notifications annoying. Disabling these notifications can help you browse the web with fewer interruptions while ensuring your privacy settings align with your preferences, and enjoy a more uninterrupted browsing experience.
The latest Chrome release added Fenced frames work along with other Privacy Sandbox APIs to embed relevant content while preventing unnecessary context sharing. With the Topics API, the browser can share information about a user's interests with third parties while preserving privacy.
Chrome works to keep you safe and protect your privacy while you browse. New features help protect your identity and give you more control over how advertisers choose which ads to show you. These new features will roll out gradually on computers and Android devices.

Chrome notes your topics of interest based on the sites you browse and how often you visit them. You can opt out of these features in your Chrome settings anytime. As you browse, an ad you get may be personalized depending on these settings and the policies of the sites that you visit.
Turn on an Ad Privacy Feature
The screen Turn on an ad privacy feature will present you with more choices over the ads you see. Ad topics help sites show you relevant ads while protecting your browsing history and identity. Chrome can note topics of interest based on your recent growing history.
Clicking on More, You will be presented with the settings button to make changes in Chrome settings. You can select based on your choice.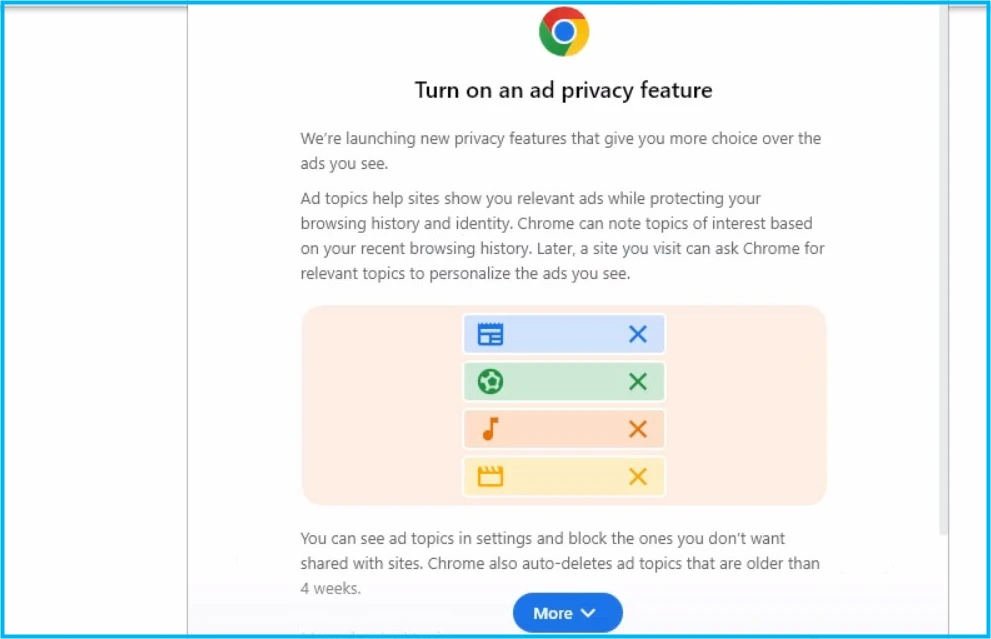 Disable Chrome Ad Privacy Notification
Here's how you can use a flag to block the ad privacy feature pop-up message from appearing in the browser startup.

Open Google Chrome.
To quickly access Privacy Sandbox settings, type or copy and paste the following path into the address bar and press Enter.
chrome://flags/#privacy-sandbox-settings-4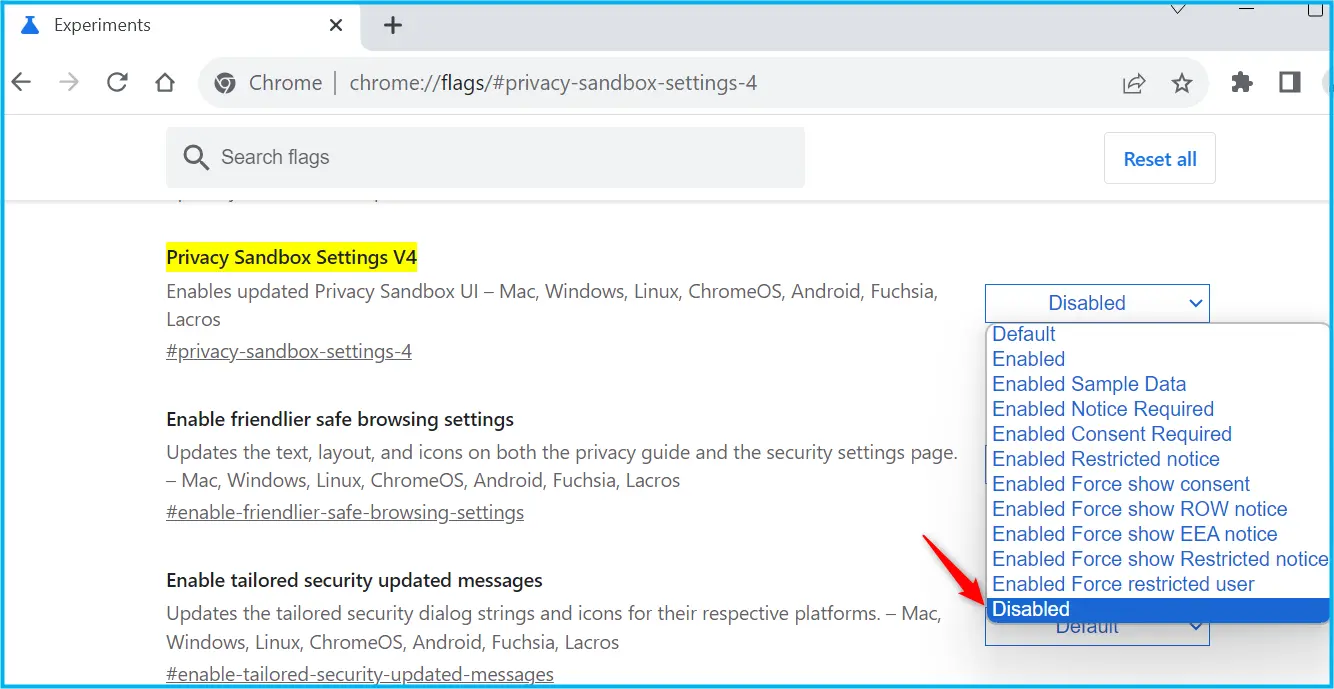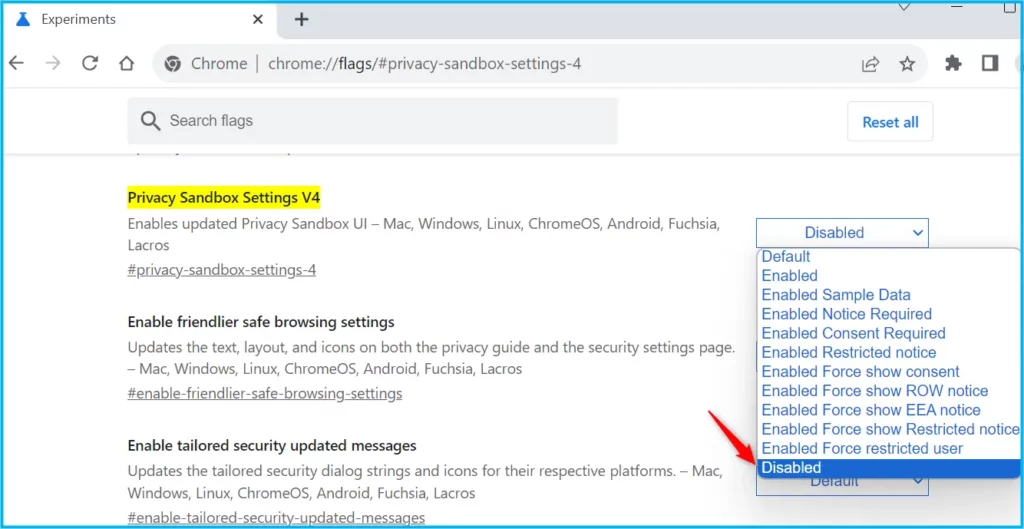 In the Privacy Sandbox Settings V4, Select Disabled from the drop-down menu.
Once done! Changes will take effect after you relaunch Google Chrome. Click on the Relaunch button located at the bottom, You will see the AD Privacy Message appears no longer available on the Start screen.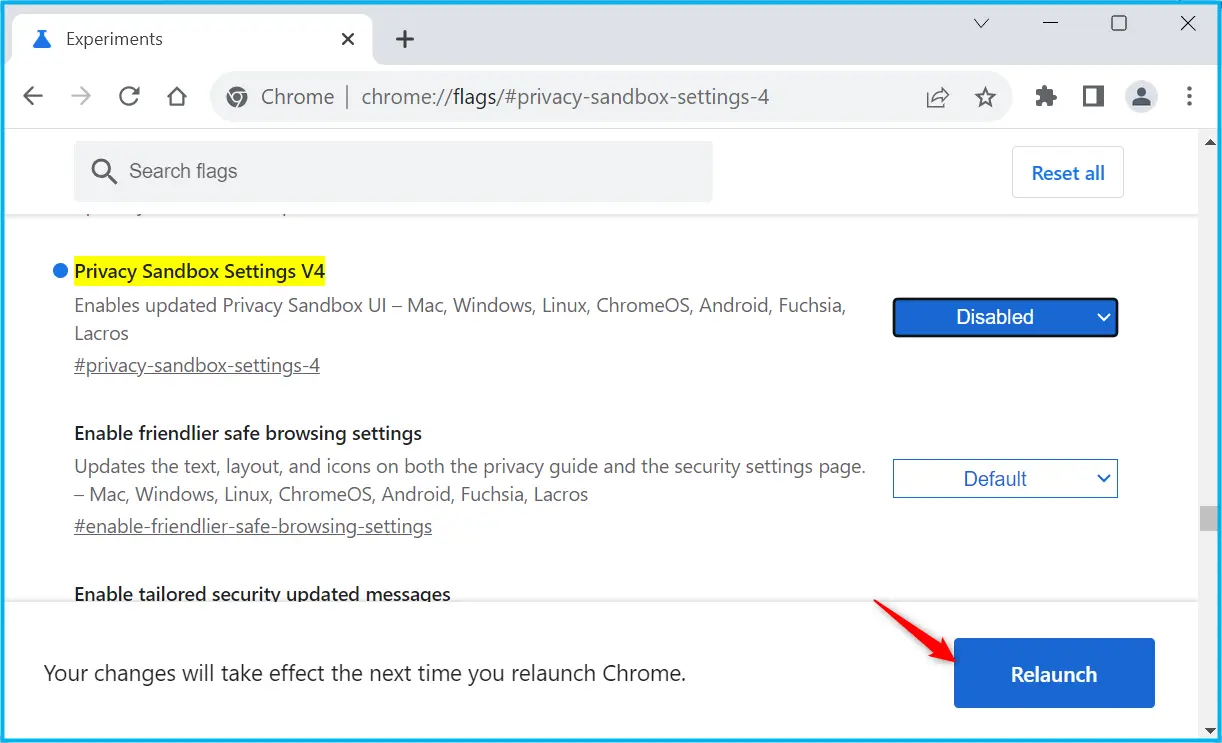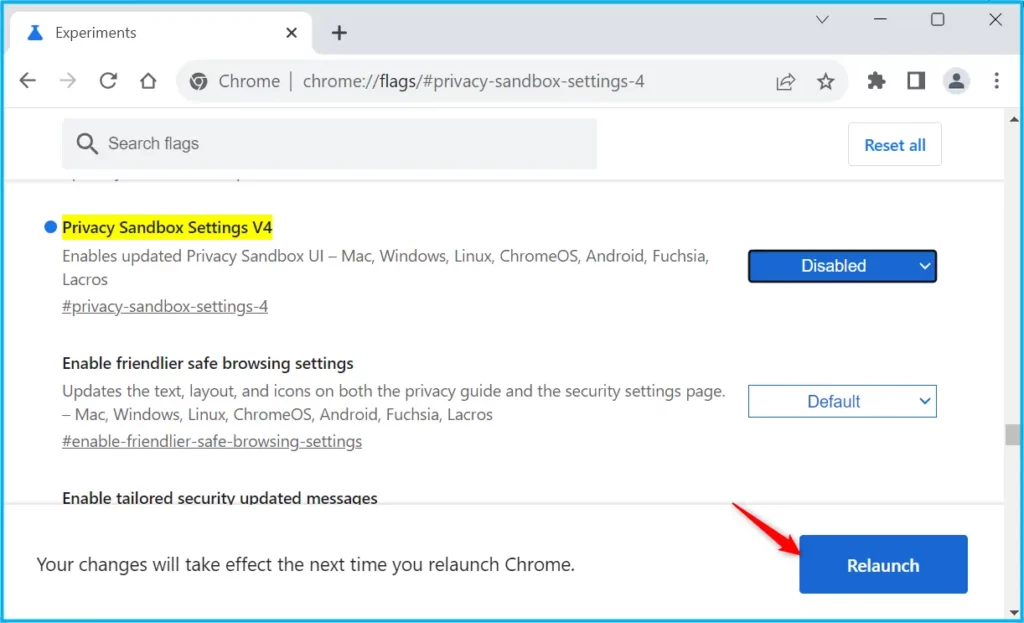 Turn Off Ads Privacy in Chrome Settings
I have sometimes seen the selection of the menu through the settings won't disable the Ads privacy message. As soon you select and restart your browser, the settings will be reverted back to On, In such scenarios, you must try with the chrome flag mentioned above for setting up Privacy Sandbox settings to disabled.
Let's proceed to set up Ads privacy settings for Google Chrome. Open Google Chrome, click on the … (3 dots) in the top-right corner of Chrome and then click on Settings.
Navigate to the Settings > Privacy and Security > Ad Privacy. This would help you to customize the info used by sites to show you ads.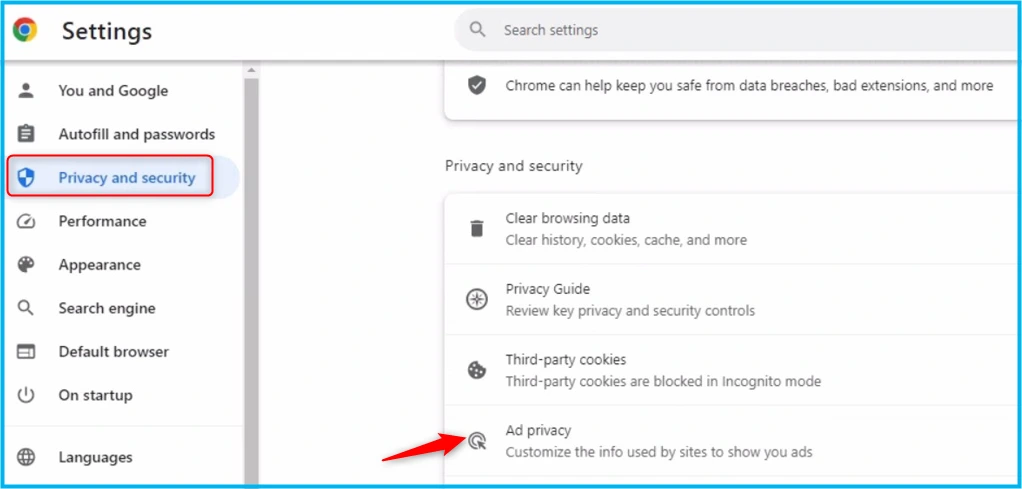 Here you can see the three categories inside Ad privacy, Ad topics, Site-suggested ads, and Ad management. Next, I will be turning off the Ad topics, by clicking on the appearing category.
Ad topics: Based on your browsing history, This setting is on. Chrome can share up to 3 topics at a time with sites. You can block topics you don't want shared with sites.
Site-suggested ads: Based on your activity on a site. This setting is on. Chrome automatically deletes suggestions that are older than 30 days, but they may reappear if you revisit that site.
Ad Management: Site and advertisers can understand how ads perform, This setting is on. As you browse, sites share a limited amount of data to measure ad performance, such as the time of day an ad was shown.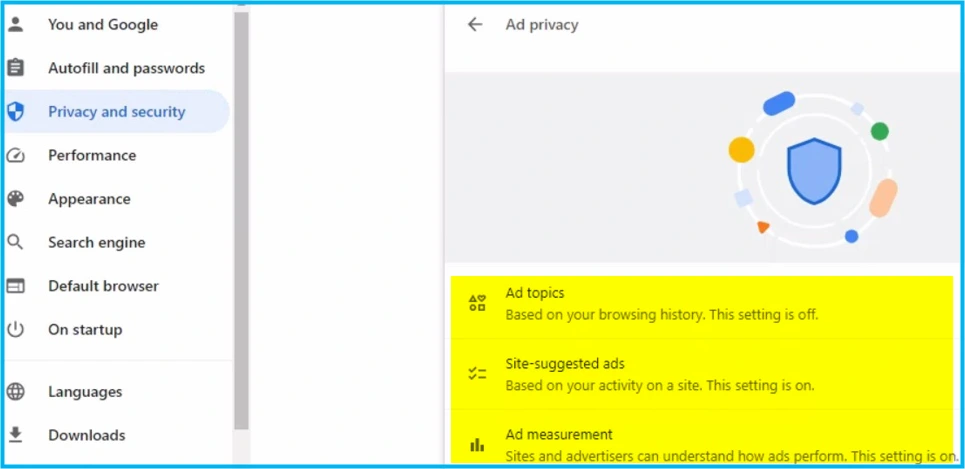 The Ad topics, You can toggle the switch to turn it off. This would prevent showing you personalized ads based on your recent browsing activities and used by sites.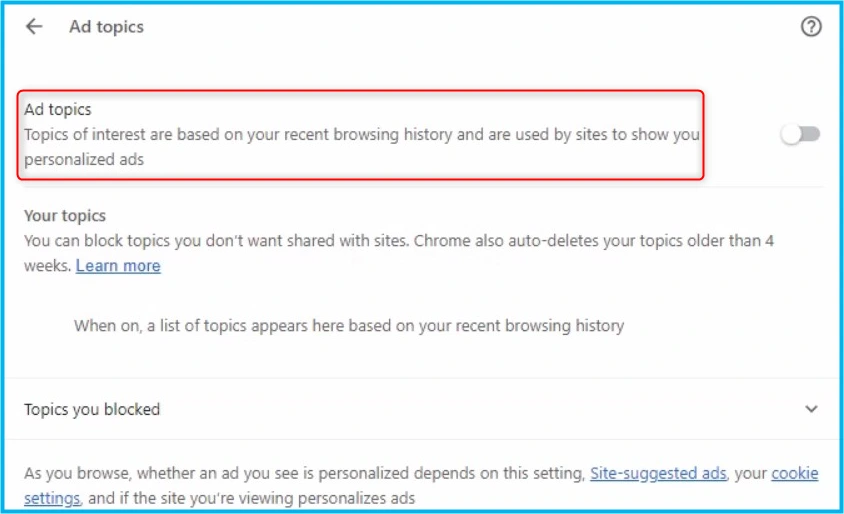 Similarly, By clicking on Site-suggested ads you can set it to turn it off.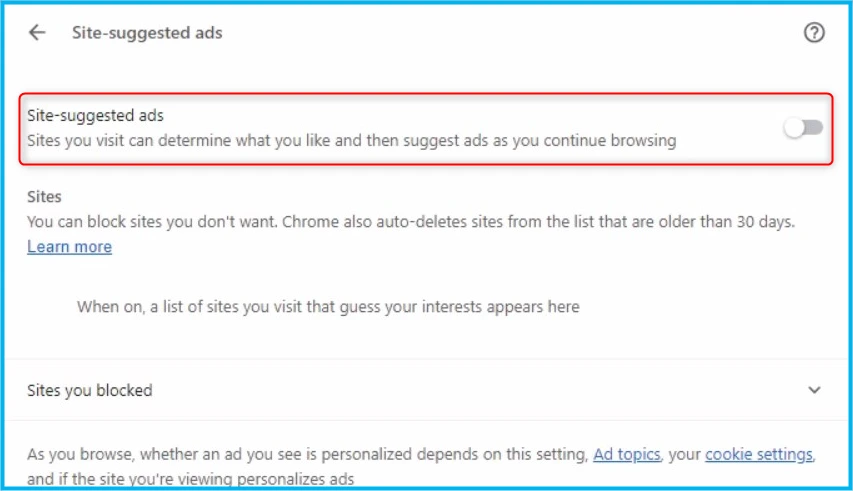 Author
About Author – Jitesh, Microsoft MVP, has over six years of working experience in the IT Industry. He writes and shares his experiences related to Microsoft device management technologies and IT Infrastructure management. His primary focus is Windows 10/11 Deployment solution with Configuration Manager, Microsoft Deployment Toolkit (MDT), and Microsoft Intune.