In this post, let's check the option to Enable Windows Autopatch Driver and Firmware Updates Management Automation. Microsoft has announced the General Availability of Windows Driver Firmware Management Integration with Intune on June 26th, 2023.
As per Microsoft, this new Driver and Firmware management functionality in Intune make it easier to keep Windows drivers on your devices (windows) up to date in two main ways. So, you can say bye-bye to all the manual and scripted tasks for Driver management.
With additional automation with Windows Autopatch for Driver and Firmware management, Microsoft is helping the organization reach the next level. Windows Autopatch is available for customers with Windows Enterprise E3 and E5 licenses. This is also available with a Windows 365 Cloud PC license without additional cost.
Windows Autopatch is a cloud service that automates Windows, Microsoft 365 Apps for enterprise, Microsoft Edge, and Microsoft Teams updates to improve security and productivity across your organization. From this post, let's learn how to enable Driver and Firmware Management using Windows Autopatch.

Intune Driver and Firmware Management Setup
You must ensure the setup is completed for Intune Driver and Firmware Management. We have already shared a details post on this process. The following post covers end-to-end setup scenarios, licensing, and other technical prerequisites.
Read More Details – Efficient Management of Windows Driver and Firmware Updates using Intune Policy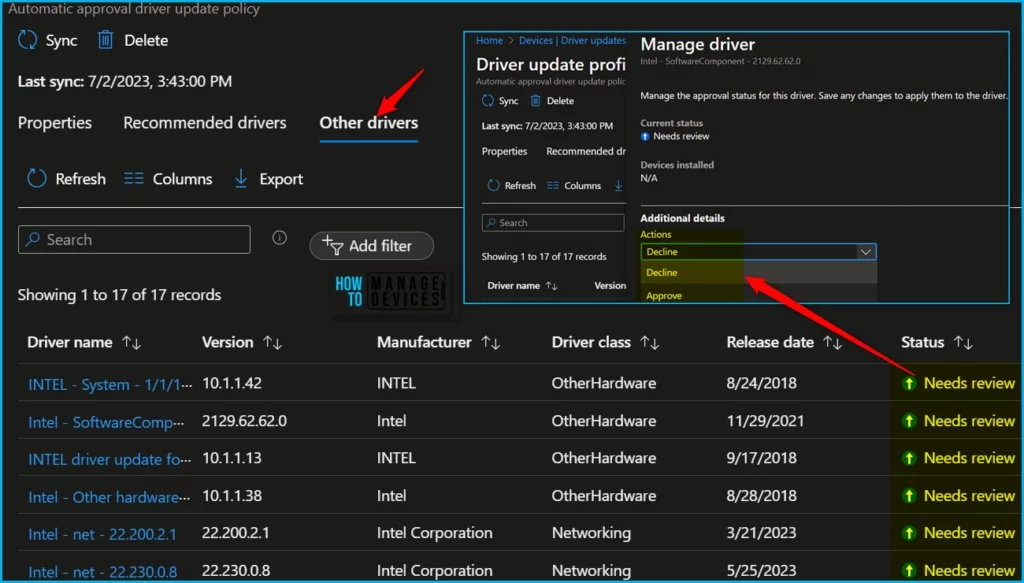 Windows Autopatch Setup is Completed?
We must also ensure the Windows Autopatch Setup is completed and working fine to enable this feature. We will link a video and a blog post to help set up Windows Autopatch if you have not already completed this.
Once both Windows Autopatch and Intune Driver and Firmware Management setups are completed, we can enable Windows Autopatch Driver and Firmware Management Automation.

Complete Setup – Windows Autopatch – Windows Autopatch Implementation Setup Guide
Enable Windows Autopatch Driver and Firmware Management Automation
Microsoft introduced brand new capabilities for deploying drivers and firmware to Windows Autopatch-enabled Intune tenants. You can utilize Microsoft Intune's recently released driver management capabilities to manage better and report on drivers and firmware updates without much manual intervention.
Now the Driver and Firmware Management will also get automated without monthly repetitive tasks using a powerful automation engine from Windows Autopatch. As explained below, you need to enable the Drivers and Firmware Management Automation from Windows Autopatch – Release management – Release settings section.
Login to Intune portal Intune.Microsoft.com.
Navigate to Devices > Windows Autopatch > Release management > Release settings.
In the Windows Driver Updates section, read and accept the agreement.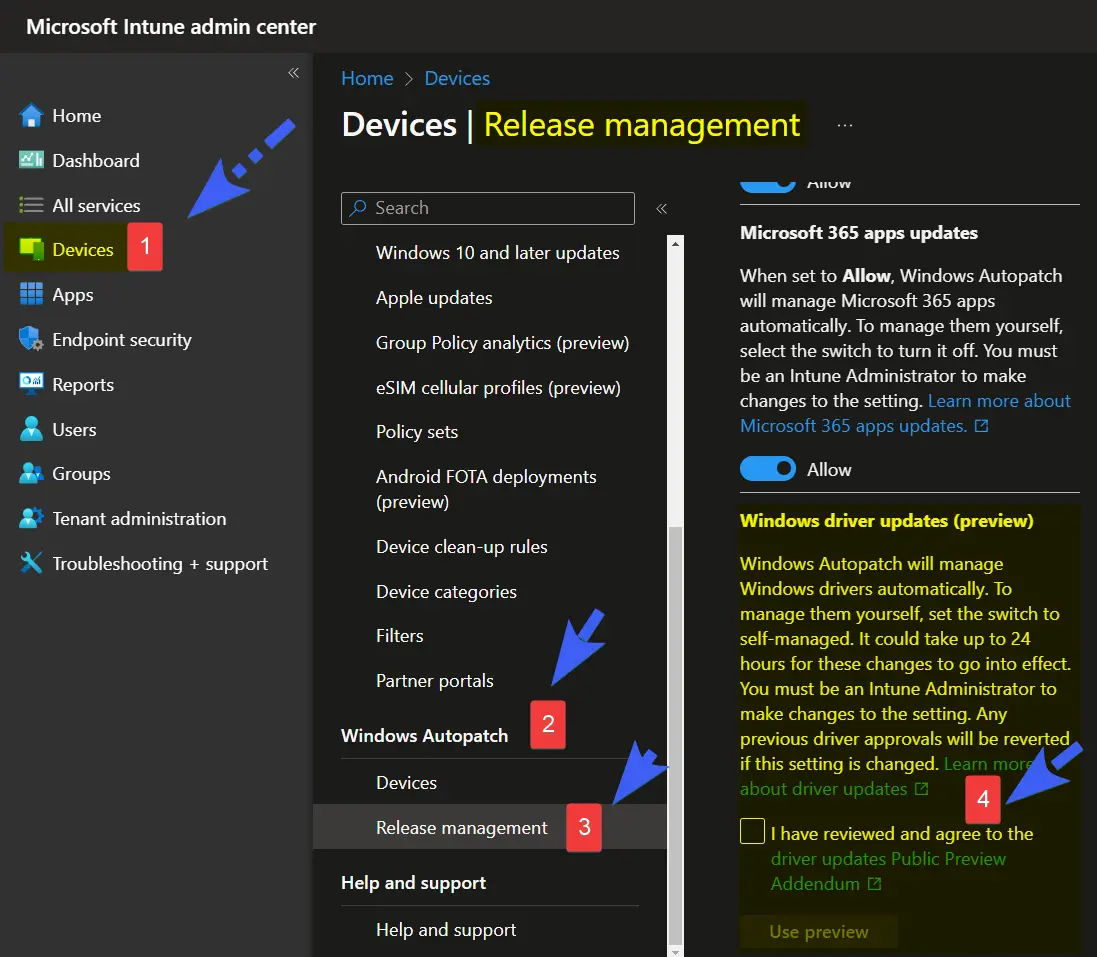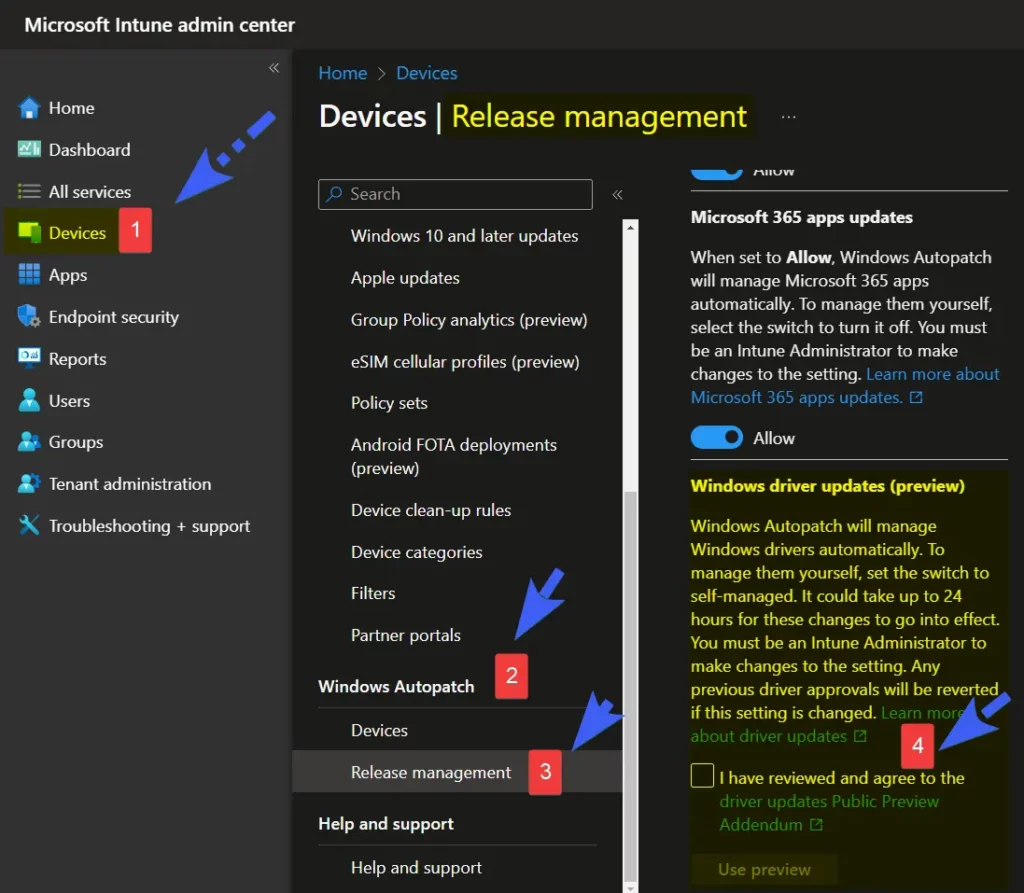 Click on the check box "I have reviewed and agree to the Driver updates" and select any of the following options depending on the device fleet that you support.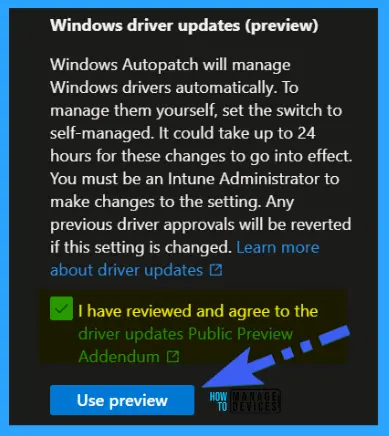 Now you need to select which management method you want to use for Driver and Firmware Updates using Windows Autopatch. You can select either Automatic or Self-managed. More details are in the below table.
NOTE! – HTMD recommendation – Start with Automatic Mode for Surface devices and the devices with new hardware components. The rest of the devices should go with Self-Managed Mode for the first few months of rollout.
| Automatic Mode | Self-managed Mode |
| --- | --- |
| End to End Automatic Process and Recommended option by Microsoft | Manual Approval is required. Intune Admin controls the driver deployment. |
| Automatic mode ensures the most secure drivers are installed using Autopatch deployment ring rollout. | Self-managed mode turns off Windows Autopatch's automatic driver deployment. |
Enable Windows Autopatch Driver and Firmware Management Automation – Table 1
Windows Autopatch will manage Windows drivers automatically. To manage them yourself, set the switch to self-managed. It could take up to 24 hours for these changes to take effect. You must be an Intune Administrator to make changes to the setting.
NOTE: Any previous driver approvals will be reverted if this setting is changed. And the Default configuration is set to Automatic Mode. So, it would be best to flip this back to Self Managed mode. More Details available in MS Docs – Driver and firmware policies created by Windows Autopatch.


New Intune Policy Creation for Driver Updates (Automatically Created by Autopatch Service)
A new policy (CreateDriverUpdatePolicy) will get automatically created in Intune by the Windows Autopatch service to manage Driver updates. This is created for the Test, First, Fast, and Broad deployment rings.
More Details – How to Customize Autopatch Deployment Rings – Customize Windows Update Autopatch Settings for Automatic Patch.

The following is one of the policy settings details for Driver Updates created by the Windows Autopatch service. This policy is for Windows Autopatch – Driver Update Policy Broad Deployment.
Name – Windows Autopatch – Driver Update Policy [Broad]
Description – Driver Update Policy for device broad group
Settings

Approval method:

Automatically approve all recommended driver updates

Make updates available after

Assignments

Included groups

Modern Workplace Devices-Windows Autopatch-Broad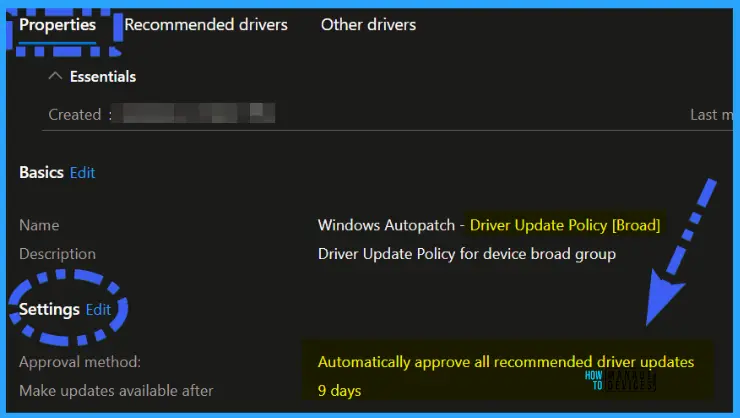 Driver Updates – Intune Audit Logs
You can head over to Intune Audit Logs section to get more details on activities performed by Windows Autopatch service in your Intune Tenant. More details – Windows Autopatch Audit Logs | How to Track Change Details.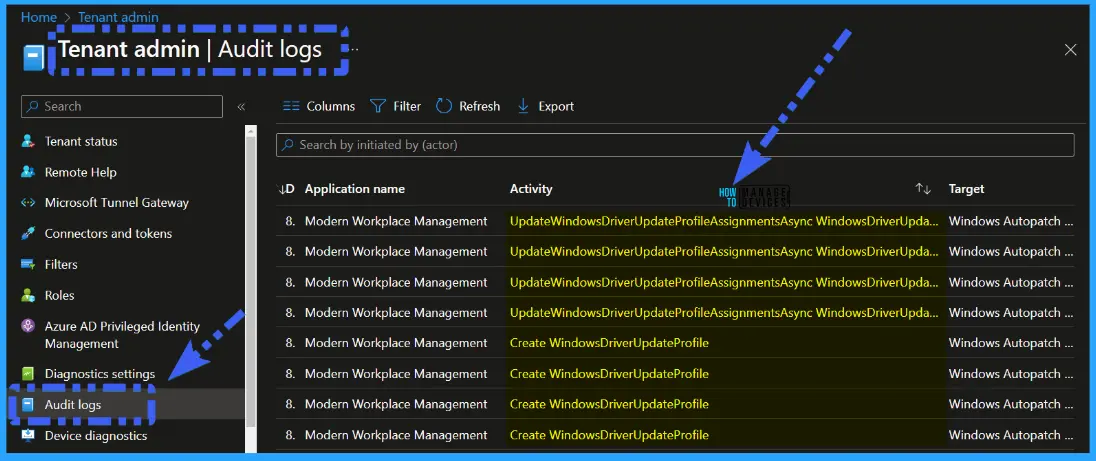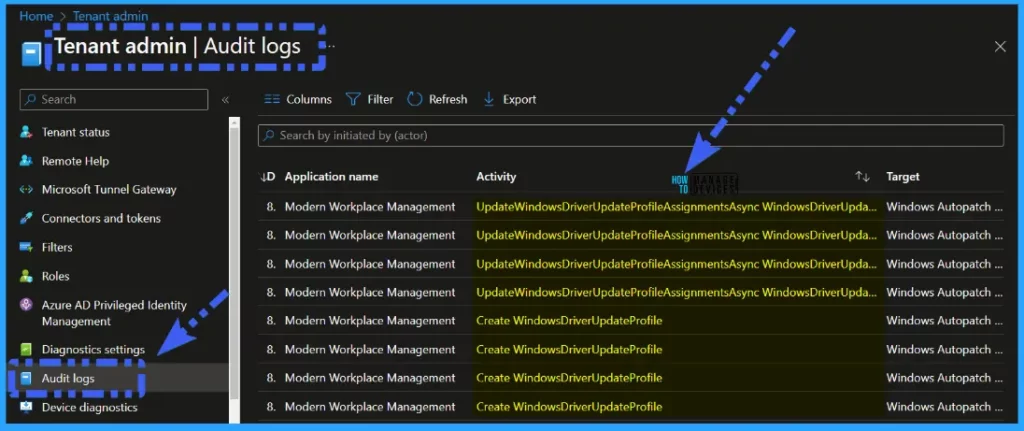 Author
Gopika S Nair is a computer enthusiast. She loves writing on Windows 11 and related technologies. She is here to share quick tips and tricks with Windows 11 or Windows 10 users. She is Post Graduate Diploma Holder in Computers Science.