Feature Comparison Video Between SCCM ConfigMgr CB 1610 and 1702 Configuration Manager ConfigMgr? What is the very basic improvement that I can see in SCCM CB 1702 production console? Are Feedback Balloons everywhere? Yeah, SCCM/ConfigMgr is a great product for device management, and there is no competition at all! Why?
I would say this is because of the improvements the product team made and the GREAT SCCM/ConfigMgr community we have for this product.
It's all about the community's contributions to improving a software product. The SCCM product team is always open to new ideas and feedback, and this is one of the reasons behind the greatness of SCCM as a product.
Software developers can't make an excellent product without great feedback from real-time users of the applications. So that is the importance of the SCCM/ConfigMgr IT Pro community.

Check out the Video Feature
Comparison between SCCM CB 1610 and 1702 here
If you are yet to download and upgrade to the latest version of SCCM CB, here is my previous post, which will help you upgrade SCCM CB to the latest version called Configuration Manager CB 1702.
Another biggest change I can see is repositioning the "Updates and Servicing" node in the SCCM CB console.
The "Updates and Servicing" node is the topmost node in the Administration workspace of the SCCM CB 1702 production version console. In console increased a lot in SCCM CB 1702 console. SCCM CB 1702 onwards SUP (software Update points) are boundary aware similar to MPs and DPs. This is an excellent help for SCCM architects to make better decisions to have SUPs.

The biggest and most awaited thing in the SCCM CB hybrid is feature parity between Intune Standalone version and SCCM CB hybrid version. The SCCM product team did a great job to get the feature parity between Intune SA (StandAlone) and SCCM CB hybrid version.
I have explained this in the above comparison video. So, if we go over to Configuration Policy for iOS and MAC OS devices via MDM channel without using SCCM Client, you can see HUGE improvements! Some of the changes in numbers are given below:-
Password - Passcode Modification
 Device - 9 settings in CB 1610 -- 33 settings in 1702
 Store - 3 settings in CB 1610 --6 settings in 1702
 Content Rating - 5 settings in CB 1610 -- 6 settings in CB 1702
 Cloud - 4 settings in CB 1610 -- 8 settings in CB 1702
 Security - 1 settings in CB 1610 -- 2 settings in CB 1702
 System Security - 5 settings in CB 1610 -- 12 settings in CB 1702
 Data Protection - 2 settings in CB 1610 -- 4  settings in CB 1702
There were 17 features included in the SCCM CB 1610 version, and SCCM/ConfigMgr Product team added 4 more new features to the latest release of SCCM CB 1702! Those four new pre-release features added to SCCM CB 1702 are listed down. Only one feature that moved from pre-release to production release is Conditional Access for Managed PCS.
Pre-Release - Install Behaviour of applications
Pre-Release - Data Warehouse Service Point
Pre-Release - Task Sequence content Pre-Caching
Pre-Release -Device Guard
Feature Comparison Video Between SCCM?
Another excellent news for SCCM CB hybrid customers is that there are some great 5 new additions to Compliance policies! We can't select the different versions of the Android and iOS platforms anymore while creating a compliance policy or configuration policy with SCCM CB 1702.  Granularity in choosing different Android/iOS versions got removed. New compliance policies are:-
Apps that cannot installed
Password expiration
Remember password history
Password Quality
Minimum Android Patch Level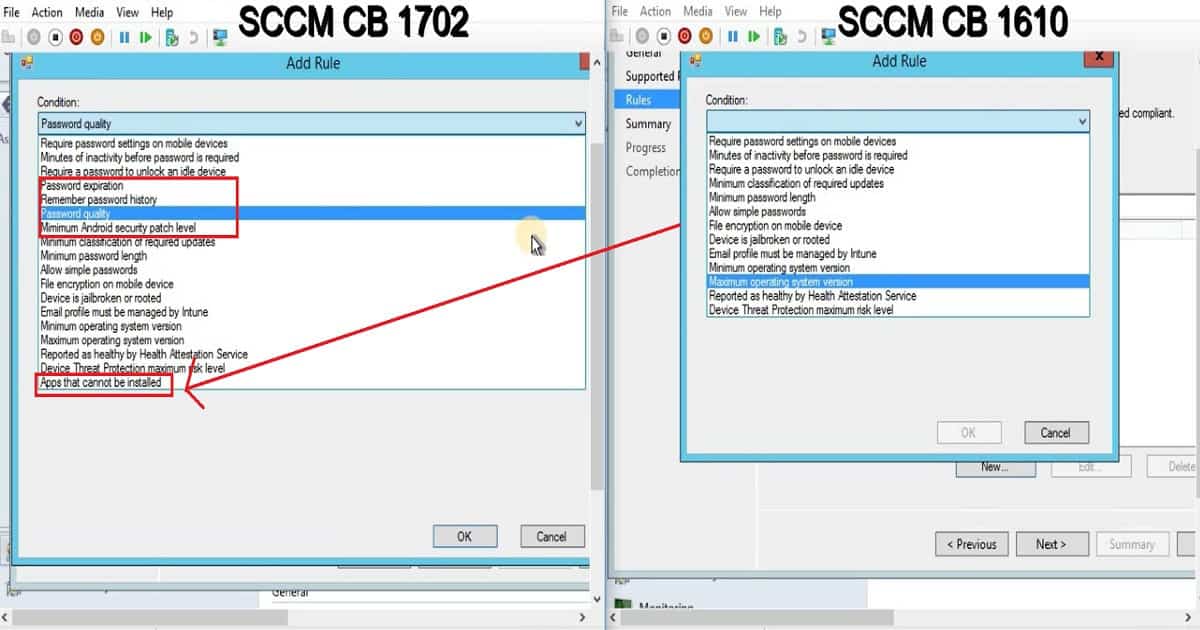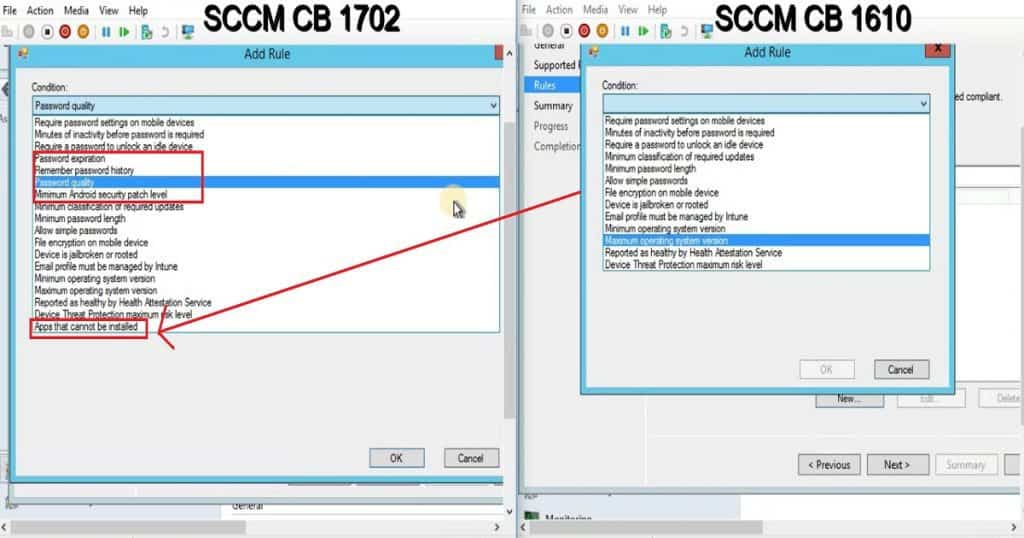 In SCCM CB 1702, we have options to create a configuration policy for Android for Work! There are only 2 policies or configuration settings available in the Configuration policy for AfW (Android for Work).
Apart from that, some improvements or additional settings appeared in ConfigMgr/SCCM CB 1702 regarding Windows 10 related configuration policies in a hybrid environment. Following are some of the high-level changes in Windows 10  Configuration Policies: –
Device - 10 settings in CB 1610 -- 11 settings in CB 1702
System Security - 9 settings in CB 1610 -- 10 settings in CB 1702
SCCM product team did excellent work to catch up with Intune SA regarding Cloud Services integration with SCCM CB latest version. They have added support for "Android for Work" enrollments, Cloud Management Gateway has improved, and the OMS connector has some improvements.  
Cloud Services
Android For Work
Cloud Management Gateway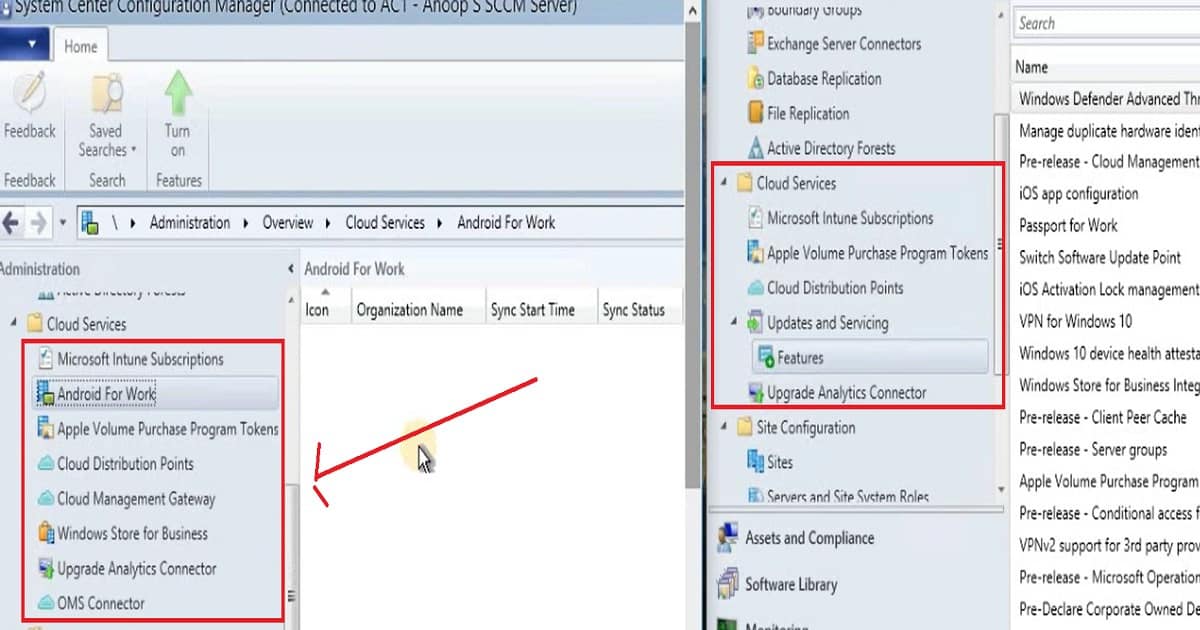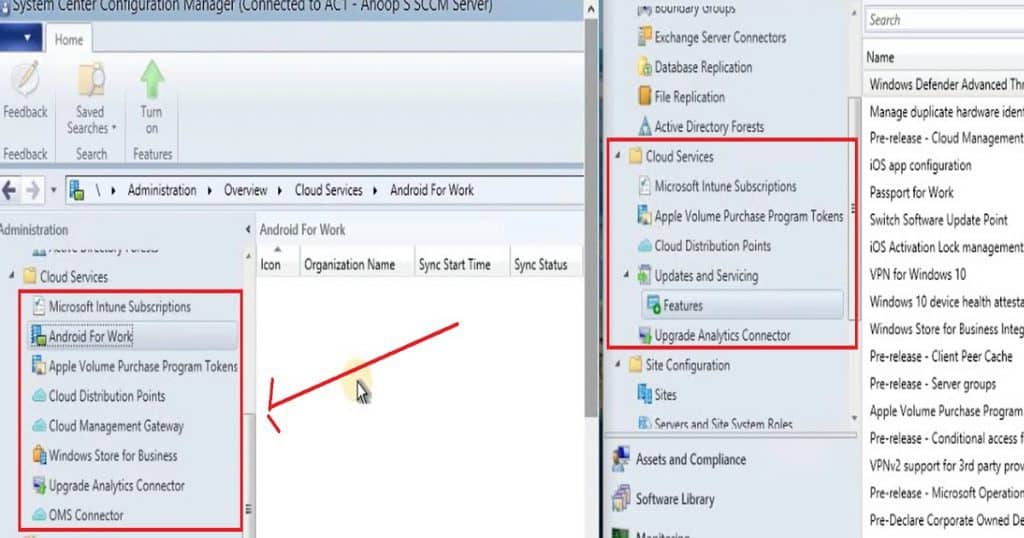 References
What's new in version 1702 of SCCM CB System Center Configuration Manager – here
Author
Anoop is Microsoft MVP! He is a Solution Architect in enterprise client management with more than 20 years of experience (calculation done in 2021) in IT. He is a blogger, Speaker, and Local User Group HTMD Community leader. His main focus is on Device Management technologies like SCCM 2012, Current Branch, and Intune. E writes about ConfigMgr, Windows 11, Windows 10, Azure AD, Microsoft Intune, Windows 365, AVD, etc…