How to Perform SCCM ConfigMgr CB Production upgrade to 1702 Video Tutorial Configuration Manager? Microsoft released a new version of SCCM/ConfigMgr CB 1702 here. If your SCCM infrastructure runs with an ONLINE "service connection" point and your SCCM CB version is 1602 (and later), you will receive the SCCM CB 1702 update in the console.
For SCCM CB infra with an online service connection point, the SCCM CB 1702 update will automatically appear in the console once Microsoft release this for "slow ring". Microsoft released SCCM CB 1702 updates only for the "fast ring." I have upgraded the standalone SCCM CB 1610 primary site to SCCM CB 1702. My experience with this upgrade was very smooth and robust.
I didn't face any hiccups after automatically downloading the SCCM CB 1702 source files to the primary server. The above video will give a step-by-step walkthrough of the SCCM/ConfigMgr CB 1610 and 1702 upgrade process! More details about SCCM 1702 release note are here.
Feature Comparison between SCCM CB production version 1610 and 1702 –
Video – Here

Don't upgrade to SCCM/ConfigMgr CB 1702 version if your primary servers/CAS are running on Windows 2008 R2 server. The minimum OS requirement for SCCM CB 1702 upgrade is Windows Server 2012 and Later. More details here.
You need to ensure that you have a supported version of SQL installed on the primary servers/CAS. SQL 2008 R2 SP3 is not supported, and it should have a minimum SQL 2012 R2. So, hold on with your SCCM CB 1702 to upgrade if you don't have supported SQL and OS versions.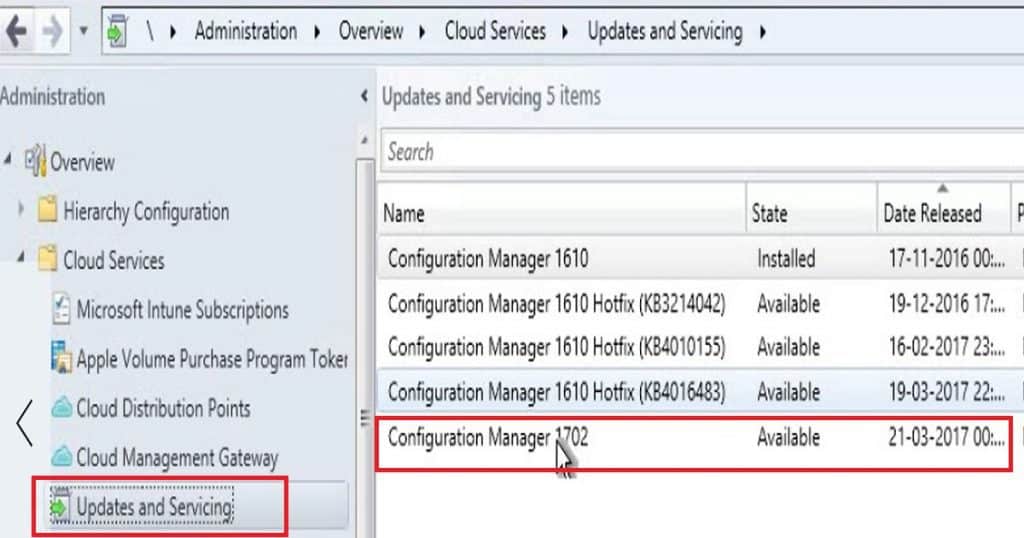 Issues with getting ConfigMgr SCCM 1702 updates available in the SCCM CB console?
Is the SCCM/ConfigMgr CB 1702 update still not available in the SCCM CB console? How to Perform SCCM ConfigMgr CB Production upgrade to 1702 Video Tutorial Configuration Manager?
Following are the steps you need to follow for the FAST RING release of SCCM CB 1702:- More details are available in my previous post, "SCCM ConfigMgr 2012 to CB upgrade Unofficial Checklist"

Download the PowerShell script to ENABLE the first wave of customers (Script is available in the above link) – SKIP THIS STEP – NOT Required NOW.
Run the PowerShell Launch from an elevated command prompt (local admin access) PS Command – "EnableFastUpdateRing1702.ps1 <SiteServer_Name | SiteServer_IP>" – SKIP THIS STEP – NOT Required NOW
Force a check for the update.  Go to \Administration\Overview\Cloud Services\Updates and Servicing and click "Check for Updates."  You may need to try "Check for Updates" more than once if the package is not downloaded on the first try.
Wait for some time. DMP Downloader component will start the Download via SCCM CB 1606 updates and Servicing channel (DMPdownloader.log for more details)
SCCM CB 1702 Prerequisites check
Start the installation and wait for the replication of source files to the server in the hierarchy if you have CAS and Primary servers (this is not covered as I don't have the SCCM CB hierarchy in the lab)
Once installation is completed on the CAS server then, the automatic SCCM CB 1702 upgrade process will kick in for child Primary servers as per the service windows scheduled on the respective primary server.
As you can see in the above screen capture, the SCCM/ConfigMgr CB 1702 is already downloaded and available for the upgrade process on my SCCM primary server. The download process of SCCM CB 1702 still has some challenges, and there is here is some room for improvement.
The SCCM CB 1702 download was stuck in downloading state for a long time. I had to restart the SMS Executive service to make the "in-console" 1702 update to an available state. Right-click on the Configuration Manager 1702 update and Install.
The SCCM/ConfigMgr CB 1702 upgrade experience was very smooth for me. The SCCM/ConfigMgr CB 1702 upgrade process can take time depending on several factors like hardware performance of server components and SQL DB size etc.. You can monitor the status of the upgrade from CMUpdate.log.
Also, check the Monitoring workspace for a more standardized status table with respective log file details of each stage of an upgrade. How to Perform SCCM ConfigMgr CB Production upgrade to 1702 Video Tutorial Configuration Manager?
The last stage of the ConfigMgr/SCCM CB 1610 to 1702 upgrade process is SCCM CB console upgrade. Once the console is upgraded successfully then; you can see the latest version of the site server version.
Also, the SCCM CB 1702 version details will be updated in the primary servers or CAS server registry key.
Version
Version 1702
Console Version 5.000.8498.1400
Site Version:5.0.8498.1000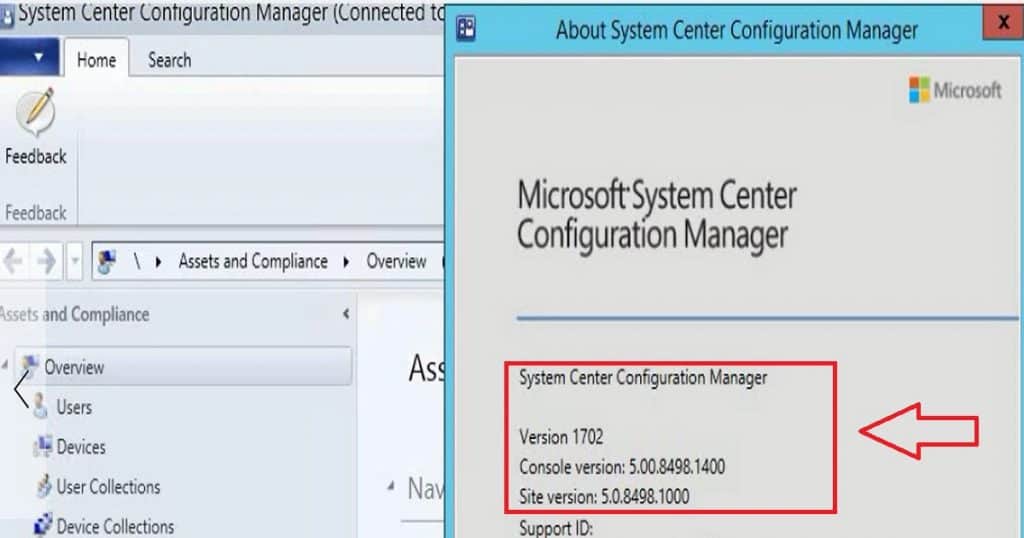 References:-
Now Available: Update 1702 for System Center Configuration Manager – here
Deprecated operating systems and SQL supports details for SCCM/ConfigMgr CB 1702 – here
Author
Anoop is Microsoft MVP! He is a Solution Architect in enterprise client management with more than 20 years of experience (calculation done in 2021) in IT. He is a blogger, Speaker, and Local User Group HTMD Community leader. His main focus is on Device Management technologies like SCCM 2012, Current Branch, and Intune. E writes about ConfigMgr, Windows 11, Windows 10, Azure AD, Microsoft Intune, Windows 365, AVD, etc…