Let's see how to FIX Unlock Microsoft Loop Issue using Policies. In this post, we are going to discuss Microsoft Loop. There is an issue with Microsoft Loop, and we will see how to resolve that issue. You can easily resolve the problem of unlocking Microsoft Loop through policy settings.
So if you don't know about Microsoft Loop, we are going to explain that also what Microsoft Loop is and how that is going to help Teams to collaborate more effectively in a modern way. We have an article highlighting the Microsoft Loop Notion Competitor Detailed Analysis.
In this article, we will address an important concern related to Microsoft Loop that could prevent users from logging in. We will guide you through the necessary steps to resolve this issue and ensure a seamless experience with Microsoft Loop. To enable users to log into Microsoft Loop successfully, it is crucial to configure specific policy settings.
Microsoft Loop is an innovative and modern collaboration tool designed to streamline work processes and empower users to achieve their goals easily and efficiently. This free, public preview platform seamlessly integrates with Microsoft 365, offering a powerful and flexible canvas that synchronizes across various applications.

What is Microsoft Loop, and what are the Advantages of it?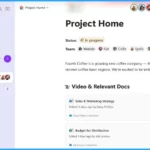 Microsoft Loop is a collaboration tool that helps you to provide a flexible and integrated workspace that enables teams to collaborate, brainstorm ideas, and create content together more effectively.
1. Centralized Collaboration
2. Real-time Co-authoring
3. Flexible Content Creation
4. Integrated with other Microsoft 365 applications
Video 1 – FIX Unlock Microsoft Loop Issue using Policies
In the following video, we present a comprehensive overview of the issue faced by Microsoft Loop and provide step-by-step guidance on resolving it effectively. Additionally, we demonstrate how you can grant access to a specific group of users to test Microsoft Loop, aligning with your organizational policies and work culture.
You can consider deploying Microsoft Loop to all users based on the successful testing phase.
FIX Unlock Microsoft Loop Issue using Policies
Let's fix the issue with the Microsoft Loop application. If you are login to Microsoft Loop, You will get the Unlock Loop window, and it also shows the message that "Before you can use the app, it must be enabled in your organization by your administrator." That is the error you normally get when you try to log into Loop and don't have permission to log in.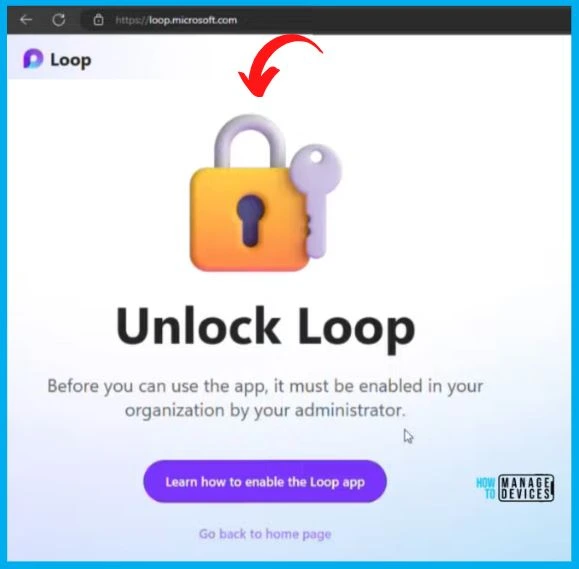 Let's see how to enable the loops application for the first time in your organization and how to give access to specific users or all users to use the loop application. Then you need to go to config.office.com, log in with your admin ID, and then go Customization tab on the left of the Microsoft 365 Apps admin center.
Select Policy Management from Customization
And create a new policy from there and name it Loop enablement policy.
The policy Creation includes 4 stages as

Basics
Scope
Policies
Review and publish

In the Basic tab, you should provide a Name and a brief Description of the policy configuration.
| Basic tab Policy Settings Options | Used to |
| --- | --- |
| Name | It helps to provide a Name for the policy |
| Description | It helps to provide a Description of the policy |
FIX Unlock Microsoft Loop Issue using Policies – Table 1

Go to the Scope tab, the Scope tab holds significant importance in policy creation. While working in a production environment, creating a custom group and assigning specific policies to individuals within that group rather than applying the policies to all users is advisable.
However, this tab will scope the policies to all users, allowing everyone to utilize the Loop application.
It is crucial to note that in production scenarios, it is recommended to consider other options for scoping, such as creating specific user groups based on roles or departments.
This approach ensures that the policies are used to meet the needs of different user groups within the organization, promoting efficient collaboration and adhering to security and access control requirements.
Once you have decided and chosen the Scope, click the Next button to continue.

On the "Configure Settings" page, you will find an extensive collection of policies designed to customize and manage various aspects of your Microsoft Loop environment. This page offers a comprehensive range of over 2000 policies, providing granular control over the configuration settings within the application.
You should use the search option on this page and search with Loop. This will help you to filter down only to Loop-related policies. Here you can see 3 policies at the moment. You can easily Enable the policy by clicking on the policy.
Microsoft Loop Policies
Create and view Loop tiles in Microsoft apps that support Loop create
Create and view Loops Workspaces in Loop
Create and View Loop files in Outlook
FIX Unlock Microsoft Loop Issue using Policies – Table 2

You can easily Enable the policy by clicking on the policy, and it will give you 3 options Enable, Disable, and Not configures. The default setting option is Not configured. After clicking the policy, the below window will appear. The policy setting controls whether users can create and view Loop files in Microsoft apps that support Loop.
Click the Configuration settings dropdown arrow and Select the Enabled option.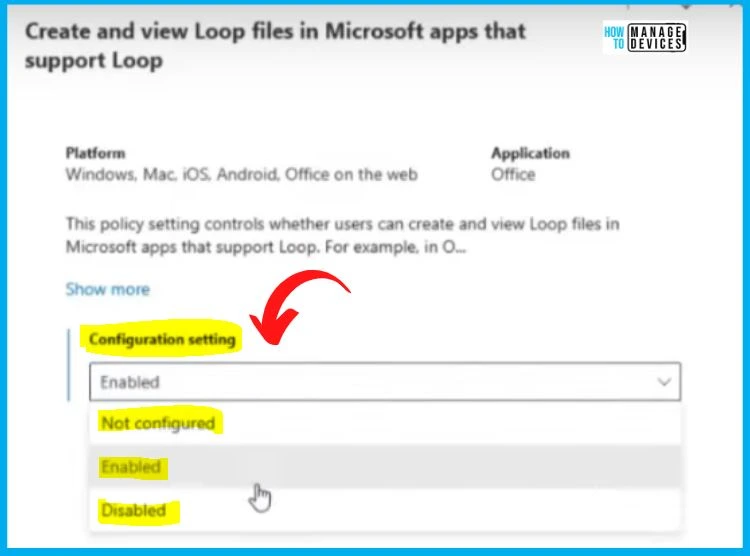 The "Review + publish" tab offers a comprehensive overview, allowing you to verify and confirm all the specified information before finalizing the creation. It summarizes the item's attributes, ensuring everything aligns with your intended configuration.
After confirming all the information click Create button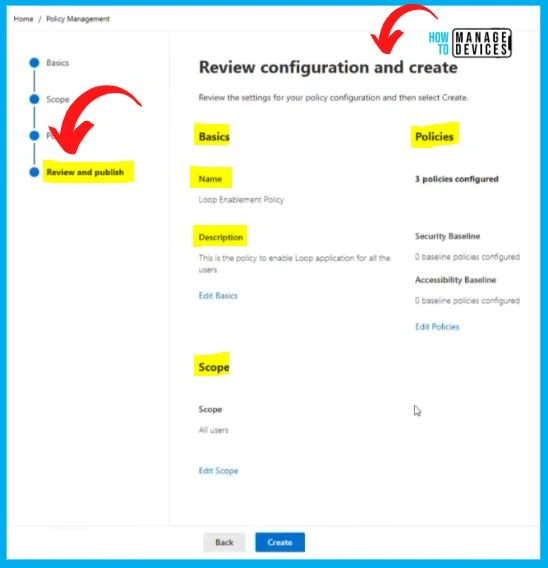 Policy Configuration Created
The window below displays the Policy Configuration Created status, confirming the successful creation of the Loop Enablement policy. This policy is crucial in enabling and activating the Loop functionality within your Microsoft environment.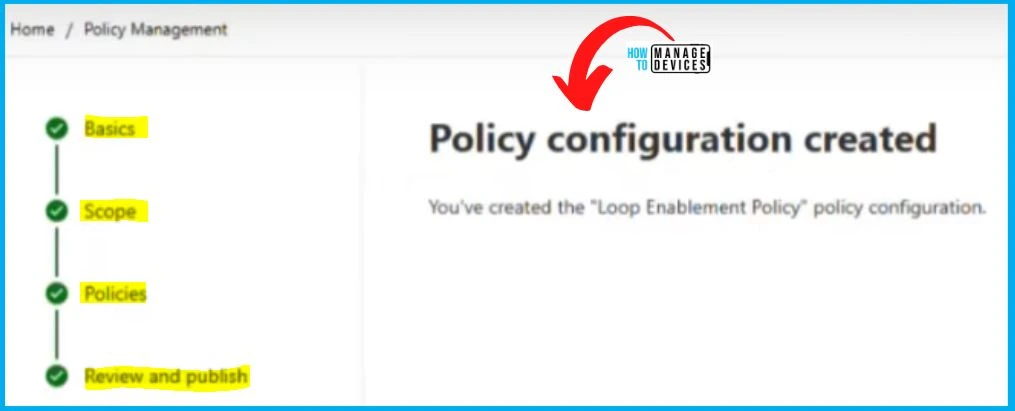 Let's try to log in to the Loop application with your corporate ID and check what is happening. Before you can use this app, it must be enabled. Now let's log out and log in back onto the Loop application and check how we can access the Loop application.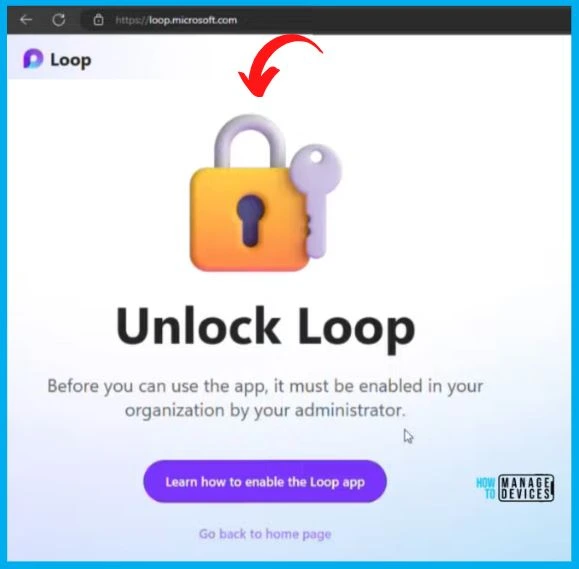 On the Microsoft account sign-in page, commonly called the "Microsoft Pick an Account" page, you can see a selection of account options when logging into a Microsoft service or application. This page allows you to conveniently access your Microsoft account by selecting the appropriate account associated with the service you wish to use.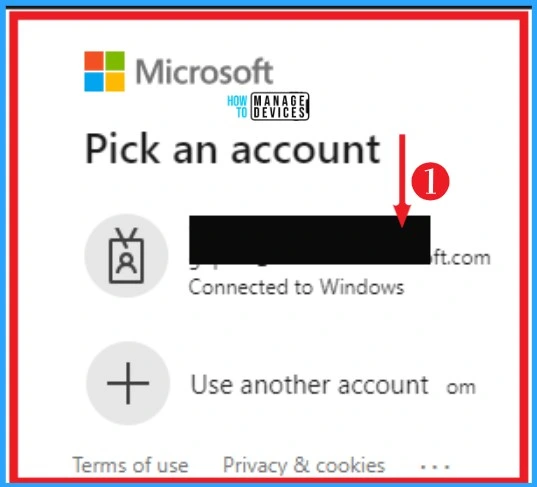 Microsoft Loop transforms how you work so you can think, plan, and create together like never before. The loop is made up of workspaces, pages, and components. Click the Sign-in button from the below window.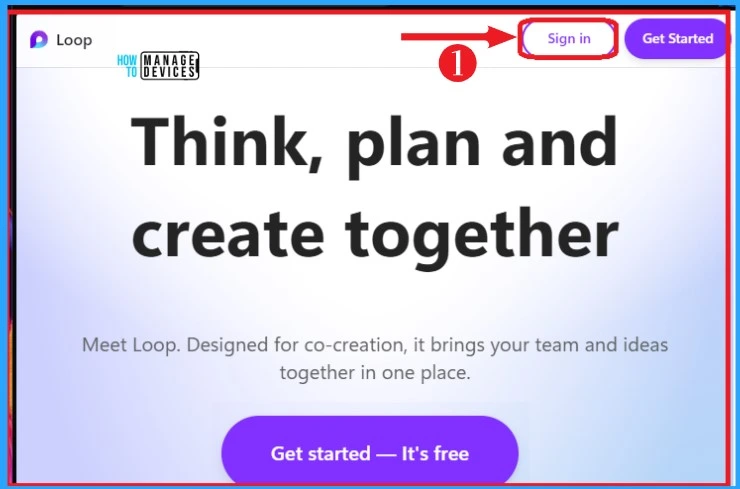 Loop.microsoft.com is the website to launch the Microsoft Loop application. It is a PWA kind of application. To login into the Loop application, you should pick an account and Enter the password in the below window.

Home Page of Microsoft Loop Application
On the Loop homepage, you can access all your existing workspaces and create new ones. Create together with shared workspaces for each of your projects. In a Loop workspace, you can bring everything you need for your project together in one place. To kick off a workspace, Loop can even search for you, making it easy to add existing project-related information and organize it into pages.
Continue adding to your workspace as your project evolves, and organize it as you want.
Loop pages are flexible canvases where you can react, comment, and build on each other's ideas.
Notifications help you track the things you care about and focus on what matters, all while staying in the flow of your work.
Copilot in Loop helps you ideate and co-create.
Get inspired with AI-powered contextual suggestions to transform the way you create together.
Don't let app barriers slow your project down. Easily share information with people outside your workspace with Loop Components.
Components are portable content that stays in sync across all the places they have been shared, no matter where they are updated.
You can share components and create new ones, like lists, tables, paragraphs, and more, across your favorite Microsoft 365 apps. You're always in control because it's easy to see where components were shared and who has access.
However you work, wherever you work, Loop enables teams to think, plan, and create together like never before.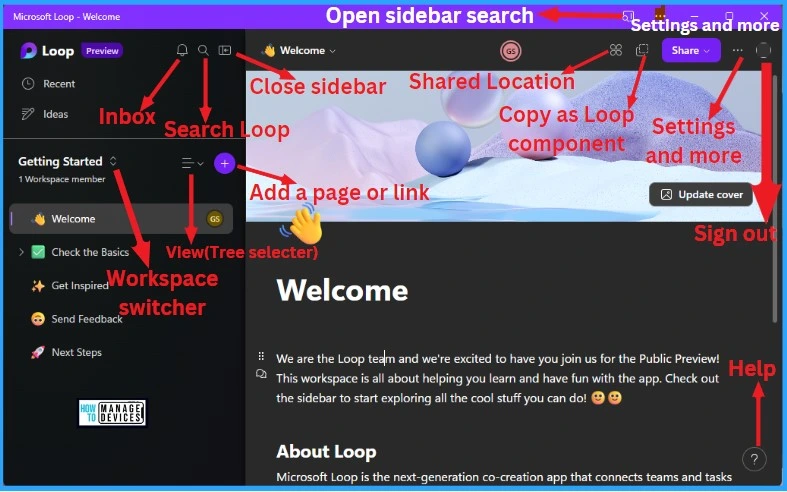 Manage Loop workspaces in Syntex repository services | Microsoft Learn
Author
About Author – Vidya is a computer enthusiast. She is here to share quick tips and tricks with Windows 11 or Windows 10 users. She loves writing on Windows 11 and related technologies. She is also keen to find solutions and write about day-to-day tech problems.