Microsoft announced Intune Advanced App and Vulnerability Management solution for Third Party Apps Patch Management as part of the Microsoft Secure event. The details of Inutne 3rd party patch management solutions as part of Intune Suite are shared by Ramya Chitrakar and Steve Dispensa.
The latest information on Microsoft's advanced app and vulnerability management solution details are available – Deploy Windows Catalog App Type Using Intune Enterprise Application Catalog. In security event, Microsoft has introduced Microsoft security Copilot. Intune can also make use of the Security Copilot solution. The additional licensing cost for this is not available yet.
The Windows Security event is a detailed record of system, security, and application notifications stored by the Windows operating system that network administrators use to diagnose problems and predict future issues. The session hosted by Ramya and Steve also shares the Intune Suite feature roadmap.
Microsoft Copilot is an AI-powered code auto-completion tool designed to help IT admin-related tasks; the Copilot feature is available in Word, Excel, Powerpoint, Teams, etc. Now the Copilot feature is also available on Intune, so it also helps the Intune Admin.

Introducing Microsoft Intune Suite
Let's see how Intune is part of the Microsoft Security platform. The additional capabilities of the Microsoft Intune Suite are confident it will further simplify security and IT management tasks. The Intune Suite helps maximize your Microsoft security investments and drive efficiencies to streamline and converge IT and security workflows.
Microsoft Intune Suite strengthens cybersecurity and gains IT efficiency with advanced endpoint management solutions. Cyber hygiene for enabling Zero Trust is a top priority for security professionals, and Intune Suite is critical in supporting this goal.
We have a detailed post about Microsoft Intune Suite. The new capabilities of the Intune Suite can help fortify your endpoint security and simplify endpoint management with automation.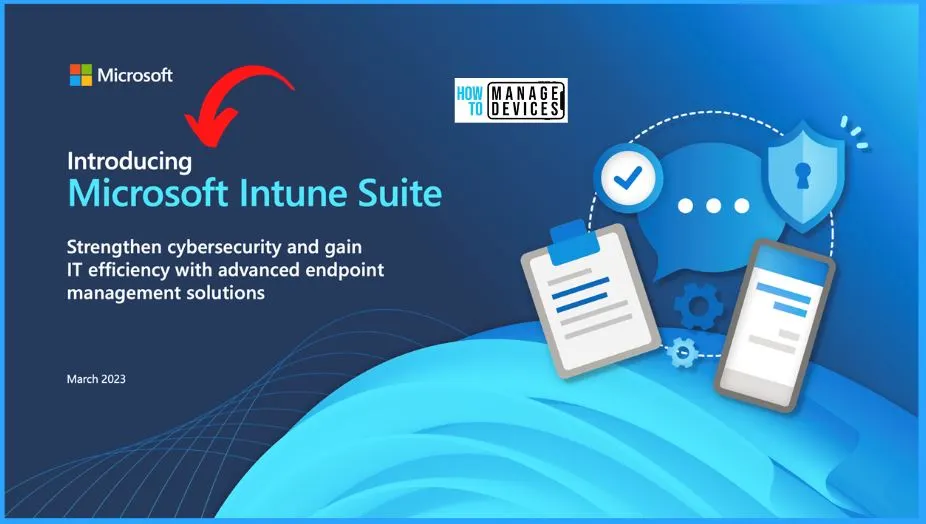 Microsoft rolls out enhancements to the Intune Suite with many new values coming this calendar year. For example, endpoint privilege management will generally be available in April.

The new Intune enterprise app catalog will be previewed in May and become GA in the summer. Beyond the anomaly detection and device timeline we demonstrated, we will further automate workflows based on AI in the coming months.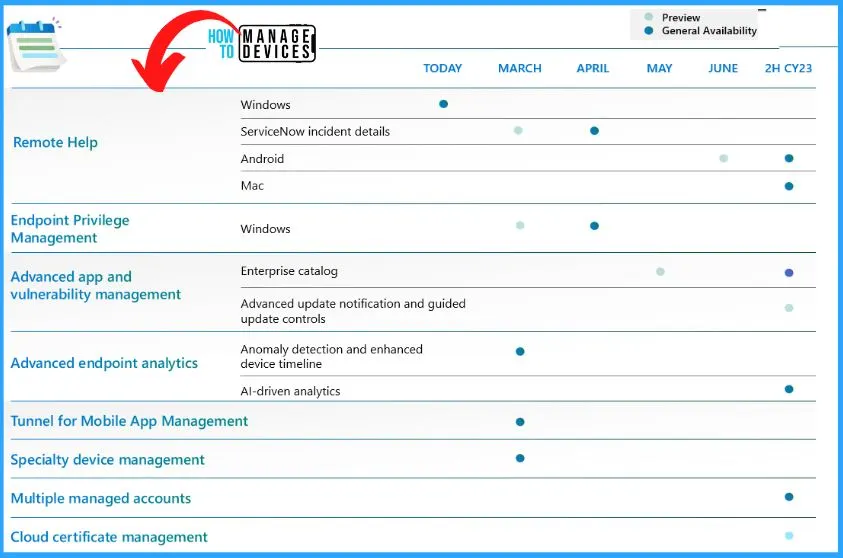 Intune Advanced App and Vulnerability Management
This solution for 3rd party application updates will be called Advanced App and Vulnerability Management. And this solution will be part of Intune Suite licenses as explained in the above section.
Ramya shared the basic details of Intune Advanced App and Vulnerability Management solution in her session at Microsoft Secure event – Cyber-Safety and IT efficiency fueled by Microsoft Intune Suite. Following are the two key components of Intune Advanced App and Vulnerability Management solution.
Enterprise Catalog
Advanced Update Notification and Guided Update Controls
| Feature | Preview Release Dates | GA Release Dates |
| --- | --- | --- |
| Enterprise Catalog | May 2023 | H2 2023 |
| Advanced Update Notification and Guided Update Controls | H2 2023 | NA |
Table 1 – Intune Advanced App and Vulnerability Management Availability
Ramya also shared that new advanced app management capabilities will get released in the coming months. These new capabilities will transform the current manual process of app management and patching. A core component of this new solution will be a new enterprise catalog that will host both first and third-party applications in a safe and secure environment, providing you with a one-stop shop for all your application needs.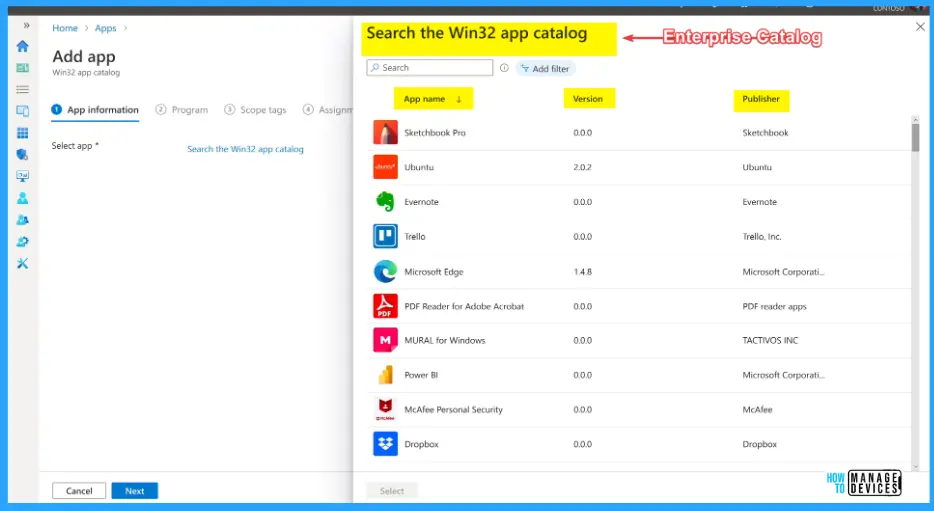 Ramya mentioned that the catalog would remove the need for IT and security admins to worry about older, less secure versions of applications being used and creating a security risk. In addition, adding applications that once took 40- 60 minutes can now be done in just 3-5 minutes, making the entire process of application acquisition, distribution, and deployment more efficient.
As per Microsoft, the IT administrators will receive notifications of new app versions & can immediately update the app using supersedence. In the Intune Admin Center, administrators can gain a clear view of which apps need to be updated, therefore, eliminating the need for SecOps to follow up with IT teams to keep apps secure and updated.
New Type = Win32 Catalog (Windows Advanced Management App)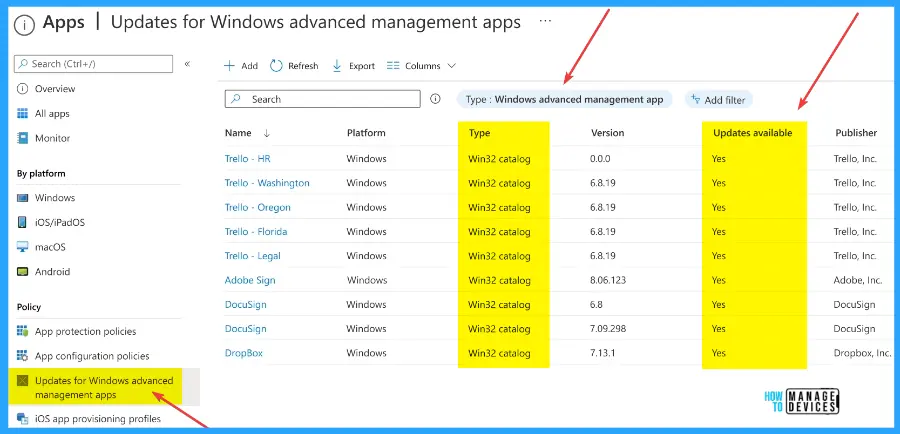 IT and Security Convergence, Reactive to Proactive and Automation
How to fortify your cyber safety through the convergence of IT and security. How data science and AI can help move you from reactive to proactive, and how to save time and money through automation and consolidation.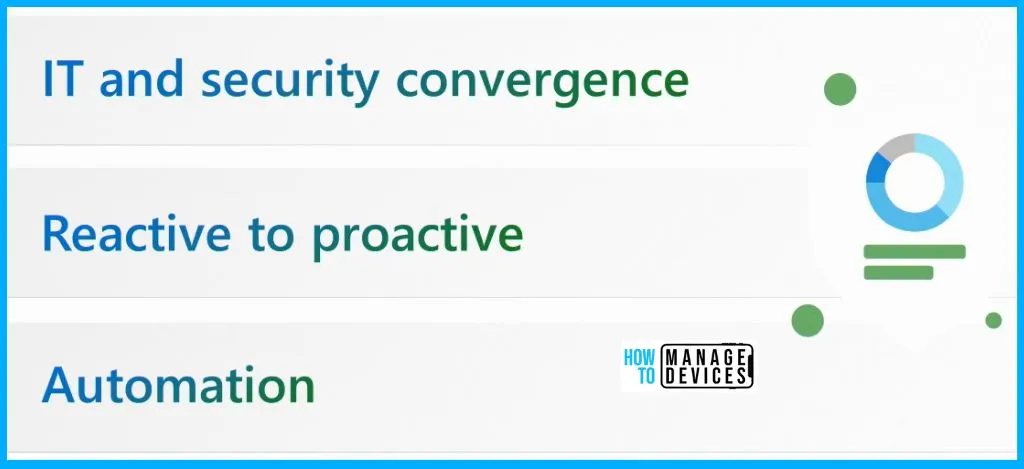 Integrated Value From Microsoft
Introducing a new comprehensive suite of solutions marks a new era for Microsoft Intune, providing advanced capabilities that expand and deepen the role of Endpoint Management and zero trust in Microsoft 365 and Microsoft security products.
Intune is integrated with Microsoft Entra for identity-based conditional access policies. Intune also receives signals directly from Microsoft Defender to help mitigate vulnerabilities.
Functionality Across Platforms for Desktop and Mobile Endpoints
The good news is that as a leader in Unified Endpoint Management, Microsoft brings together solutions to address these challenges in a simpler, more trusted, and more empowering way. The Microsoft Intune Suite helps organizations keep people at the center and create exceptional and secure experiences.
The Intune Suite is also designed to help IT and security work together to address these very concerns. Endpoint Privilege Management helps reduce the risk of local admins with controls for the elevation of standard users.
The highlights of the functionality rolling out across platforms for desktop and mobile endpoints as shown in the below screenshot.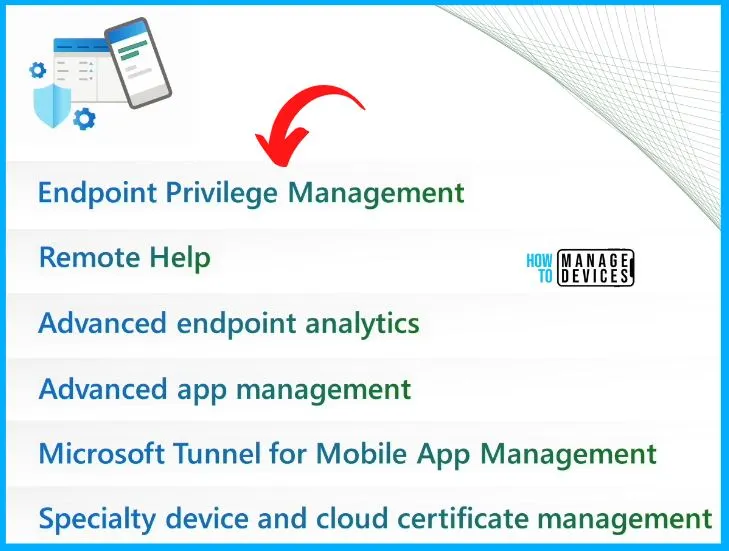 Flexible Solutions to Power a Hybrid Work
IT and security teams need to identify vulnerabilities in their end-user computing landscape to achieve zero trust, empower help desks most securely, implement flexible solutions to power a hybrid work on any device and reduce the overhead of using too many disjointed tools.
The increasing use of disconnected solutions results in the inability to assess data for complete visibility and control over what's going on across your apps and endpoints in a unified way. It also includes the following.
Reduce complexity and increase security.
Use a multitude of solutions, potentially and inadvertently.
Increasing attack surface and decreasing endpoint performance.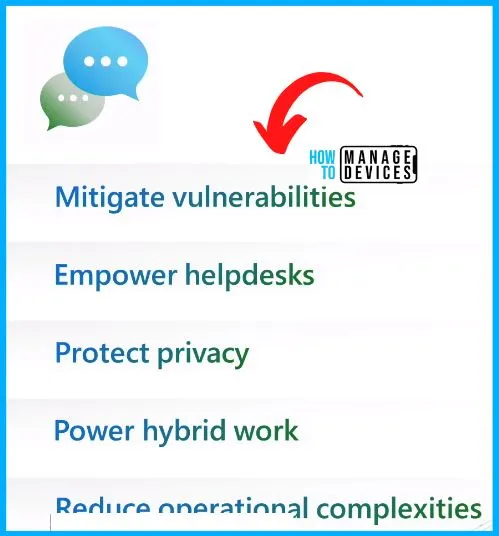 Microsoft 365 and Microsoft Security
You can connect user identities with role-based access controls of remote help and privileged endpoint management, assess device data across your digital estate with signals powered by the Microsoft Cloud and take real-time action in a trusted, reliable UEM solution.
The Intune Suite helps maximize your Microsoft security investments and drive efficiencies to simplify and converge IT and security workflows.
The key functionality of the Intune Suite
Let's see how the deep integration of Microsoft Security Services and Intune and new automation-enabled options will enable you to simplify IT and SecOp processes. You can easily increase cyber safety and help build resiliency into your zero-trust security posture.
The first focuses on endpoints security scenarios that enable IT and security convergence. The second focuses on automating workflows so you can be more proactive in shoring up the protection of your estate and delivering productive, reliable user experiences cost-effectively.
One of the main principles of Zero Trust is to apply for the least privileged access.
This principle enhances endpoint security by reducing the attack surface.
Endpoints Privilege Management is an endpoint security solution.
It enables IT to control the elevation of privileges for standard users.
Endpoint Privilege Management
Here the support-approved feature of Endpoint Privilege Management comes into play. You should request to run the application installer as an administrator to install this application. You can do this by right-clicking on the "Installer" and selecting "Run with elevated access."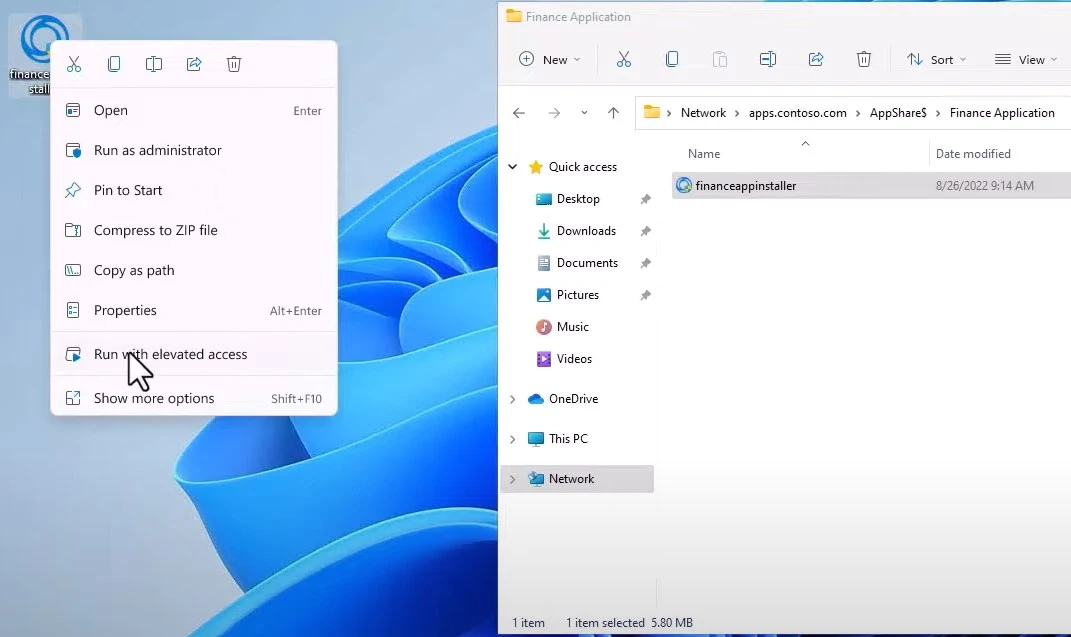 Intune Suite Offers the Opportunity to Reduce the Softer Costs
The Intune Suite offers the opportunity to reduce the softer costs that add to the complexity of managing your digital estate. It includes Reduced complexity, Fortified security, and Better experiences.
For example, using the suite will help reduce the overhead of managing a multitude of disparate solutions, simplify workflows for security and IT teams with a consolidated, integrated experience, and fortify your security posture with controls that align with your Zero Trust architecture, less attack surface, deeper protection controls, more visibility, and reliable device compliance checks.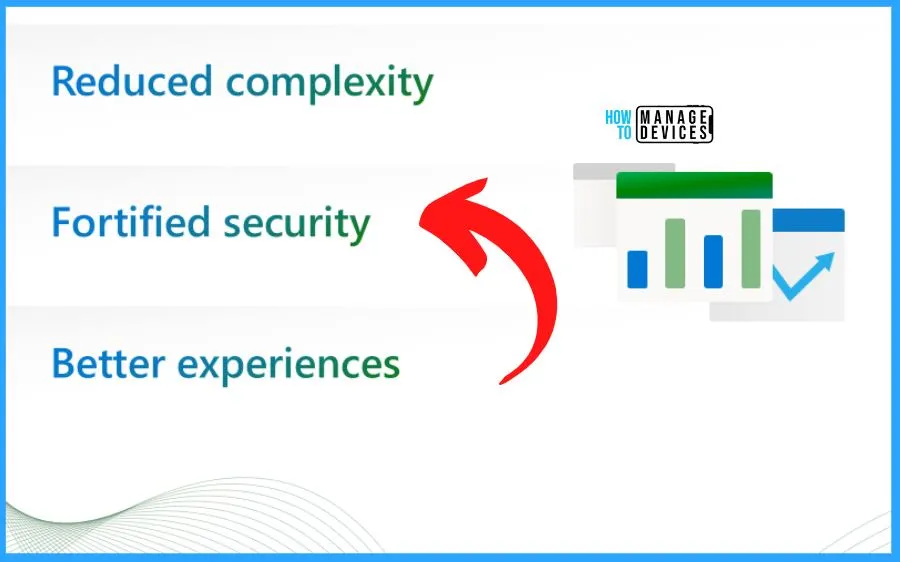 You can read more about the details of the Intune Suite and the value of Microsoft plans in the blog at aka.ms/IntuneSuiteLaunch. The Intune Tech Accelerator is a digital event dedicated to providing you with the detailed technical scope of each solution within the suite. More information – Cyber-Safety and IT efficiency fueled by Microsoft Intune Suite.
Author
About Author – Vidya is a computer enthusiast. She is here to share quick tips and tricks with Windows 11 or Windows 10 users. She loves writing on Windows 11 and related technologies. She is also keen to find solutions and write about day-to-day tech problems.