Let's check the Device Configuration Report from Intune, Endpoint Manager portal. The Device configuration report provides both device configuration and endpoint security profiles in one report.
The Intune device configuration report shows the details of the different types of profiles you deployed either its settings catalog, Custom, device restriction policy, WindowsHealthMonitoring, or DeviceRestrictions.
You can view all the policies applied to your device in the new single report containing improved data. For instance, you can see the distinction of profile types in the new Policy type field. Also, selecting a policy will provide additional details about settings applied to the device and the status of the device.
Microsoft improved Intune reporting significantly, Here you can see the Intune reporting options in the List of Intune Default Reports Reporting Strategies Advanced Reporting Options.

You can also directly check for Intune Settings Catalog Profile Report from Intune Portal, Intune settings catalog profile report provides an overall view of device configuration policies.
Device Configuration Report – Intune Portal
You can use the following steps to generate the Device Configuration report in Intune –
Login to Endpoint Manager Intune portal https://endpoint.microsoft.com
Select Reports > Device compliance > Reports tab > Device Configuration.
You can directly access to Device configuration report URL– https://endpoint.microsoft.com/#blade/Microsoft_Intune_Enrollment/ReportingMenu/deviceConfiguration.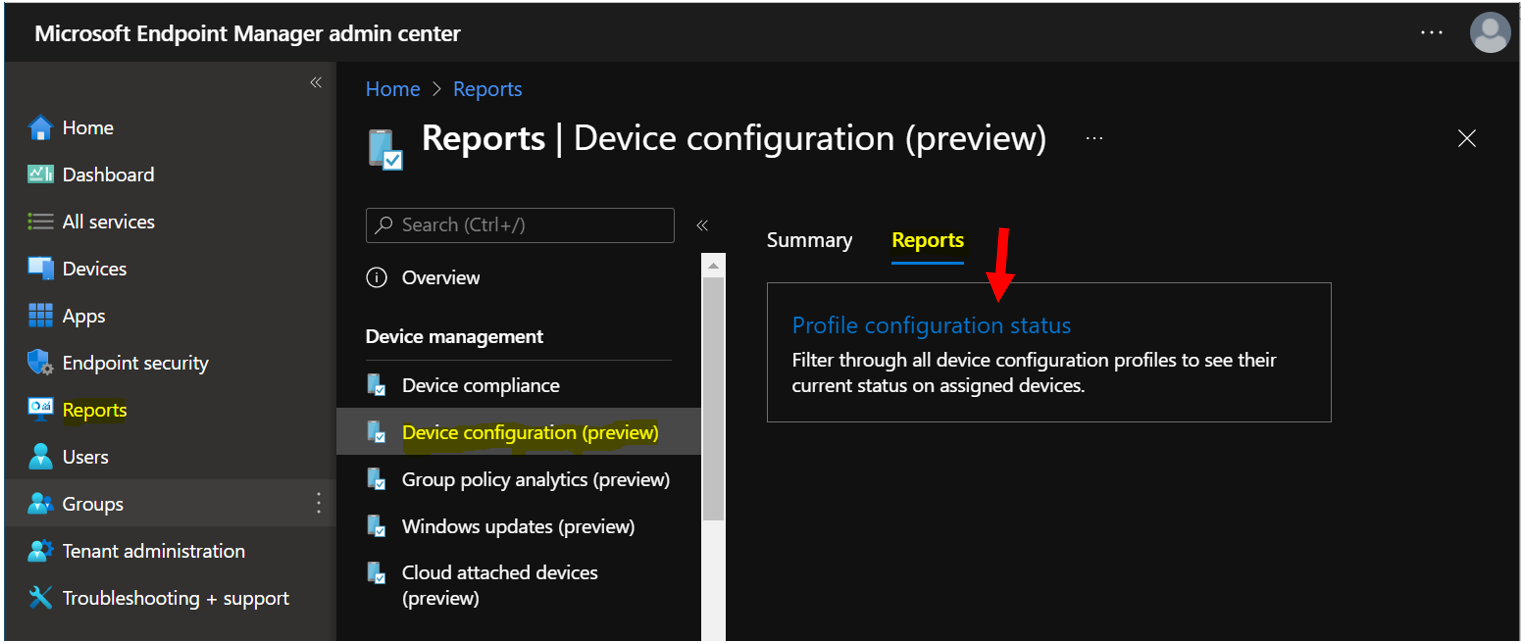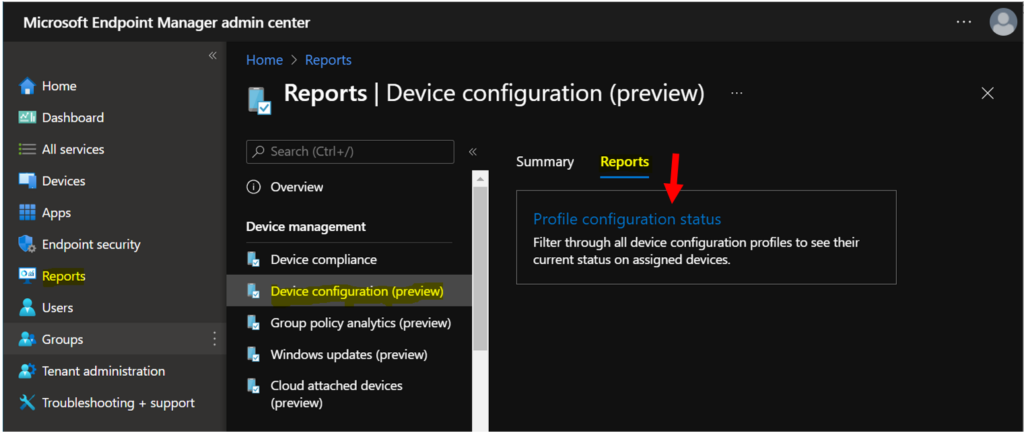 This report can be generated by applying filters to Select the OS and Profile Type to refine your report. Click Generate report (or Generate again) to retrieve current data.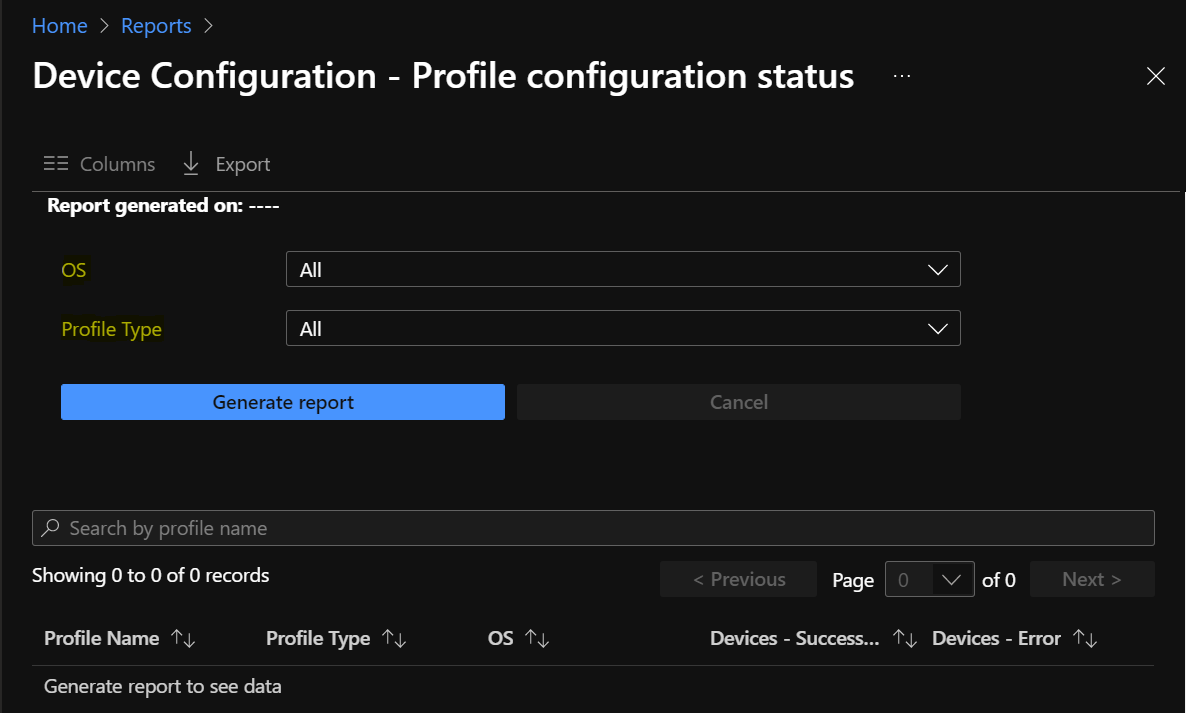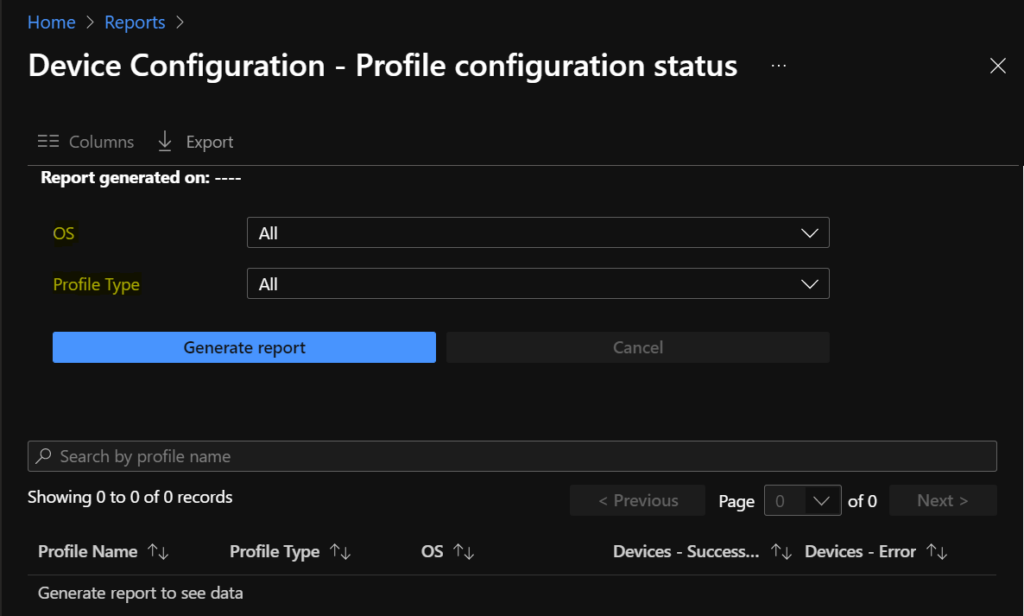 A notification will appear automatically in the top right-hand corner with the message Generating Profile configuration status report.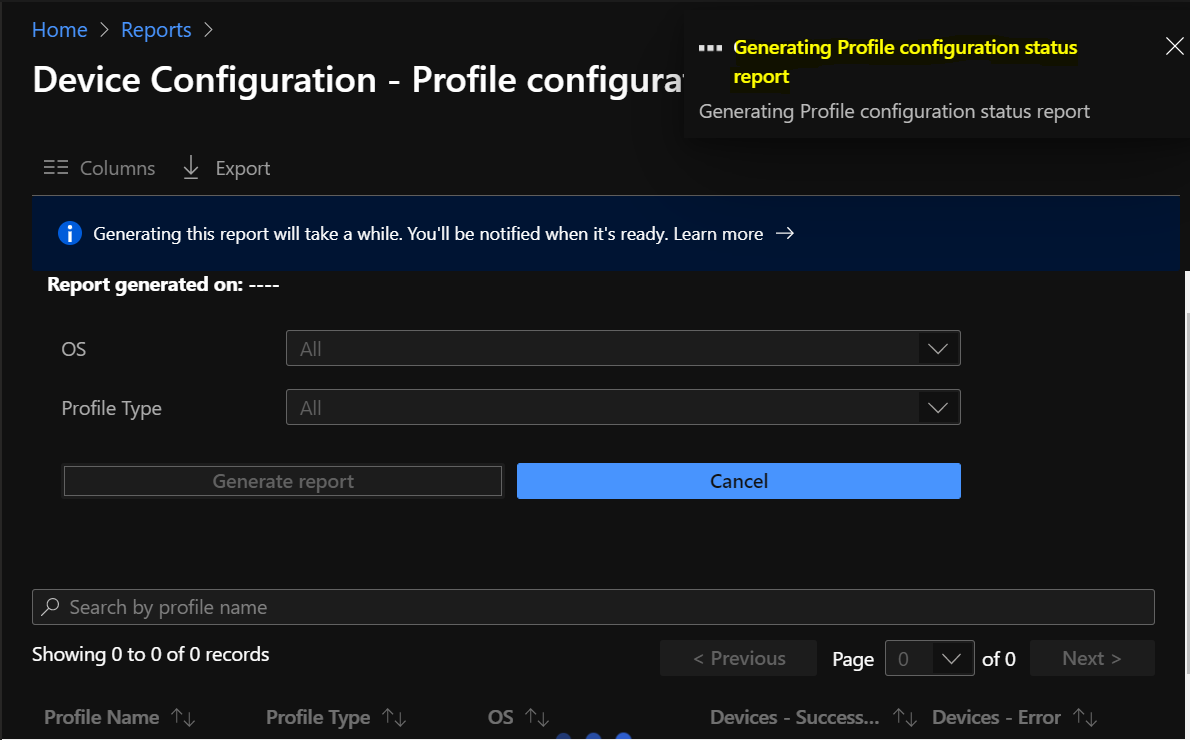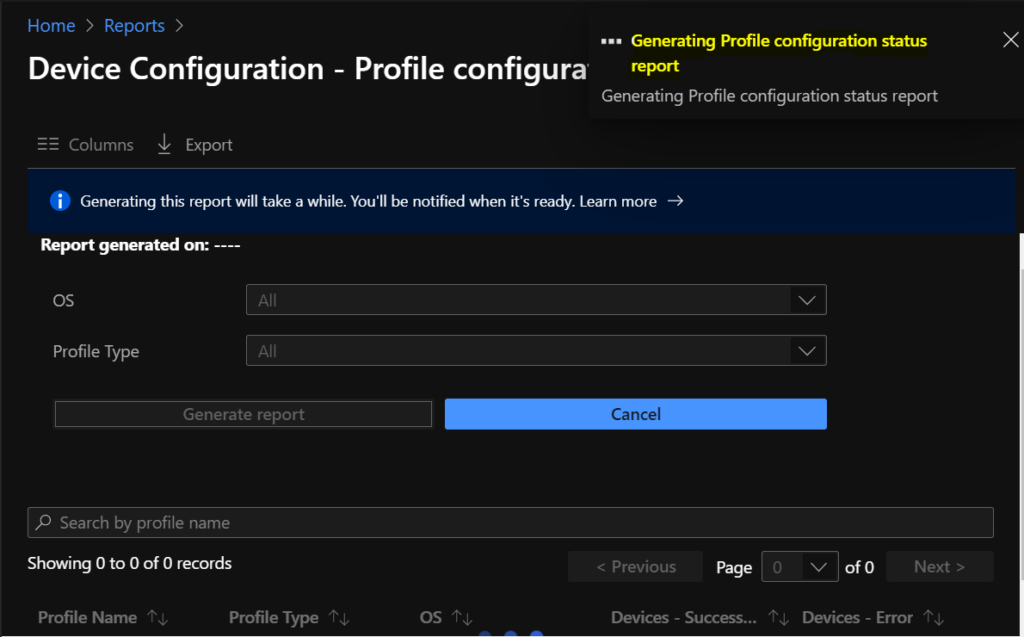 After the report is successfully generated, It will retrieve data for the selected platform as shown below, and This Device configuration report provides a timestamp of when the report was last generated –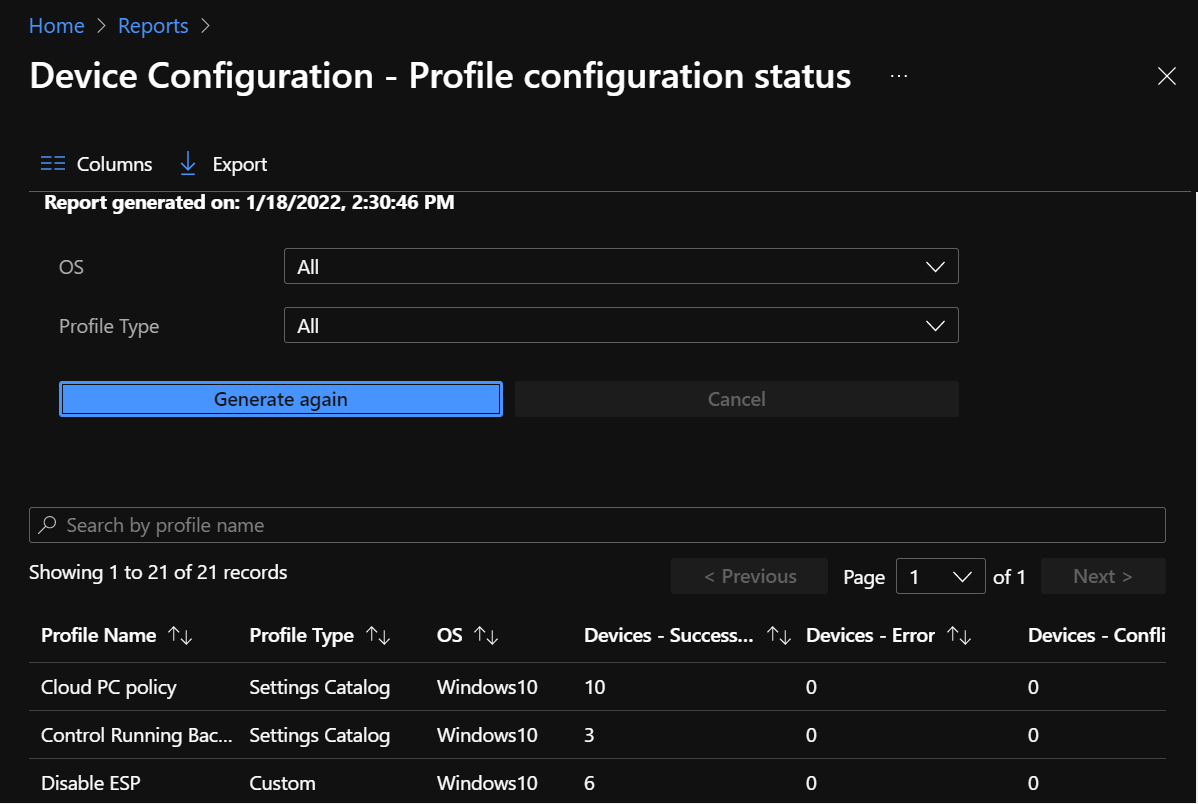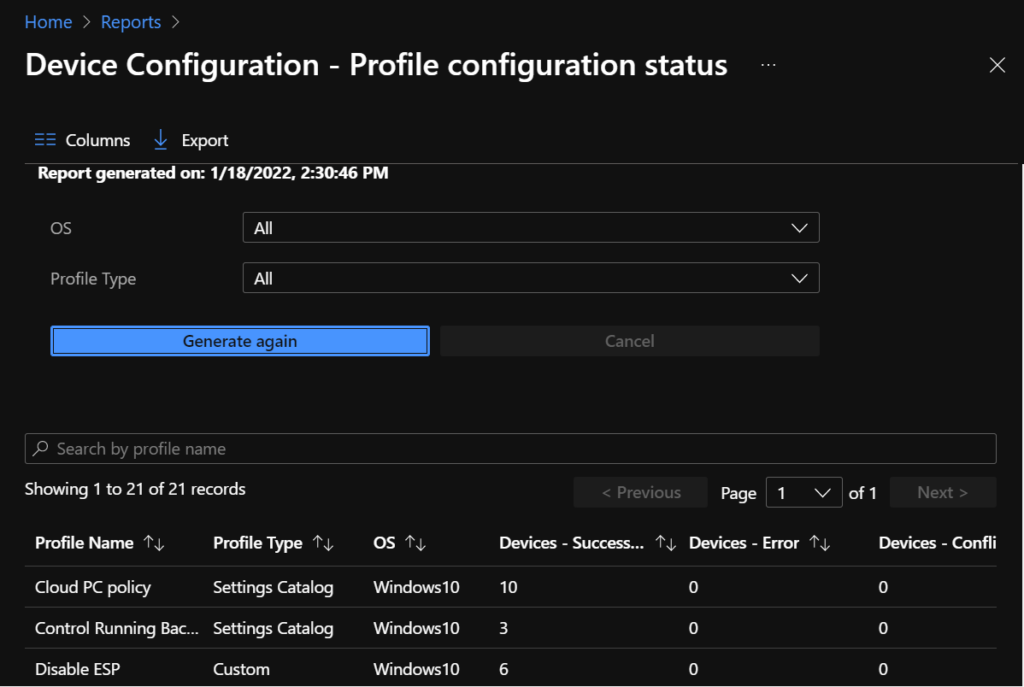 If you want to add or remove columns, Use the Columns property to add or remove columns from the generated report. The Columns include –
Profile Type
OS
Devices – Sucessful
Devices – Error
Devices – Conflict
Devices – Not Applicable
Click on the Columns, A flyout displays, here you can Check or Uncheck the columns you want to include. Select Apply to update.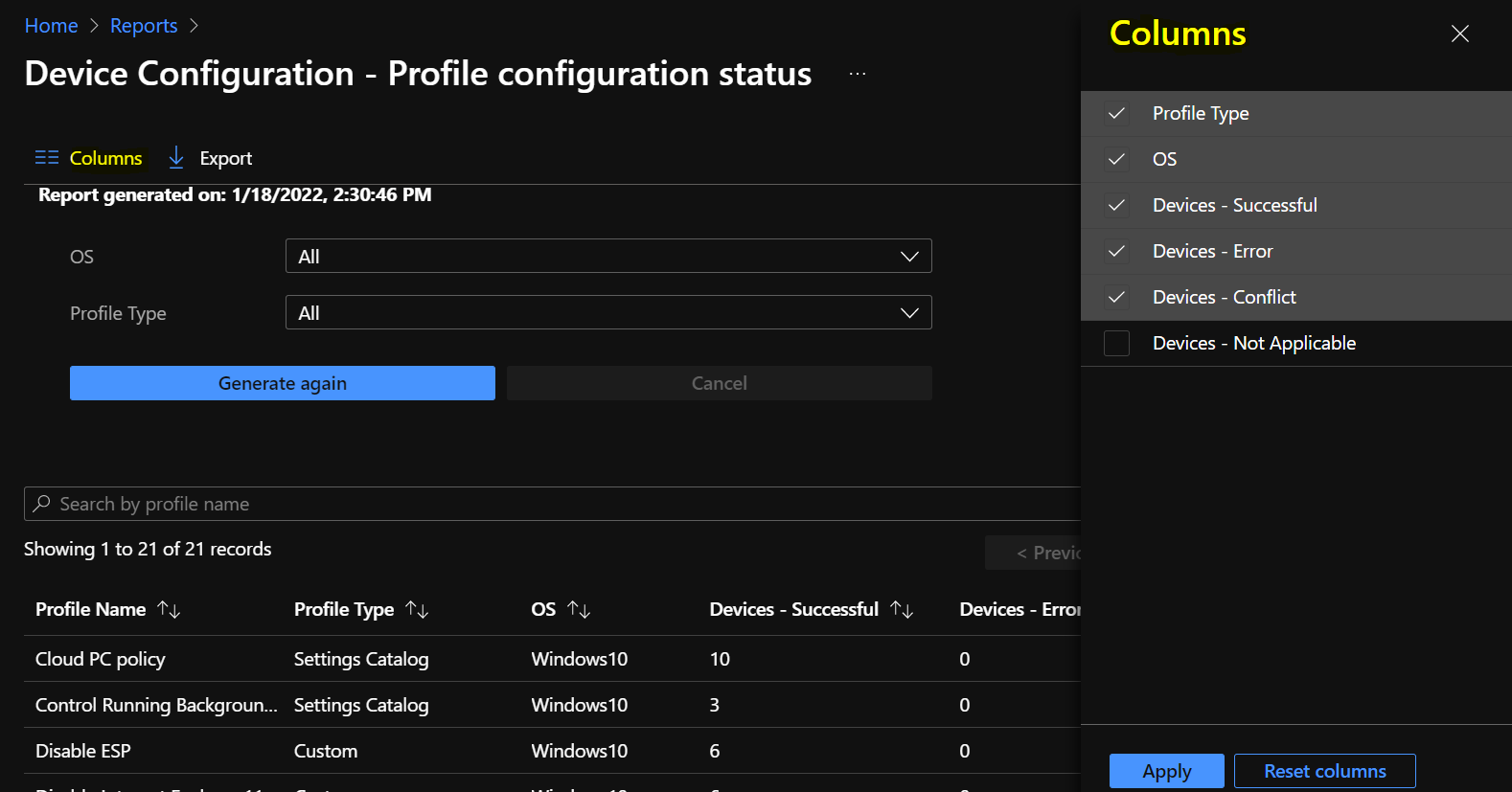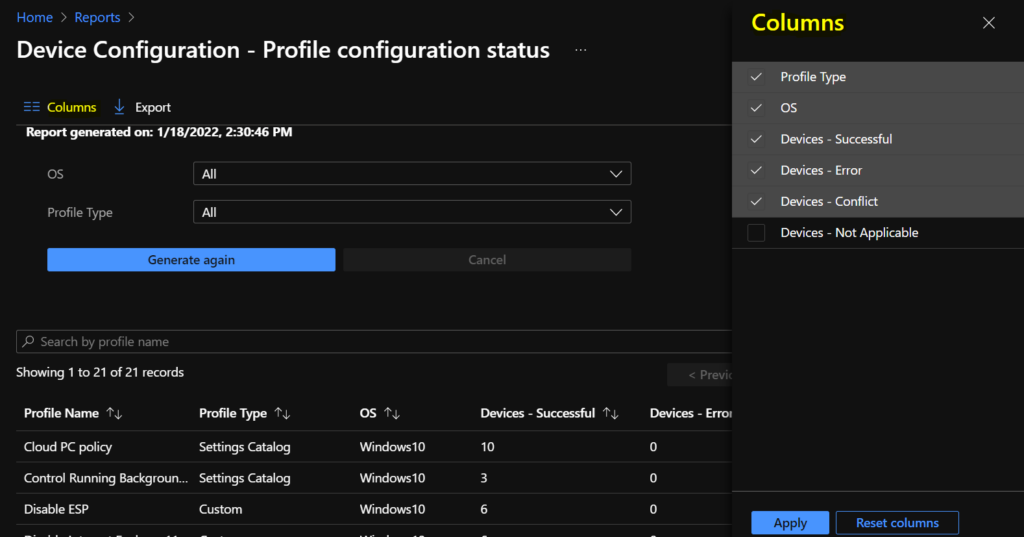 To view Device Configuration summary report –
In the MEM admin center, Select Reports > Device configuration > Summary tab. If you cannot view the report, click Refresh to reload the report.
Here you will see the Top 5 configuration profile status –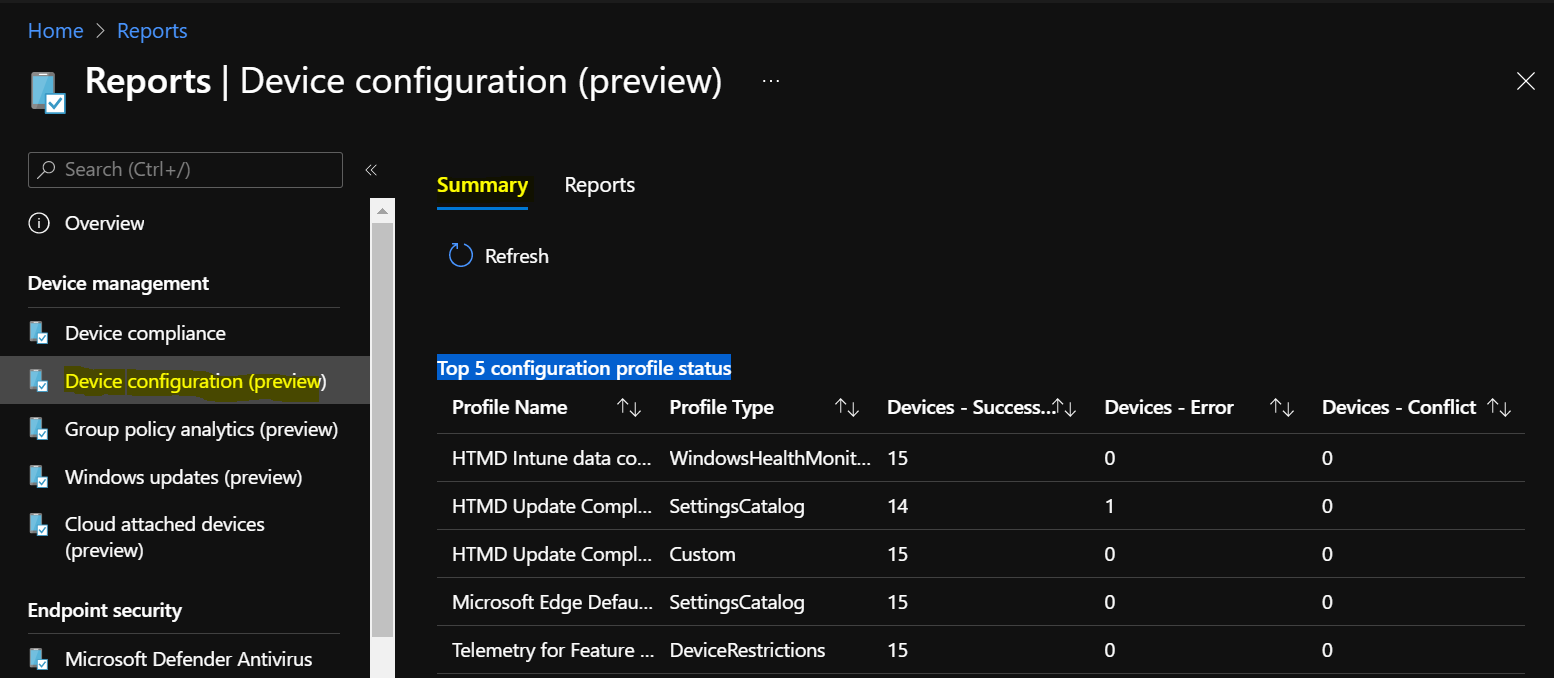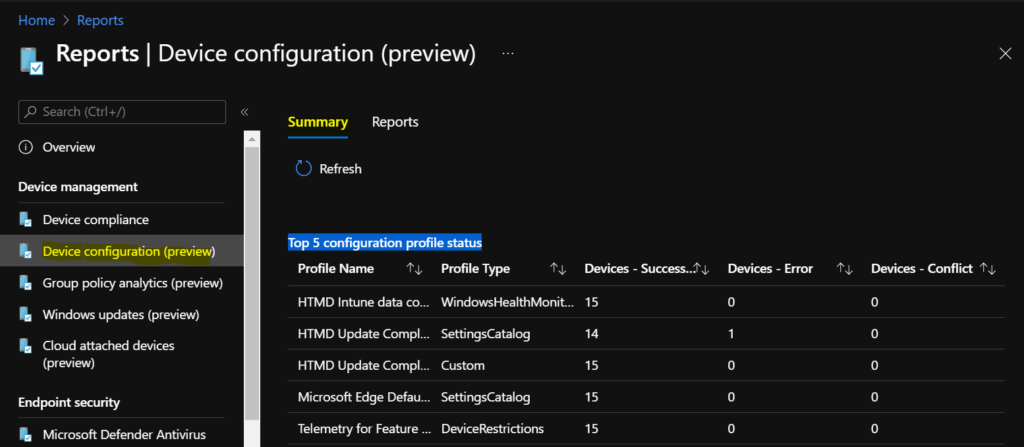 Steps to Export Intune Device Configuration Report
Let's follow the steps to export the device configuration report in Intune –
If you're inside Reports > Device configuration > Reports tab > Device configuration. You can quickly export reporting data generated. Click on the Export.
The popup will appear with the following message when exporting generated device compliance report, Click Yes. This will export data to a comma-separated values (.csv) file.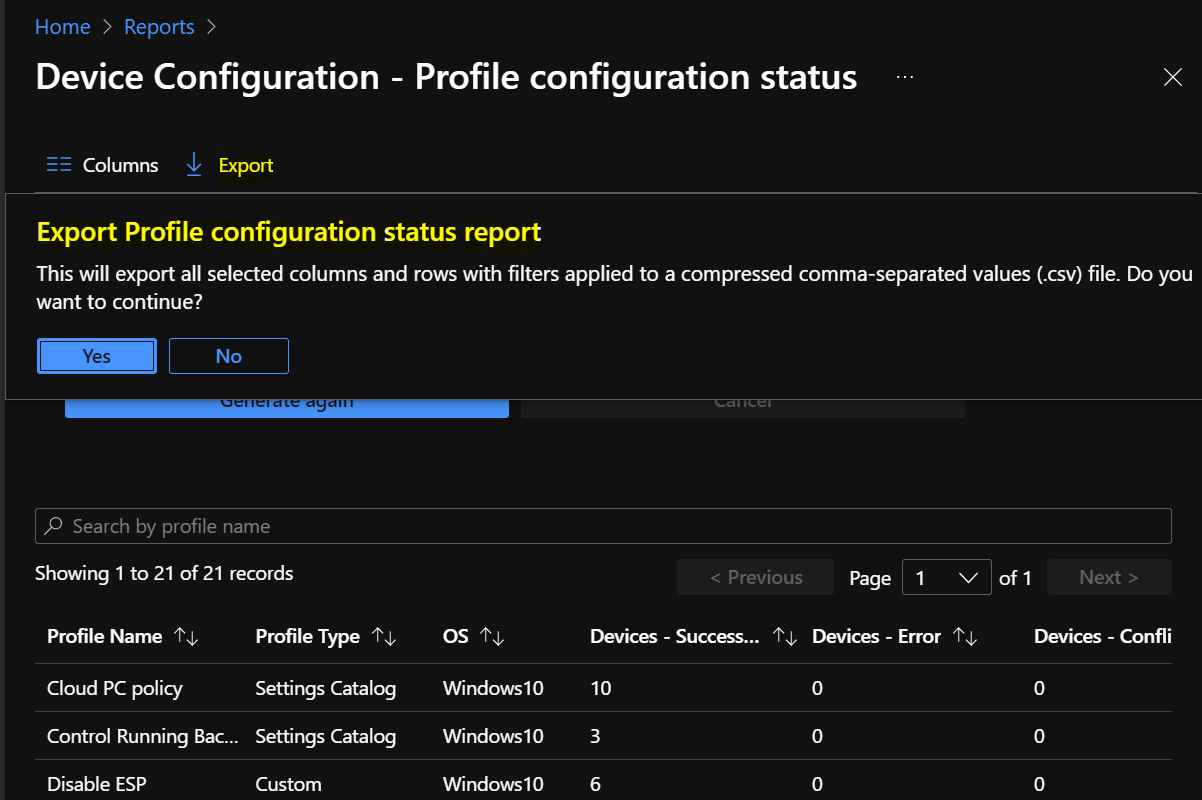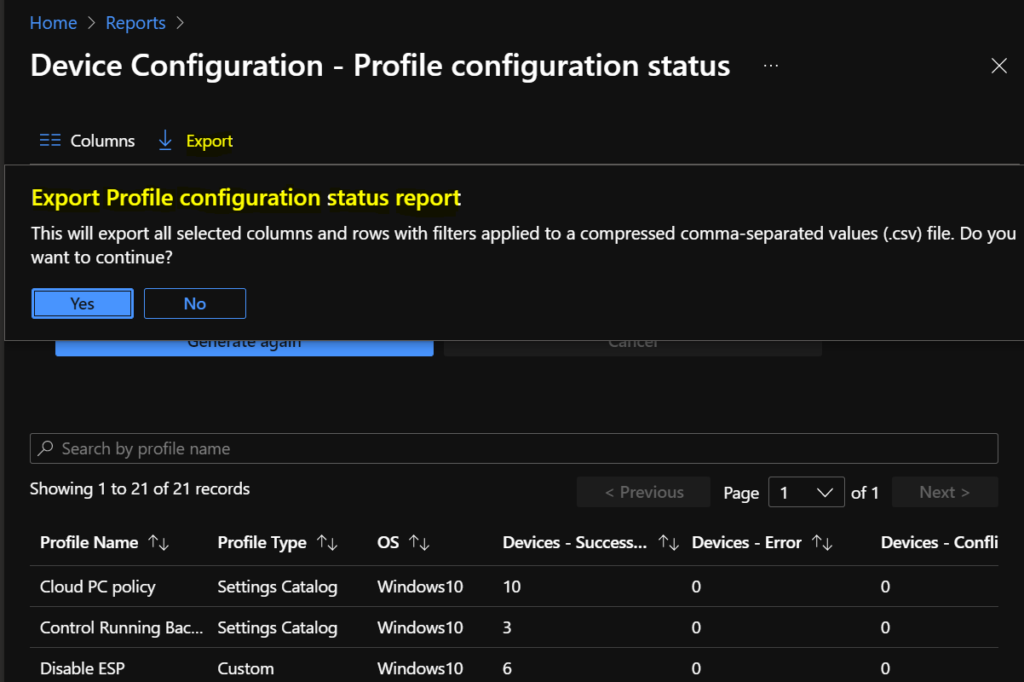 A notification will appear automatically in the top right-hand corner with the message Export is in progress.
The report will be automatically downloaded in a .zip file format to your browsers, and a notification message will appear Export Profile configuration status report completed. You need to extract the downloaded file to view the report.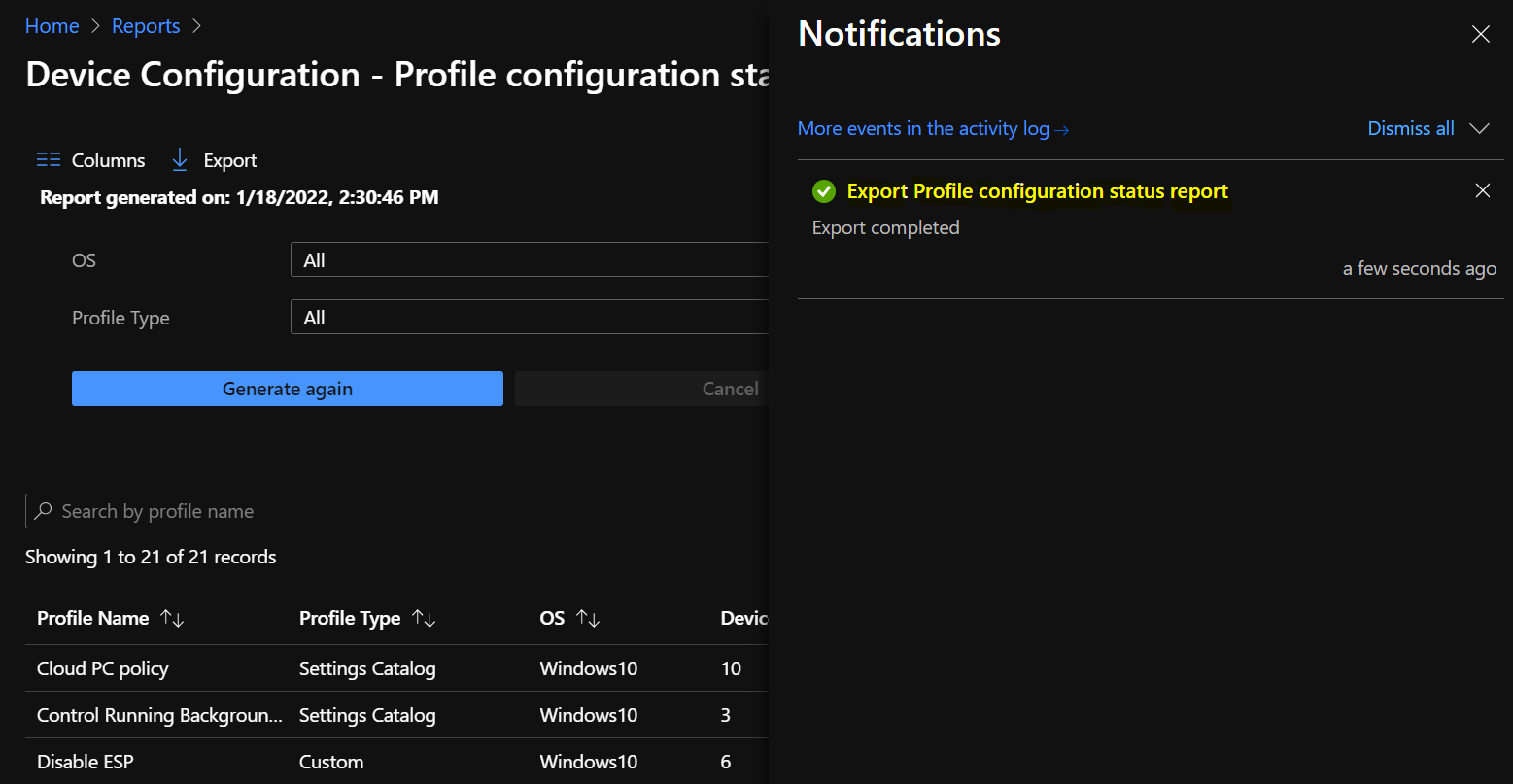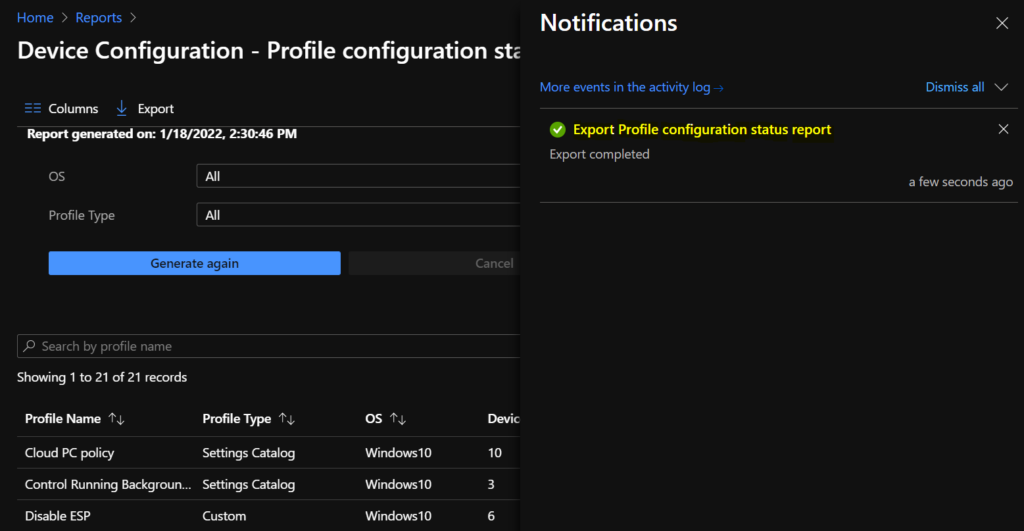 Author
About Author – Jitesh, Microsoft MVP, has over five years of working experience in the IT Industry. He writes and shares his experiences related to Microsoft device management technologies and IT Infrastructure management. His primary focus is Windows 10 Deployment solution with Configuration Manager, Microsoft Deployment Toolkit (MDT), and Microsoft Intune.