Let's find the List of Intune Default Reports. Intune Advanced Reporting details are discussed in the Ignite session.
More details about the session and Intune Reporting are given below. There is another type of report that needs additional configuration called the Update Compliance report for patching reports. Read More -> Configure Update Compliance Patch Management Reports Using Intune And Log Analytics.
There are methods to troubleshoot patching issues using Update compliance data and log analytics with KQL queries. I have explained this process -> Update Compliance Queries To Troubleshoot Intune WUfB Patch Deployment.
Here is the list of Intune Default Reports. We have shared more details about Intune default reports in several posts. You can refer to Intune default posts from HTMD Blog.

Intune Reports | Strategic Options | Types of Reports | Custom Reports | Workbooks
Let's discuss about Intune Reports and Strategic Options, Types of Reports, Custom Reports, and Workbooks in the following video.
Introduction
What's new in Microsoft Endpoint Manager, including Microsoft Intune and Configuration Manager (Part 2 of 2) by Paul Mayfield, Terrell Cox, and Micro-Scott.
Microsoft improved Intune reporting significantly, and you can see the Intune reporting options in this post. Check out the resources section of the post to get more details.
NOTE! – All the screenshots are taken from the demo and slides of igniting session.

Intune advanced reporting:
Operational

Timely
Focused
Actionable

Organizational

Broad
Aggregated
Scheduled

Historical
Specialist (Azure Log Analytics)
Operational Reports – In-console Reporting
Operational Reports means In-console troubleshooting and other reports already available in Intune.
Organizational Reports – Device Compliance
Organizational reports – device compliance report – https://devicemanagement.microsoft.com/#blade/Microsoft_Intune_Enrollment/ReportingMenu/deviceCompliance
NOTE! – This might not work just now (coming soon)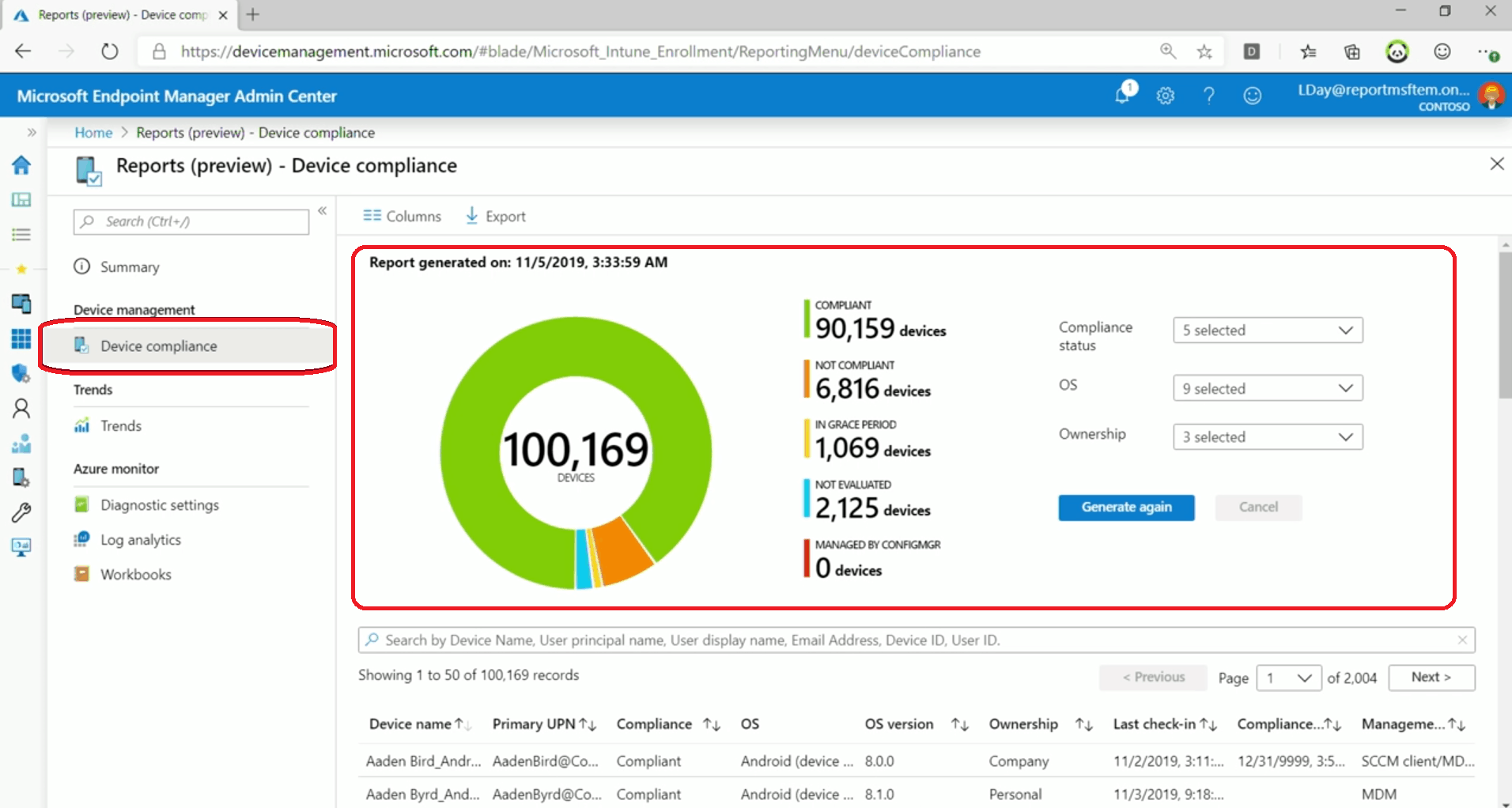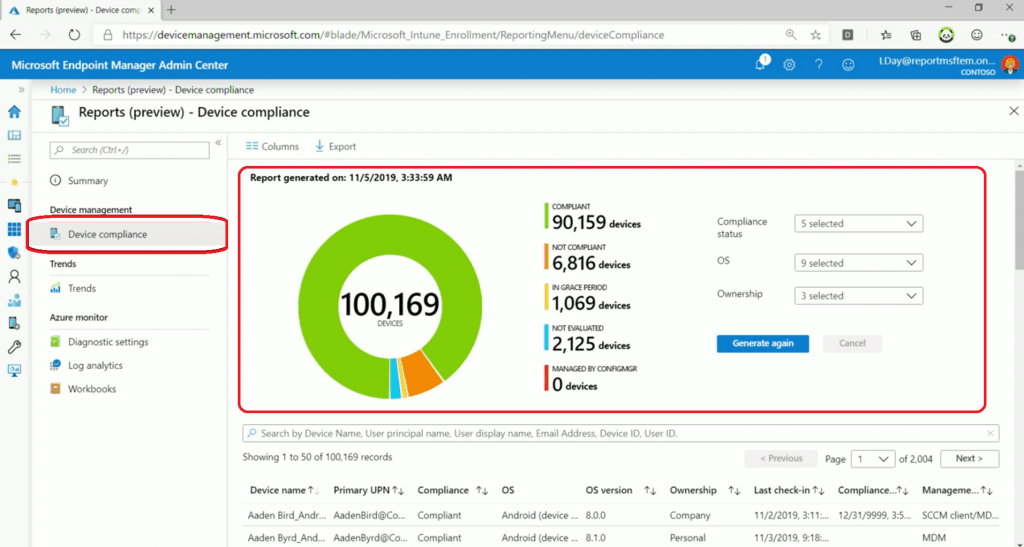 Historical -Trends
The historical report example given is Trends – https://devicemanagement.microsoft.com/#blade/Microsoft_Intune_Enrollment/ReportingMenu/trends
NOTE! – This might not work just now (coming soon)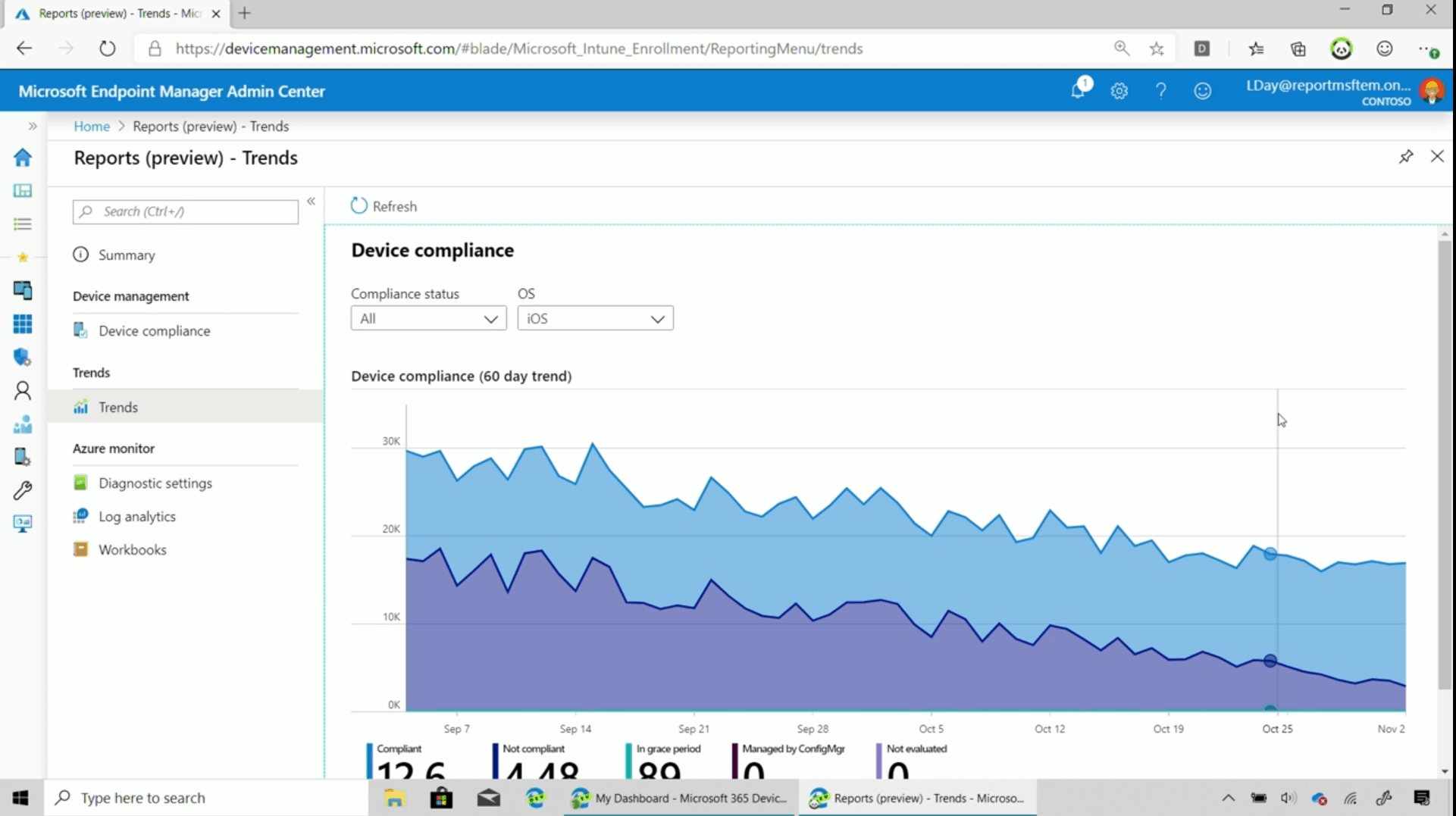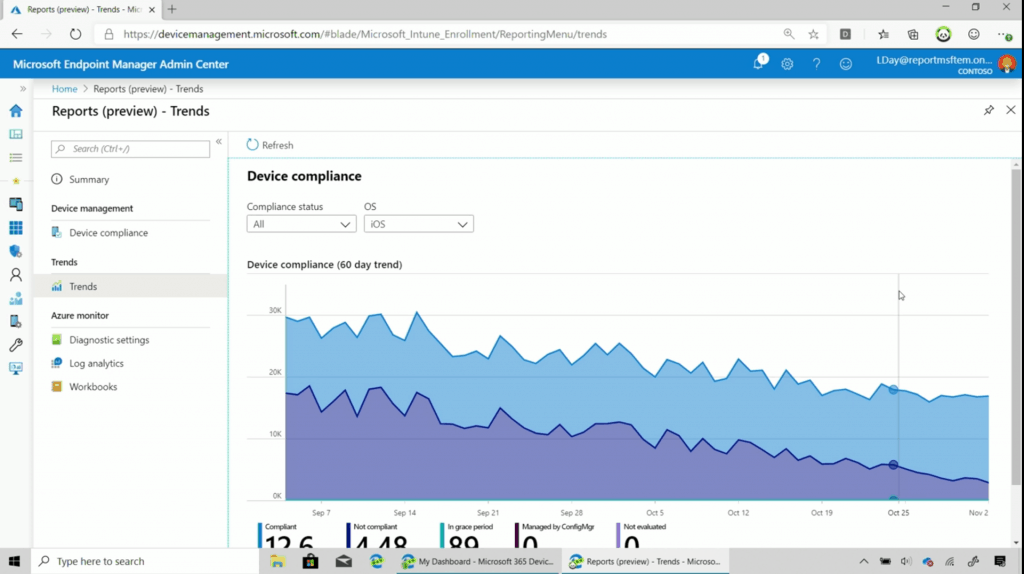 Specialist Reports – Azure Log Analytics Reports
Specialist Azure log Analytics reports url – https://devicemanagement.microsoft.com/#blade/Microsoft_Intune_Enrollment/ReportingMenu/logs
NOTE! – This might not work just now (coming soon)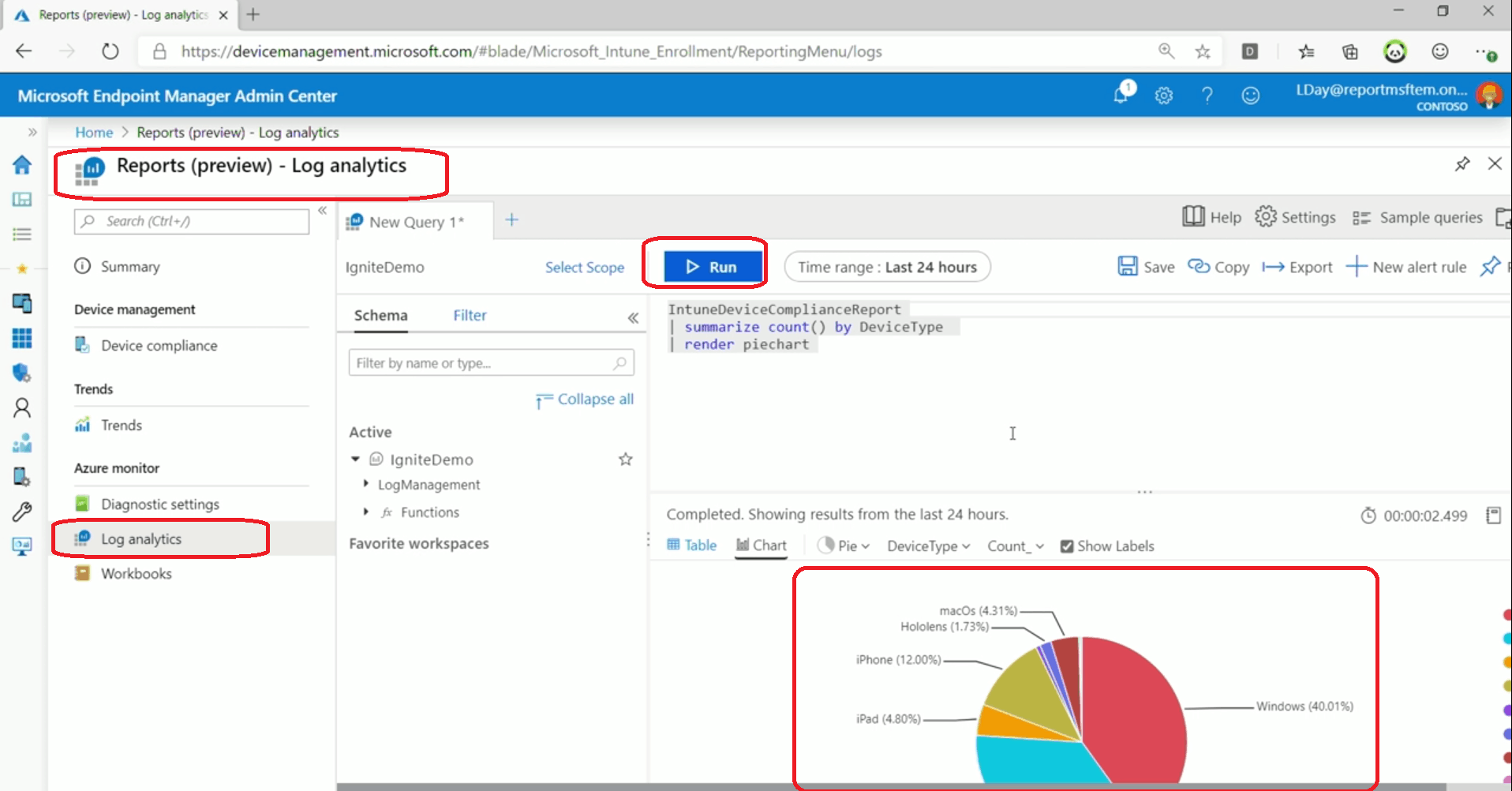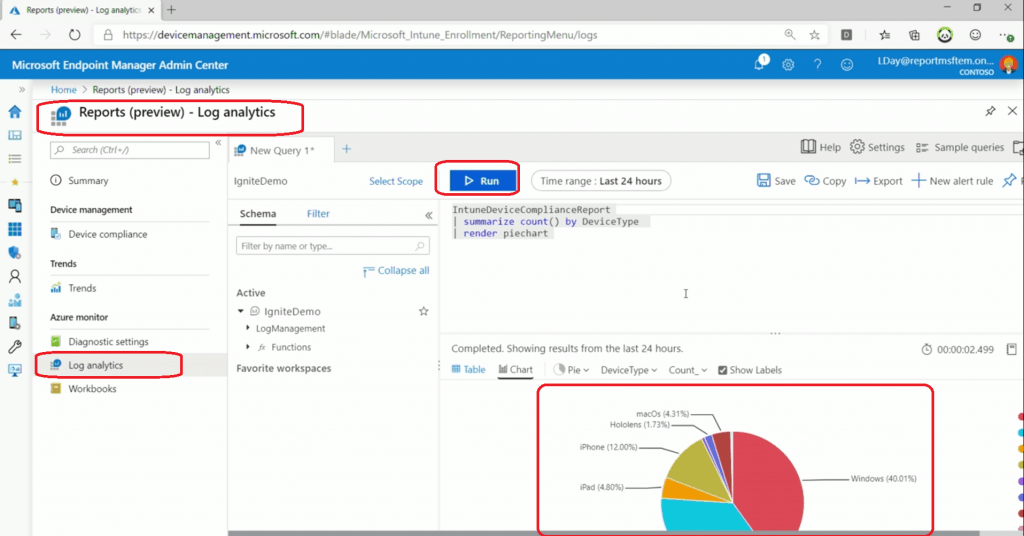 Intune Custom Dashboard – Azure WorkBooks Reports
Microsoft Endpoint Manager – Intune custom dashboards Azure WorkBooks URL (You might not have access at this point) – https://devicemanagement.microsoft.com/#blade/Microsoft_Intune_Enrollment/ReportingMenu/azureMonitorWorkbooks
NOTE! – This might not work just now (coming soon)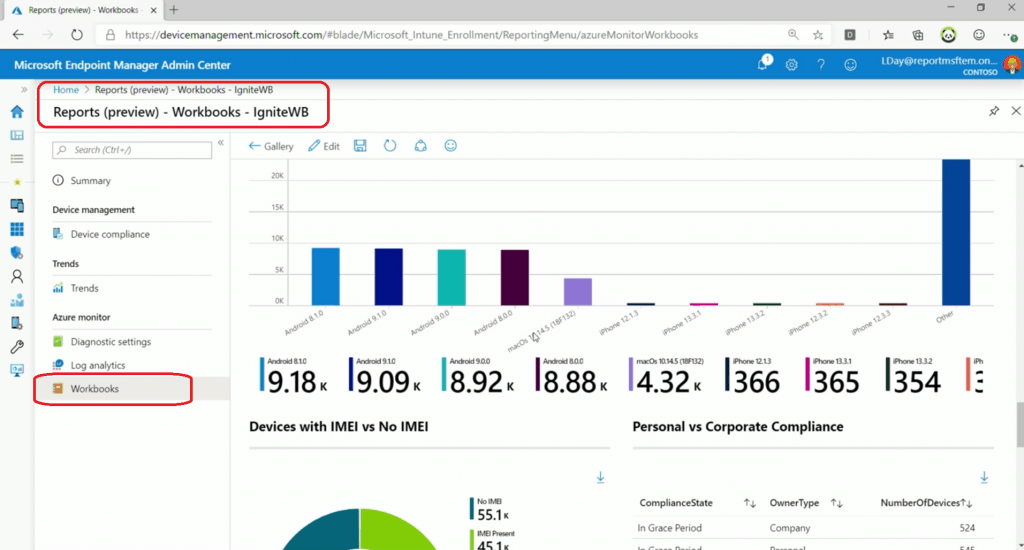 Session – Intune Reporting
Microsoft Endpoint Manager, including Microsoft Intune and Configuration Manager – https://myignite.techcommunity.microsoft.com/sessions/83532
Resources