Intune Feature Support Approved Elevation for EPM (Endpoint Privilege Management) is coming soon as per MS Intune roadmap. Everyone should not have local admin access on Windows devices. How do you manage installing apps and other privileged access requirements for end users?
Microsoft recently updated the Microsoft Intune Endpoint Privilege Management (EPM) roadmap; more details about the rollout plan are below. The EPM allows your organization's users to run as standard users (without administrator rights) and complete tasks that require elevated privileges.
To configure the EPM policies and check the reports, your account must be assigned sufficient permissions from Intune. The two Intune roles that provide appropriate access are Endpoint Privilege Manager and Endpoint Privilege Manager.
The helpdesk team can complete the user's application installation requests without remotely exchanging privileged credentials and giving broad administrative access to the device. A new feature is coming soon to Support Approved elevation for EPM.


Intune Feature Support Approved Elevation for EPM Endpoint Privilege Management
Now Microsoft Intune Enables elevation requests requested by an end user and approved by the support team. A flyout new elevation request will be open with the request summary and file detailed information. Once you validate the file version, the file is properly signed and can be approved from the Intune portal.
As per Microsoft, the rollout starts around March 2024. However, Microsoft Shared these features during the initial release EPM demo by Ramya Chitrakar, Director of Engineering.
Feature ID: 170774
Added to the roadmap: Sep/18/2023
Last modified: Sep/18/2023
Product(s): Microsoft Intune
Cloud instance(s): Worldwide (Standard Multi-Tenant), GCC
Platform(s): Desktop
Release phase(s): General Availability
Rollout Start Date: March 2024
As an Admin, you need to click on Approve the elevation request. Once approved, this request sends a new rule to the user's device, allowing them to temporarily complete elevation to return to being productive.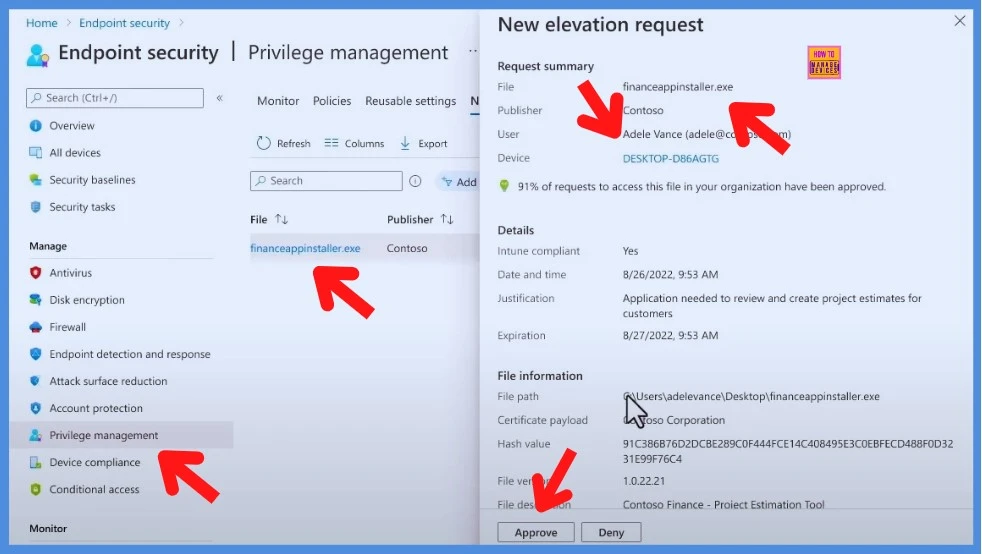 Feature Roadmap – Microsoft 365 Roadmap – View Latest Updates | Microsoft 365

Author
About the Author – Vidya is a computer enthusiast. She is here to share quick tips and tricks with Windows 11 or Windows 10 users. She loves writing on Windows 11 and related technologies. She is also keen to find solutions and write about day-to-day tech problems.